Ultimate Guide to the Best Types of Clothesline
There are tons of guides on the internet when it comes to outdoor clotheslines, they mainly consist of topics concerning placement and capacity rarely mentioning other key factors to consider.
So in this article, we will talk about the best types of clothesline suitable for use in Australia while taking other factors into account to ensure that you end up getting the perfect clothesline for your needs.
Type of Clotheslines
The most common types of clothesline in Australia are ceiling, fold-down, retractable, traditional rotary hoist, folding rotary hoist, and portable clothesline.
Fold down clotheslines are the most popular due to their compact size and convenient design which can be easily folded down when not in use to save space which makes them suitable for narrow spaces.
Rotary clothes hoists are also staples in the Aussie household due to their robust design, big capacity, and convenient features such as height adjustability and rotating top assembly which are great for the elderly and those with mobility issues.
The Basics
As always, the best way to guarantee satisfaction with your new airer is to choose the one that will work best for your needs.
Keep in mind that you need to determine where to place your washing line, it is also a good thing if you have a general idea about the amount of drying lines you will be needing.
Most think that a safe bet is 10 metres per person within a household but we recommend 11-13 metres for good measure.
You can then multiply that with the number of people in your household and the closest number you end up with should be the capacity of your outdoor washing line.
Once done, consider where you will be placing it, are you planning on having it fixed on the wall? On posts using ground mount kits? Maybe under an eave?
Every situation may invite different sets of problems so consider taking those into account before making your final decision.
Three Key Features to Look for in a Clothesline:
Opt for Steel

Plastic ones may be light and easy to move around but do not overlook the fact that these will be exposed to the sun for hours at a time, exposure to extreme temperatures and ultraviolet rays will aide in the deterioration of your investment a lot faster so as much as possible, find one that is completely made from aluminium or galvanised steel with stainless steel nuts and bolts.




Castor Wheels

Always opt for castor wheels if going with a portable outdoor washing line because it will make the transportation of your clothesline a breeze, if possible, find one made of steel with rubber wheels since plastic ones are prone to breakage.




Keeping Lines Taut

An outdoor washing line with a built-in tensioning system is essential to keep your airer's cords tight, this facilitates faster drying times and prolongs the life of the cords, not to mention, makes for a better looking airer in the long run due to the absence of saggy drying lines.
Retractables
First off is the good old retractable washing line like the, they are often overlooked since people are now more attracted towards the new flashy rotary hoists or foldable ones.
We think that retractable outdoor clotheslines are the true champion of value and versatility because they can be mounted on virtually any surface that can accommodate the cabinet.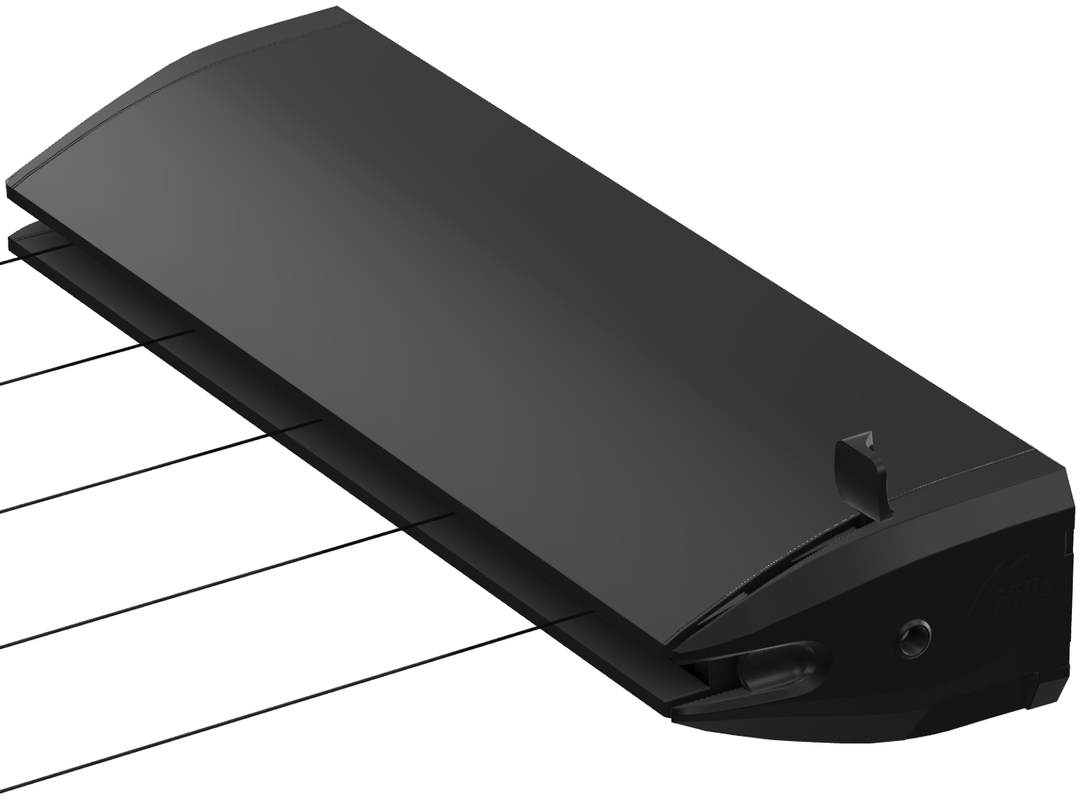 What we really like about retractable clotheslines is that the cord can be locked at any length and at a preferred tightness so line sagging is virtually eliminated, there's no need to keep retightening lines periodically unlike fold-downs or rotary hoists.
Other washing lines require a special mechanism in order to facilitate line tensioning, that normally adds to the cost of the airer so thanks to the simple mechanism of a retractable drying line, the overall price tag can be kept low without sacrificing the quality of the product.
Once installed, retractable washing lines are very easy to set up and use, they are also the most discreet kind of washing lines for sale thanks to their very compact exterior which makes them a very easy choice for those who want a backyard free from clotheslines.
Have your new investment installed at a location far away from trees, kitchen exhaust vents, and parts of your yard where ants or other bugs thrive.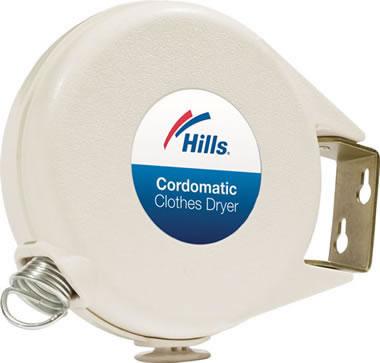 Also, make sure that it will be hit by the sun on full blast at around 12 noon until 5 in the afternoon since sunlight is the most intense during that timeframe so be weary of zones where the sunlight will be blocked by a nearby structure.
Ceiling Airers
Outdoor clotheslines installed under eaves do not occupy useful area on the ground, this is a really good solution to those who have a compact yard.
This is a boon to many households since the area can still be used for other things without your clotheslines getting in the way which is normally the case with other types of outdoor washing lines.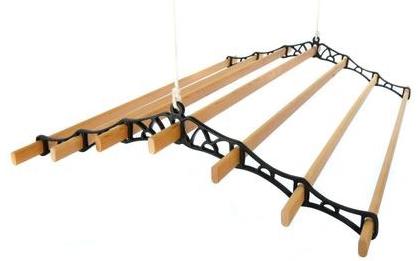 Another advantage of this design is the fact that there are models which can be used as overhead shelves, you can raise or lower them at will so they are basically multipurpose contraptions that can prove to be handy in your home.
Bear in mind that ceiling airers require pulleys that are mounted on a sturdy surface in order to keep issues at bay, ceilings are not designed to handle a lot of weight so finding the right spot with supporting structures underneath is crucial.
Avoid having them installed under eave vents at all costs, attics and crawlspaces are the perfect breeding grounds for insects and moulds, you wouldn't want those bad stuff getting near your clothes, right?
A good example of a ceiling mounted outdoor washing line is the Stacker Gismo. This washing line's main frame is made of very durable cast iron and is available in multiple finishes such as Ivory, White, Black, and Lacquer which should suit most home exteriors.
Lath lengths for this airer vary from 900 millimetres to 2.4 meters which provides a decent amount of drying line space for couples or even families.
We like to think that the product is aptly named, after all, the Stacker Gismo is configurable to literally have a stack of five or seven laths, this gives you the ability to dry a ton of articles within a very small area.
It can be repurposed as a stylish shelf too, it holds up to 45kgs of weight thanks to the heavy-duty cast iron double pulleys and sturdy design.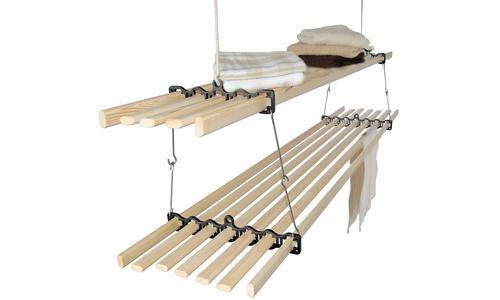 We just used the Stacker Gismo as a good point of reference, there are tons of models that you can find online for ceiling airers.
Pay attention to the build quality and ease of installation always since those will be the key players in the longevity of your investment.
Indoor/Portable Airers
An outdoor clothesline with wheels will always be the most convenient way to dry out clothes if a permanent fixture is not your cup of tea.
Most are not too high and this makes it convenient to hang laundry, many models come with height adjustable legs so from a mobility standpoint and ease of use, they are pretty much on top of the list but rotary hoists are still the king of convenience.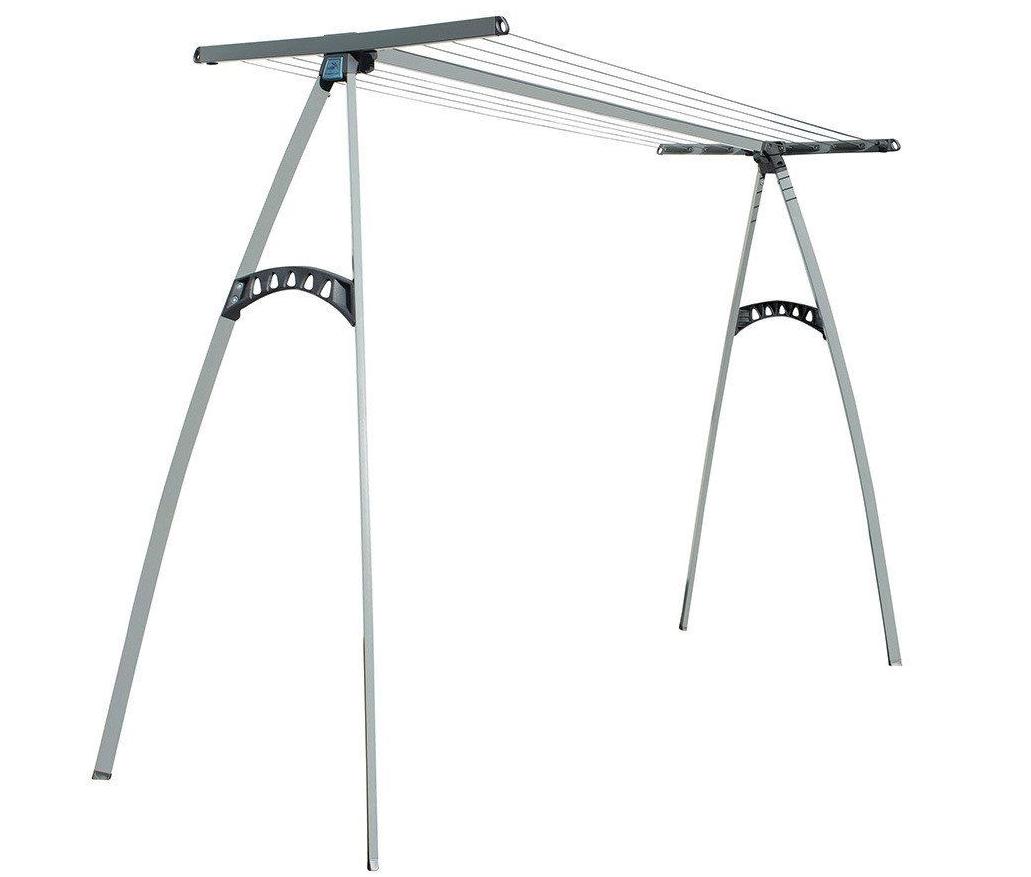 Manufacturers have figured out clever ways to take full advantage of their products' capacity.
Some have two tiers of drying lines while other have holes on each end of the spreader arms and support brackets so clothes hangers can be hung on them.
The only disadvantage with portable units is you have to stow them away whene done with laundry and frankly, high capacity models still use a lot of space when being stored so some companies have come up with clever solutions.
Take for example the Hills 170, it sports a simple latch mechanism to facilitate ease of folding and unfolding the airer, it is so thin and light but the overall design is very sturdy.
Hills used this to their advantage and provided a special bracket for hanging the clothesline behind a door, out of sight, out of mind yet ready for the next weekend's wash.
The 170 is sizeable for a portable unit too, it has ten lines spanning 1.7 metres each so that's 17 metres of total drying lines which is adequate for two to three loads.
If for some reason you cannot have a permanently installed clothesline but require heaps of drying space, the Sunchaser Mobile clothes airer is a good alternative.
Boasting 48 metres of line spacing and a twin fold-down design that's designed to last a lifetime, this one is a great way to dry clothes without requiring installation.
The best part about it is the durable casters/wheels which makes it easy to move from one place to another even when loaded to the brim with wet clothes.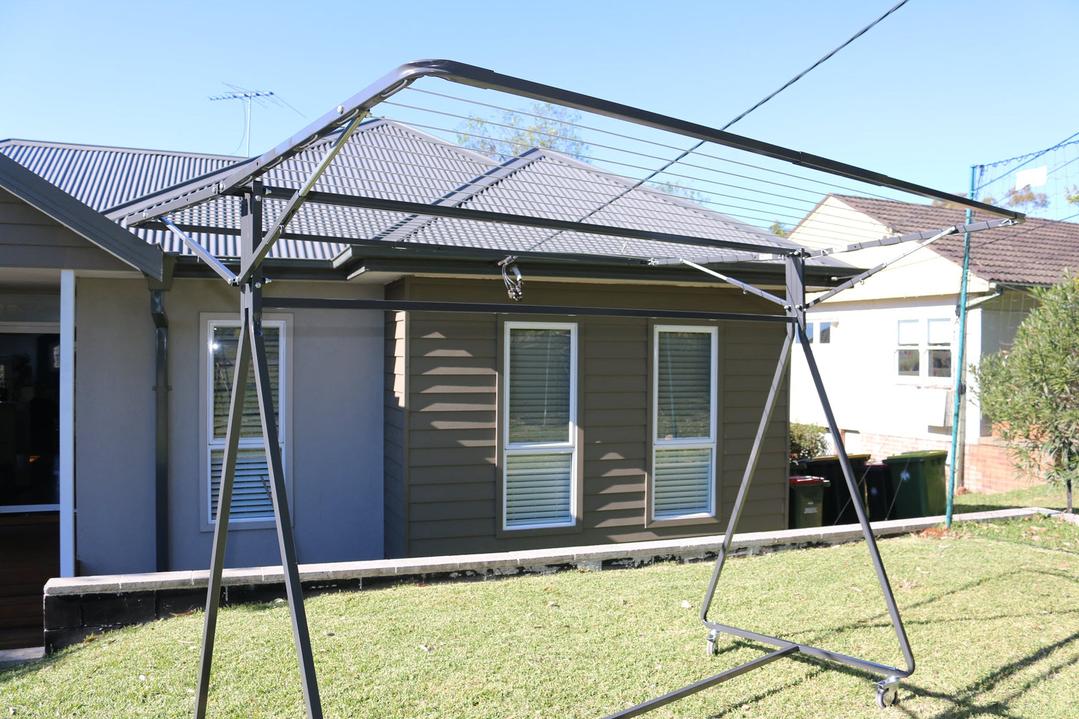 Fold-downs
Fold-down clotheslines are the simplest and one of the most reliable type of outdoor clothesline, this format of washing line can be installed in two ways: on a wall or secured to the ground using ground mounting kits.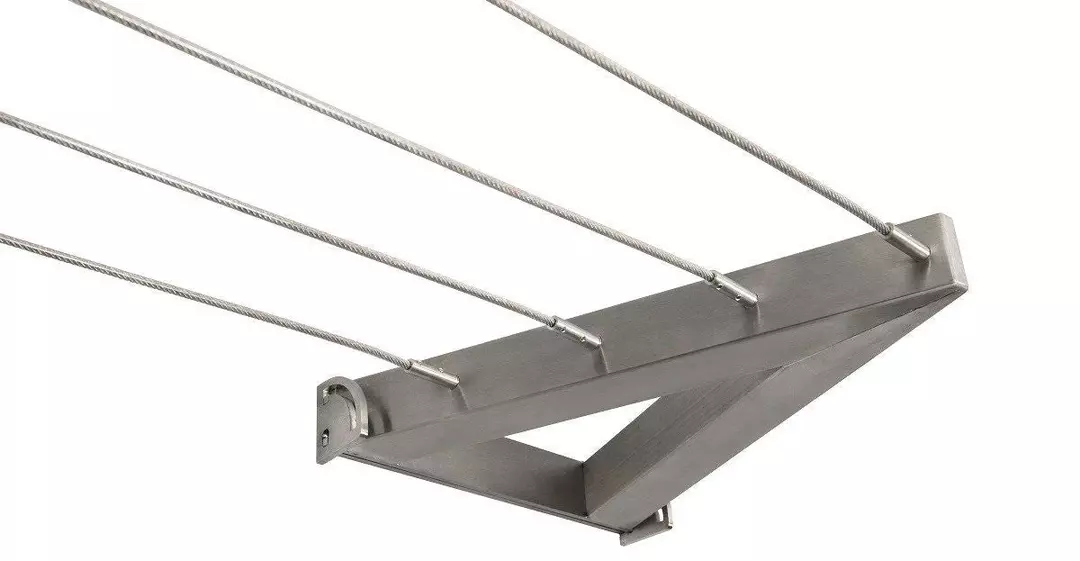 Because of this, it is very easy to find a location for fold-down outdoor washing lines and the best part about this kind of clothesline is the fact that the design is very straight forward.
All that's needed is a simple lift using one hand until the latches engage and once done with drying errands, simply unlock both latches and carefully drop the main frame.
What we are not a fan of with standard fold-down units is they span over a big area when deployed, unlike rotary outdoor washing lines which consume a relatively small footprint for the same capacity.
Then again, rotary hoists are not as flexible as fold-down units in terms of installation, you can't really have it all.
The really good thing about this model is it boasts up to a whopping 53 meters of drying line if purchased together with the optional lowline attachment.
It also has no plastic load-bearing parts which guarantees a long, worry-free, service life.
Rotary Hoists
Rotary hoists have the largest capacity/footprint ration of all clotheslines, although they are big in general, they do not occupy space as much as other outdoor washing lines of similar capacity.
This type of outdoor clothesline is one of the most durable mostly if you purchase a reputable brand like Austral or Hills.
The top assembly rotates smoothly with the slightest nudge so loading of clothes is easy, you can stand in the same spot while hanging your clothes.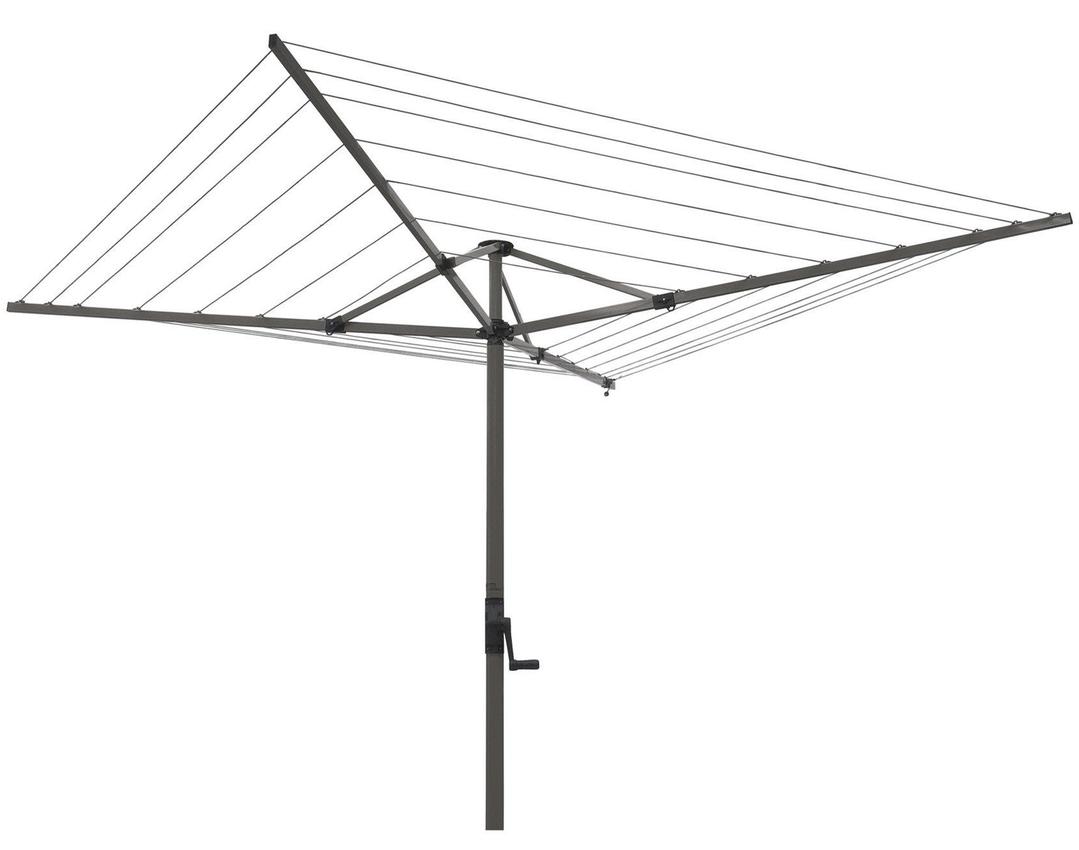 This means the basket stays right beside you and you don't have to shuffle from one end of your outdoor washing line to the other.
This is also another bonus feature to have since the hoist turns without the use of electricity so clothes dry efficiently with a bit of help from the wind.
If you want the advantage of being able to use rotary hoists without taking up a lot of space in your yard you can opt for a foldable rotary hoist.
This is basically a modified version of the typical rotary airer but the device can be detached from its ground socket/concrete base.
Its upper section is retractable for easy storage so you can regain the backyard space for weekend margaritas with friends and family.
It can even double as a big outdoor umbrella if you equip it with a clothesline cover for your airer of choice.
A good outdoor clothesline of this format is the Hills Heritage 7 rotary hoist.
Thanks to its galvanised steel construction and typical quality of Hills products, it is obvious that they designed it to withstand our harsh Australian climate.
Thanks to the full galvanised-steel construction -- all the way from the cords/drying lines down to the gear case and pole -- you know that this is one a keeper.
It may even outlast your home!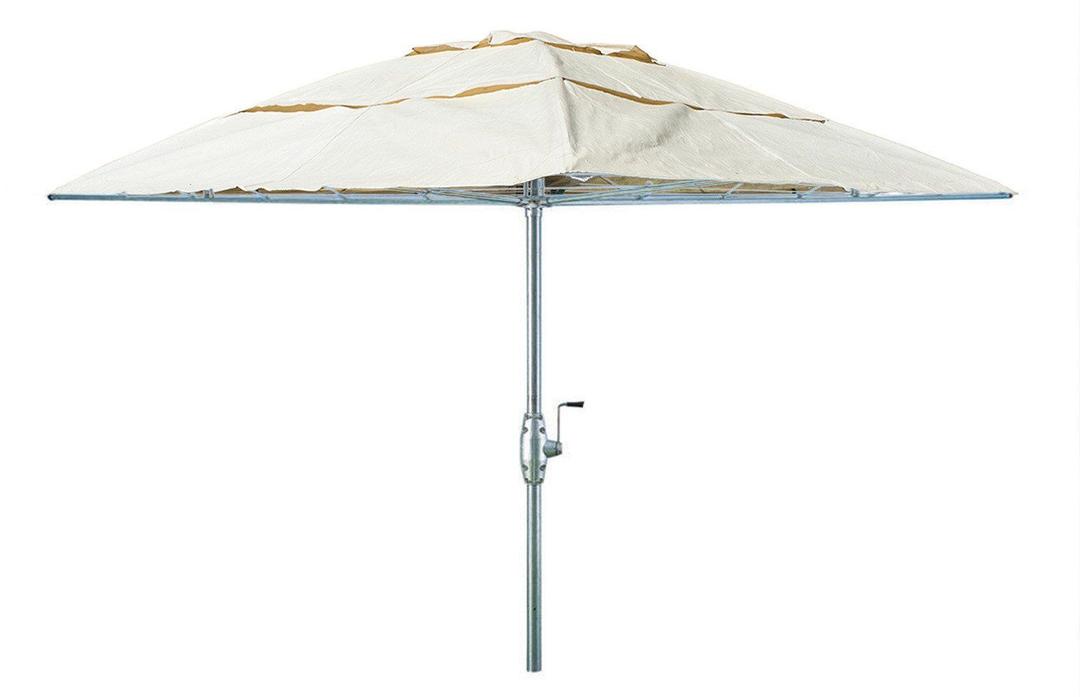 Conclusion
Outdoor washing lines can be used for more than just drying our clothes, with a bit of imagination you can turn yours into an actual feature of your backyard/garden.
Some people used trellises as mounting posts for their retractable washing lines, others have even turned retractable washing lines into canopies for covering a hammock underneath.
This makes them the perfect spot for relaxing in the afternoon with a cup of brewed coffee and a good book.
Like we have discussed earlier, you can even turn your rotary hoist into a patio umbrella.
A perfect recipe for this includes a round table for four (with a hole in the middle) and a properly sized cover for the model of your outdoor washing line.
Rain or shine, you've got yourself a very useful outdoor entertaining zone that is guaranteed to last a lifetime.
As you can see, a little stretch of the imagination goes a long way and it is not that hard to choose the best clothesline for your needs.
Just asses your priorities, determine how much you are willing to spend, calculate the proper capacity and consider your long term requirements, find the right spot, and be creative!
Image: Pinterest