Best Clothesline Australia
It's time to talk about the best clothesline in Australia.
In this article, we will discuss the best clothesline options in detail such as price, features, quality, and type of clothesline to supersede your old one -- or even your clothes dryer.
Keep reading to get started on finding the perfect drying line for you needs.
Importance of Using a Clothesline in Australia
Ditching the clothes dryer and using a clothesline in Australia results in multiple benefits that many do not seem to realise at first.
Put simply, moving to a clothesline instead of a dryer is more eco friendly, saves money, prolongs the life of garments and is an overall safer, healthier way of drying laundry.
It's not hard to see why many people opt to take this greener approach in drying clothes which you'll realise as you read through this article.
Benefits of Using a Clothesline Over a Dryer
As mentioned above, the positive impact of using a washing line instead of a dryer can be pretty significant and largely outweighs the minor inconveniences that come with the territory.
Below is a list of benefits that clotheslines have over the energy intensive means of drying clothes using a tumble dryer:
Benefits of Using a Clothesline Over a Dryer:
Energy Savings - Line drying only uses energy from the sun with assistance from natural airflow while clothes dryers guzzle up a lot of electricity to finish just one batch.




Cost Savings - Clotheslines cost less to own and energy savings = cost savings, using your clothes dryer less also minimises the wear and tear on the machine — keeping service calls and additional expenses at bay.




Gentler on Clothes - Using a dryer causes shrinkage, fading, and micro-tearing on clothes which result in 'pilling' and breakage of the fibres over time. Line drying is simply a gentler method.




Less Ironing - As the fabric dries, water naturally moves to the lower part of the fabric, This weight transfer basically stretches out your garments so gravity does most of the ironing for you!




Better for the Environment - Use of dryers increase the demand for electricity being produced through fossil fuels contributing to greenhouse gas emissions whereas line drying uses zero electricity.




Improved Indoor Air Quality - Dryers exhaust dust and allergens inside your home, line drying doesn't subject the health of your family to such issues.




Aesthetics - Portable clotheslines don't require installation, a rotary clothesline provides tons of space for big families and a retractable clothesline is discreet but doesn't sacrifice utility. Prioritising aesthetics shouldn't be difficult when using a clothes line.
Best Clotheslines in Australia Based on Customer Reviews and Experts
We've curated this short list of the best clotheslines in Australia for numerous categories based on the overwhelmingly positive ratings received by these clothesline models.
We focused on the durability, convenience, and -- most importantly -- verified reviews of customers online as well as positive feedback that our clothesline experts have received regarding these products.
Rest assured that should you choose one of these three, it is going to be a wise decision. Through and through.
Best Rotary Clothes Hoist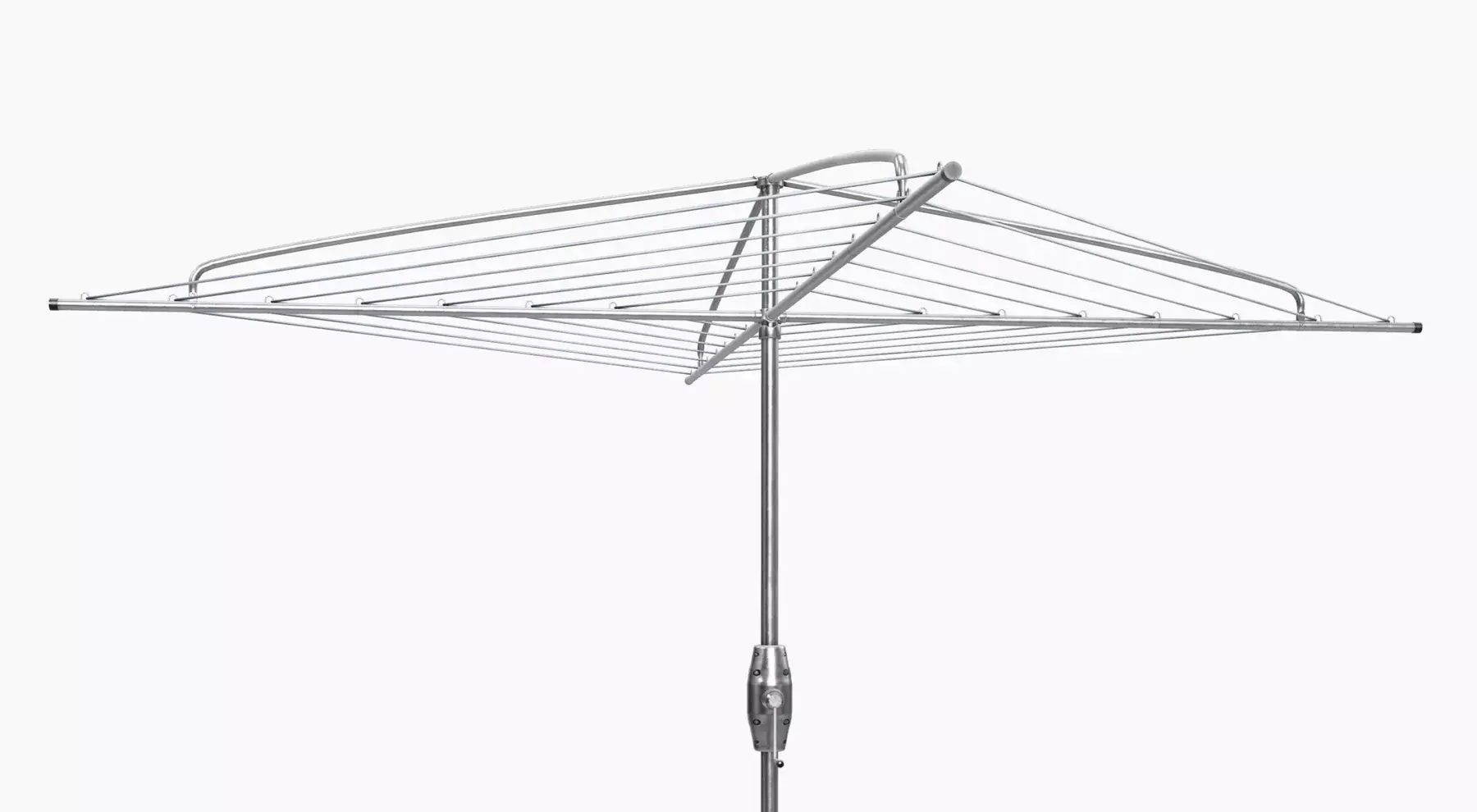 1. Hills Hoist Heritage
The Hills Hoist Heritage series of rotary clotheslines is known as one of the most legendary rotary clothes hoists out on the market — if not the most legendary.
Nostalgia and childhood memories aside, the aptly named Hills rotary clothesline has earned a bit of a cult status.
The centrally rotating top frame is height adjustable and boasts impressive capacity for king sized sheets and large households — more than enough room for larger families.
These are known for reliability due to its durable materials, ease of use, and the added advantage of replacement parts that are easy to acquire.
It's worth nothing that Hills products are now being made in China per Hills' strict manufacturing requirements.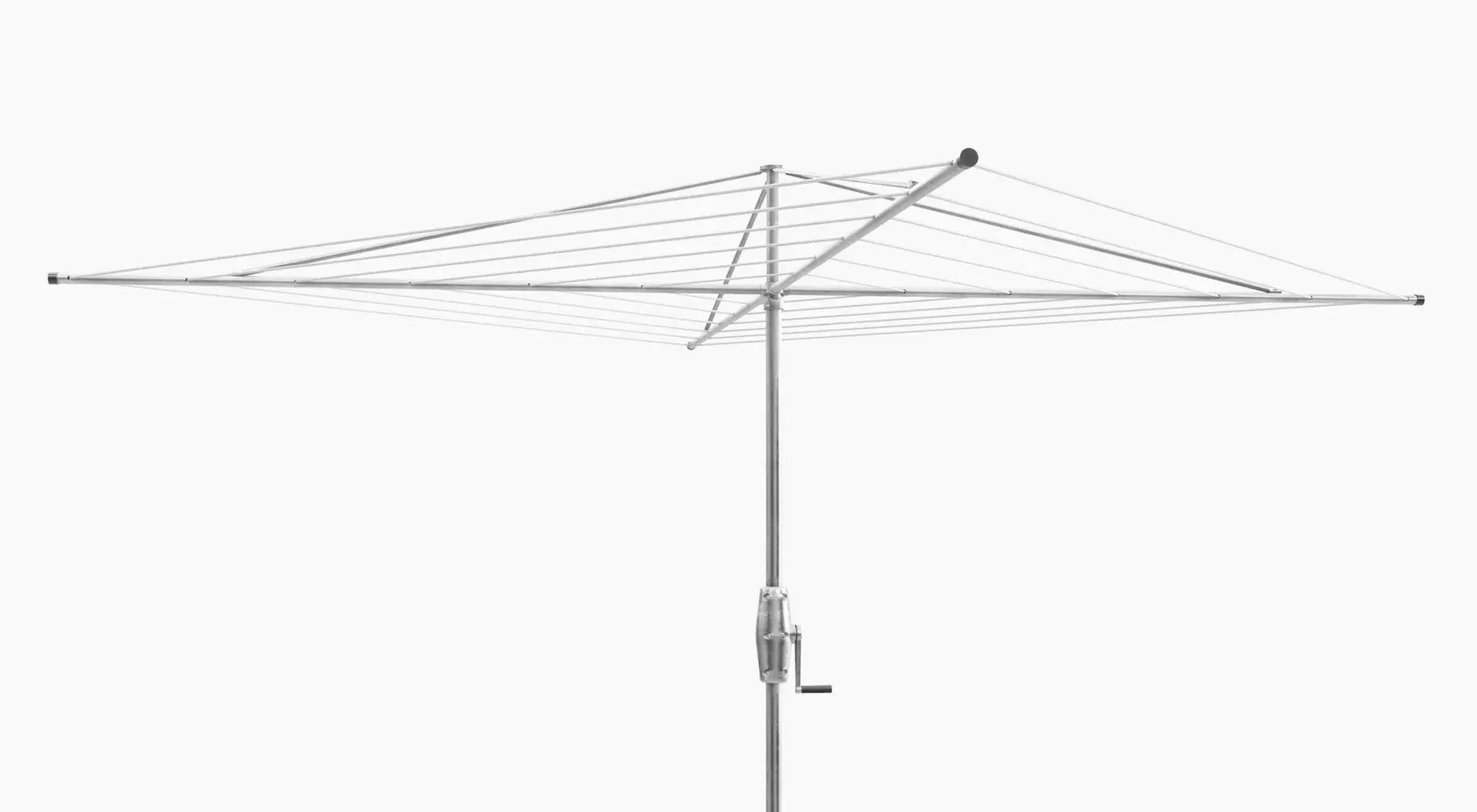 2. Austral Super
The Austral Super range of laundry lines can give other washing line manufacturers a run for their money — including Hills, if we are being honest.
They are a great alternative to Hills hoist models and should be high up on the list if you want to buy Australian products.
Products made by the Austral brand are sturdy, offer great value for money and are 101% proudly engineered and built in Australia.
No one can question the Aussies when it comes to creating clotheslines that are built for the extremes, these durable workhorses boast good quality without breaking the bank.
It boasts full galvanised steel construction, decent amount of hanging space and components designed to withstand strong winds as well as extreme heat and cold.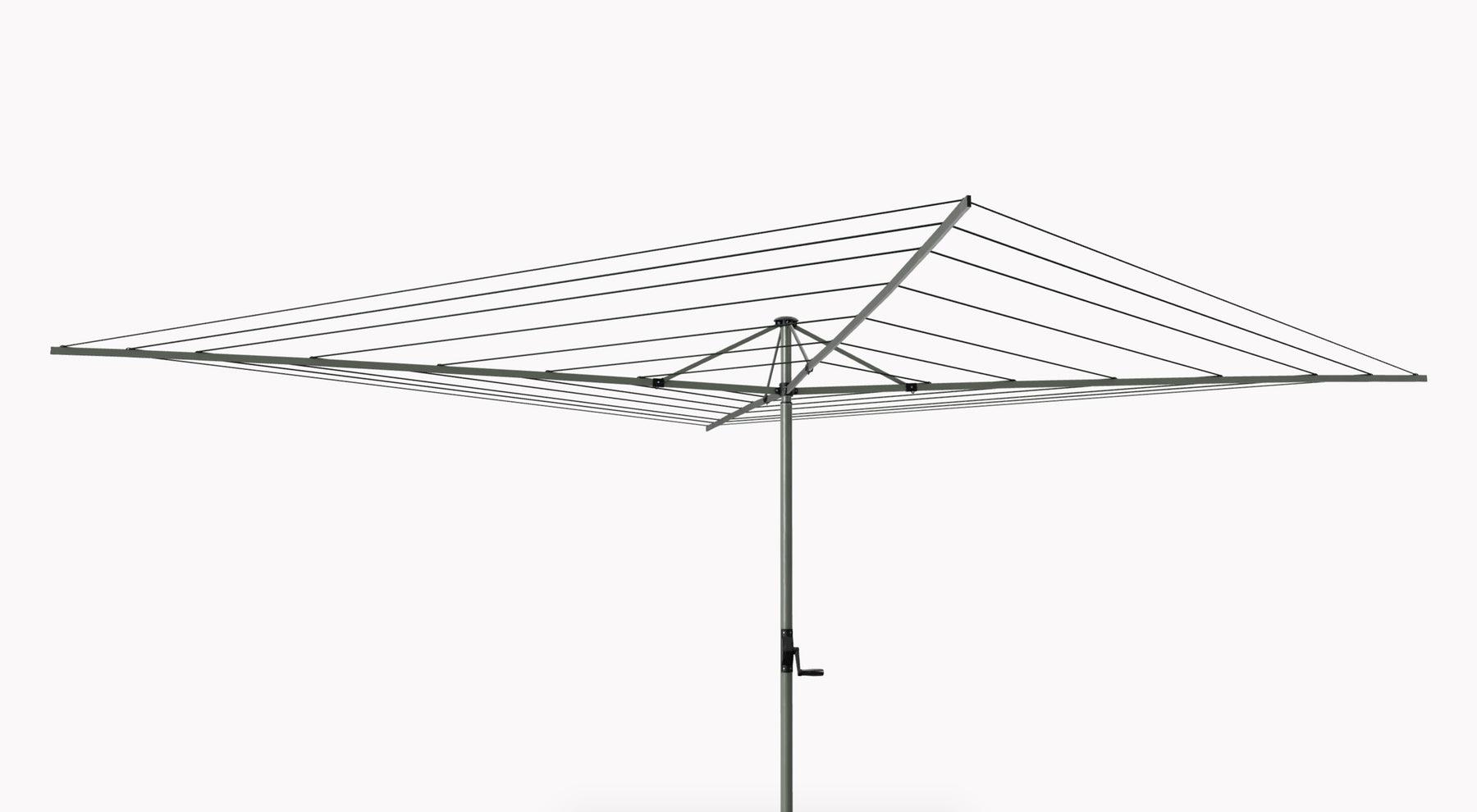 3. Austral Foldaway 51
Roomy yet foldable and completely removable, the Austral Foldaway 51 is our third favourite clothesline model in this category for all the right reasons.
Entirely designed and built locally, the folks over at Austral knew just what to throw into the mix to ensure years of worry free use without burning a hole through your wallet.
With a generous line space of 51 metres and wide spacing between lines, it can handle the laundry of the whole family plus king sized sheets easily.
The best part about the Foldaway 51 is the fact that you get to enjoy the capacity and convenience of a typical rotary — without losing precious yard space.
When you need your yard space back, all you have to do is lower the head, fold the arms, lift it off the socket then hide it away for weekend barbies and other occasions.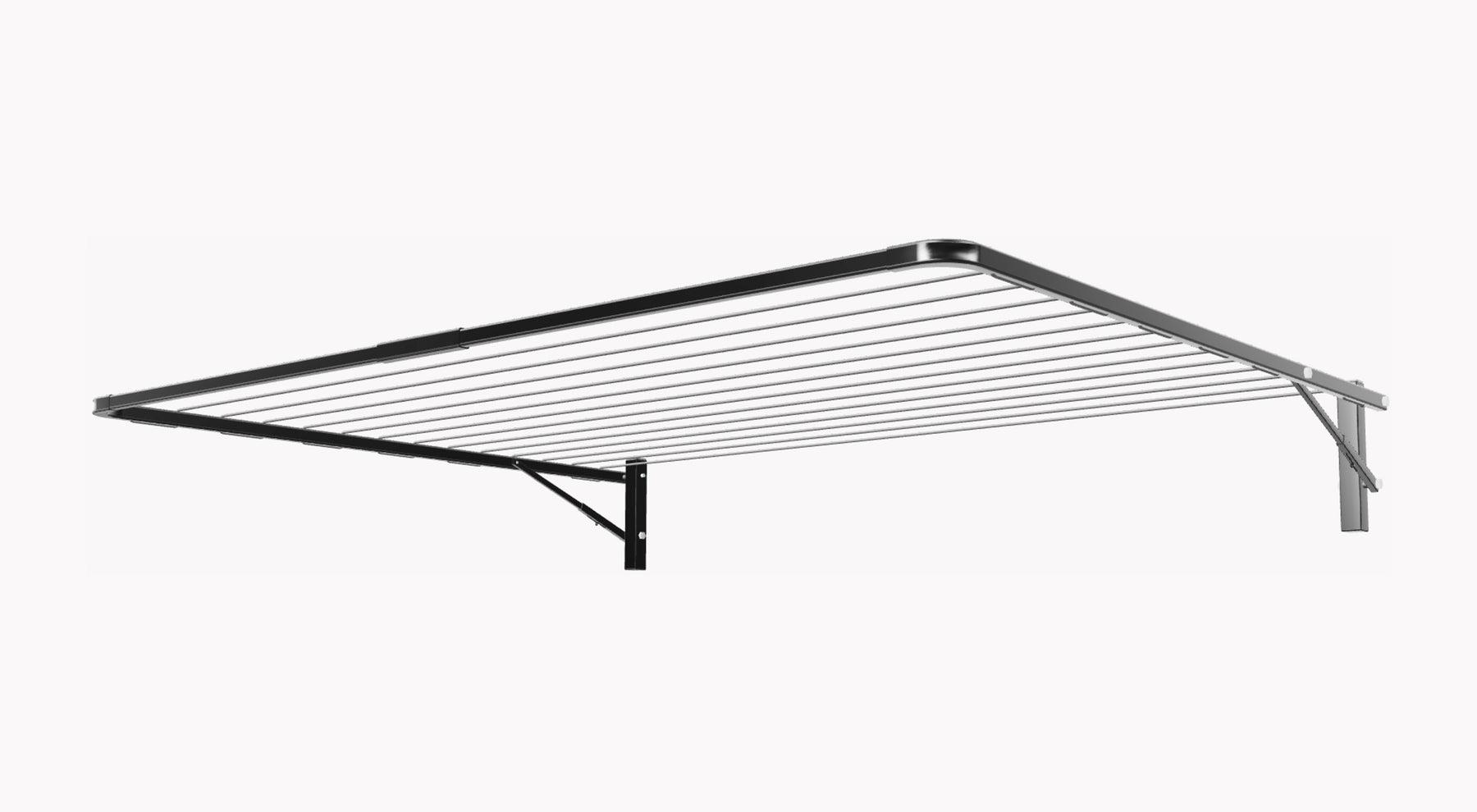 1. ECO 300
Undoubtably one of the most renowned fold downs on the market with a reputation for simplicity, quality, and reliability.
Boasting up to 30 meters of line space for multiple loads of washing, the Eco 300 provides ample hanging space for demanding households.
This clothesline is compatible with an optional Lowline Attachment, making it ideal for bigger families or those with heavier washing needs.
Crafted from galvanised steel and coated with a baked-on environmentally safe powder coat finish to prevent rust and corrosion.
The Eco 300 is perfect for those seeking a clothesline that is both practical and eco-friendly.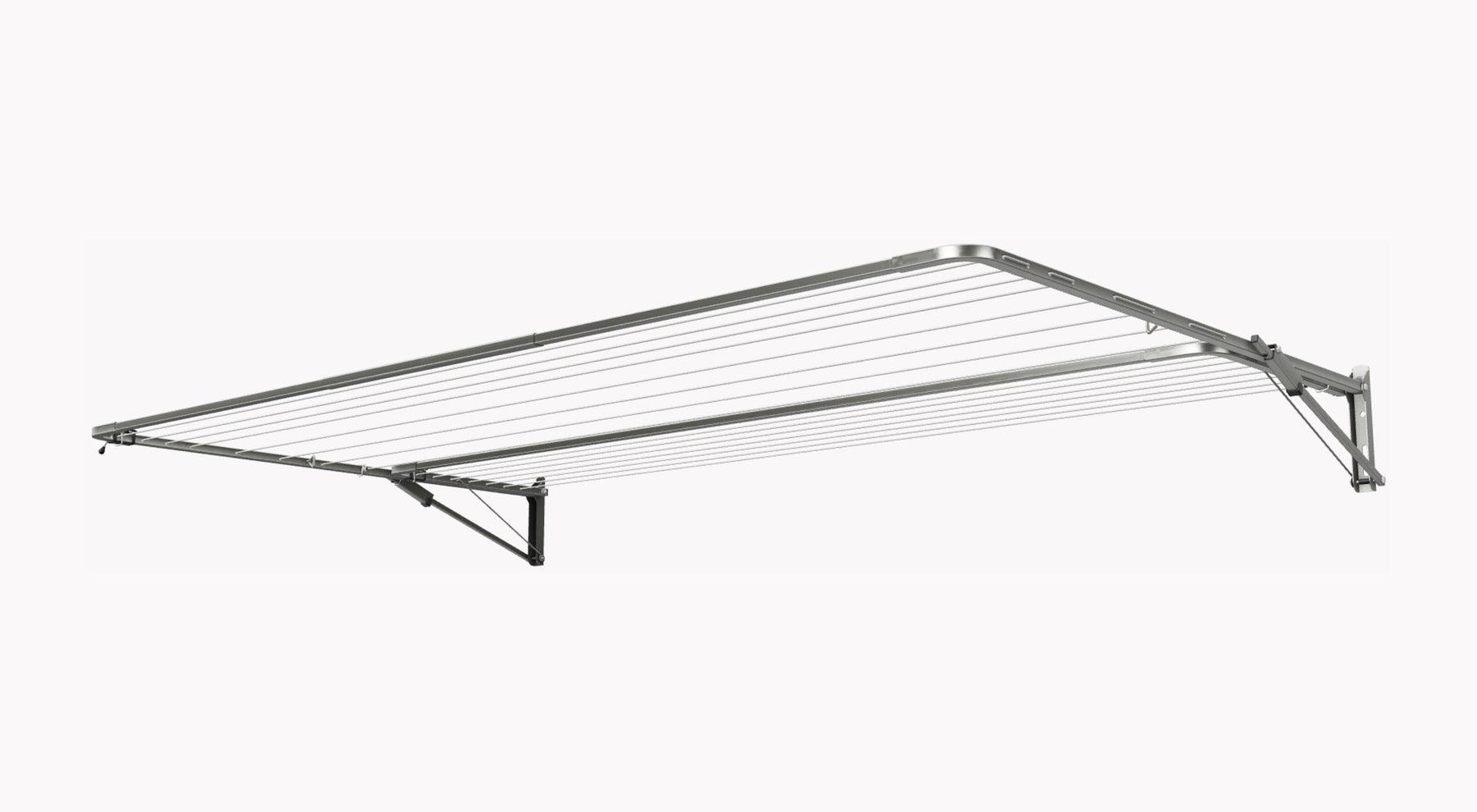 2. Austral Addaline 35
This model provides up to 35 meters of line space making it one of the biggest on the market that's suitable for large families or households with heavy laundry drying requirements.
Made from high-quality galvanised steel with tough powder coating for optimum corrosion resistance, it is also backed by a 10-year structural warranty.
This ensures that the clothesline will withstand the elements and provide reliable drying space for decades to come.
This can also be converted to a freestanding unit, wall-mounted or ground-mounted with the optional ground mount kit, it's your call.
The dual frame design also provides greater flexibility in how you use the drying space -- out of the way when drying less clothes than usual or go all out with both frames if need be.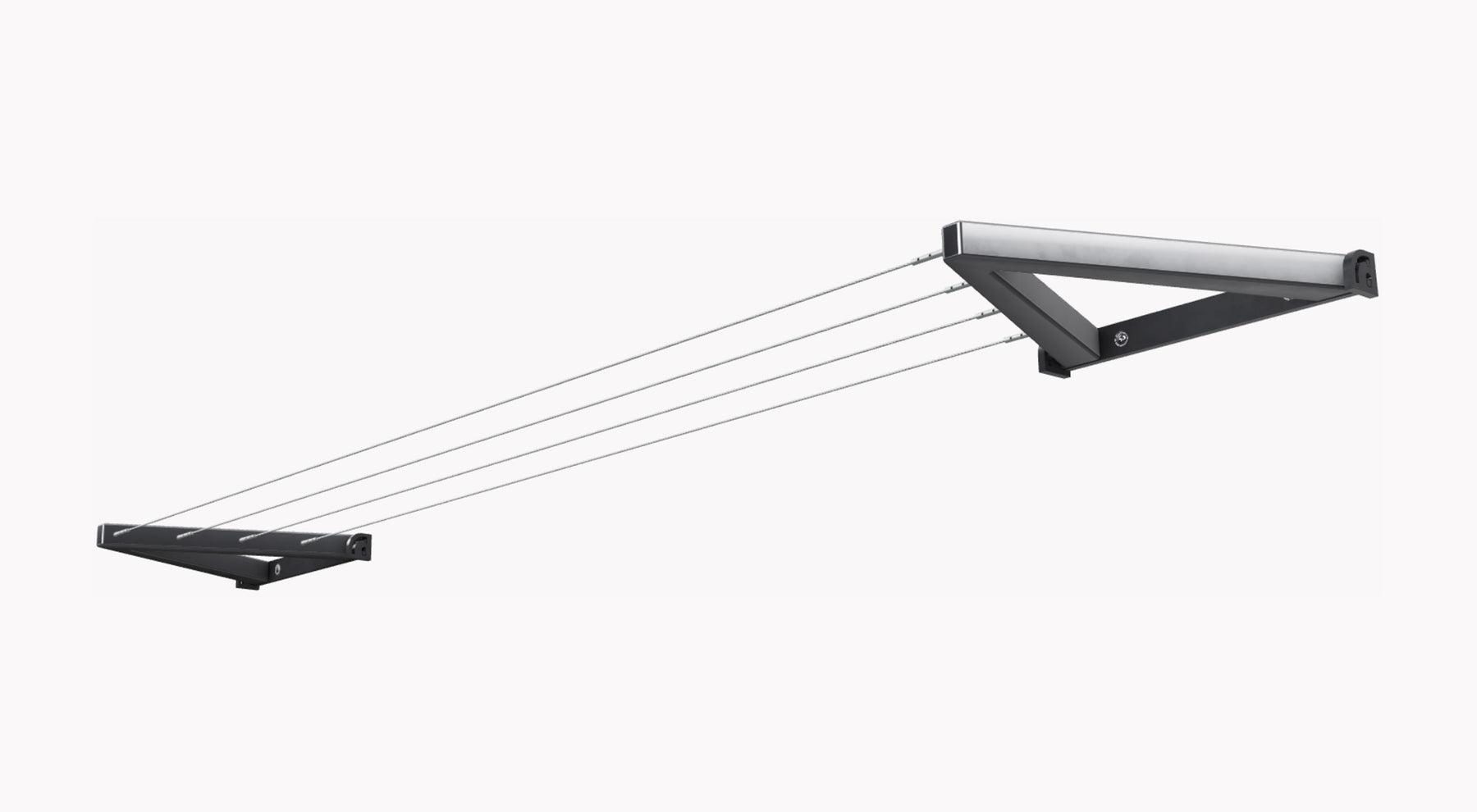 3. Evolution Folding
The Evolution Folding provides impressive drying capacity, stunning looks, and craftsmanship that gives the brand a prestige that lesser ones can only dream of.
With multiple depth options, the Evolution Folding is a great airer for households with moderate to large laundry needs, from heaps of towels to multiple King sized beddings.
The Evolution Folding Clothesline also has a simple self-locking hinge that does away with the for struts and components that will eventually break down.
Made of 316 stainless steel through and through -- from the frames down to the lines, nuts and bolts, this clothesline will only laugh at coastal areas and the extreme conditions we experience here in Australia.
This is a clothesline made for those who only want the best of the best and won't settle for anything less.
Best Retractable Clothesline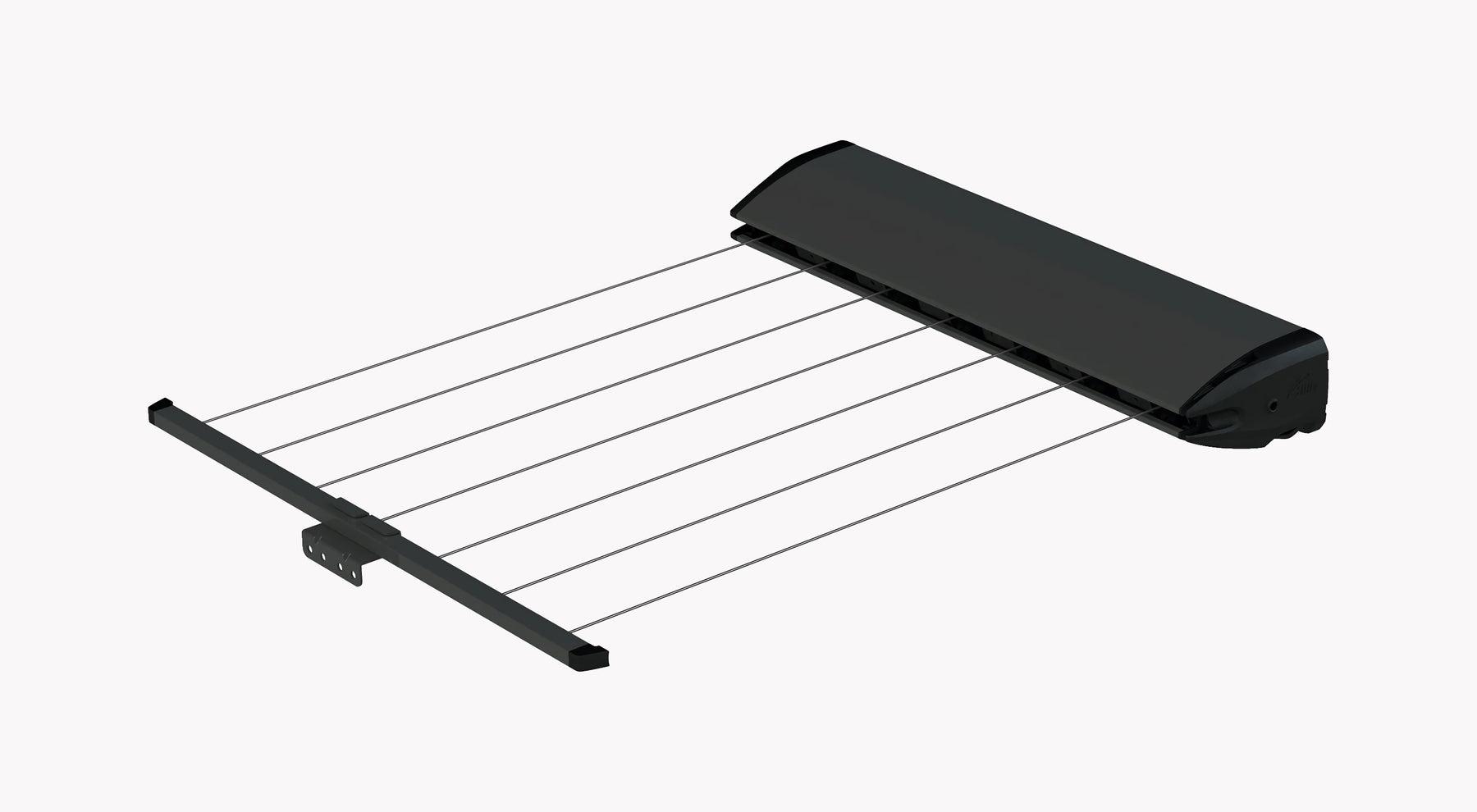 1. Hills 7 Line
The new series of Hills retracting clotheslines are great for drying wet laundry outdoors.
With 7 lines and a total line length of 47 metres, these heavy-duty yet stylish units boast galvanised steel cabinets and sunlight resistant plastic.
The dual-level lock system keeps lines taut plus the upgraded spools are now equipped with stronger, thicker springs and a more robust assembly for long lifespan.
The Hills 7 clothesline also averages 4.7 out of 5 stars online based on tons of reviews online.
Plus, Hills is known to create lasting products so you know you're getting your hard-earned money's worth with this one.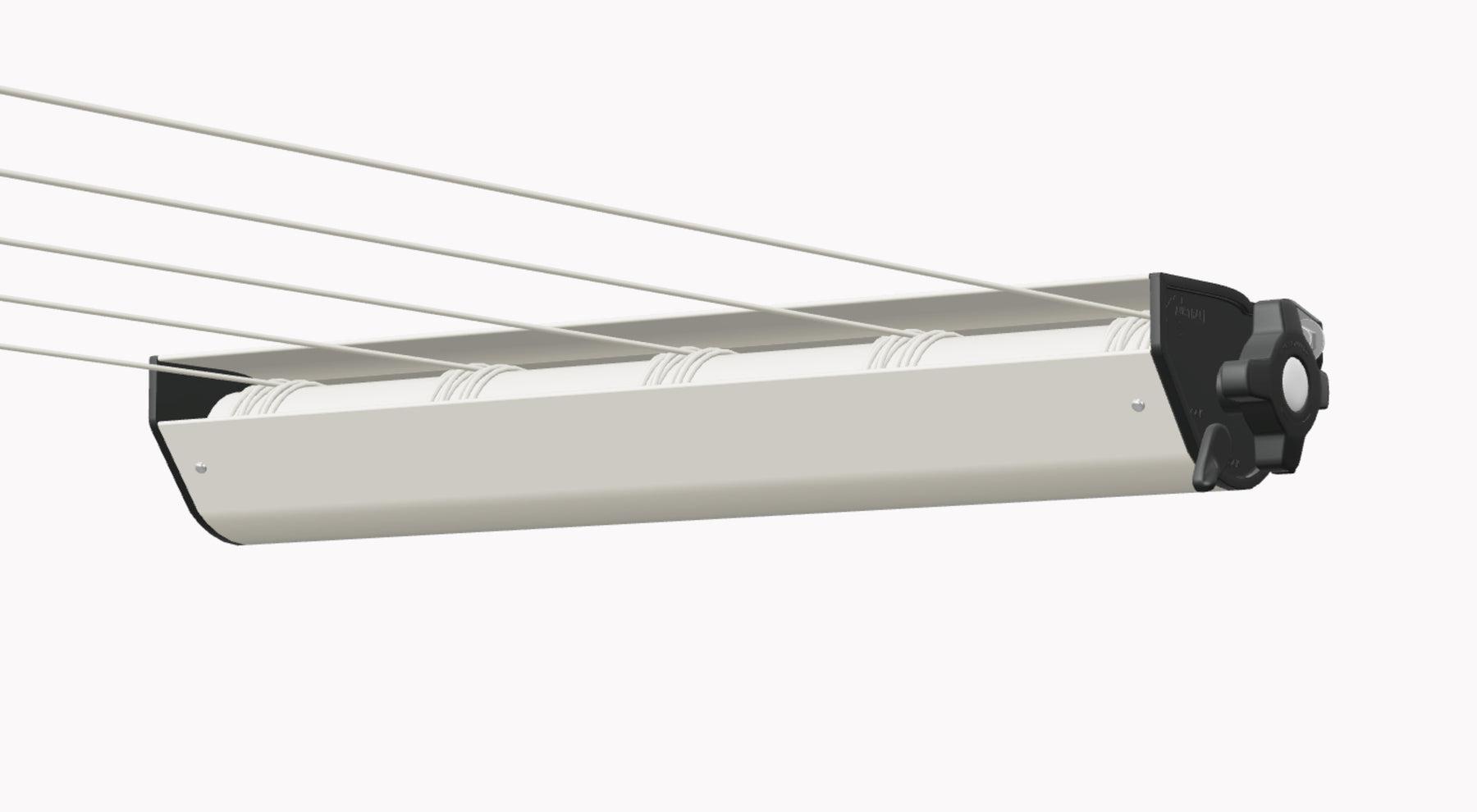 2. Austral Retractaway 50
With an average score of 4.9 out of 5 stars, one shouldn't wonder why the Retractaway 50 is one of the biggest players in this segment.
Designed and engineered to breeze through the extreme Aussie climate, it's a blatant display of Austral's hyper laser focused approach when it comes to reliability.
It may not be the prettiest nor slimmest retractable unit out there but the moment you look at the Retractaway 50 you know that it means 'business' starting with the widely spaced lines which dries laundry, fast.
The large easy to use knob, powder coated galvanised steel enclosure, a robust reeling mechanism plus 50 metres of sunlight resistant cords — this is the only retractable drying line unit that you will ever need.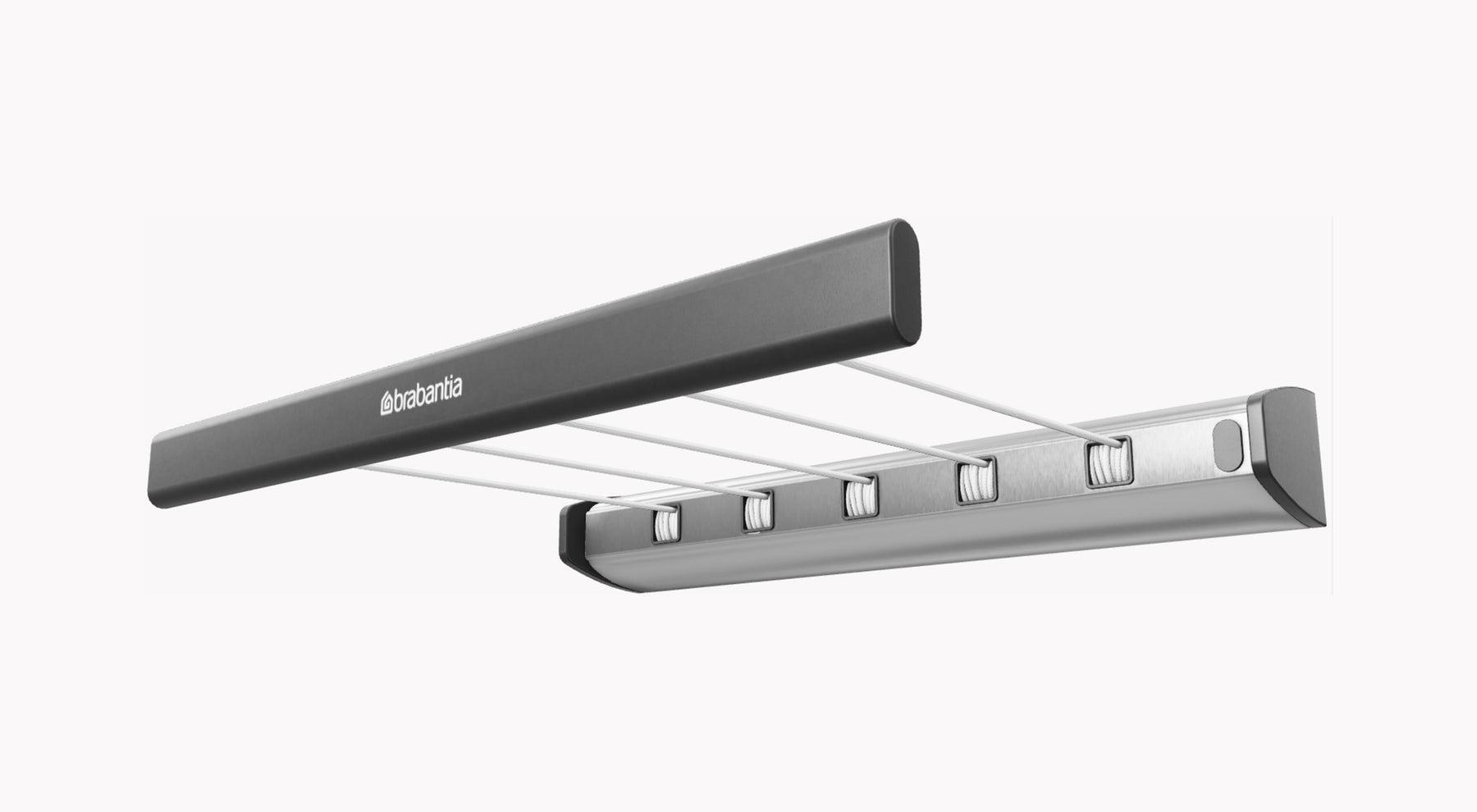 3. Brabantia Retractable
The Brabantia Retractable clothesline is a compact unit with an almost invisible European design.
This one is destined to make a statement indoors should it catch the attention of your visitors.
The easy to use dial and durable woven nylon cord/rope gives it a total line length of 22 metres spread over 5 individual lines Which makes drying a breeze and handles up to two washes in one sitting.
Maximum extension of the drying line is 4.4 metres which makes it a great choice for the laundry room, balcony, or even basement.
The ratings for this product ranges from 4.5 to 4.9 out of 5 stars and is one of the best selling indoor retractable clotheslines on the market right now.
Best Ceiling Mounted Clothesline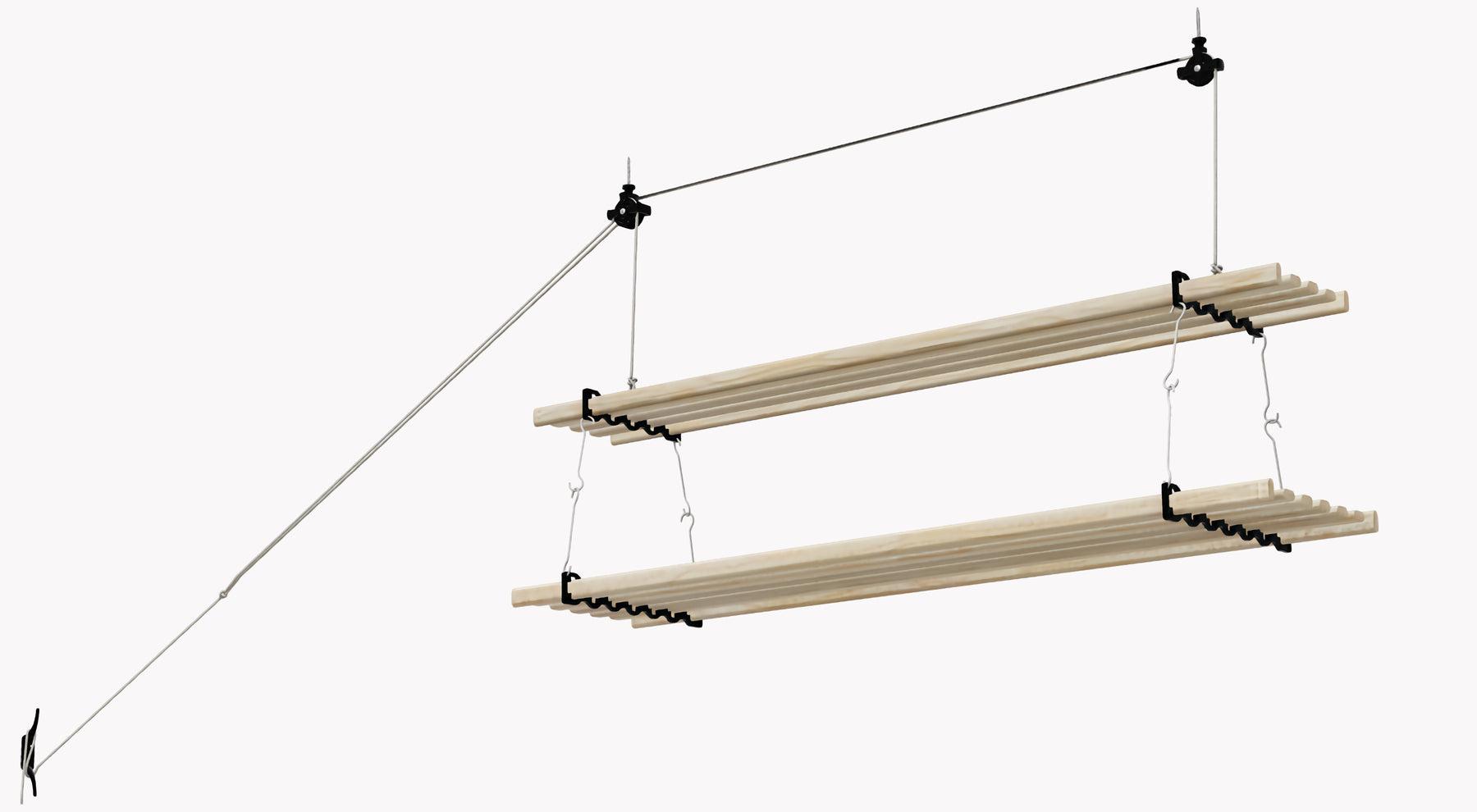 1. Stacker Gismo
A stylish and spacious ceiling clothesline with two tiers and dual functions, the Stacker Gismo is an airer that's perfect for the needs of many.
Thanks to its stacked design, this clothesline boasts twice the capacity of a standard ceiling airer so you get to enjoy more time relaxing at home, less time doing laundry.
Depending on the orientation of the sustainably sourced wood laths, you can also turn this nifty ceiling airer into a shelf!
Keep towels, boxes, or whatever you want organised and lifted away — leaving you with more room to move around at home.
The classic European style suits pretty much any home design plus the high quality components make for a very reliable ceiling clothes line that will last for ages.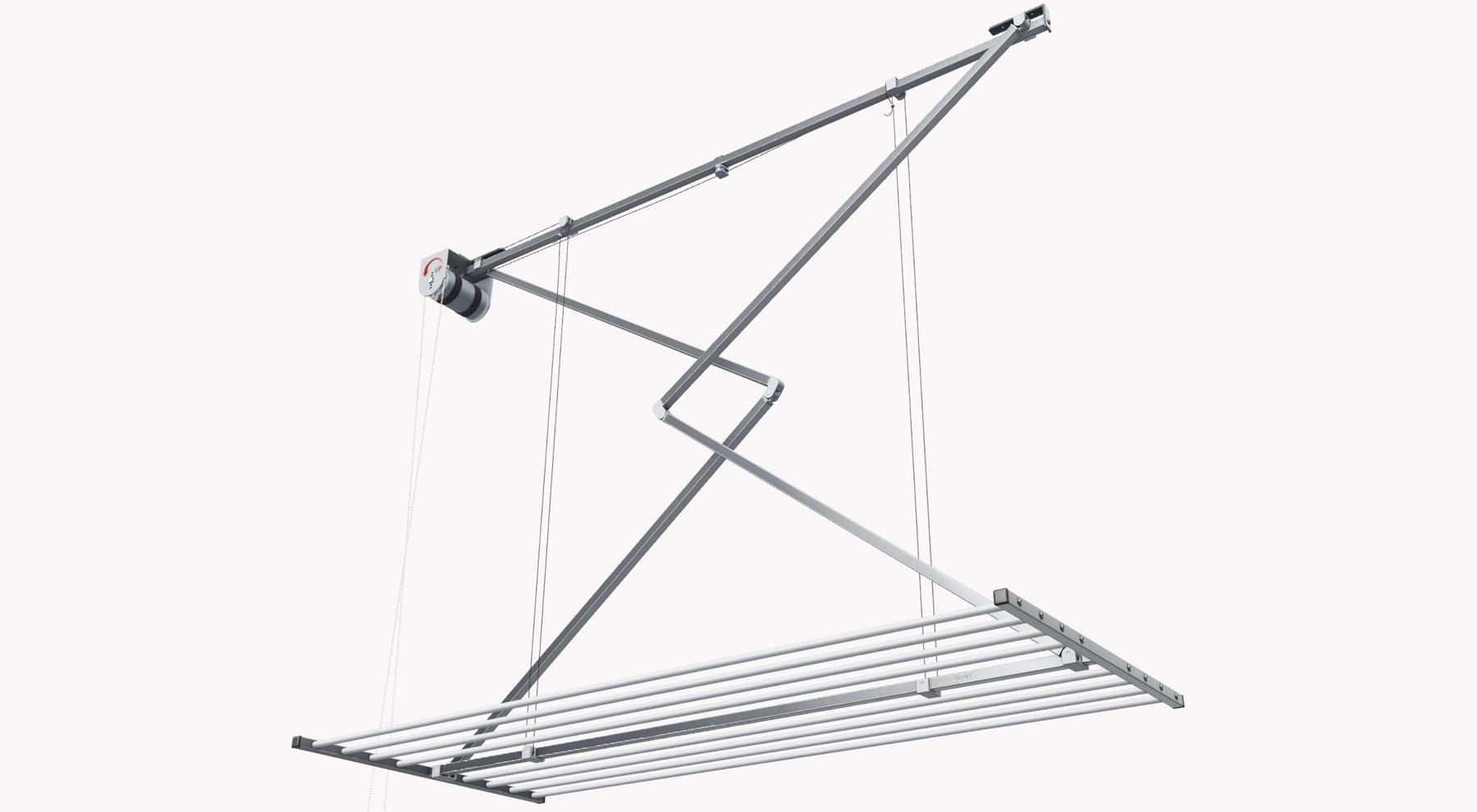 2. Foxydry Mini
The Foxydry Mini is one of our most highly rated ceiling clotheslines thanks to its practical engineering that's geared towards usability.
Sporting a very modern design with features that make a ton of difference, this is not your ordinary ceiling clothes airer.
Bid farewell to the annoying tendency of lesser ceiling airers to sway sideways while hanging clothes, the dual scissor-style arms make for a more stable clothes hanging experience.
The pulley system is also equipped with a friction mechanism to make lifting or lowering of the rack a smoother, less jarring affair regardless if it's loaded to the brim with heavy items or not.
It's also made of durable, corrosion resistant steel and aluminium so rest assured that the Foxydry Mini will keep working amazingly for many years.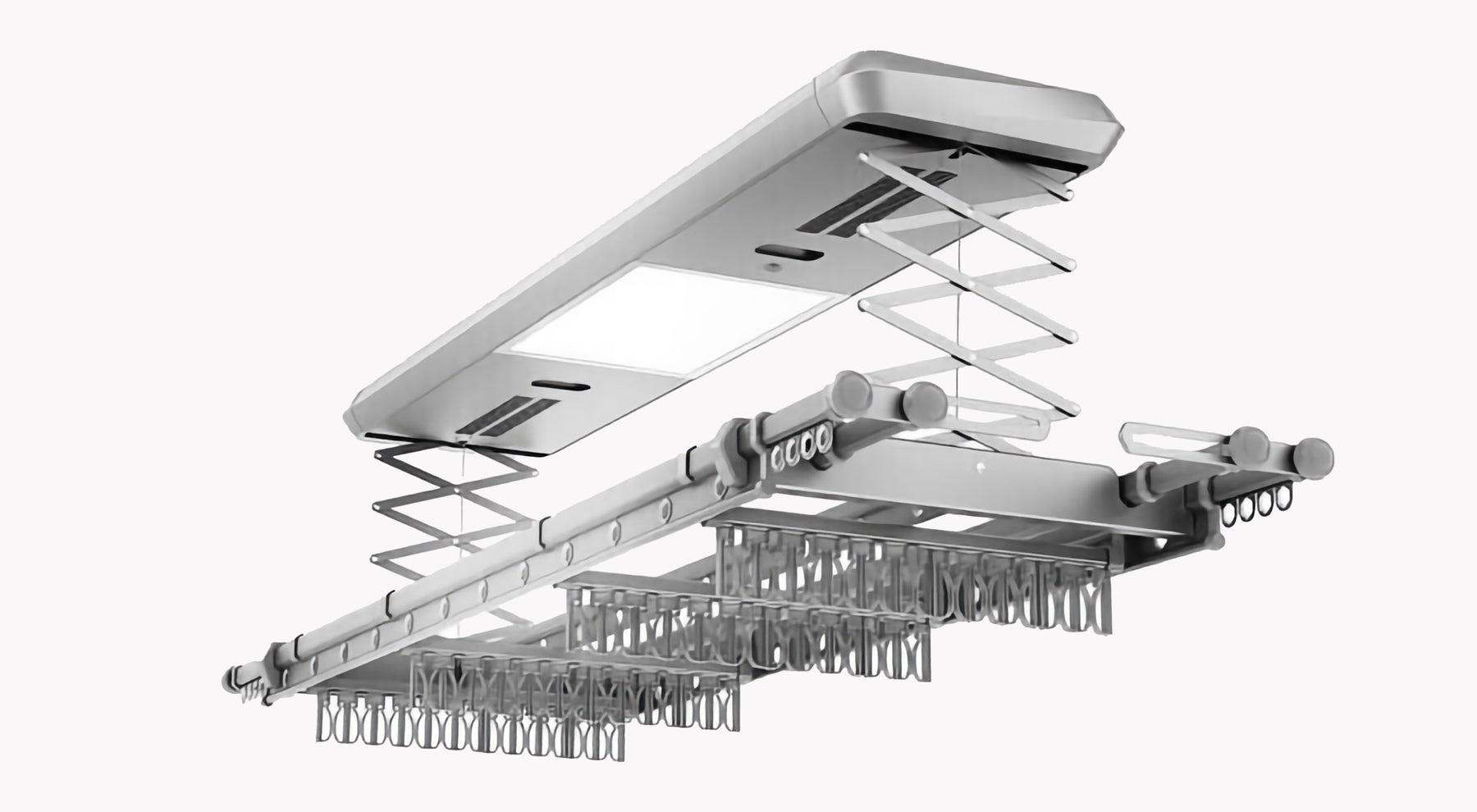 3. Topline 150
If you are looking for the ultimate ceiling airer, the Topline 150 is definitely the right equipment for your clothes drying needs.
Filled to the brim with all of the features you can ask for such as wireless remote control operation, motorised operation, standard or hot air drying, LED lights, UV lamp for disinfection, etc.
It is the best clothesline for those looking to ditch the dry but want to dry clothes indoors with zero compromise whatsoever.
It can even dry queen sheets and a full wash load without issues and there's an available pegless clip system so you no longer have to deal with flimsy clothes pegs.
No doubt out clothesline experts and customers' favourite, this ceiling mounted clothes airer does all the hard work for you and more, that's the Topline 150.
Best Portable Clothesline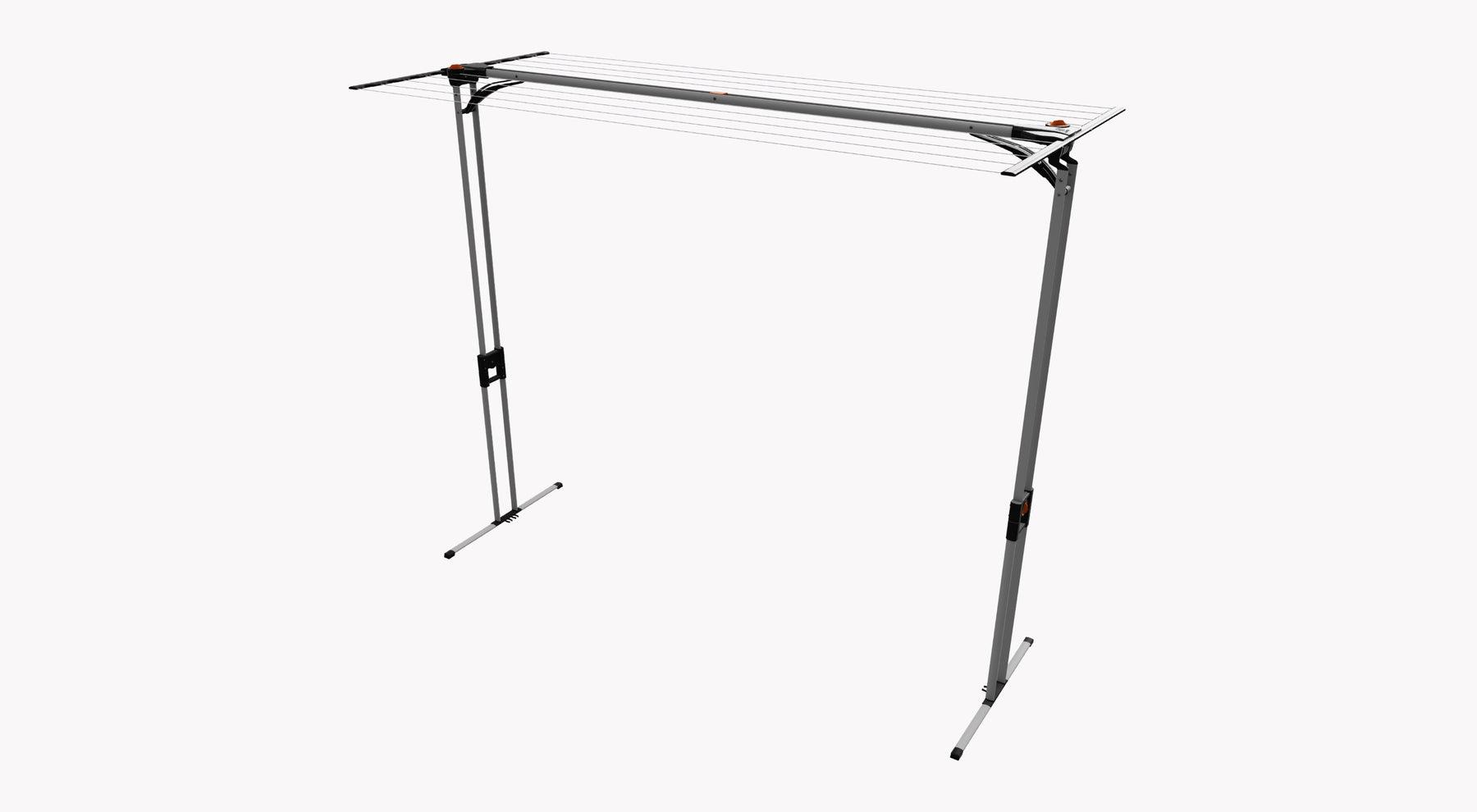 1. Ecodry Portable
If you were to over-engineer a great quality portable clothesline, the Ecodry Portable might just be the outcome of that.
The striking symphony of black trims with stainless steel framing and orange dials is no doubt a looker — though, form is nothing if you sacrifice function.
The awesome folks at Ecodry made sure that this product is a result of function above all else, but form is also a priority kind of thing.
When folded, you can hang it behind the door and the orange dials are large and easy to grip making the folding process easy as can be.
Dries tons, folds flat, tough against corrosion, and top-notch ergonomics, the Ecodry Portable is a clothesline that everyone would love to have at home.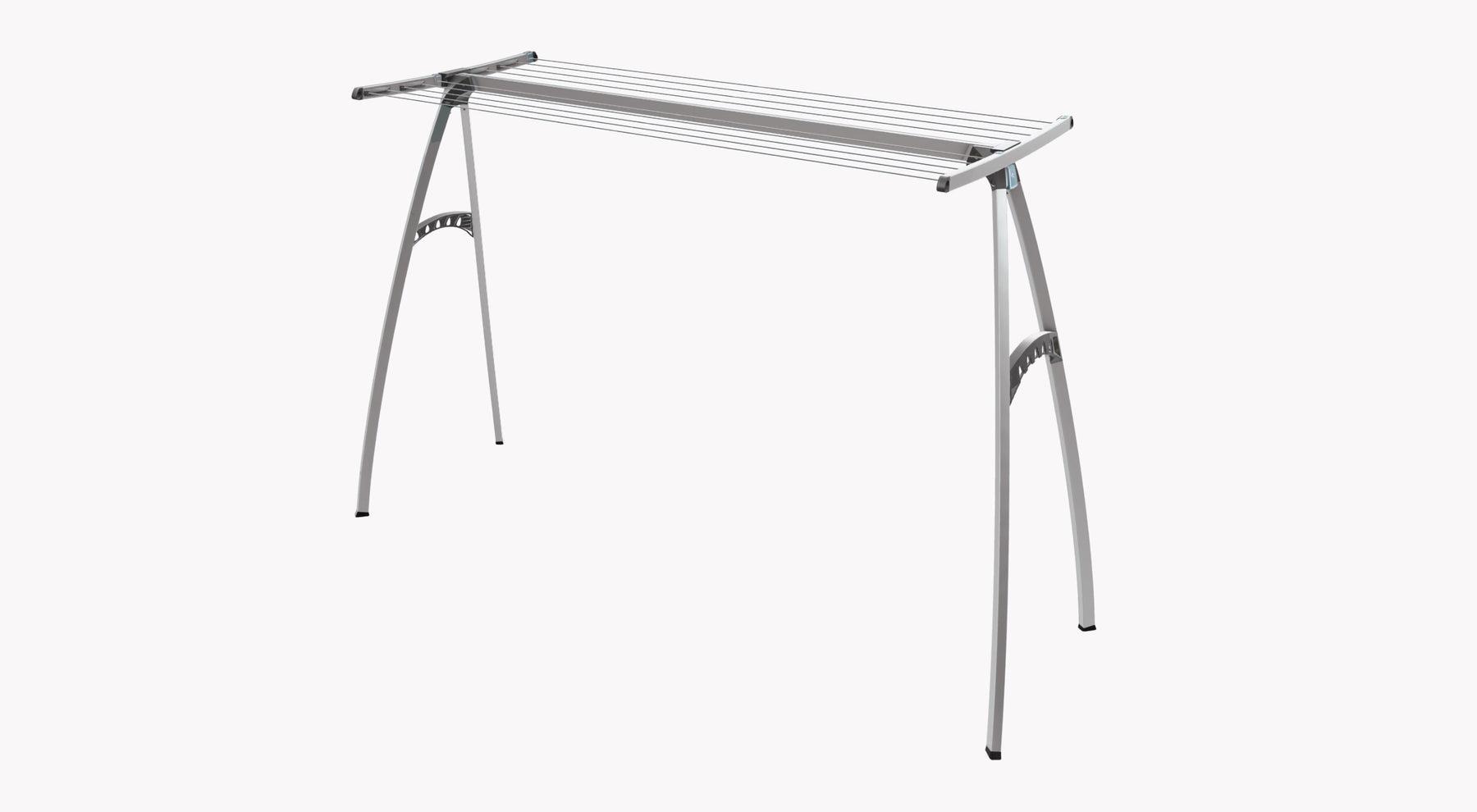 2. Hills Portable 170
Made by Australia's most beloved clothesline brand, the Hills 170 is the embodiment of practicality and value.
Fashioned from the same high quality galvanised steel tubing with powder coat paint found in its larger fold down and folding rotary cousins, the Hills 170 is surely built for heavy duty use.
With 17 metres of total line space and integrated holes for ten clothes hangers, this is one of the larger portable clotheslines on the market that won't leave yearning for more drying space.
When you're done using it, you can just fold it flat into a slim and light package to hang away from sight — ready anytime you need it!
Affordable, reliable, and has heaps of space, the Hills 170 is one of the best portable clothes airers out on the market right now.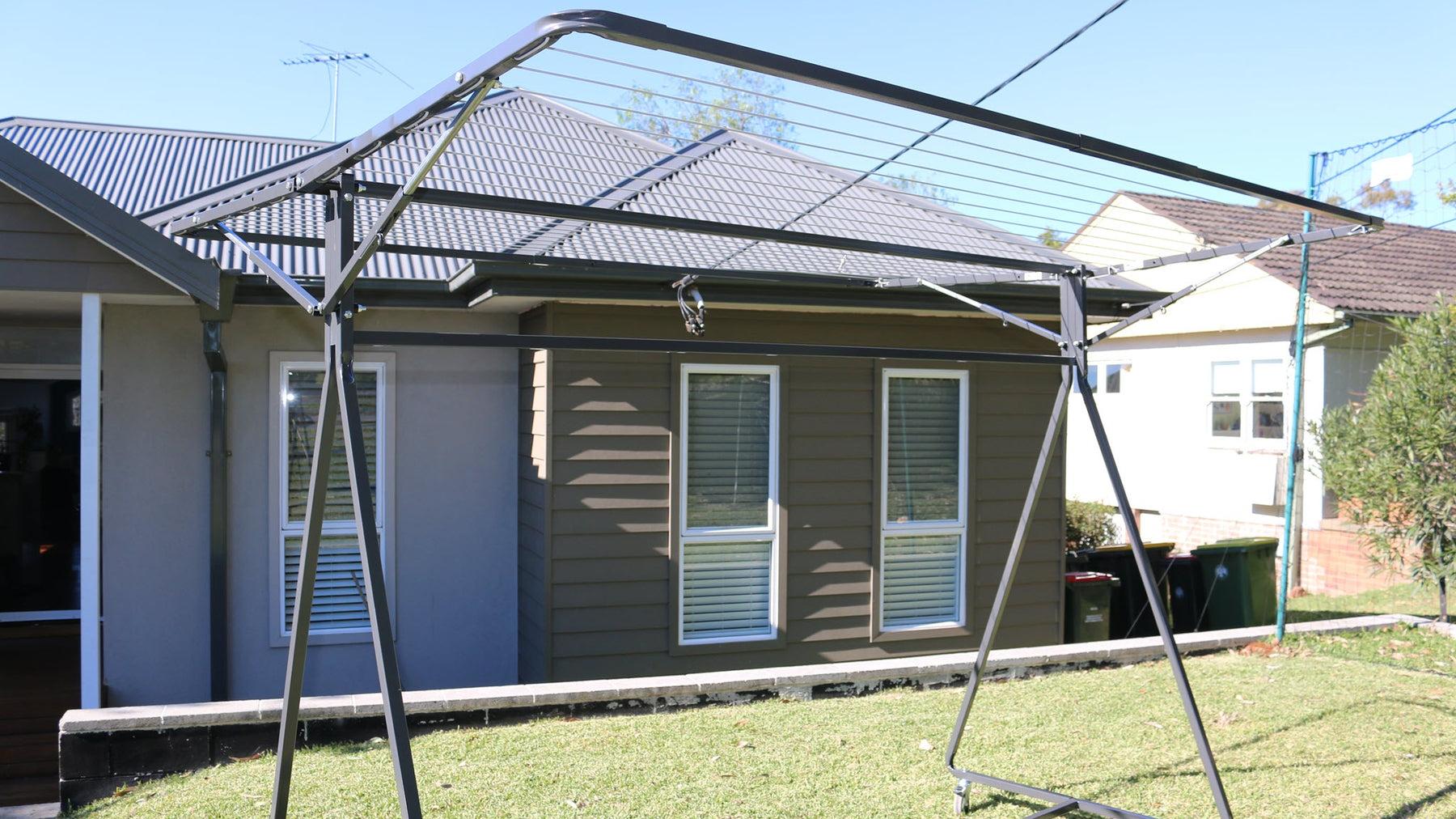 3. Sunchaser Mobile
If you want the most drying space but don't want to deal with the hassles of installing a big fold down, rotary or retractable clothesline, the Sunchaser is the clothesline for you.
This behemoth ain't shy about what it can do with 48 metres of total hanging space via its twin folding frame design — no other portable clothesline comes close.
The heavy-duty, ball bearing-equipped casters allows it to be effortlessly moved from one space to another with minimal effort even when loaded to the brim with wet laundry.
The thick, galvanised steel tubing and baked-on powder coat finish keeps rust away for peace of mind and it's even compatible with a fold down clothesline cover.
A huge portable clothesline for the whole family that covers all the bases, the Sunchaser is surely the answer to all your clothesline woes.
Factors to Consider When Purchasing a Clothesline in Australia
When you purchase a clothesline in Australia, there are multiple factors to consider apart from the size and cost.
By taking these factors into consideration you will be able to choose a clothesline that will perfectly match your needs resulting in greater overall value.
Below is a concise list of all the key aspects that truly matter:
Size and Capacity
When choosing a new clothesline for your house, consider both the size and capacity.
Sizing refers to the dimensions of the unit while capacity refers the amount and weight that the clothesline can hold.
Proper sizing relies mostly on the available indoor or outdoor space you may have and space that you need for drying clothes.
If you have a large backyard, a retractable clothesline or rotary clothesline (Hills hoist) offers the best amount of lines to hang your wet clothes.
Either one of those form factors can dry faster than other types of airer.
A more compact and lightweight alternative is a portable clothes line.
This can be useful for those who have limited space, it comes in a variety of styles, price ranges, and you can fold it to save space.
If you need to dry plenty of washing but don't want to sacrifice yard space, a folding rotary clothes hoist paired with a ground socket is your best bet.
Taking this route is a good thing if you want a roomy airer but don't want to sacrifice yard space.
You can simply lift it off the socket and store it when not in use — prolonging the life of the cord/line at the same time.
Durability and Material
Not all clotheslines are made equal, cheaper ones are entirely made of plastic made of light, ordinary steel with plastic/PVC coating which traps moisture underneath causing rust.
This ultimately results in peeling of the coating and weaker structural integrity of the unit as time passes.
Better made washing lines are made of thick galvanised steel tubing with powder coat paint — the same materials and method used for making cars.
Premium clothesline units have a frame made of durable 316 stainless steel that are stiffer and doesn't rust. Some are electropolished to keep 'tea staining' to a minimum while others usually have brushed finish for aesthetic reasons.
The latter are better suited for those living in coastal regions or areas that experience a great amount of rain all year round.
Ease of Use and Installation
When you purchase a new clothes line, it is a good idea to match it with your lifestyle and capabilities.
A portable clothesline can offer complete flexibility for drying clothes because you can fold it and move anywhere to hang clothes dry — inside our outside of the house, you name it.
Portable clothesline units are great for those who are no DIY experts, they are to easy store, and easy to fold for saving space in small homes like apartments, condos, and townhouses.
The lightweight design, foldable frame, and wide range of choices make them great alternatives for those who can't install a wall mounted or rotary clotheslines.
More permanent clothes line units that require install such as a retractable clothesline or rotaries can offer insane amounts of hanging space.
If you have a big household a retractable is the best bet with units that can offer up to 50 metres of length for clothing, enough for a big family.
It can also be configured as wall-to-wall, wall-to-post, or post-to-post for flexibility in installation.
This allows the clothesline to be installed anywhere on the ground, not limited to just being wall mounted.
Should you decide to purchase a rotary clothes hoist, convenience is one of their most recognised features since the top frame can be raised or lowered for easy hanging.
Carrying a laundry basket frequently is also out of the question since you can rotate the lines from where you stand — making it a 'back-saving' device, if you have mobility issues rotaries are also the best.
Rotaries also lessen the length of time it takes to hang because they're so easy to use.
Cost
Cost is the most important factor when deciding on a new clothesline for your home.
Given the broad spectrum of products available on the market, choosing a clothes airer can be overwhelming.
Expensive doesn't always mean better, it's best to keep that in mind.
You don't need unnecessary bells and whistles which easily bloats up the price of an airer, just settle for a well-rated clothesline that is known for durability.
A clothes airer is a single-purpose product that should work well and last long.
That's actually all there is to it, pay more for better reliability and usability not features that you'll stop using after just a few times.
How Much Should You Spend on a Clothesline
Like we have mentioned above, clotheslines come in all sorts of form factors and sizes so prices can vary depending on the type that you're interested in.
The price for rotary hoists from Austral and Hills usually hover around the $500 -$600 range while retractables cost usually half of that, around $200 - $300.
The cost of typical fold downs are varied as well but roomier, better built ones by the likes of Eco, Austral, and Hills start at around $200.
High-end fold down units built out of solid stainless steel significantly cost more so expect to pony up at least $700 to $1000 or even higher.
It can get pretty expensive but like what we've said, stainless steel is the way to go if you want a worry free experience, after all, you cannot put a price on peace of mind.
Do bear in mind that those prices do not include the charge for a professional installation should you opt for it.
Portable models also come in a range of designs and cost so, put simply, your requirements will basically dictate how much you'll need to shell out for a shiny new airer.
Conclusion and Recommendation: Best Clothesline for Australian Households
In conclusion, choosing the best clothesline for an Australian household requires considering factors such as available outdoor space, laundry volume, climate, personal preferences, and budget.
A rotary clothesline is a great option for larger households with ample outdoor space, offering ample capacity and durable design.
For smaller households with limited outdoor space, a wall-mounted or foldable clothesline may be more suitable, providing ease of use and storage.
When choosing a clothesline, also consider factors such as durability and material, ease of use and installation, and cost.
By balancing these factors, you can find a clothesline that fits your needs and provides good value for your investment.