When looking for 240cm wide clothesline options, Lifestyle Clotheslines is the right place to go to!
So we will help you determine which products are best suited for a space with a width of 240 centimetres, not to mention ways to further maximise the use of this space.
In this article, we will cover the different models and brands that are available, the colour options, mounting options, freestanding conversion kits, and installation of those products as well as any accessories you can add to the clotheslines. 
The first product that we want to discuss is the Eco 240 clothesline.
The Eco 240 is -- as the name suggests -- 240cm wide and is available in a number of different depth options.
Depth being the distance out from the wall/the main frame's front overhang.
Just like the rest of our Eco lineup, the Eco 240 sports a full galvanised steel construction and is really a popular option judging by the preference of our customers ordering via our online portal.
Topics Covered in This Article
In the images below, you will see the quality of the full steel construction of the Eco 240.
There's virtually no plastic load-bearing component in this clothesline other than the plastic cord itself which can be easily replaced with a steel cable should you wish.
We see a lot of the overseas units coming in, particularly the ones made in China that have a lot of plastic components in them and these rarely last for more than five years or so due to their cheap construction.
If you don't need the clothesline, you can simply fold it down flat to the wall and then when you're ready to go again, you just grab it in the middle, lift it up and the arms automatically lock into position ready to go. 
With the Eco 240 range, you do get five different depth options which is the distance out from the wall:
60cm

75cm

90cm

120cm

150cm
Please bear in mind that the farther out you can go from the wall, the more line space you are going to get. 
At the end of the day the depth of your clothesline will depend on what area and space you've got to work with.
An optional accessory you can add to the Eco range of clotheslines is the low line attachment. 
With the Eco range of clotheslines, the capacity can be easily upgraded with the help of an optional Eco Lowline Attachment.
This is a lowline section which is a slightly lower frame at the back of the clothesline. This gives you three additional drying lines.
It connects to the mainframe and goes up and down when the mainframe goes up and down as well and it's really handy for giving you that extra line space over that 240cm spacing.
If you didn't need it on any given day, it simply unhooks from the mainframe and folds flat to the wall.
So if you're looking to maximise your line space in this 240 centimetre size area, adding a lowline attachment is a really handy option without sacrificing floor area.
The Eco Dual Frame is another clothesline at 240 centimetres wide.
There are two options and as far as the depth goes, there is only one which is 120cm deep or you can get a bigger unit that comes out 150cm from the wall.
The Eco Dual Frame basically consists of two clotheslines in one and offers better space saving by varying its capacity. If you did half a load's wash then you can get by with just half the frame deployed for drying.
If you have a bigger wash, you can lift up the bigger frame as well to give you your full line spacing. 
The Austral Standard 28 is another clothesline in the 240cm range. It is 249cm by 150cm out and has twelve lines.
This one comes in three standard colors of the classic green, woodland grey and surfmist.
This a very popular and durable option as well.
Eco Clotheslines Colour Range
The Eco clotheslines come in 6 standard colours.
These are COLORBOND colours and pretty much span the spectrum of the most popular colours we see today. 
But if you do need something outside of these COLORBOND colours for a specific situation or colour scheme, please let us know as we may be able to help. 
if you don't quite have the space for that bigger unit, there's the Austral Compact 28 that's 249 centimetres by 93.5 centimetres out from the wall.
You still have 12 lines but given the dense form factor, items will be a bit closer together.
The Austral Addaline 35 is another clothesline within the 240cm range. 
This one is a standard size of 249cm by 150cm and has 12 lines and is available in three colours. 
Both are pretty handy units andare Australian-made as well, all steel construction that will last a long time.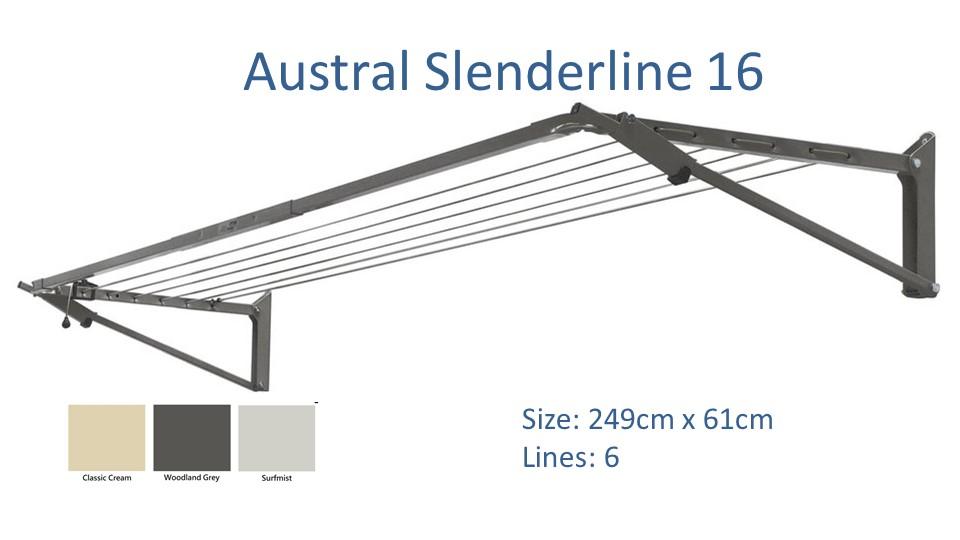 If you have a very small narrow area down the side of your house like a small passageway or a walkway, perhaps the Austral Slenderline 16 is a good option for you.
It's 249cm long and 61cm out from the wall.
Boasting you six drying lines, this handy clothesline offers amazing amount of of line space in a very narrow area.
This unit also comes in those three standard colours from Austral.
Our recommendation though for the 240cm wide clotheslines is the Eco Clotheslines range.
They are handmade in Australia the old-fashioned way and with a full steel construction, they're designed in Australia, built in Australia and really designed to last a long time with the harsh Australian conditions that we see here. 
The big range of modern colours is also a really interesting selling point for them because you can pretty much find one that will seamlessly match with your home's colour/decor.
If you do need customisation, the Eco Clotheslines can be made exactly to the size you need.
So if you require -- for example -- a clothesline that's 245cm wide, we can actually make that clothesline to that size exactly for you so you can maximise your line spacing area as much as possible
 There are two types of ground mounting kits you can get if wall installation is not an possible, the standard ground mount kit and the plated ground mount kit.
For the standard ground mount kit, you need to dig two holes and then you concrete those legs into the ground so as to facilitate a solid installation.
If you want your clothesline installed on a flat concrete slab area, you can get what's called a plated ground mount kit.
This is basically a post with a plate welded on the bottom that is then dynabolted down to your flat concrete slab area and the clothesline is installed onto to posts. 
We have a huge network of clothesline installation partners situated all over Australia so rest assured we can take care of your clothesline dilemma wherever you may be!
Check the box for installation on the product page of the model you are interested in or give us a call to avail of this service. Easy as pie!
And the optional extras for these type of clotheslines at 240cm wide is a clothesline cover. 
Clotheslines give you a worry-free experience should you need to keep an eye away from your clothes that are being dried.
In the even of a sudden rainfall, your clothes will remain dry and protected!
And when it's sunny, your garments won't be damaged from the harsh UV rays -- keeping the colours from getting dull and making them last much longer!
All the orders through Lifestyles Clotheslines come with our 100-day happiness guarantee. That means you can rest assured you've found the right clothesline for your area or situation. 
We cannot stress this enough, customer satisfaction is what drives us here at Lifestyle Clotheslines, happy customers make for very happy businesses too--at least that is the way we see things.
If you are looking for more up-to-date and comprehensive information on 240cm wide, please feel free to drop by our website at lifestyleclotheslines.com.au
You can also give us a call at 1300 798 779 if you have specific queries that will be gladly taken care of by our awesome clothesline experts!