Today we shall discuss 2400mm wide clothesline options as well as clothesline models that are best suited for spaces that are 2400mm wide.
In this article, we'll focus on the different products that are available, the colour options for the models that we are going to show you, the mounting options, installation and some accessories you can get so as to maximise the potential of your investment.
A clothesline with a width of 2400mm is not something readily available off the shelf.
Back then, it's either you have one custom made or you make one yourself.
The former can get quite expensive while the latter is a bit of a daunting task to do yourself.
Lifestyle Clotheslines is aware of these issues and we are more than happy to provide you with the perfect solutions.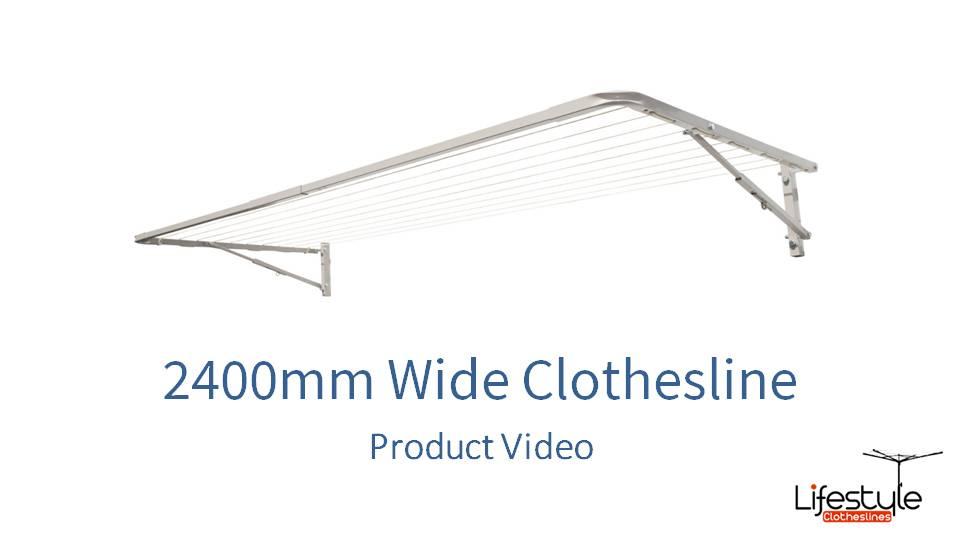 Topics Covered in This Article
Eco 240:
One of the top products we do recommend is the Eco 240, this clothesline is Australian made and is 2400mm wide, does come in a range of depth sizes (which is the distance out from the wall).
We would like to highlight that it is entirely Australian made, boasts full steel construction, and the only plastic component it has is the stock cord itself.
It just folds down flat against the wall (pictured below) and when you want to use it, simply grab it in the middle, lift it up to the horizontal position, and then the arms automatically lock into place.
Lifting the main frame slightly disengages the locks, slowly fold the frame down and you get back the precious floor area utilised by the clothesline.
With the Eco 240 range, you do get five different depth options which is the distance out from the wall:
600mm

750m

900mm

1200mm

1500mm
Please bear in mind that the farther out you can go from the wall, the more line space you are going to get. 
At the end of the day the depth of your clothesline will depend on what area and space you've got to work with.
An optional accessory you can add to the Eco range of clotheslines is the low line attachment. 
The Eco Lowline Attachment adds another section at the back of the clothesline, slightly lower from the mainframe.
This gives you an extra three lines. So over your 2400mm, that's another 7200mm of usable line space -- a really great option to add if you're trying to maximise your line area.
It does connect to the mainframe, so if the mainframe goes up or down, it simultaneously goes up or down with the mainframe, no additional step required.
And if you didn't need it on any given day, you can simply unhook it from the mainframe and it falls flat to the wall.
But it is a handy option to consider if you're really trying to maximise your line space in a small area.
The Eco Dual Frame is another option that will fit a 2400mm wide spacing.
This is a twin frame unit which means it has variable capacity and has two independently usable frame to save space further.
If you only need to dry a small wash load you could put one of those frames up and when you do a bigger wash, you simply deploy both frames.
Eco Clotheslines Colour Range
The Eco clotheslines come in 10 standard colours.
These are COLORBOND colours and pretty much span the spectrum of the most popular colours we see today. 
But if you do need something outside of these COLORBOND colours for a specific situation or colour scheme, please let us know as we may be able to help. 
The Austral Standard 28 is another clothesline within the 2400mm range. 
This one has a standard size of 2490m by 1500mm, it has 12 lines and is available in three colours. 
It's a pretty handy unit, Australian-made as well, all steel construction. It's another very popular unit that we recommend.
If you got a narrow space out from the wall, Austral  also has the Compact 28. 
This is the same width of 24900mm but the depth is 935mm and has 12 lines, available in three colours just like its larger sibling.
Another handy unit to consider if you're looking for dual frame unit is the Austral Slenderline 16, the last one in the 2400mm range.
It's 2490mm by 610mm, that's 610mm out from the wall and it has six lines, in the three standard colours too and could be an option to consider if you have those narrow areas. 
Our recommendation though for clotheslines that are 2400mm wide is the Eco Clotheslines range.
They are handmade in Australia the old fashioned way.
They have a full steel construction that is built to last, so they use Australian steel and then powder coated in the colour that you prefer.
So having that bigger range of colours is a handy option to consider and you can find the right colour that will match your home decor seamlessly.
And if you're doing any customizations as well this can be done free of charge.
So if you have a space that's just under 2400mm -- say 2350mm or just a little over 2450mm, we can actually customise the clotheslines free of charge for you.
For the mounting of the clothesline, the standing mounting for clotheslines is, these wall mount type, is 2400mm wide onto a brick or masonry surface. 
If you don't have a standard surface that is appropriate for mounting a clothesline to, you can get what's called a ground mount kit for the installation. These kits that either get installed into the grass and soil with concrete footings.
If you have a flat concrete surface area, nice flat slab, you can actually get a plated kit, which is legs with plates welded on the bottom and then they bolt down flat to the concrete area.
So this allows the legs to be installed, and then the clothesline would mount to these legs. 
We have a huge network of clothesline installation partners situated all over Australia so rest assured we can take care of your clothesline dilemma wherever you may be!
Check the box for installation on the product page of the model you are interested in or give us a call to avail of this service. Easy as pie!
And the optional extras for these type of clotheslines at 2400mm wide is a clothesline cover. 
These are great for weather protection of your clothes, keeps the rain off your precious garments and other unwanted particles.
If it does rain or if you're in high sun areas then they're also handy for protecting your clothes from the harsh sun that they don't sun bleach and don't last as long. 
So if you're interested in that, there's an optional extra to add a cover to your clothesline as well.
All the orders through Lifestyles Clotheslines come with our 100-day happiness guarantee. That means you can rest assured you've found the right clothesline for your area or situation. 
We cannot stress this enough, customer satisfaction is what drives us here at Lifestyle Clotheslines, happy customers make for very happy businesses too--at least that is the way we see things.
If you are looking for more up-to-date and comprehensive information on 2400mm wide, please feel free to drop by our website at LifestyleClotheslines.com.au
You can also give us a call at 1300 798 779 if you have specific queries that will be gladly taken care of by our awesome clothesline experts!