Getting the right 2200mm wide clothesline for your home shouldn't be  daunting task, Lifestyle Clotheslines' experts have a bunch of amazing recommendations for you!
Let us help you find the perfect clothesline for a 2200mm wide spacing, the colour options, mounting options as well as installation and accessories to make the most out of your investment.
A 2200mm wide clothesline is not a standard or common size that is offered by manufacturers.
It is easy to see why since specific clothesline widths/lengths can't possibly available off the store shelves due to the tailor-made nature of such a product.
We recognise this issue and that's why we are glad that you ended up here because we will show you a few recommendations that you might want to consider!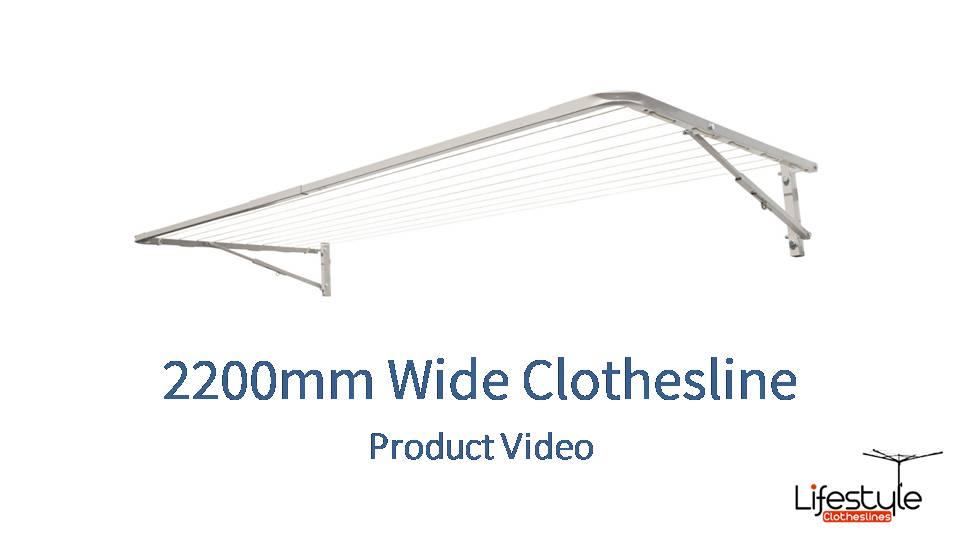 Topics Covered in This Article
Eco 240:
The first one on our list is the Eco 240 clothesline, this mighty workhorse comes in a variety of colours and depth options.
Despite the default width of 2400mm, we can actually downsize it for you to fit your 2200mm wide laundry drying area perfectly. 
This clotheslines boasts full galvanised steel construction with Colorbond finish, a durable, baked-on enamel like coating that resists scratches and protects the steel from moisture to keep rust at bay.
The Eco 240 is available in multiple depth options for the ultimate flexibility:
600mm

750mm 

900mm

1200mm

1500mm
Generally, the further out from the wall you go you will get more lines of the same width so you have more space to air clothes.
It has more to do with the amount of clearance you have in front of the clothesline really than the number of lines condensed in the frame itself.
Since the Eco 240 is a fold down clothesline, it can simply be folded down flat when you don't need it.
And when it's time for laundry day, simply hold it in the front of the frame, lift it up and it locks into position -- ready for use!
The Eco Lowline attachment is an accessory that increases the capacity of your Eco clothesline without consuming additional floor area.
This awesome accessory adds three additional drying lines of the same width as the main clothesline -- perfect for bed linen and such!
This is really handy for places like apartments, condominiums, cottages, or any indoor or outdoor area where space is at a premium.
It goes up and down with the main frame via struts so no extra steps necessary to use it. Convenient indeed!
Eco Clotheslines Colour Range
With the Eco Clothesline range, you do get 10 standard colours, these are the most sought-after colours by our loyal customers and are the most popular ones preferred by many.
They're all COLORBOND colours and span pretty much the spectrum of colorbond colours available.
If you do have needs outside of these ones, please let us know as we do have access to other colorbond colours that may work well with your home's exterior.
The Hills Single clothesline is another model that is worth a look.
It is a bit of a departure from the utilitarian look of the Eco clotheslines thanks to its streamlined design and well-known Hills aesthetics.
This one does come in three color options of the Pebble Beach, Basalt, and Midnight Sky and the one pictured above is the Midnight Sky colour.
Again, it's a wall-mounted clothesline 2400mm wide and 1200mm out from the wall and has 10 lines.
Above is the Hills Double Clothesline.
This one is basically a twin frame iteration of the Hills Single but with a variable capacity frame that saves you even more space for when you only need to dry smaller washes.
If you have a small wash, you could just pull the small section up and then if you have a bigger wash, you can lift the other section up for more space.
Again, this clothesline comes in the three colours and dimensions just like the Hills Single.
Our recommendation for clotheslines that are 2200mm wide is the Eco Clotheslines range. They are handmade in Australia the old fashioned way and they're made from Australian steel. 
Like we have mentioned before, they boast full steel construction and they're really built to last a long time. They're designed in Australia, made in Australia, and really suitable for the harsh Australian conditions. 
The big range of modern colours is a big benefit too with the Eco range as well as that customisation available that are both free of charge. 
So if you want specifics in terms of the dimensions of your clothesline, we can make it to suit your requirements at no additional charge.
The standard mounting method for this is a wall mount (a standard brick or masonry wall) but if you don't have a suitable wall surface to mount to, all of these products in this range can be ground mounted using a ground-mount kit. 
The Hills models only come with a standard ground mount kit, which is for a soil installation. The Eco range can be ground mounted using a plated mount kit on top of the standard one.
The ground mount kit will let you erect the clothesline on a grass/soil area, so you'd have to dig a couple of holes and concrete each of the legs in.
The plated ground mount kit would be your best bet for concrete slabs, this kit has plates welded onto the bottom of each leg.
So then you can mount it directly down to a concrete slab area, and then the clothesline would attach to the two legs.
If you need a more comprehensive approach/assistance in terms of clothesline installation, we at Lifestyle Clotheslines do have a network of installers Australia-wide. 
Another option is ticking the box on the Product page and add that to your order, or you can also give us a call and we can help you with the installation service as well.
With a clothesline the size of 2200mm wide, you do have the option to add a clothesline cover if you want, this is a handy option for a couple of reasons:
It protects your clothes from excessive summer heat  so your clothes are gonna last longer because they're not getting hammered by the direct sunlight.
Generally, it's the temperature of the air that drys clothes, not direct sunlight, so that's one benefit.
Also, they are a totally waterproof so it gives you a sense of complacence in the even of a sudden afternoon shower.
We have  100-day happiness guarantee that makes sure you've got the right clothesline for your space and situation, if you are not happy with your purchase, we will gladly find the best route to make it right.
Happy customers has always been the motivation behind our business, trust that Lifestyle Clotheslines has got you covered!
For those of your who want to know more about clotheslines that are 2200mm wide, feel free to contact us at LifestyleClotheslines.com.au
Call us now at 1300 798 779 so you can speak to one of our amazing customer service agents regarding your specific needs or situation.