Today, let us help you decide which 220cm wide clothesline is most suitable for your home, let's talk about the products and brands we prefer, the possible mounting options and other important topics related to clotheslines that will fit within a space that is 220 centimetres wide.
We've said this before and we'll say it again, clotheslines are long term investments and almost always involve permanent installation despite their insignificant price (at least when compared to most permanent home fixtures).
Nevertheless, it is a must to look for a model that is of high quality to ensure decades of trouble-free use and to get the most out of your-hard earned money.
To hit things off, the Eco 240 Clothesline is one of the models we recommend the most for a 220cm wide spacing.
Do take note that while it does have a standard width of 240cm, we can actually modify this down to just 220cm for you, at no additional charge.
We will talk about the width customisation as well as depth options after the quick jump below.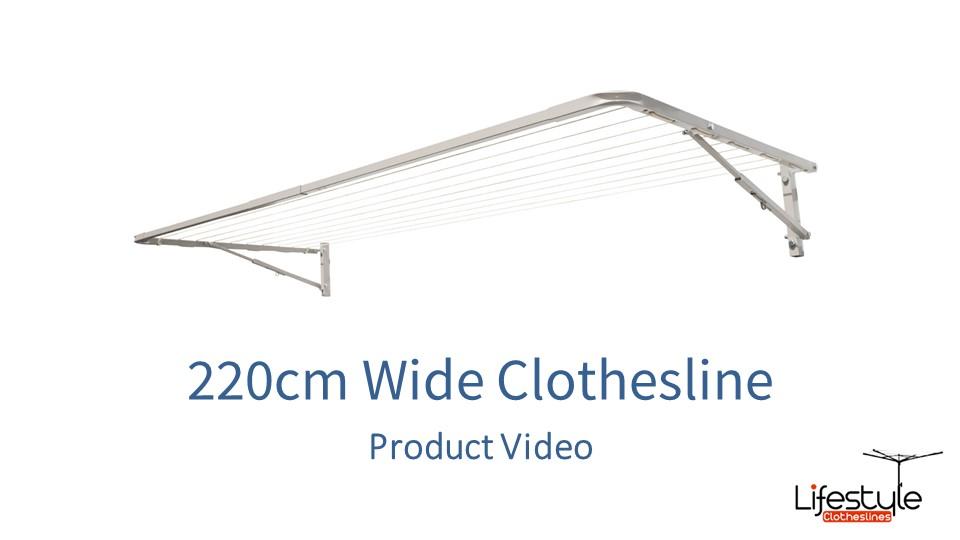 Topics Covered in This Article
Have a look at the Eco 240's wall brackets, the main frame—they are all constructed solely out of solid galvanised steel oozing with reliability. So really, the only plastic components to this clothesline are the cord itself.
When you don't need it, you can simply fold it down flat against the wall, and when it is time to do the laundry simply grab it in the middle, lift it up slightly and the arms will automatically lock into position.
As we have mentioned earlier, we can basically customise the Eco 240 to any size you want! So it doesn't really matter if you need a clothesline with a specific width like 220cm, 225cm or even 228cm, we can get this minor customisation done free of charge.
Eco 240:
With the Eco 240 range, you can actually get it in five different depth options. When we talk about depth we're talking about the distance out from the wall: 
0.6m
0.75m 
0.9m
1.2m
1.5m
Depending on what area you can work with and the space available, this can be a handy option to choose one of these depth options to really maximise the amount of usable are for drying clothes.
With the Eco Clothesline range, you can add an optional low-line attachment. This is a section at the back of the clothesline that attaches below the mainframe and gives you another three lines. 
The eco lowline attachment is really handy if you're trying to maximise your line space in a very small area. 
So for a Eco clotheslines that has a width of 220cm, you get 660cm of extra line space without  using additional footprint within your laundry drying area!
Again, if space is really tight, the Eco Lowline Attachment is a handy way to boost your clothesline's capacity without breaking the bank.
Eco Clotheslines Colour Range
You do get 6 standard colours if you opt for the Eco clothesline range.
These 6 COLORBOND finishes span pretty much the spectrum of colorbond colours available and are the most popular colours that the Australian market prefer the most.
If you do have needs outside of these ones, please let us know as we do have access to other colorbond colours that may work well with your home's exterior.
Another clothesline that's in that 220cm  wide sizing, is the Hills Single Clothesline.
This is a single frame unit that comes in three colours:
Pebble Beach

Basalt

Midnight Sky
The Hills Single is 220cm wide and 120cm deep (depth out from the wall) and it has 10 lines.
It boasts a very aesthetically pleasing design and renowned Hills reliability, practical and stylish -- what's not to like?
The Hills Double (pictured above) has two frames which offers unprecedented flexibility when drying clotheslines.
So you can have the smaller section up and the bigger section down when you're only doing half the amount of laundry.
It comes in three colours as well just like its aforementioned Hills Single and consumes about the same space as its single frame cousin.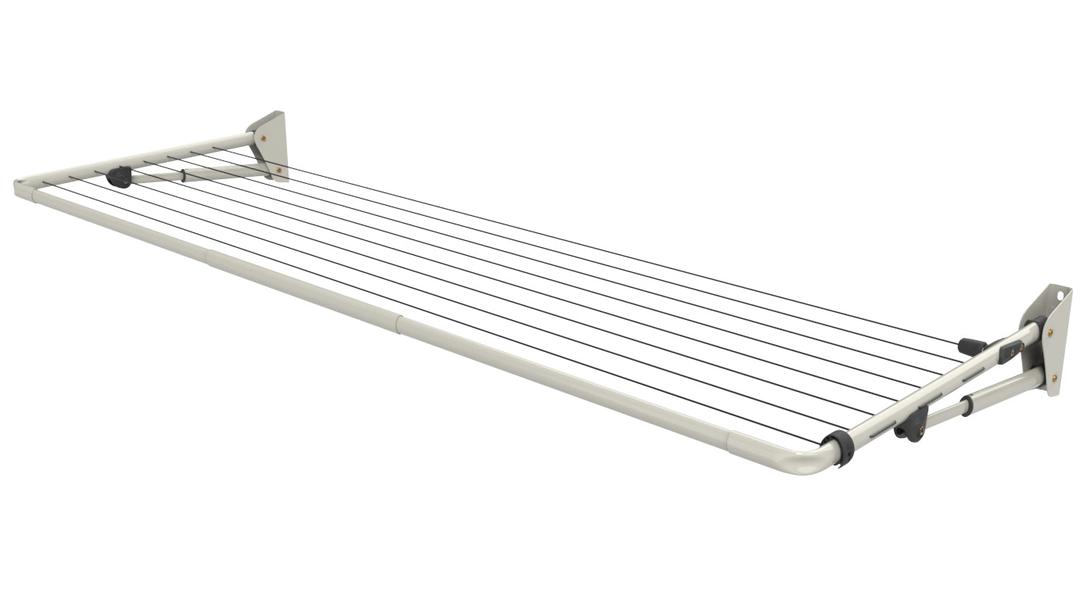 The Hills Compact is the smaller one from the Hills brand.
It sports a width of 220cm x and a depth of 60 centimetres out from the wall.
The Hills Compact has six lines, so it's one of the smaller units we have here at Lifestyle Clotheslines.
This is more suitable for smaller, narrow areas and comes in Pebble Beach colour pictured on the left.
Our recommendation for clotheslines in this 220cm size is the Eco Clotheslines range.
They are handmade in Australia the old fashioned way and all boast full steel construction, they're really built to last a long time.
These products are made in Australia, designed locally as well, and are really built for the harsh conditions that we see in Australia from many times throughout the year.
Also, the big range of modern colours is a really top selling point. They have the biggest range of colours in Australia.
You can pretty much find any colour that's gonna suit your needs and can be customised free of charge, so that means they can come exactly the size you want out from the factory.
When it comes to the mounting of clotheslines around the 220cm wide, having them mounted onto concrete wall is the most common..
But if you don't have a suitable vertical surface to bolt them on, you can convert these into freestanding clotheslines.
There are two different mounting kits.
You can get a standard mounting kit, which goes into your grass and soil situation, or you can get one that's called a plated ground mount kit -- that's for bolting down onto concrete slab.
If you're doing plated, only Eco and Daytek have plated ground mount kits for select products.
If you need a more comprehensive approach/assistance in terms of clothesline installation, we at Lifestyle Clotheslines do have a network of installers Australia-wide. 
Another option is ticking the box on the Product page and add that to your order, or you can also give us a call and we can help you with the installation service as well.
The best accessory to install when owning a fold-down clothesline is a clothesline cover, this cover is a great way to save your garments from premature wear and unwanted particles.
It keeps them nice and dry, it also keeps your coloured garments from fading due to the harsh UV rays.
It's optional to have on your clothesline, but we think that it is something that might be worth considering.
We have  100-day happiness guarantee that makes sure you've got the right clothesline for your space and situation, if you are not happy with your purchase, we will gladly find the best route to make it right.
Happy customers has always been the motivation behind our business, trust that Lifestyle Clotheslines has got you covered!
For those of your who want to know more about clotheslines that are 220cm wide, feel free to contact us at lifestyleclotheslines.com.au
Call us now at 1300 798 779 so you can speak to one of our amazing customer service agents regarding your specific needs or situation.