Searching 2000m wide clothesline products but don't know where to start?
You've certainly clicked the right link, let's talk about the different clotheslines for 2000mm wide spaces.
Getting a clothesline is not a simple ordeal, considering that these workhorses normally last a very long time if taken care of, it's imperative that you choose one that will fit your needs at the present as well as the future.
We will carefully go over the brands and models that our clothesline experts prefer and the colours that are available for each model.
We'll also take a look at some accessories that work well in a 2000mm space, as well as installation services and answer some FAQs that you might have.
You can opt to watch the video guide we have created above or keep reading on for a more comprehensive approach on our product recommendations.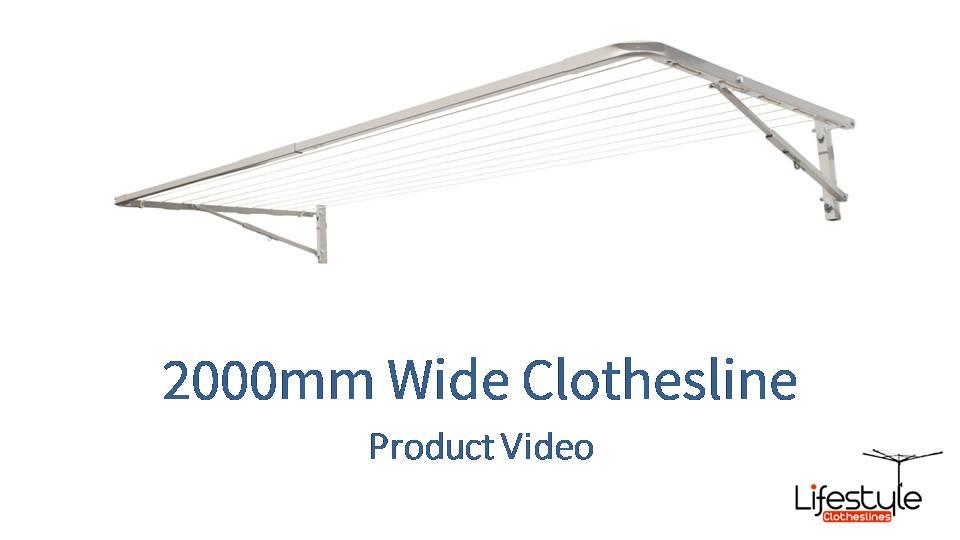 Topics Covered in This Article
When it comes to clotheslines that are 2000mm wide, manufacturers don't normally offer products that cover such a specific size but for this one,  we have the Eco 210 Clothesline.
This model is 2100mm wide but we can modify it in the factory to any size around that 2000mm for you.
This product comes in a range of depth options (the distance out from the wall) that we'll talk about in a bit.
Do take note that we can modify the clothesline's width in the factory for you -- free of charge -- so it's exactly the right size for you when it comes out of the factory.
Below are the five depth options for this Eco 210:
600mm

750mm

900mm

1200mm

1500mm
The the longer the depth you choose, the more lines you are going to get but that would depend on the space and area you've got to work with.
With the Eco clotheslines range you can get an optional Lowline Attachment. 
The Eco Lowline Attachment is a slightly lower section that attaches to the back of the clothesline which can provide you with three extra drying lines that span the width of your clothesline.
This is a very good accessory to have if you want to make the most out of such a small drying area.
If you fold down the main frame, it falls flat to the wall so it is really handy to have. If you don't need extra space, simply unhook it from the main clothesline and it falls flat against the wall.
The Eco Lowline Attachment will give you 6000mm of extra line spacing over that 2000mm area because you get three lines -- perfect for a big load of laundry.
Eco Clotheslines Colour Range
Eco clotheslines come in a variety of colours to suit everyone's requirement.
If you do need a colour outside of these 6 COLORBOND shades, please let us know.
We have access to other colours that you might be interested in so the possibilities are pretty much endless!
Our recommendation for clotheslines 2000mm wide is the Eco clotheslines range.
These durable clotheslines are full constructed out of galvanised steel that has incredible tensile strength and will last a lifetime.
They're designed in Australia, made in Australia, and are meant to survive harsh Australian conditions.
Tons of colour options, great build quality, impeccable value for money -- it's easy to see why we prefer Eco above all else.
When it comes to the mounting of the clothesline, the standard wall mounting is the way to go.
If you don't have a suitable wall surface to mount it on, we can convert the clothesline to a freestanding unit with the help of a ground mounting kit.
There are two types of ground mounting kits:
Standard Ground Mount Kit  (For soil and grass areas, concrete footings required)

Plated Ground Mount Kit (For concrete/masonry slab surfaces)
You can easily opt for either of the two when you make a purchase via our online store.
If you do need help with clothesline installation, Lifestyle Clotheslines does have an installer network available Australia wide. 
You can add that on any of the product pages as well while simply checking the box by the product where it says "installation".
You can also do it via phone by speaking with a Lifestyle Clothesline specialist.
All our products are also covered by a 100-Day Happiness Guarantee to make sure you've got the right product for your home situation. 
We always put our customers first since your satisfaction is what drives us, happy customers make for very happy businesses too--at least that is the way we see things.
If you need any further help on 2000mm wide clotheslines, please feel free to call 1300 798 779 to speak to one of our clothesline experts today.
You can also visit our website at lifestyleclotheslines.com.au for further information on clotheslines, product videos and more detailed specifications on the different types of products we have.