If you are looking for 2m wide clothesline products, you have come to the right place! We will talk about the different options that are available today for a space of 2m wide.
We are going to cover the different products that are available, the colour options, some mounting options, and also the installation of those products.
For 2m wide clothesline that we do recommend. We suggest the Eco 210. 
The standard size of the Eco 210 is 2.1 metres but we can modify it in the factory down to just 2 metres for you at no extra charge. 
2m is not a standard space for any clothesline manufacturer, so the Eco 210 is one that we can modify for you to 2 metres.
This means you can get the Eco 210 and it will perfectly fit the space you want it to!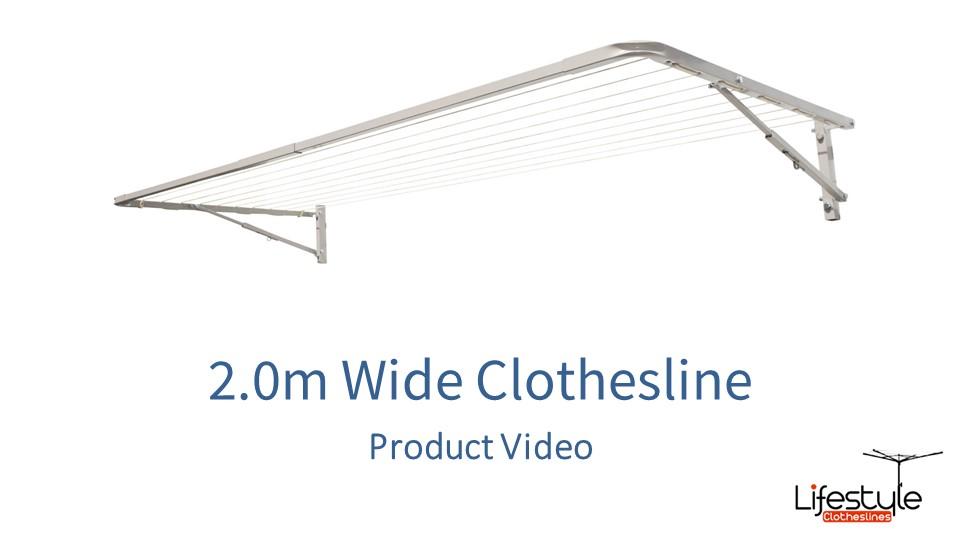 Topics Covered in This Article
Per the images after the break, you will see the quality of the full steel construction. 
The only real plastic parts in it is the cord itself and it's made in Australia to a very high standard and the whole product is engineered to last a long time.
If you don't need the clothesline you simply fold it flat to the wall. 
This is great since you can walk past the clothesline if it is situated near a walkway or have it out of the way if you need to regain the space for entertaining.
Eco 210 Images:
They're very easy to fold down and when you need it again, simply lift it up and it locks back into the up position for use. 
With the Eco 210, you can customise the depth of it as well. We have five different depth options for this model:
0.6m

0.75m

0.90m

1.2m

1.5m
The the longer the depth you choose, the more lines you are going to get but that would depend on the space and area you've got to work with.
With the Eco clotheslines range you can get an optional Lowline Attachment. 
The Eco Lowline Attachment is a slightly lower section that attaches to the back of the clothesline which can provide you with three extra drying lines that span the width of your clothesline.
This is really handy if you're trying to maximise your line space in a small area. 
If you fold down the main frame, it falls flat to the wall so it is really handy to have if you need extra line spacing and want to make the most of your laundry area. 
If you don't need extra space, simply unhook it from the main clothesline and it falls flat against the wall. It will give you extra 6.0m of line spacing over that 2 metre area because you get three lines.
Eco Clotheslines Colour Range
These pretty much cover the spectrum of COLORBOND colours that are available and are the most in demand, the best part is, you get to choose the colour of your clothesline free of charge!
If you do need a colour outside of these 6 COLORBOND shades, please let us know.
We may be able to help as we do have access to other colours that you might be interested in to suit your requirements.
For the 2m clothesline range, we do recommend the Eco Clotheslines. These are hand made in Australia the old-fashioned way. 
Eco clotheslines are really built to last, They're designed in Australia, made in Australia, and is meant to survive the extreme climate here.
All of the overseas products coming in now have a lot of plastic components in them that greatly affect reliability, we only recommend Australian-made full galvanised-steel clotheslines like the Eco range. 
The big range of colours is a definite plus for the Eco Clotheslines. You can pretty much find a colour that's going to match your home's decor or colour scheme. 
If you do need that customisation, do take into account that it is free of charge as well.
When it comes to the mounting of the clothesline the traditional and most common way of getting it done is bolting it to a masonry/concrete wall. 
But if you don't have a suitable vertical surface to mount it to, you can purchase some optional ground mount kits that we have. 
The standard ground mount kit allows you to install the clothesline into a grass and soil area that is reinforced using concrete footings. 
As for the plated ground mount kit, it is equipped with plates welded on the bottom of each leg which can then bolted down flat to a concrete surface area.
As long as you've got a flat concrete slab, you could use that to sturdily anchor your clothesline.
If you do need help with clothesline installation, Lifestyle Clotheslines does have an installer network available Australia wide. 
You can add that on any of the product pages as well while simply checking the box by the product where it says "installation".
You can also do it via phone by speaking with a Lifestyle Clothesline specialist.
All our products are also covered by a 100-Day Happiness Guarantee to make sure you've got the right product for your home situation. 
We always put our customers first since your satisfaction is what drives us, happy customers make for very happy businesses too--at least that is the way we see things.
If you need any further information on 2m wide clotheslines, please feel free to call 1300 798 779 to speak to one of our clothesline experts today.
You can also visit our website at lifestyleclotheslines.com.au for further information on clotheslines, product videos and more detailed specifications on the different types of products we have.