Best Retractable Clothesline
Introduction to Retractable Clotheslines
A retractable indoor clothesline or outdoor washing line is usually mounted to a wall or posts.
It is a great option compared to traditional fixed clotheslines due to their attractive design, suitability for indoor and outdoor use as well as generally durable construction.
Retractable clotheslines are one of the best clotheslines for drying laundry indoors or outdoors because they can be easily extended or retracted when not in use.
The space saving design is a must-have for small spaces like a balconies, bathroom, or narrow walkways.
These clothesline units are usually equipped with smartly-engineered locking mechanism that keep lines taut to avoid line sagging.
Retractables also offer the most hanging space when in use and eat up the least space when retracted.
Benefits of Using a Retractable Clothesline
A retractable clothesline offers the ability to dry clothes outside, thus, exposing your laundry to fresh air plus the sun.
This keeps moulds and mildew from wreaking havoc on your garments — putting a stop on nasty odours and brightens white fabrics.
These are a great option if you need heaps of space for line drying but don't want to deal with the unsightly lines hovering over your yard.
As the lines simply retract back into the cabinet, this prolongs the life of the cords while keeping your outdoor space looking neat.
By avoiding the use of a clothes dryer, you also reduce your energy consumption and carbon footprint.
Other Benefits of Getting a Retractable Clothesline:
Space Saving: Compact retractable washing line models exist for those who live in small spaces like condos and apartments which boast huge amounts of drying space despite their small size.




Convenience: The ultimate retractable clotheslines are ones that are easy to use while requiring minimal upkeep, retractables are one of the most convenient ways to dry laundry without the need for complicated install process or maintenance.




When you need to use the clothesline, just extend the cords, hook the spreader arms in place and lock the lines.




When done, release the lock and let the system pull the cords back in. Simple as can be.




Durability: Since the retractable line/cord is stored inside the cabinet most of the time, this extends the lifespan of the cords significantly.




Some clothesline models also boast stainless steel or powder coated, galvanised steel cabinets making them impressively sturdy and tough against rust/corrosion.




Aesthetics: As mentioned, retractable clotheslines don't just keep your outdoors looking neat, they also come in a variety of sizes and aesthetic to suit your preferences!




Some have more of a modern design while others sport a more utilitarian look. Rest assured, you will find one that is most suitable for your situation.




Versatility: Regardless of the brand you purchase, a lot of retractable clotheslines can dry multiple loads due to their huge capacities.




Most manufacturers have models with compatible ground mount kits/poles and ground socket so they can be converted into freestanding units.
Top 3 Retractable Clotheslines Based on Customer Reviews and Experts
Subjectively speaking, the best retractable clotheslines are the ones that suit your needs perfectly, bar none.
But from an objective point of view, we can rely on the top pick of customers based on their ratings as well as the opinion of our clothesline experts: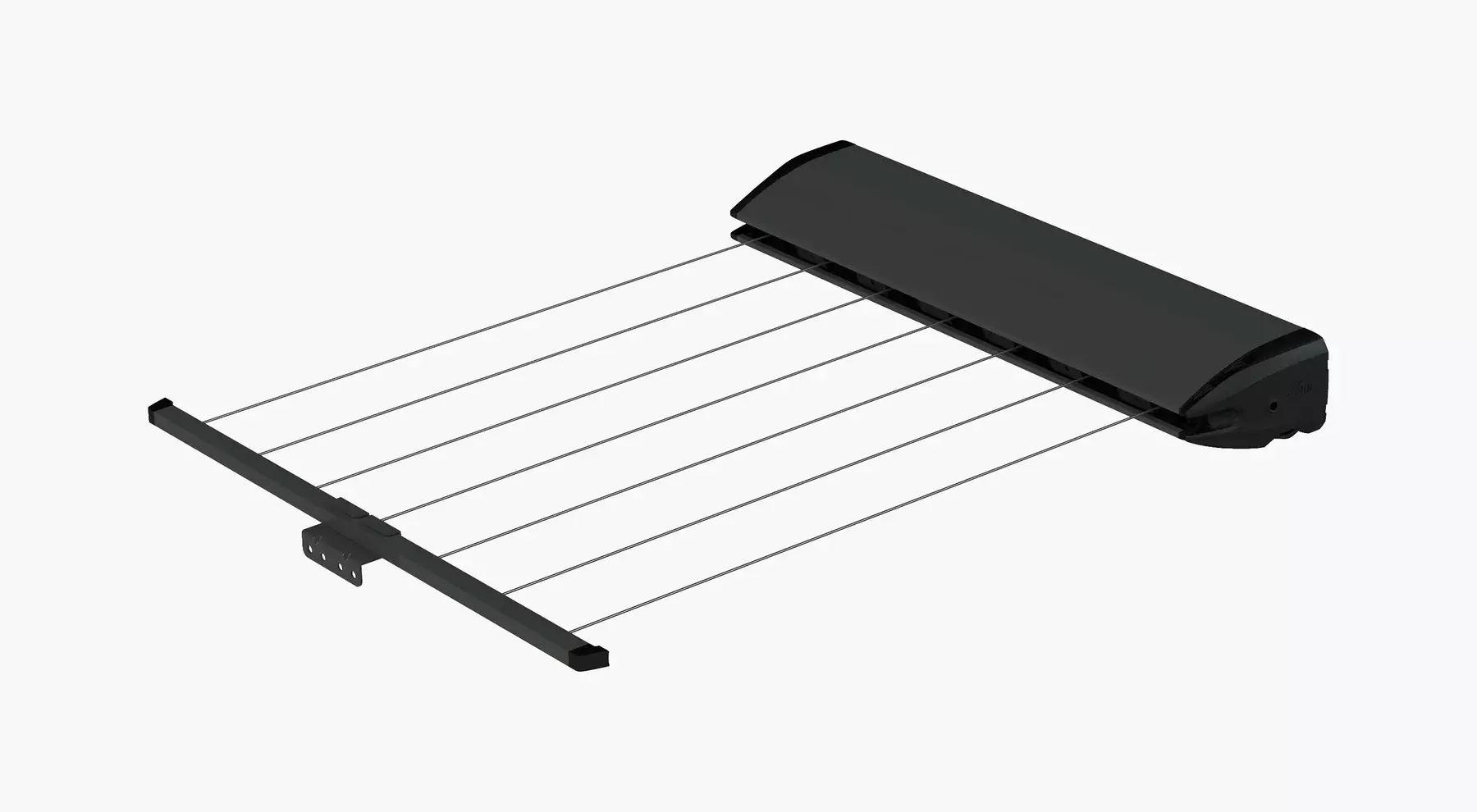 1. Hills 7 Line
The new series of Hills retracting clotheslines are great for drying wet laundry outdoors.
With 7 lines and a total line length of 47 metres, these heavy-duty yet stylish units boast galvanised steel cabinets and sunlight resistant plastic.
The dual-level lock system keeps lines taut plus the upgraded spools are now equipped with stronger, thicker springs and a more robust assembly for long lifespan.
The Hills 7 clothesline also averages 4.7 out of 5 stars online based on tons of reviews online plus Hills is known to create lasting products so you know you're getting your hard-earned money's worth with this one.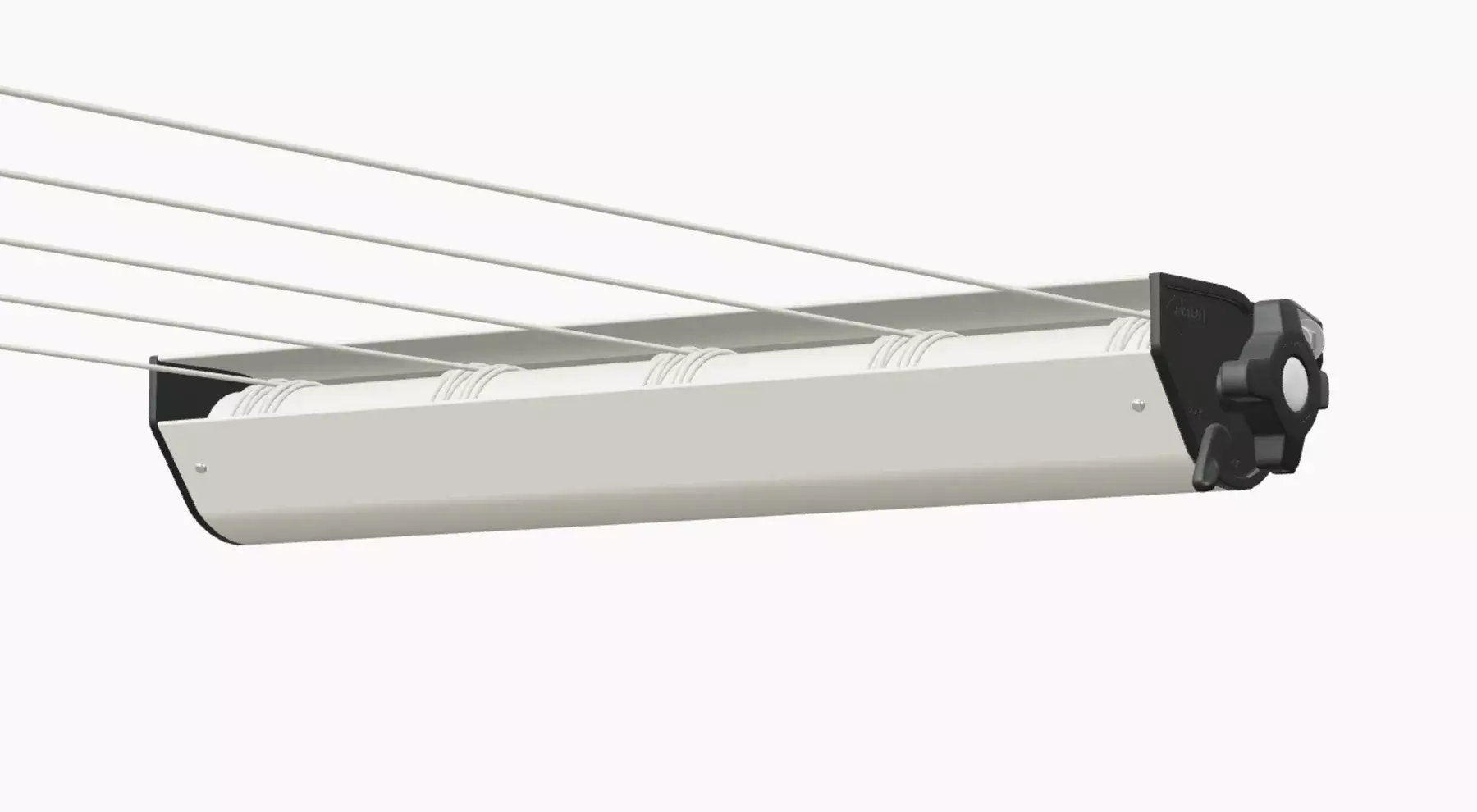 2. Austral Retractaway 50
With an average score of 4.9 out of 5 stars, one shouldn't wonder why the Retractaway 50 is one of the biggest players in this segment.
Designed and engineered to breeze through the extreme Aussie climate, it's a blatant display of Austral's hyper laser focused approach when it comes to reliability.
It may not be the prettiest nor slimmest retractable unit out there but the moment you look at the Retractaway 50 you know that it means 'business' starting with the widely spaced lines which dries laundry, FAST.
The large easy to use knob, powder coated galvanised steel enclosure, a robust reeling mechanism plus 50 metres of sunlight resistant cords — this is the only retractable drying line unit that you will ever need.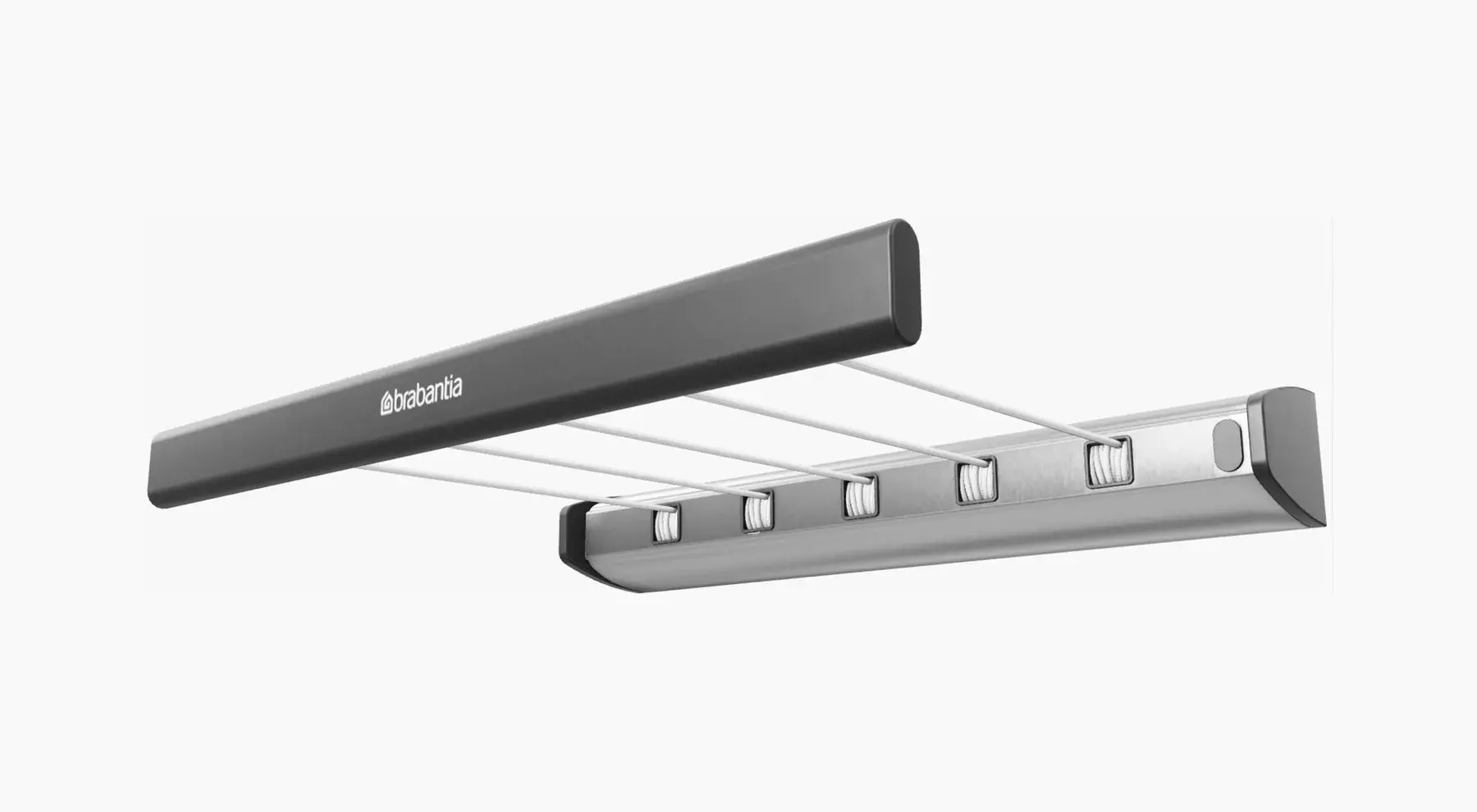 3. Brabantia Retractable
The Brabantia Retractable clothesline is a compact unit with an almost invisible European design that is destined to make a statement indoors should it catch the attention of your visitors.
The easy to use dial and durable woven nylon cord/rope gives it a total line length of 22 metres spread over 5 individual lines Which makes drying a breeze and handles up to two washes in one sitting.
Maximum extension of the drying line is 4.4 metres which makes it a great choice for the laundry room, balcony, or even basement.
The ratings for this product ranges from 4.5 to 4.9 out of 5 stars and is one of the best selling indoor retractable clotheslines on the market right now.
Factors to Consider When Purchasing a Retractable Clothesline
There are several important factors to take into mind when you purchase a retractable clothesline which we'll talk about below:
Size and Load Capacity
Possibly two of the most important things to consider.
Ensure that you get a unit which is roomy enough or has adequate line length to handle all the laundry items of your family, a good ballpark figure is 10-12 metres per person in a household.
If you're a single-dweller, there are single line retractables that might be enough for your needs, no need to spend too much on larger multiple line units.
If users of the clothesline are on the plus size, it is a good idea to take into consideration the maximum weight of laundry that the unit can accommodate.
Less expensive models come with standard nylon rope that sag and become brittle within just a short period.
Better retractables have fibre-reinforced PVC or plastic lines that are more durable and last a lot longer.
Durability and Material
Cheaper clothesline models usually have cabinets made of UV-resistant plastic that can become brittle over time while premium ones are made of galvanised steel with powder coat paint.
The latter don't fall apart easily and can resist rusting as well as sever weather/climate changes over time.
The reeling mechanism also has a significant role in this regard since it bears most of the weight when drying laundry.
Are the spools made of reinforced plastic? Are the springs made of stainless steel?
It is best to have a look into such details for utmost peace of mind.
Ease of Use
Choose a clothesline with a smooth retracting operation, knobs or levers should also be easy to operate even when wet or if you have a weak grip to avoid straining your hands.
Most models have automatic line tensioning system that require minimal effort via a small lever, it's worth looking into if you want a breezy laundry drying experience.
Installation
Consider if you want a wall mounted or freestanding outdoor washing line, if you are an avid DIYer taking either route shouldn't be too difficult for you.
Hiring a expert might be drive up the cost slightly but it is the best way to guarantee a perfect and secure install without having to use elbow grease from your end.
Cost
There's a broad spectrum of retractable clothesline models available in different price ranges.
That being said, sky is the limit when it comes to how much you're willing to spend on a retractable unit when lifespan and features comes into play.
A retractable clothesline need not be complicated, so to make things simpler, we suggest sticking to the basics: The simpler the clothesline, the more reliable it will be.
Veer away from units that are made mostly of plastic, avoid ones that have cheap rope and choose those with a reinforced PVC line.
Clotheslines with stainless steel or anodised components last longer and are more suitable for wet regions.
Mounting Options
The most common set up is mounting the unit on a wall (poured concrete, masonry blocks, or bricks) but the best part about this type of clothesline is its flexibility of install.
If you have a small yard and want to maximise space, some posts/ground mount kits are compatible with a Ground Socketwhich allows full removal of the clothesline to save space.
You can do post-to-wall, wall-to-post, or post-to-post configurations — the latter is proven to be the best in terms of portability.
Standard post kits are usually concreted into the ground while plated posts are designed to be bolted onto decks or pavement.
Both scenarios have their own sets of advantages and disadvantages, drying laundry indoors provides privacy and year-round drying because clothes are kept safe from the elements but may be slower and cause mould growth if humidity isn't controlled.
Drying outdoors is faster and provides more space for drying but you're at the mercy of mother nature, keep reading to find out which scenario is the most appropriate for your needs.
Indoor
It's a good thing that retractables come in a plethora of sizes to suit your needs, there are light and compact units suitable for indoor use.
Indoor retractable units are space-saving making them ideal for use in apartments, townhouses, and condominiums.
Using a retractable clothesline indoors also gives you privacy which is important if you live in an apartment complex or live very close to neighbours.
Outdoor
Larger, robust models are more popular for outdoor scenarios because they are built to endure extreme conditions and can easily last 20 years or more.
These clothesline units also tend to have larger capacities from 35 metres all the way up to 50 metres (or more) making them better choices for very large households.
Outdoor clotheslines allow for natural drying which is not only quicker but also keeps weird smells at bay since they get exposed to the sun — a great way to brighten and sanitise laundry.
Conclusion and Recommendation: Best Retractable Clothesline for Households
The best retractable clothesline for your household will depend on your requirements.
It's a good practice to consider the size, mounting options, build quality, price, and reliability of the retracting mechanism — everything else should be secondary such as the aesthetics.
For this, we recommend the Austral Retractaway 50 which is prized for its value and reliability.
Additionally, it has an impressive capacity plus a track record that lesser retractables can only dream of achieving.
Bear in mind that this is just our recommendation based on user reviews online plus the opinion of our experts, please consider your needs before making a decision on buying a retractable clothesline.
Don't forget to research everything there is to know about the clothesline you're interested in, from reviews to customer service, all the way down to install requirements and the suitability of your indoor/outdoor space.