When you are in dire need of a clothesline, our awesome selection of 230cm wide clothesline options is the way to go!
In this article, we will discuss which products and brands are best suited for an area that is just 230cm wide.
We will cover the different products that are available, the colour options, and mounting methods for clotheslines that are 230cm wide
Of course, we will briefly discuss the installation methods and accessories that are available for these models as well.
When it comes to 230cm wide clotheslines, we do recommend one of the top products we carry which is the Eco 240 clothesline.
This one has a standard width of 240cm but we can make it to exactly fit within a 230cm wide spacing, we will be happy to do minor width customisations for you.
So even if you require a clothesline that has a width of 235cm for example, we can get this done in the factory without extra charge.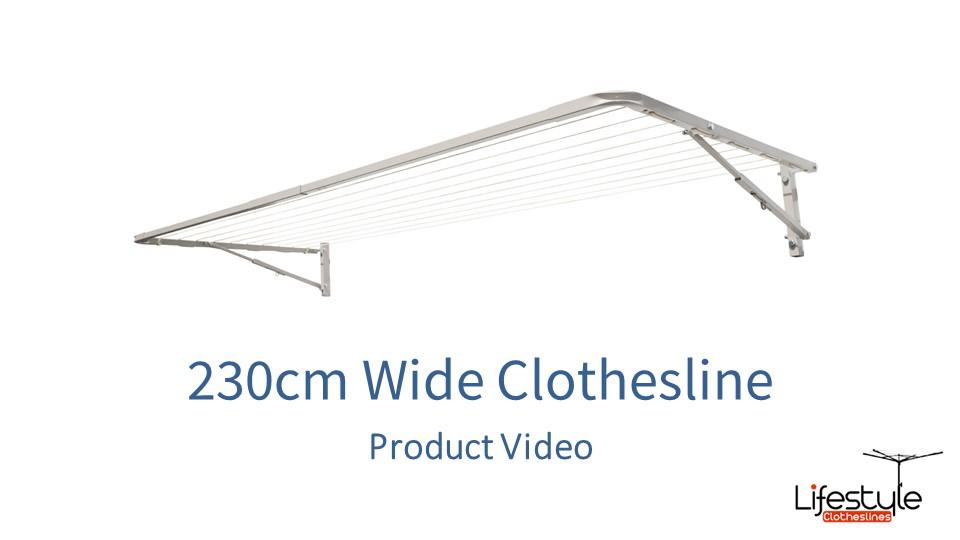 Topics Covered in This Article
The Eco 240 is completely constructed out of galvanised steel that is then powder coated to give it utmost protection from the harsh Australian climate.
The extra stiff square frame allows you hang extra dry heavy laundry like jeans, jackets, or duvets without much fuss.
And since Eco clotheslines are designed and built in Australia, rest assured that these products are destined to last a lifetime!
With the Eco 240, you've got five different depth options—this is the distance out from the wall. 
So, depending on the space you've got to work with, this is a really handy thing to consider because you can then really maximise your line space or your clothesline options for smaller areas. 
There are five standard depth options for the Eco 240:
60cm
75cm
90cm
120cm
150cm
The further the overhang/depth you opt for, the more drying lines your clothesline will have so take this into consideration when placing your order.
With the Eco Clotheslines range, you can also get an Eco Lowline Attachment as an optional extra.
This is a slightly lower section at the back of the clothesline and it's another smaller frame that gives you an extra three lines.
The Eco range is the only sort of clothesline model that has this, so it's really handy to maximise your line space in a small area.

So the Eco Lowline Attachment this is really handy if you're looking to maximise your line space in the area.
It gives you those three lines over the 230 centimetres so that extra 690cm of drying space is really handy to if you're looking to get every bit of line spacing you can possibly have .
This lower section goes up and down with that when that main frame is moved but if you don't want to use it on any given day, you can simply unhook it from the main frame and it folds flat to the wall out -- of the way.
This add on is a good thing to have if you want to boost the capacity of your clothesline without having to dedicate more space just for laundry drying.
Eco Clotheslines Colour Range
With the colour options for the Eco clotheslines, you do have 6 standard COLORBOND® colours as well.
These cover the most popular clothesline colours that we see today in Australia.
If you do have colour requirements outside of these 6, please let us know as we do have access to other COLORBOND® colours and may be able to help. 
When it comes to these clotheslines in the 230 centimetre wide range, we do recommend Eco Clotheslines.
They are handmade in Australia the old-fashioned way and boast full steel construction as we have mentioned earlier.
They're designed, built, and meant to be used here in Australia so rest assured, when you opt for an Eco clothesline, you're not just paying for quality but contributing to our economy.
The big range of modern colours is also what we recommend for these units and the colours we offer can cover a wide variety of home styles or colour scheme.
The width can be customised as well so you can really maximise the area you've got to work with -- all free of charge out of the factory!
With the mounting of the clotheslines, the standard mounting is a wall-mount finish onto a brick masonry wall. 
But if you don't have a suitable surface, you can use a standard ground mount kit. It is mounted into a grass and soil area. 
So, that's where you dig a couple of holes and concrete the posts in or if you have a flat concrete area, you can use a plated ground mount kit that can be bolted to the concrete surface. 
We are proud to say that we have a full network of installers available around Australia so there is a big chance that we can still have a brand new clothesline installed in a jiffy wherever you may be.
You can either check the box to add it on any product page on our website or you can also give us a call and we can discuss the clothesline installation service for you. 
With the clothesline in the 230cm wide size you can have an optional clothesline cover. 
These are great for weather protection for either rain, to keep your clothes nice and dry while you're at work or away from the home.
They're also great for shade so they keep the harsh sun off your clothes to help them last a bit longer, one of the more popular choices we see. 
With the clotheslines, they're all covered by a 100-day happiness guarantee. That makes sure you've got the right clothesline for your space and situation.
We always say that customer satisfaction is the main driving force behind the whole Lifestyle Clotheslines family, we will do whatever it takes to ensure that you are happy with your purchase because every penny is hard-earned money and definitely counts!
If you want to know more about all of the 230m wide clotheslines we mentioned here, feel free to contact us at LifestyleClotheslines.com.au
Give us a call at 1300 798 779 so you can get in touch with  one of our clothesline experts about your specific needs or situation.