Let us help you find the perfect 2300mm wide clothesline, Lifestyle Clotheslines offers a comprehensive range of clotheslines that perfectly fit a 2300mm wide spacing.
We've put our clothesline experts to work and ended up with a list of our most sought-after and highly rated clotheslines suitable for 2300mm wide areas.
We will cover the different products that are available, the colours you can opt for, mounting options as well as the installation methods and accessories.
Clothesline manufacturers don't normally offer products that cater to a few individuals that require a specific size of clothesline, we recognise the need for this and took steps ourselves.
Not only do we offer clotheslines that are tailor-fit to your needs, most of our products are designed and built in Australia for the harsh Australia conditions.
What this means is, you get a perfectly sized durable clothesline that will last for years and years to come!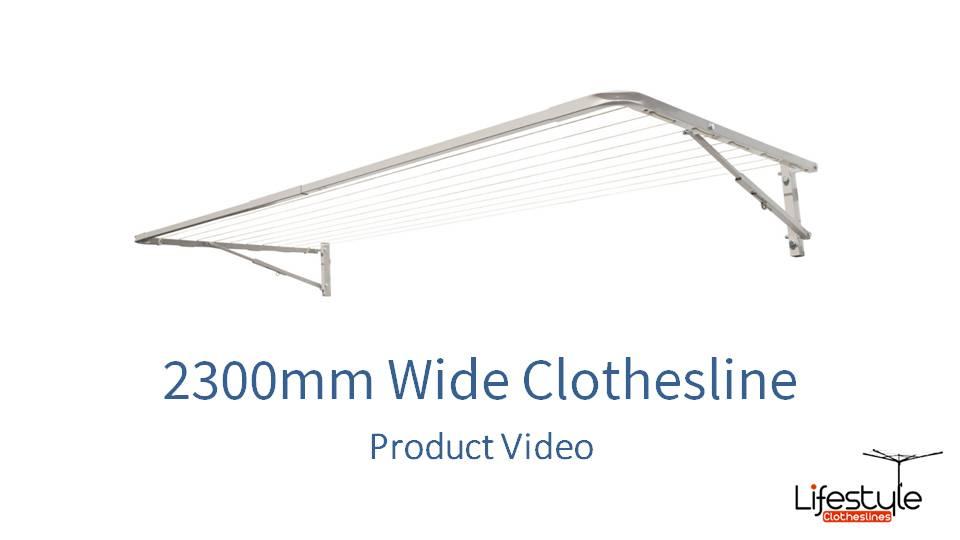 Topics Covered in This Article
Eco 240
The first recommendation on our list is the venerable Eco 240.
We have been recommending Eco clotheslines which are locally engineered and built to ensure reliability despite our harsh climate.
The Eco 240 is a simple yet sturdy clothesline that will impress you with its impeccable build quality, durable finish, and outstanding overall value.
With the Eco 240, you've got five different depth options—this is the distance out from the wall so as to maximise the use out of your 2300mm wide spacing.
So, depending on the space you've got to work with, this is a really handy thing to consider because you can really increase the line space of your clothesline even in very small areas. 
Below are the standard depth options for the Eco 240:
600mm

750mm

900mm

1200mm

1500mm
Once again, we would like to highlight the main factor in terms of the capacity of your clothesline has more to do with the depth given the constrained width of 2300mm.
Put quite simply, the further the depth, the more drying lines you get.
With any Eco clothesline model, you can boost the capacity easily by getting an Eco Lowline Attachment which is an optional accessory.
This lowline attachment is installed at the at the back of the clothesline's mounting frame and it's another smaller frame that gives you an extra three lines over the same 2300mm of depth.
The Eco range is the only sort of clothesline model that has this, so it's really handy to maximise your line space in a small area.
Eco Clotheslines Colour Range
With the Eco clothesline range, you can choose from 6 different colours available to seamlessly match with your home's decor or exterior.
This is not just any ordinary paint that peels off in a few years, this is a baked-on enamel like coat that is resilient to scratches and extends the life of the galvanised steel frame.
With a stiff galvanised steel core and powder coat paint courtesy of Colorbond, the Eco clotheslines are destined to last a lifetime.
We cannot highlight this enough, Lifestyle Clotheslines recommend the Eco clothesline brand because of their outstanding value for money and proven reliability.
These mighty little workhorses can sometimes outlive the life of the house it is installed on! We receive emails on a frequent basis from customers stating how happy they are with their purchase.
We have thousands of reviews from satisfied customers to back this up, it is a known fact that Eco clotheslines create one of the best clotheslines in all of Australia.
Clothesline Ground Mount Kit
With the mounting of the clotheslines, the standard mounting is a wall-mount finish onto a brick masonry wall. 
But if you don't have a suitable surface, you can use a standard ground mount kit. It is mounted into a grass and soil area. 
So, that's where you dig a couple of holes and concrete the posts in or if you have a flat concrete area, you can use a plated ground mount kit that can be bolted to the concrete surface. 
Clothesline Installation
We are proud to say that we have a full network of clothesline installers available around Australia so there is a big chance that we can still have a brand new clothesline installed in a jiffy wherever you may be.
You can either check the box to add it on any product page on our website or you can also give us a call and we can discuss the clothesline installation service for you. 
Clothesline Cover
With the clothesline in the 2300mm wide size you can have an optional clothesline cover. 
These are great for weather protection for either rain, to keep your clothes nice and dry while you're at work or away from the home.
They're also great for shade so they keep the harsh sun off your clothes to help them last a bit longer, one of the more popular choices we see. 
Happiness Guarantee
With the clotheslines, they're all covered by a 100-day happiness guarantee. That makes sure you've got the right clothesline for your space and situation.
We always say that customer satisfaction is the main driving force behind the whole Lifestyle Clotheslines family.
We will do whatever it takes to ensure that you are happy with your purchase because every penny is hard-earned and definitely counts!
If you want to know more about all of the 2300m wide clotheslines we mentioned here, feel free to contact us at lifestyleclotheslines.com.au
Give us a call at 1300 798 779 so you can get in touch with  one of our clothesline experts about your specific needs or situation.