If you need a new 210cm wide clothesline, have a look at our 210cm wide clothesline options and the best products, brands, and units that will fit in a 210cm wide area. 
In this article, we will be covering the different products that are available, the colours available specifically to the brand, the various mounting options, installation as well as installation services. 
Also, we will briefly walk you through some of the accessories we have available for those clotheslines so you can get the most out of them!
For the 210cm wide spacing, we do recommend the Eco 210 clothesline.
This clothesline is 210cm wide and comes in a range of different depth options for you to choose.
This is an Australian-made clothesline with full steel construction that's built to last for a very long time which you will see in the close up pictures after the jump.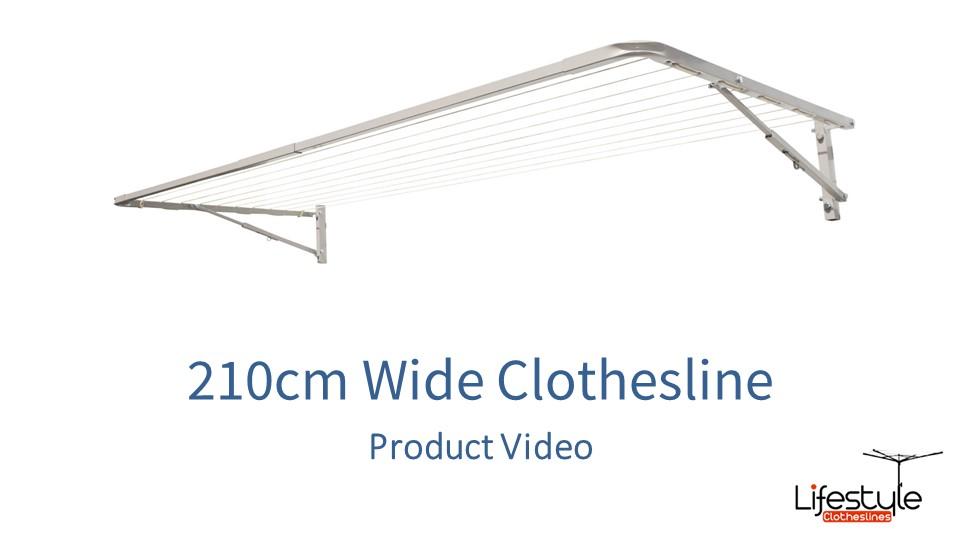 Topics Covered in This Article
With the Eco 210 clothesline, the line spacing is dependent on how far out from the wall it comes as this unit does have 5 different depth options -- depth being the distance out from the wall.
Here are the five depth options for you to choose:
60cm

75cm

90cm

120cm

150cm 


Eco 210 Images:
Obviously, the further you come out from the wall, the more line space you will have for drying your laundry.
So, depending on the area you've got to work with, you just need to choose that right depth option that's gonna fit within your space and requirements.
With the Eco Clothesline range, you can also get an Eco Low Line Attachment.
This is an optional extra you can add to the clothesline that is installed at the lower section of your clothesline's main frame.
This accessory adds three extra lines to the unit -- all three of which have the same width as the clothesline itself so you get an extra 330cm of drying line space that's perfect for ling articles!
Eco Clothesline's Colour Range
The colour options available for the Eco range are 6 standard colours.
These pretty much cover the spectrum of the most popular colours that we see today for clotheslines and any colour can be chosen without additional cost to you whatsoever.
These are all COLORBOND powder coat finish that prolongs the steel frame of your Eco clothesline.
If you do have requirements outside of these 6, we may be able to help you. Please feel free to give us a call and we can discuss what is available for colours.
When it comes to clotheslines that are 210cm wide, we do recommend the Eco Clotheslines range.
They are handmade in Australia, the old-fashioned way. They boast full galvanised steel construction and they are designed and made in Australia.
The width customisation, depth choices, colour choices, and reliable build quality... it is easy to see why we recommend Eco clotheslines.
When it comes to the mounting the clothesline, the standard mounting option is wall installation on a standard brick or masonry wall. 
If you don't have a good vertical surface to mount it to, we recommend using a ground mount kit. 
The standard ground mount kit will let you erect the clothesline on a grass/soil area, so you'd have to dig a couple of holes and concrete each of the legs in.
The plated ground mount kit has plates welded onto the bottom of each leg, so then you can mount it directly down to a concrete slab area, and then the clothesline would attach to the two legs.
If you need help with clothesline installation, Lifestyle Clotheslines does have a network of installers Australia-wide. 
You can just check the box on the product page on the model that you are interested in and add it to your order, or you can give us a call and we can help you with the installation service as well to make things even easier for you.
Another great accessory you can get for your 210cm wide clothesline is a clothesline cover, this cover is pretty handy for keeping the weather off your clothes.
It keeps them nice and dry, it also keeps your coloured garments from fading fast because of extended exposure to ultraviolet light.
An accessory that does not cost much but lets you enjoy your beloved garments for much longer.
All of the clotheslines we carry are covered by our 100-day happiness guarantee wherein we will gladly step in to make sure that you will be happy with your purchase.
Our customers will always come first so do know that if you are not satisfied with your clothesline purchase, we will take the necessary steps to ensure that things will get done right.
To browse all of the 210cm wide clothesline brands and models we have available, feel free to visit us at LifestyleClotheslines.com.au
You can also reach us via phone at any time via 1300 798 779 to speak with one of our clothesline experts about your specific needs or situation.