Today we will introduce you to some of our most favoured 200cm wide clothesline options.
Of course, we will also discuss the products and brands that are best suited for a compact spacing of 200 centimetres wide. 
We will carefully go over the available colour options, mounting possibilities of the clotheslines we are about to talk about and the installation as well.
It is not exactly rocket science to figure out the kind of 200cm clotheslines you need in your home. 
It is as simple as determining the amount of laundry you need to hang dry, finding the perfect spot for your clothesline, and choosing a model that will last for years — all of which we've taken care of for your as you will see in a bit.
That is why we created this guide to finding the perfect 200cm wide clothesline so you don't have to dig further into the internet!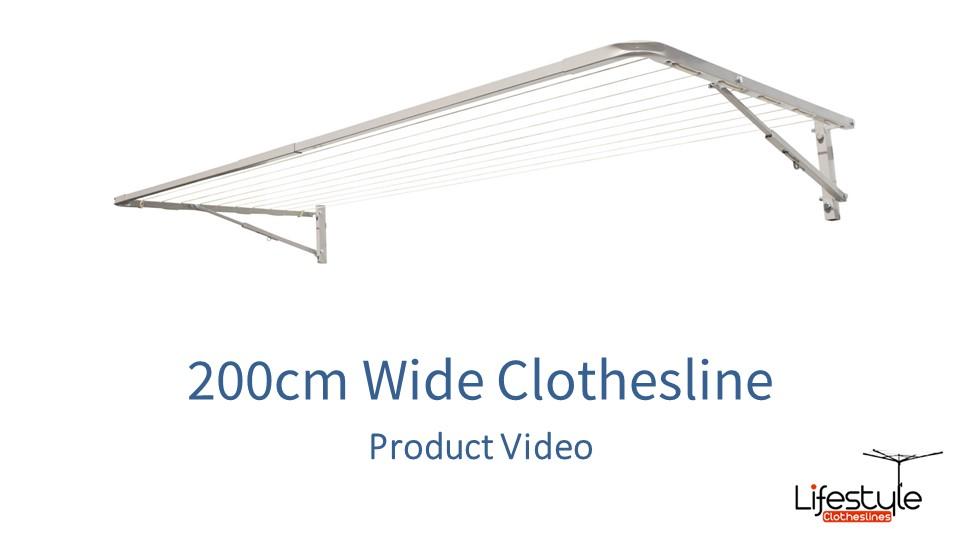 Topics Covered in This Article
For the 200cm wide spacing, we do recommend the Eco 210 Clothesline. 
It is worth noting that the Eco 210 clothesline has a standard width of 210 centimetres.
Resizing it down to 200cm to fit a specific space won't be a challenge since we can have this done from the factory.
Eco 210 Images:
This Eco 210 is made in Australia with full galvanised steel construction, so it is one of the clotheslines that we highly recommend.
With the Eco 210 clothesline, you do have five different depth options (the distance out from the wall
So the depth options are 60cm, 75cm, 90cm, 120cm and 150cm out from the wall. 
The farther out your clothesline's overhang from the wall, the more line spacing you're going to get and at the end of the day.
with the Eco clothesline range, you do have the optional Lowline Attachment. 
The Eco Lowline Attachment is a section that attaches to the back of the clothesline, and is another smaller, lower frame.
So, over the 200cm for example, that gives you an extra 600cm of usable line spacing.
It's a pretty handy way to add to drying space to your clothesline if you're really looking to maximise the line spacing you have. 
It is linked to the mainframe of the clothesline. So, when that goes up or down, that Lowline Attachment goes up and down as well. 
But if you don't need to use it at any given day, you can simply unhook it from the mainframe, and it folds flat to the wall, which allows you full access to those back lines. 
Again, it is a good way to add 600cm of additional drying real estate to your clothesline without consuming extra floor space.
Eco Clotheslines Colour Range
Should you opt for a product within the Eco clothesline range, you do get access to 6 standard COLORBOND colours at no extra charge. 
All of these colours are the most popular that we see today in Australia for Clotheslines. 
But if you do have colour requirements outside of these 6 colours, please let us know as we may be able to help as we do have access to other Colourbond colours as well. 
Our recommendation for clotheslines that are 200 centimetres wide is the Eco clothesline range. 
They are handmade in Australia the old-fashion way. And with a full steel construction, they're really built to last and built to last a long time. 
They're designed in Australia, made in Australia and are really built to withstand the harsh conditions that we see here throughout the year.
With a big range of modern colours, there's pretty much some sort of colour that will suit your home's exterior.
And with an unprecedented level of customisation that can be done free of charge, you can really maximise the line space or the area you've got to work with.
Clothesline Ground Mount Kit
When it comes to the mounting of the clothesline, the standard mounting option that it comes with would be a wall mount to a standard brick or masonry wall, a concrete wall. 
If you don't have a suitable wall surface to mount it to the possibilities don't just end there, you can actually convert these to freestanding clotheslines. 
The first option is you can mount it with a standard ground mount kit, this is designed for use in soil/grass area so you can have a folding clothesline somewhere in your front or backyard.
The second one is the plated ground mount kit. This is suitable if your want your clothesline situated on an area that has a concrete flooring, the plates have provisions for bolts/fasteners.
Clothesline Installation Service
Lifestyle Clotheslines does have a full installer network available Australia-wide that can help you with clothesline installation.
Our amazing team of clothesline installation professionals will easily and reliably get the job done so you can get started on using your new investment right away!
You can simply add installation to your order by checking the box on our product page, or you can also give us a call and we can talk to you regarding your clothesline installation requirements for our phone.
Happiness Guarantee
All of our products also come fully backed by a 100-day happiness guarantee to make sure you've got the right clothesline for your home and living situation. 
This is a testament that Lifestyle Clotheslines really cares about its customers, we've got thousands upon thousands of verified reviews from happy customers and for a good reason!
If you need any further information on 200cm wide clotheslines, please feel free to call 1300 798 779 to speak to one of our clothesline experts today.
You can also visit our website at lifestyleclotheslines.com.au for further information on clotheslines, product videos and more detailed specifications on the different types of products we have.