Today's topic will be about 2.3m wide clothesline options.
In this article, we will discuss the products which are 2.3m wide, an area that can be quite common in small or large homes.
We will cover the different products that are available, the colour options, and mounting options of clotheslines that are 2.3m wide.
We'll also go over the installation methods and accessories that are available.
The Eco 240 is one of the clotheslines that we recommend for the 2.3m wide category.
This clothesline does come with a standard width of 2.4m but we can actually modify it down for you to 2.3m, 2.35m, or 2.38m if needed.
The Eco 240 is also available in a number of different sizes that we will talk about later.
This is one of the most popular models for clotheslines around the 2.3 metres wide.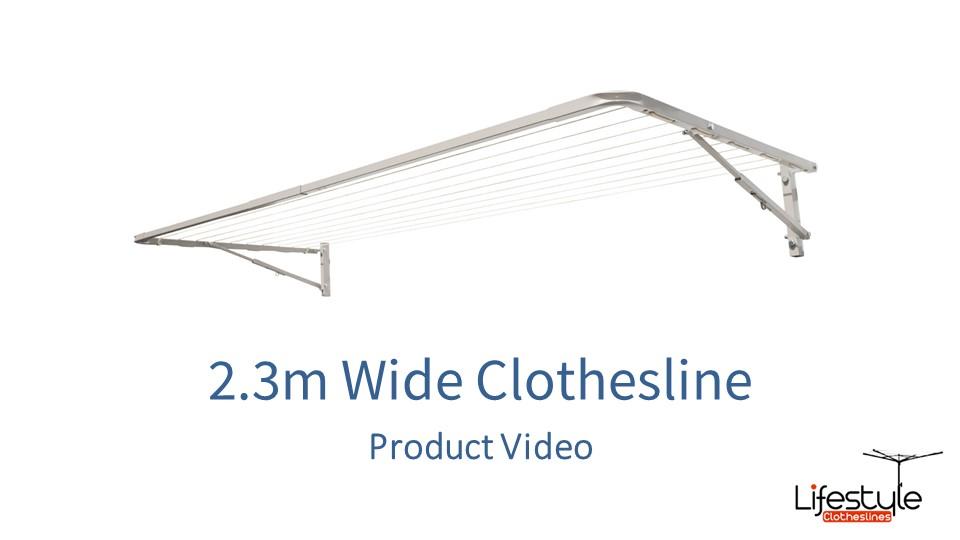 Topics Covered in This Article
With the Eco 240, you've got five different depth options—this is the distance out from the wall. 
So, depending on the space you've got to work with, this is a really handy thing to consider because you can then really maximise your line space or your clothesline options for smaller areas. 
There are five standard depth options for the Eco 240:
0.6m

0.75m

0.9m

1.2m

1.5m
Obviously, the bigger you can go, the more line space you're going to get but that depends on how much are you can work with. 
With the Eco Clotheslines range, you can also get an Eco Lowline Attachment as an optional extra.
This is a slightly lower section at the back of the clothesline and it's another smaller frame that gives you an extra three lines.
The Eco range is the only sort of clothesline model that has this, so it's really handy to maximise your line space in a small area.
Similar to the primary drying lines that are 2.3m wide, you'll get an extra 6.9 metres of line space since you get three extra lines.
That's a pretty handy extra space for really small areas.
It does attach to the mainframe, so if you lower the mainframe it falls flat to the wall and when you lift the frame back up it simply comes back up ready for use as too. 
If you don't want to use the Eco Lowline Attachment you can simply detach it from the mainframe and it falls flat to the wall.
If you are looking to really maximise your line spacing in a smaller area of 2.3m wide, adding a low line attachment could be something worth considering as you do get that extra line space.
Eco Clotheslines Colour Range
With the Eco Clotheslines, you've got 6 standard colours. This is the biggest range of colours from any clothesline manufacturer in the country.
They are 10 of the most popular ones that we've seen and cover most of the COLORBOND colours that we do.
But if you do have requirements outside of these 6, please let us know, as we may be able to help with a custom COLORBOND colour that you prefer as we do have access to other ones.
Our recommendation for 2.3m wide clotheslines is the Eco 240. These are hand made in Australia the old-fashioned way and they're made from Australian steel.
A lot of the overseas clotheslines coming in have plastic components. These ones boast galvanised steel construction and is really built to last a long time.
They also have the biggest range of colours and can be customised free of charge for you as well. 
So, if you have a space of 2.34m, 2.35m or 2.38m we can actually make a clothesline that will fit that specific size for you—free of charge.
With the mounting of the clotheslines, the standard mounting is a wall-mount finish onto a brick masonry wall. 
But if you don't have a suitable surface, you can use a standard ground mount kit. It is mounted into a grass and soil area. 
So, that's where you dig a couple of holes and concrete the posts in.
If you have a flat concrete area, you can use a plated ground mount kit that can be bolted to the concrete surface. 
We are proud to say that we have a full network of installers available around Australia so there is a big chance that we can still have a brand new clothesline installed in a jiffy wherever you may be.
You can either check the box to add it on any product page on our website or you can also give us a call and we can discuss the clothesline installation service for you. 
With the clothesline in the 2.3m wide size you can have an optional clothesline cover. 
These are great for weather protection for either rain, to keep your clothes nice and dry while you're at work or away from the home.
They're also great for shade so they keep the harsh sun off your clothes to help them last a bit longer, one of the more popular choices we see. 
With the clotheslines, they're all covered by a 100-day happiness guarantee. That makes sure you've got the right clothesline for your space and situation.
We always say that customer satisfaction is the main driving force behind the whole Lifestyle Clotheslines family, we will do whatever it takes to ensure that you are happy with your purchase because every penny is hard-earned money and definitely counts!
If you want to know more about all of the 2.3m wide clotheslines we mentioned here, feel free to contact us at LifestyleClotheslines.com.au
Give us a call at 1300 798 779 so you can get in touch with  one of our clothesline experts about your specific needs or situation.