Searching for the perfect 180cm wide clothesline may be daunting mostly if you do not know where to start at all!
We have consulted our clothesline experts and took into account customer reviews/testimonials and came up with a list of recommendations.
The products we chose pertain to clothesline models and brands that are going to be best suited for the spacing of 180 centimetres wide. 
So today we are going to cover the different products that are available, the colour options, mounting options, and installation of the clotheslines that we are going to introduce to you.
The Eco 180 Clothesline is one of our top picks. It is 180cm wide and comes in a number of different depth options that we'll discuss in a moment. 
We are proud of the Eco 180's full galvanised steel construction that's powder coated (which comes in a range of colours).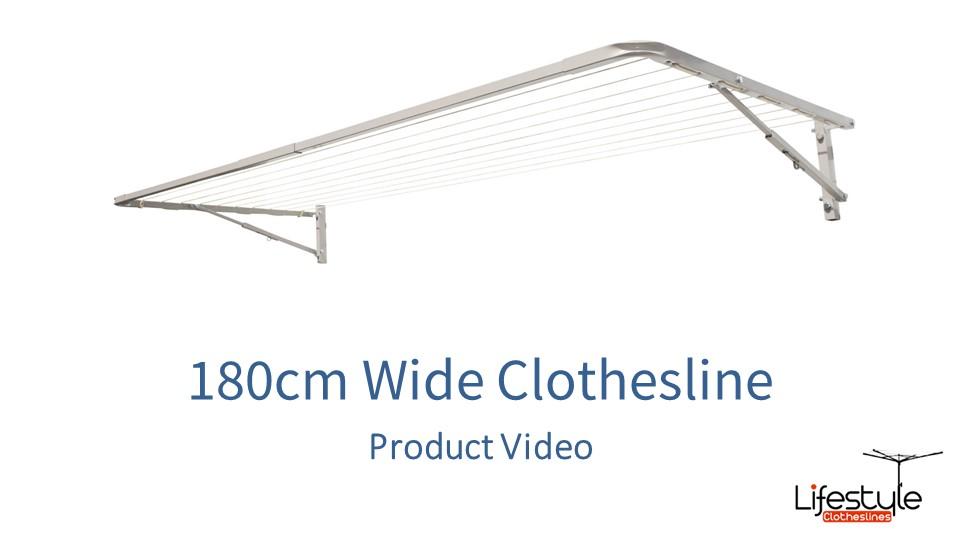 Topics Covered in This Article
The only plastic component in this clothesline is actually the cord itself which you can replace with steel cable in the future.
When you don't need the clothesline, you can simply fold it down flat to the wall. And when you need it, just lift it in the middle and it conveniently locks into place — ready for use!
With the Eco 180 clothesline, you do have five different depth options. So, this is the distance out from the wall. 
What this does is it allows you to maximise the area or line spacing depending on the clearance in front of your clothesline:
60cm

75cm

90cm

120cm

150cm
Eco 180 Images:
You can selecte one of these five different depth options as long as you've got the space to allow for a larger overhang courtesy of your clothesline. 
Obviously, the further out from the wall, the more lines you're going to get.
Also, with the Eco Clotheslines range, you can add what's called the Eco Lowline attachment. 
This is a section of clothesline that attaches to the back of the main unit, albeit, at a slightly lower level, and this accessory will provide you with three extra lines. 
The Eco Lowline attachment is installed to the frame and would go up and down with the main frame when you move it up or down. 
So, it's a really handy option to have for extra line spacing without necessarily eating up precious floor area.
But if you don't need it at any given day, it simply unhooks from the mainframe and then folds flat to the wall. 
So, if you are looking maximise your line spacing in this 180cm wide area, this could be a handy option to consider to really maximise that line spacing.
Eco Clothesline's Colour Range
With the Eco Clotheslines range, you do get 6 standard Colorbond colours.
These colours are the most popular Colorbond colours preferred by our customers.
If you do have colour requirements outside of these ten standard colours, please let us know, as we maybe able to help since do have access to other Colorbond colours.
Our recommendation for clotheslines that are 180 centimetres wide is the Eco Clotheslines range. 
They are handmade in Australia the old-fashioned way. And with a full steel construction, they're really built to last a lifetime. 
They're designed in Australia, made in Australia, and are really built to last through the harsh Australian conditions that we see here throughout the year.
When it comes to the mounting of 180cm wide clotheslines, the normal mounting would be a wall mount situation to a brick or masonry wall. 
If you don't have a suitable wall surface, you can opt for what's called a ground mount kit which can be easily added to your order. 
The standard ground mount kit is where you are required to dig a couple of holes in your yard where the legs with concrete footings will be placed in to guarantee proper anchoring of your clothesline.
If you have a concrete area, you can purchase what's called a plated ground mount kit, which is basically a post with a plate welded on the bottom, and that then bolts down flat to your concrete slab area.
If you need help with the clotheslines installation, Lifestyle Clothesline does have a full installer network available Australia-wide to help you out. 
You can simply check the box on the clotheslines product page to add this to your order, or you can give us a call and we can discuss your installation needs via phone. 
All of our products come fully backed by a 100-day happiness guarantee to make sure that you've got your ideal clothesline for your home space or situation need. 
We always put our customers first since your satisfaction is what drives us, happy customers make for very happy businesses too--at least that is the way we see things.
If you need further information on clotheslines that are 1.8m wide please feel free to call on 1300 798 779.
For more in-depth info on our clotheslines, you can also visit us online today at LifestyleClotheslines.com.au.