In this article, we will be talking about 1800mm wide clothesline options and our top clothesline models/brands suitable for a 1800mm spacing.
We will carefully go over vital talking points such as the the different products that are available, the colour options that will suit your taste, mounting methods, and installation of these products.
You'll find that our recommendations are backed by customer testimonials and our will to provide you with the best among the rest so please keep reading to find out more!
An 1800mm wide clothesline is not a size that's normally made available by most manufacturers in a lot of markets.
With that being said, we are aware of our customers' needs and in pursuit of our loyal customers' satisfaction, we have decided to cover most of the spectrum in terms of clothesline sizes.
Let's get started on finding the perfect 1800mm wide clothesline for your home right after the short jump!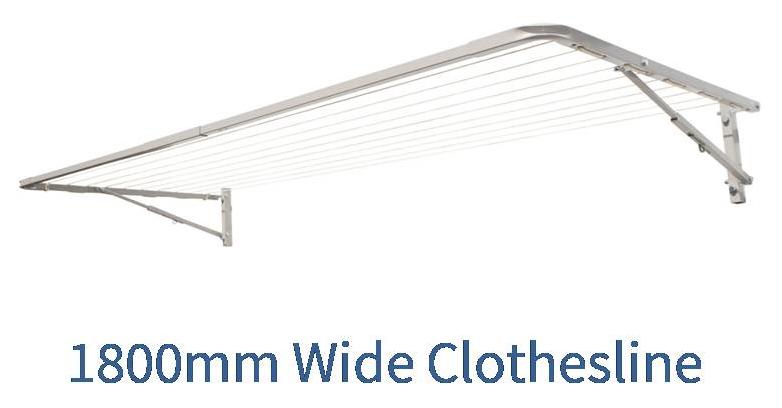 Topics Covered in This Article
When it comes to clotheslines that are 1800mm wide, we do recommend the Eco 180 model.
The Eco 180 has a standard width of 1800mm and comes in a range of colours and depth options.
Eco clotheslines are Australian-made and built, designed for the tough Australian conditions. There's virtually no plastic load-bearing parts other than the cord itself on the clothesline so it's evidently built to last.
For the Eco 180, you get to choose over five different depth options:
600mm

750mm

900mm

1200mm

1500mm
Eco 180 Images:
You can choose one of those five different depth options to really maximise the line space in the area you've got, it all depends on how much clearance you actually have in front of the clothesline.
The Eco range of clotheslines is compatible with the Eco Lowline Attachment, this is an optional accessory.
It is installed at the back of the clothesline on a slightly lower level, so it gives you another three lines to work with without consuming precious floor area.
The Eco Lowline attachment has durable galvanised steel struts attached to your clothesline's main frame.
This function facilitates simultaneous deployment and folding of the clothesline without requiring additional steps from your end -- talk about convenient!
If you don't need to use the lowline attachment, it is pretty easy to detach the struts from the main frame so you can utilise the primary drying lines for longer articles.
Eco Clotheslines Colour Range
With the Eco 180 clothesline, you can choose any of the 6 standard colours to match your home's design.
These colours are generally the most popular clothesline ones that we see today in Australia.
Colorbond is a very high-quality, baked-on paint finish that protects the inner steel structure from scratches and moisture to keep rust at bay.
When it comes to 1800-millimeter-wide clotheslines, our recommendation is the Eco clotheslines range.
As we have mentioned earlier, Eco clotheslines boast full steel construction, it's really designed and built to last for Australian conditions.
Engineered in Australia, built in Australia, Eco offers impeccably high quality clothesline with great bang for your buck!
Also, Eco clotheslines can be customised free of charge, we can make the clothesline to the exact size you require at zero cost to you.
When it comes to the installation and mounting of the clotheslines, the standard installation is having the unit bolted onto a wall.
If you don't have a suitable wall surface to mount it to, these clotheslines can be easily converted to freestanding in just a few minutes.
The standard ground mount kit is suitable for a grass and soil area and requires concrete footings to ensure proper anchoring of your investment.
For flat concrete slab areas, you can get a plated ground mount kit which has plates at the end with provisioning for fasteners/Dynabolts.
If you need help with clothesline installation service by one of our professionals, we do have a team of clothesline installers available Australia-wide.
Feel free to give us a call or you can generally just check the box on the product page to add the clothesline installation service to your order.
We also take the old ones away for those with existing clotheslines if you need that done, and it's all part of the clothesline installation and removal service.
All of our products come fully backed by a 100-day happiness guarantee to make sure that you've got your ideal clothesline for your home space or situation need. 
We always put our customers first since your satisfaction is what drives us, happy customers make for very happy businesses too--at least that is the way we see things.
If you need further information on clotheslines that are 1800mm wide please feel free to call us at 1300 798 779.
For more in-depth info on our clotheslines, you can also visit us online today at lifestyleclotheslines.com.au.