Today we will talk about 1700mm wide clothesline options and other products as well as recommendations that are suited for the space of 1700mm wide.
We will walk you through a couple of recommendations that are highly-rated and preferred by our clothesline experts, the colours available for each model, and accessories to help you maximise the potential of your investment.
A clothesline with 1700mm of width is not a standard size issued by manufacturers and not many brands have such products that are readily available off the shelves.
We recognise the needs of our customers here at Lifestyle Clotheslines and we are more than eager to assist you with all your clothesline needs.
Without further ado, let's jump into our first recommendation for clotheslines of this size!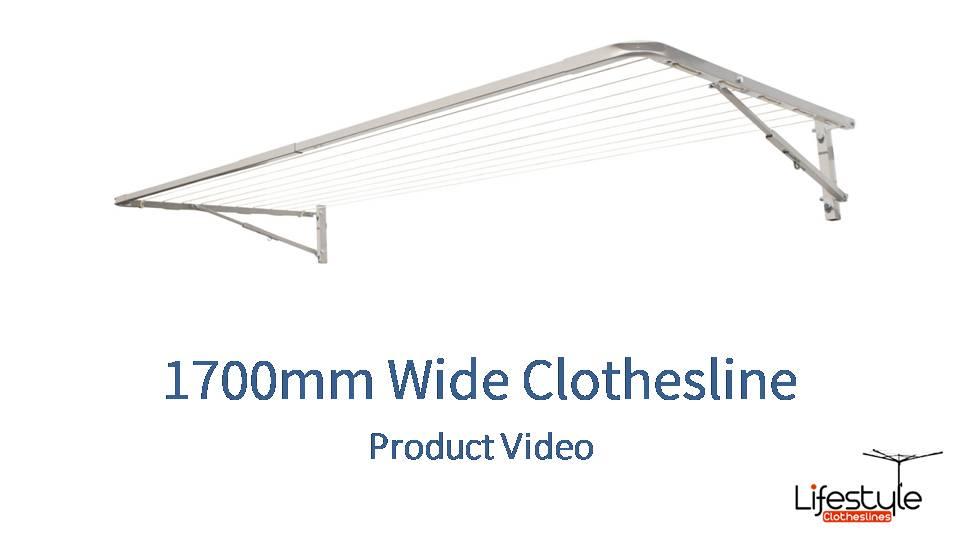 Topics Covered in This Article
Eco 180:
Eco 180 clothesline is at the top of our most recommended 1700mm clothesline, while it comes with a default width of 1800mm, Eco clotheslines can be modified for you in the factory to be exactly 1700mm or anything around that spacing size.
If you have a space of 1750mm or 1780mm, we can make the Eco clotheslines for you at no additional charge -- ensuring that your clothesline is all set for installation upon arrival on your doorstep.
This is a wall-mounted clothesline or it can also be ground-mounted as we'll talk about later.
Below are images of the clothesline itself once installed on the wall. It comes in a range of depth options which is the distance out from the wall, and you can see the quality of the steel finish.
It boasts all-steel construction, all-steel corners, steel struts (the section that holds the arms up) really the only plastic parts used in this clothesline are the plastic cords which can be easily replaced.
With the spacing of the Eco 180 clothesline for that 1700mm wide are, there are five different depth options:
600m

750m

900m

1200m

1500m
The longer the depth/overhang that you choose, the bigger the unit's capacity will be since you will get more lines of the same width as the main frame itself.
This unit simply folds down flat against the wall when not in use -- out of the way, all you need to do is push it up slightly in the middle and it disengages the struts on the sides then let go so it folds down.
Eco Lowline Attachment
You can opt for what's called the Eco Lowline attachment.
This must-have accessory is an optional lower section that attaches below the main frame and gives you three additional drying lines.
It's very handy for areas that are 1700mm wide because it gives you an extra three lines and more drying space below the primary frame without eating up extra floor space.
Eco Clotheslines Colour Range
When it comes to colors, the Eco clotheslines do come in 6 standard Colorbond colors.
These standard colours pretty much span all of the most popular colours we see today in clotheslines, and generally, you can find the colour that will with your home's colour scheme.
Eco Clotheslines' Colorbond finish is a durable, scratch-resistant protection that keeps the main frame from developing premature rust -- ensuring years and years of worry-free use.
Our recommendation for clotheslines that are 1700mm wide is the Eco brand of clotheslines.
They are handmade in Australia the old-fashioned way, really designed for the Aussie market and boast full steel construction to withstand the harsh local conditions.
With a wide range of colours, impeccable craftsmanship, and free customisation, it is easy to see why Eco Clotheslines is our top pick for 1700mm wide spaces.
With the mounting of the clothesline, the standard way would be a wall mount type of situation.
Mounting either on a brick or any sort of masonry but if you don't have a suitable wall surface to mount to, you can get a ground mount kit to attach the clothesline to. 
As you can see on the image, the post is installed into grass or soil area. That's where the post gets concreted directly into the ground. 
You can also get what's called a 'plated ground mount kit' this is where the posts have plates welded on the bottom for mounting to a concrete slab, the clothesline would just mount to this leg kit.
If you do need help with installation, Lifestyle Clotheslines does have a full installer network available around the country that can help you with that.
We can help remove any old clotheslines as well that you may have there and dispose of those.
If you do need help with installation, just give us a call or you can just check the box on any of our product pages and add that service to your order.
All products sold through Lifestyle Clotheslines also come with our 100-day happiness guarantee, and that makes sure you've got the right clothesline for your space or home situation there.
We always put our customers first since your satisfaction is what drives us, happy customers make for very happy businesses too--at least that is the way we see things.
If you do need further information on 1700m wide clotheslines or options for this area, please feel free to call on 1300 798 779 and speak to one of our clothesline representatives today.
For even more in-depth info of our products and the most up-to-date facts on newly released models, simply visit our website at LifestyleClotheslines.com.au