On the search for 1600mm wide clothesline options and which clotheslines are best suited for 1600mm wide areas? Let us take care of this for you!
We know that given the plethora of products out on the market, it can be quite confusing most of ur who are not very technical but now worries!
In this article we talk about the different products that are available, the colour options, the mounting options, and the installation of these clotheslines so that you won't have to do some further digging online.
Do bear in mind that a 1600mm wide clothesline is not a standard size offered by most clothesline manufacturers.
Given the popularity of condominiums, apartments, and other cozy spaces where space is at a premium, it is a must to maximise the indoor/outdoor drying space as much as possible.
Here at Lifestyle Clotheslines, we recognise the needs of our valued customers and we are aware of the demand for clotheslines that fit a 1600mm wide spacing, let's get started with our recommendations!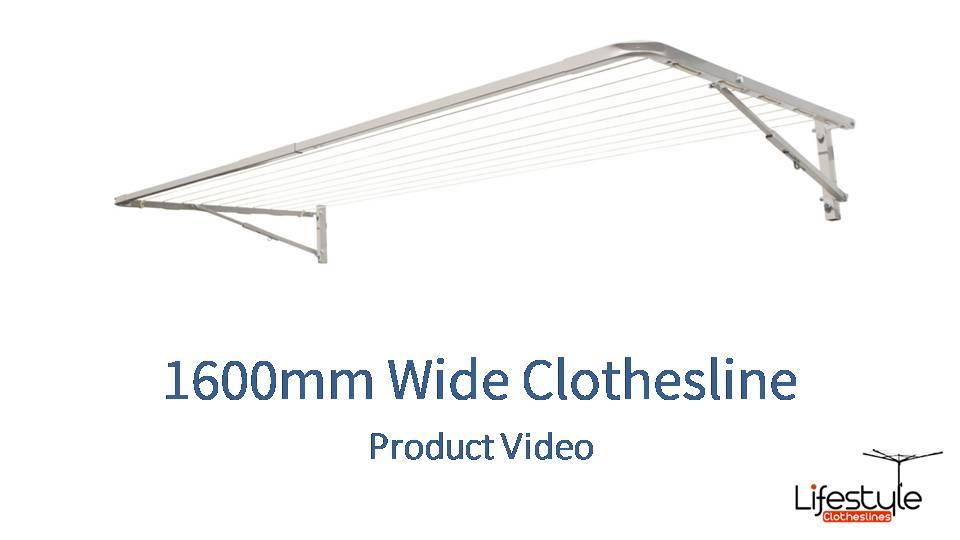 Topics Covered in This Article
When it comes to 1600mm wide clotheslines, the Eco 180 is one that we do recommend the most.
Like we have mentioned earlier, there's no actual standard clotheslines made at 1600mm wide, but with the Eco range of clotheslines we can actually make them to order.
We will happily customise the width of your clotheslines to exactly what you need at no additional charge.
So the Eco 180 can easily be modified down for you in the factory to 1600mm wide at no additional charge.
Eco 180 Images:
The Eco clotheslines are all Australian made with full steel construction and comes in a range of depth options as well.
The main frame folds up and down so when you don't need them they simply fold flat against the wall, out of the way.
With the Eco 180, there are five different depth options to choose from:
600mm

750mm

900mm

1200mm

1500mm 

1600mm  
The further out from the wall you go, the more line space you will get, but you do have to make a decision on which size you want because this is not a clothesline that has adjustable depth.
With the Eco range of clotheslines you can add a separate attachment called the Eco low line attachment. 
This is a section at the back of the clothesline that's a slightly lower section.
It gives you an additional three lines, which is really handy over to maximise your line spacing over a 1600mm wide area. 
The Eco Lowline Attachment gives you 3 lines which is then attached to the mainframe above via struts.
So if that main frame goes up and down the lowline attachment goes with it.
If you don't need it on any given day, you can simply unhook it from the main frame and it will fold flat against the wall or the legs if you choose to have it ground mounted.
It's a really handy option to consider, gives you that additional laundry drying space over a 1600mm wide area without consuming more floor area.
Eco Clothesline's Colour Range
Eco clotheslines are available in 6 different Colorbond colours.
This technology is baked onto the frame like automotive paint and protects the frame from scratches and rusts.
These pretty much cover all the most popular colours that we see today.
If you do need something else out of these colours, please let us know as we may be able to help as we do have access to other Colorbond colours as well.
Our recommendation for 1600mm wide clotheslines is the Eco brand of clotheslines.
These are handmade in Australia the old-fashioned way, boasting full steel construction, these units are really built to last for Australian conditions.
Virtually no plastic parts in the clotheslines build other than the cord itself which can be easily replaced.
Eco clotheslines come in a big range of modern colours too and we can do the customisation free of charge so you can have exactly the right size clothesline for the spacing that you have.
When it comes to the mounting of the clothesline, the standard mounting would be a wall mount situation. 
But if you don't have a suitable wall or surface to mount to, you can use a ground mount kit. 
As you can see we have the standard ground mount kit which would be one that is concreted into a grass and soil area.
We also have a plated ground mount kit which has legs equipped with plates at the bottom for mounting to concrete slab. 
So depending on what your situation is, that ground mount kit may be an option for you.
If you do have any questions about installation or need help with installation services we do have a clothesline installation service available, Australian-wide.
They can help you with the mounting of any of your clotheslines since they are well trained clothesline installation professionals that can answer all of your questions.
We also offer removal of any old or damaged clotheslines when installing a new one!
All of our products come fully backed by 100-day happiness guarantee to make sure you've got the right clothesline for your spacing and your home situation.
We always put our customers first since your satisfaction is what drives us, happy customers make for very happy businesses too--at least that is the way we see things.
For any further information on products within the 1600mm wide spacing, please feel free to call at anytime on 1300 798 779 and speak to one of our clothesline experts.
You can also visit our website at LifestyleClotheslines.com.au and find more information, videos and further technical details on all of the products.