Need a new clothesline  Let's take a look at the best 1500mm clothesline options and which clotheslines our experts deem as most appropriate for a 1500mm wide spacing.
We will discuss the different models that are available from well-known brands, the colour options, the mounting options of these products, and also the installation of clotheslines as well as the best route to take when it comes to installation.
For starters, we would like to highlight that it is important to choose a clothesline with a densely spaced format in terms of drying line space which you will notice as we progress through this topic.
Do bear in mind that a 1500mm width is not a standard clothesline size offered by most manufacturers, it is a good thing that you came to Lifestyle Clotheslines for help.
We recognise the lack of clotheslines required by small homes or those that need a clothesline with precise dimensions to fit a certain space.
That is why we went to great lengths in order to help out customers who need a clothesline with specific width.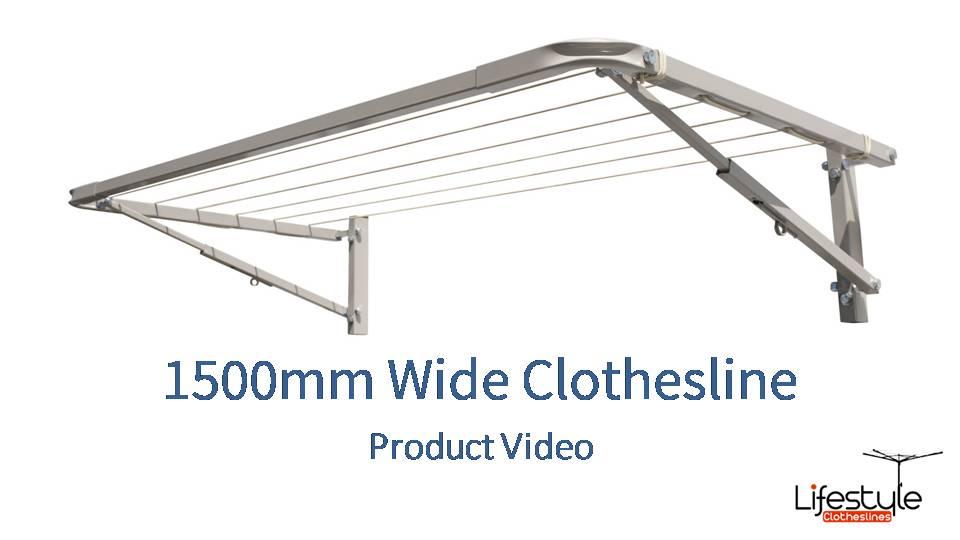 Topics Covered in This Article
When it comes to 1500mm wide clotheslines, we do recommend the Eco 150 clothesline.
This model by -- default -- is 1500mm wide, and comes in a range of depth options that we'll discuss in a moment.
This clothesline boasts an all steel construction as you can see here, has no plastic load-bearing parts that break in just a few years, well, aside from other than the cord itself which can be easily replaced.
With this one as well it folds down flat to the wall when you don't need it. To do that, you simply push it up slightly in the middle and it falls down flat to the wall out of the way.
This model comes in multiple width options as indicated below:
600mm

75omm

900mm

1200mm

1500mm
Eco Lowline Attachment
With this Eco range you can opt for what's called an Eco Lowline Attachment. 
This is a slightly lower section at the back of the clothesline. It gives you an extra three lines. 
This is really handy if you're really trying to maximise your line spacing you have in the 1500mm wide area.
The Eco Lowline attachment is installed underneath the primary and are attached via struts for ease of use.
If the main frame goes up and down the lowline attachment goes with it, it's really handy for additional space in smaller areas.
If you don't need the Lowline Attachment on any day, you can simply unhook it from the frame above and it falls down flat to the wall -- out of the way. 
Eco Clotheslines Colour Range
With the Eco range, you do get 6 colour options, these are most of the most popular colours that we see today and any of the colours above can be chosen for your clothesline without extra charge.
These are the most popular colours that we do, but if you are looking for something outside of these colour ranges and in the COLORBOND range, we can probably help you with that.
If you do need to have any requirements other than these, please let us know. We may be able to help you when it comes to colours since we do have access to other colours.
Our recommendation for 1500 millimeter clotheslines is the Eco Range of Clotheslines.
Like we have mentioned earlier, Eco clotheslines are entirely handmade in Australia the old fashioned way so they're really built to last thanks to their sturdy, full steel construction build.
Most of the clotheslines that come in from overseas simply do not have have the same impeccable build quality that Eco products have.
These ones are really designed to be a long-term clothesline, have a big range of modern colours, and we can also customise them as well free of charge.
So if you have a space of 1550mm or 1450mm, we can actually make the clothesline to that size specifically in the factory for you at no additional charge and the clothesline will come out exactly the right size when you need it.
Clothesline Ground Mount Kit
With the mounting of the units, the standard mounting would obviously be a wall mount option.
If you don't have a suitable surface to mount the clotheslines to, you can actually use a ground mount kit. 
As shown on the image above, the legs are anchored into a grass and soil area and can also be stabilised using concrete footings. 
We also have a plated ground mount kit option, which is the posts with the plates welded on the bottom for Dynabolting down to a concrete slab area. 
This is handy as well if you don't have any wall space but a concrete area to work with.
Professional Clothesline Installation
If you do need help with professional clothesline installation, Lifestyle Clotheslines does have a full installer network around the country. 
You can add that to your order by simply checking the box on any Product page or calling us via phone, and we can discuss your clothesline installation needs.
Happiness Guarantee
All of our products come with our 100-day happiness guarantee to make sure that you've got the ideal clothesline for your situation at home.
We always put our customers first since your satisfaction is what drives us, happy customers make for very happy businesses too--at least that is the way we see things.
For further information on 1500mm wide clotheslines, you can call us at any time on 1300 798 779 to speak to one of our clothesline experts today!
Feel free to visit our website at lifestyleclotheslines.com.au to find more information on products, as well as videos, specifications, and a lot more.