When it comes to 140cm wide clothesline options, Lifestyle Clotheslines is your best bet!
Find out which products and styles are best suited for the spacing of 140 centimetres wide.
There is no such thing as a one-size-fits-all when it comes to clotheslines, we believe that our customers should have options and to deliver not just reliable products but impeccable outcome--whatever you purchase from us.
Our clothesline experts are always hard at work to broaden our product portfolio to cater to every household's eco-friendly clothes drying needs!
So today, let us run you through the different products that we have available.
Let's discuss the colour options, mounting methods, and installation of the 140cm wide clothesline products that we are about to introduce to you.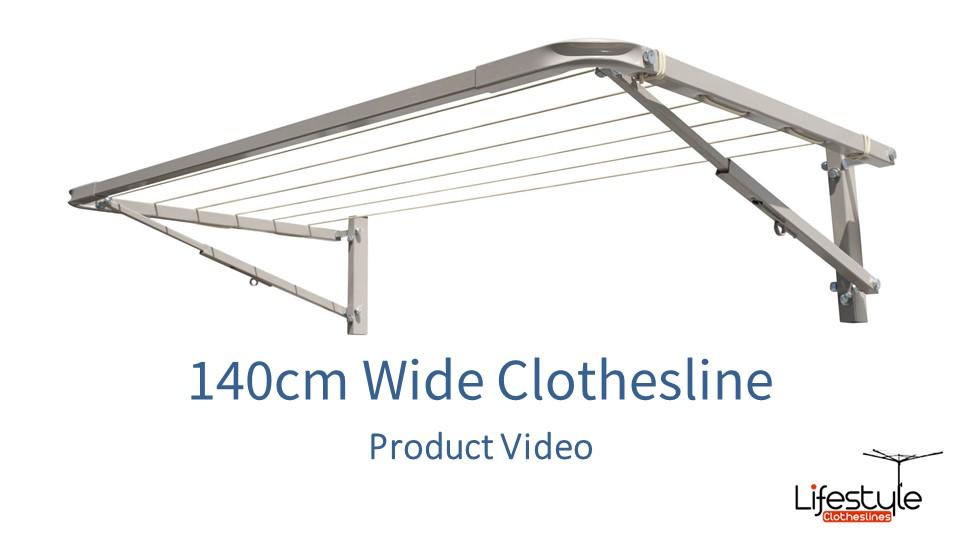 Topics Covered in This Article
The Eco 150:
The first 140cm wide clothesline on our list is the Eco 150 clothesline.
This unit has a standard width of 150 centimetres but that should not pose any issue since we can shrink the width of the unit down to just 140cm.
We do customisations to ensure that your clothesline arrives at your doorstep with the dimension that you require to ensure compatibility with your laundry drying space.
For example, if you have a 145cm wide space to work with, we can actually make this clothesline to exactly fit that spacing for you at no additional charge.
The Eco 150 is a proudly Australia-made clothesline that boasts full steel construction, the frame is completely fashioned from galvanised steel with powder coat paint.
The only plastic component in this product is the included drying line which you can replace with more durable alternatives like steel wires.
When you're finished with using the Eco 150, you can simply lift it up in the middle until the locks release and the frame folds down flat against the wall.
And with the Eco 150 clothesline, you do get five different depth options (the distance out from the wall):
60cm

75cm

90cm

120cm

150cm
The longer the depth the more drying lines you get so it is a must to measure how much clearance is available in front of the wall where you'll have the clothesline installed so you get the most out of your drying area.
The Eco Lowline Attachment:
With the Eco range of clotheslines, you can add what's called a lowline attachment.
This is an optional accessory you can attach to the clothesline which adds a lower section for extra drying space.
This gives you an additional three clothesline so it's a really handy, extra thing to add if you're looking to maximise the line spacing in your area. 
It attaches to the main frame and goes up and down with the main frame but you can also detach it on any given day if you have no need for it and it simply folds flat to the wall. 
It is a handy thing to consider if you're looking to maximise your line space in that 140 centimetre area. 
Eco Clotheslines Colour Range
With the Eco Clotheslines, you get to choose from 6 standard COLORBOND® colours that is baked onto the steel frame. 
These colours pretty much cover the full spectrum of the most popular clothesline colours we see today.
This finish does not fade nor peel easily and protects the metal from moisture to minimise rusting.
If you do have colour requirements outside of these 6, please let us know as we may be able to help as we do have access to other COLORBOND® colours. 
Another 140cm Wide Clothesline to Consider:
The Austral Unit Line 15 is another clothesline that is around this 140cm wide. This unit is 140cm by 93.5cm out from the wall and sports 12 lines. 
This unit does come in three colours like the Classic Cream, Woodland Grey, and Surf Mist colours—all of which can easily blend in with the surroundings of your abode.
This is an Australian made unit and boasts a 20-year guarantee.
Our recommendation for the 140 centimetre wide clotheslines is the Eco Clotheslines range. 
Eco clotheslines are handmade in Australia the old-fashioned way and with a full steel construction, they're really built to last a long time. 
They're designed in Australia, made in Australia and are engineered to withstand the harsh Australian conditions that we see at many times throughout the year. 
It has the biggest range of colours of any clotheslines in Australia and you can pretty much find the colour that will suit your tastes.
With the mounting of these clotheslines, wall mount option is often the way to go but if you don't have a suitable wall surface, you can convert them into a free standing one. For this, the optional ground mount kit is required.
The standard ground mount kit is designed for use on ground/soil, additional steps will be required since concrete footings are needed for stability.
A plated ground mount kit is what you need if you want your clothesline installed on a concrete slab/driveway.
So this is basically a post with a flat plate welded on the bottom which is then bolted down to a flat concrete slab area. 
If you need help with clothesline installation, Lifestyle Clotheslines does have a full install and network available Australia-wide. 
You can simply check the box on any of the product pages to add that to your order or you can also give us a call and we can help you with clothesline installation via the phone. 
All of our orders placed through Lifestyle Clotheslines and products come with a 100-day happiness guarantee to make sure that you got the right clothesline for your situation.
We always put our customers first since your satisfaction is what drives us, happy customers make for very happy businesses too--at least that is the way we see things.
For further assistance regarding or our 140cm wide clothesline products and accessories, please feel free to call at any time at 1300 798 779.
Visit us online at LifestyleClotheslines.com.au for further information, videos, images and detailed specifications of products and clotheslines that are in the 140 centimetre wide spacing.