Searching for the right 130cm wide clothesline for your home? Let us help you figure out which of our favourite models will perfectly suite a 130cm wide spacing.
Everywhere you go, it is a given that space is a premium mostly if you live in an apartment, studio, condo, or simply want an accessory clothesline to your existing full-sized one.
We took some of the highest rated models that our customers have been consistently raving about and put our clothesline experts into good use by coming up with an awesome list of recommendations just for you.
In this article, we will go over which units, styles and brands are best suited for a space of 130cm wide including the colour options, mounting options of those products as well as the installation. 
You can watch the video above for your convenience but we suggest sticking to this article since it has more comprehensive details that you wouldn't want to miss!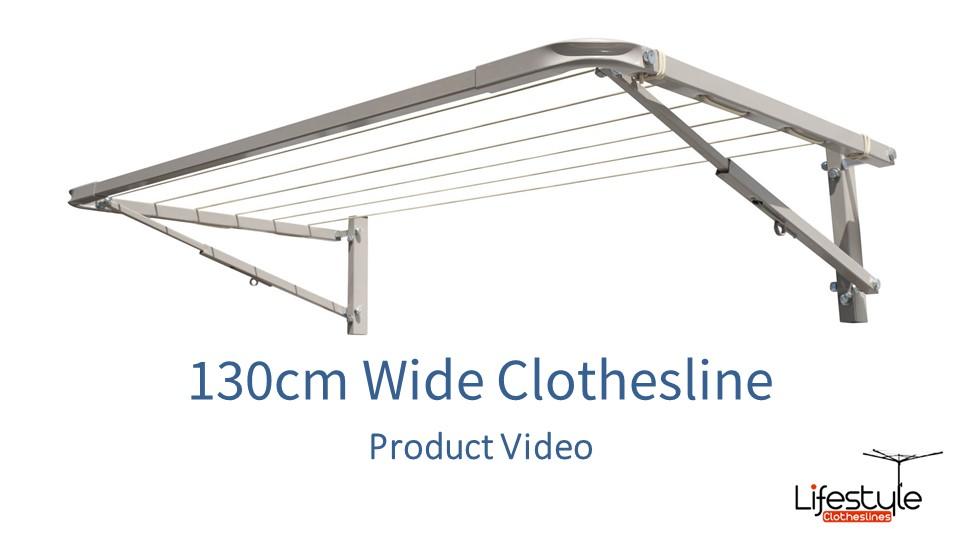 Topics Covered in This Article
To hit things off, the Eco 150 clothesline is one of the models we do recommend for a clothesline with a standard width of 150cm but we can modify this down to 130cm for you at no additional charge. 
So, if you require a clothesline with a specific width like—say, 135-centimetre to perfectly span your wall, we can get it done right from the factory!
The Eco 150 oozes quality as you can see from the full galvanised steel construction and powder coat finish, it is engineered to last for a very, very long time. You'll surely get your money's worth with this one.
With the Eco 150, you get to choose from a handful of depth options depending on how much clearance your drying space would allow:
60cm

75cm

90cm

120cm

150cm
Obviously, the further out you can come from the wall, the more lines you're gonna get—equating to more drying line space without the significant increase in the product's overall footprint.
The Eco Lowline Attachment:
With the Eco range of clotheslines, you can also get an Eco Lowline Attachment. 
This is another lower section that attaches to the back of the clothesline and gives you an additional three drying lines. 
It is a handy option to have if you're looking to really maximise your line spacing within a small area. 
It attaches to the main frame and goes up and down with the main frame at any given time, but if you didn't need it on any day, you can simply unhook it from the main frame and it folds flat to the wall. 
Eco Clothesline's Colour Range
For the Eco clothesline range, the colour option is 10 standard COLORBOND® colours.
So these are pretty much the most common colours we see in clotheslines today. 
But if you do have colour requirements outside of these 10 colours, please let us know as we do have access to other COLORBOND® colours in the COLORBOND® range. 
Two More 130cm Wide Clothesline
s 
Worth Considering:
The Austral Indoor/Outdoor clothesline is another one that can pretty much fit within a space that is 130cm wide.
This unit is 120cm wide by 60cm deep, comes in white colour only and has seven lines. Again, this is an Australian-made unit, very good quality construction, full steel frame. 
It has a handy line tension lock on the side of the clothesline to keep the cord from sagging and articles from drooping down the middle.
This one has metal wire harness on the side not the struts like on the Eco range, so you simply unhook those from the side and the whole unit folds flat to the wall when you don't need it. 
The Hills Mini is another favourite of ours that can be placed in a 130cm wide drying area.
This unit comes in the Pebble Beach colour which has a nice light beige tinge, it's worth mentioning that this unit has six lines. 
Again, when you don't need it, it folds down flat to the wall and when you're ready to go, you simply lift it up in the middle and the arms lock into position automatically. 
Our recommendation for 130cm wide clotheslines is the Eco Clotheslines range. 
They are handmade in Australia the old-fashioned way and built with a full steel construction that's really made to last. 
They're designed in Australia, made in Australia, and are designed to withstand the harsh Australian conditions that we see year round. 
The standard mounting procedure for these clotheslines is by having them bolted onto the wall but if this is not possible on your end, you can get a ground mounting kit which is an optional extra. 
This is only available on Eco Clotheslines though as Austral and Hills don't make them for these smaller units, and there are two different styles of these mounting kits. 
One is for mounting into a grass and soil area which require concrete footings for stability.
There's also what's called a plated ground mount kit which is basically a post with the plate welded on the bottom and that's for bolting down into flat concrete slab areas. 
For assistance with clothesline installation, Lifestyle Clothesline is proud of its wide network of clothesline installation experts that span the whole country.
You can simply check the box on any product pages to add the installation service to your order or you can simply give us a call and we can help you via phone with any query. 
All of our products come fully backed by our 100-Day Happiness Guarantee to make sure you're happy with the clothesline and the product that you've ordered and it's going to be the right situation for your needs.
We always put our customers first since your satisfaction is what drives us, happy customers make for very happy businesses too--at least that is the way we see things.
If you want the most up-to-date details about 130cm wide clotheslines please feel free to call us anytime on 1300 798 779 and our awesome clothesline experts will be more than happy to answer any question that you may have.
You can visit our website at lifestyleclotheslines.com.au for product specifications, alternative clothesline options, tips, videos, and images on products that are 100 centimetres wide and which our products are gonna be best suited for your needs.