Today let's talk about 120cm wide clothesline models that will work best in your home.
Most manufacturers don't offer products that cater to specific width requirements so it is a good thing that you ended up here.
We will walk you through a handful of options that'll perfectly fit a 120cm wide wall area or space.
We scrubbed through tons of reviews to find out which 120cm wide clotheslines are preferred by our customers.
Not everything is about aesthetics, of course the number one thing on our list is build quality and reliability track record comes in at a close second.
Our clothesline experts willingly provided us with their thoughts with regard to clothesline products that offer the best bang for the buck to ensure that you end up happy with your clothesline, so let's get started!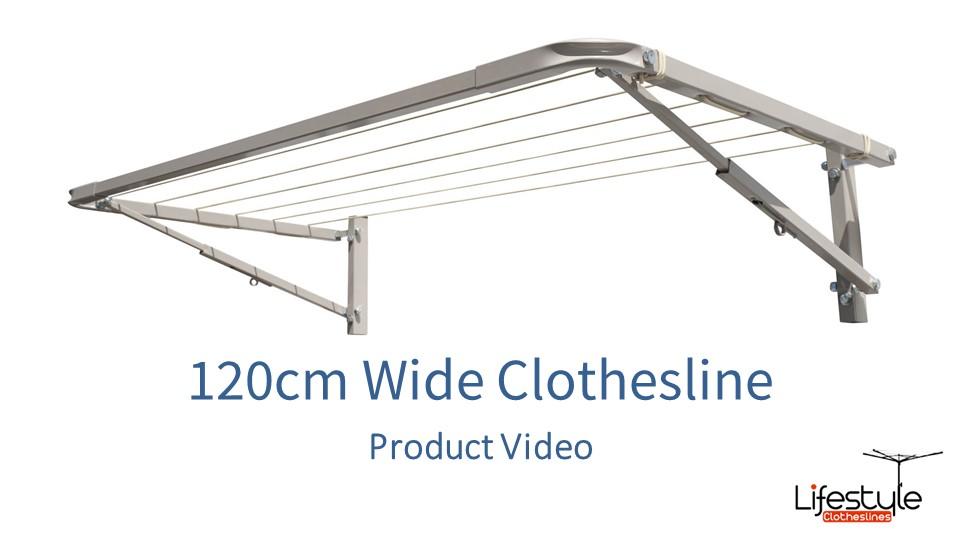 Topics Covered in This Article
Right off the bat, we knew that the Eco Apartment Clothesline is the number one clothesline model to recommend for clotheslines with 120cm of width. 
This unit is 100cm wide along the wall, has a depth of 150 centimetres, and has 12 total drying lines.
This is a really handy space-friendly unit because the lines run from the wall so the maximum depth/clearance at the front of the unit will dictate the drying capacity.
Normally clotheslines run parallel to the wall but this one, as we have mentioned above, has a uniquely designed frame which has a longer than usual overhang.
The Eco Apartment, per our clothesline experts, is one of the few options that offer the best line space given the size limitations. 
This clothesline is built to last for a very long time since all of the components are fashioned from powder paint coated, galvanised steel and the only plastic component in it is the cord itself.
Our next favourite is the Eco 120 clothesline which, no doubt is one of the bestselling clotheslines from our online portal for obvious reasons.
For the Eco 120 clothesline, there are multiple depth options for maximum space efficiency (distance out from the wall):
60cm

75cm

90cm

120cm

150cm 
So, depending on the amount of space you are able to work with you can certainly find a clothesline depth that will suit your needs to guarantee that you make the most out of your laundry drying space.
With the Eco range of clotheslines you also have the option to add a Lowline Attachment. 
This is another section at the back of the clothesline that has an additional three lines, and this unit will give you extra line spacing without consuming additional footprint.
You gain 3.6 metres of extra spacing over the 120cm width of the main frame which is convenient for drying large items like bedlinen, curtains, and even rugs!
So, if it is a must for you to maximise the line spacing within your laundry area, Eco Lowline attachment could be a viable option.
The really good thing about the lowline attachment is it simultaneously folds down with the main frame when not needed and deploying the main frame lifts up the attachment—no extra steps necessary.
Hills is renowned for aesthetically-pleasing and reliable clothesline products so the Hills Mini is no exception to this rule.
Again, this one folds flat to the wall as well when you don't need it, and has adequate room between drying lines for optimum airflow. 
Eco Clotheslines Colour Range
The big range of modern colours is also another great point to these clotheslines. 
With the Eco Clothesline range, you do get 6 standard COLORBOND colours at no additional charge, so any of these colours can be made into the clothesline of your choice. 
If you do have colour requirements outside of these standard colours, please let us know as we do have access to other COLORBOND colours.
Our recommendation though for 120 centimetre wide clotheslines is the Eco Clotheslines range. 
They are hand made in Australia the old-fashioned way. And with a full steel construction, they are built to last a very long time. 
They're designed in Australia, made in Australia, and really built to last for the tough Australian conditions that we see around in this country at many times of the year. 
You can pretty much find a colour that's going to match into your colour scheme, and they can be customised free of charge as well. 
In terms of mounting options for these clotheslines, the ECO clotheslines can be mounted using the Ground Mount Kit. 
If you want a location that does not have a wall or a suitable vertical surface to mount them on, you can mount them freestanding with these mounting kits so they can be installed in a  grassy area or anywhere in your garden.
There's also a 'Plated Ground Mount Kit' which has a flat plate welded on the bottom for mounting onto flat concrete slabs.
If you need help with clothesline installation, Lifestyle Clotheslines does have a full installer network available Australia wide. 
You can simply check the box on the product page to add that to your order or you can give us a call as well and discuss your needs over the phone. 
The best part is all of our products come fully backed by 100-day happiness guarantee to make sure you've got the right product for your home and living area. 
We always put our customers first since your satisfaction is what drives us, happy customers make for very happy businesses too--at least that is the way we see things.
If you need detailed information about 120 centimetre wide clotheslines, please feel free to call us at 1300 798 779 at any time to speak with one of our clothesline representatives. 
Fee free to visit our website at LifestyleClotheslines.com.au for in-depth specifications, tips, advice, and videos on 120cm wide clotheslines as well as other clothesline options today!