Searching for 100cm wide clothesline models and brands that will work best in your home? Let us help you find the perfect unit for yours to own!
Our clothesline experts have curated a list of clothesline products that are best suited for the spacing of 100 centimetres wide.
We understand that space is at a premium everywhere and it is important to us that you find a clothesline that's most suitable for your needs.
We've taken into consideration the products most preferred by our customers--but we didn't stop there!
We also threw in those favoured by our clothesline experts the most so you can get a better sense of the 100cm clothesline you need. 
Below are several products suitable for 100 centimetre wide spacing, we will go over the colour options and the installation of those products for good measure.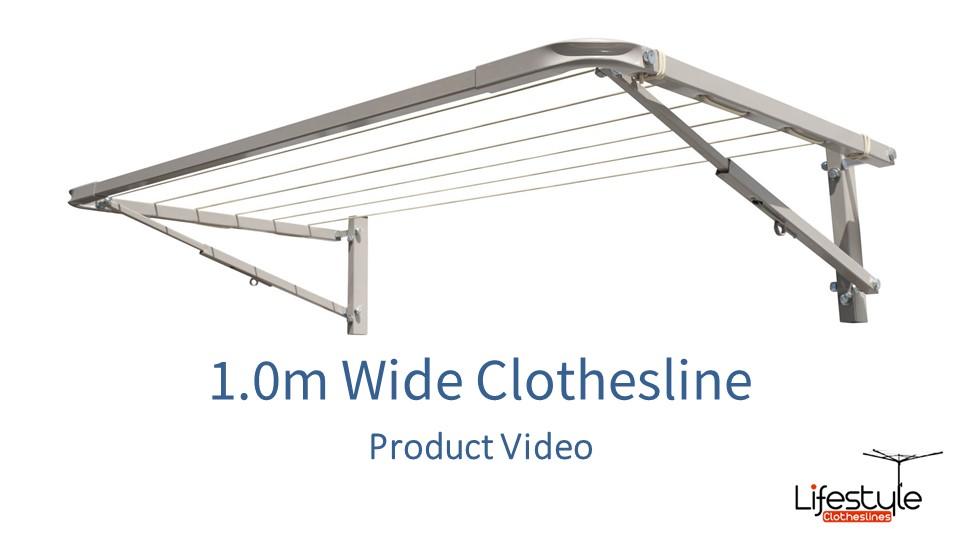 Topics Covered in This Article
Best 100cm Clothesline Recommendations
The first one on the list is the Eco Apartment clothesline, this unit is 100cm wide and it comes out from the wall 150 centimetres. 
This is a unique style of clothesline where the lines run 90 degrees out from the wall, which means you get a much longer line length to work with and more line spacing even with such a narrow width.
The images below show what the unit would look like from the front.
To fold it down, you simply lift the frame up til the locks release and it folds flat against the wall when you are not using it.
With the 100 centimetre wide unit, you get 12 lines, that's a really handy area to work with over that distance. 
So you get 12 lines that are 150 centimetres long—that is a lot of line spacing in a very narrow wall area. 
Another option in the 100 centimetre wide clothesline units is Eco 120, this is one of the products that we recommend the most.
Aptly named, the Eco 120 has a width that us exactly 120cm wide but we can shorten it down to just 100cm for you—absolutely free of charge!
Given that this is an Australian-made product, it oozes high quality and the full steel construction is very solid yet folds flat to the wall when not needed.
Designed to last a very long time, the only plastic component drying line itself which can be easily replaced with aftermarket clothesline wire if you prefer.
There are multiple different depth options (distance out from the wall/frame overhang) for the Eco 120 so you can take full advantage of your laundry drying area:
60cm

75cm

90cm

100cm

120cm

150cm
As long as you have a clearance of up to 150cm at the front of the clothesline, you can opt for the biggest version so you can dry more clothes without necessarily using too much free space.
To further boost the capacity of your clothesline without increase in footprint, you can opt for the optional 'Eco Lowline Attachment' which adds drying lines right below the main frame of your Eco clothesline.
This accessory adds three extra drying lines that has the same length as the width of your clothesline.
The Eco Lowline Attachment has rods that link to the main frame of your clothesline so that they will simultaneously deploy or fold down—plus points for convenience!
Eco Clothesline Ground Mount Kit
With the Eco range, you can opt for a ground mount kit for the ultimate flexibility when it comes to installation.
The standard version of the ground mount kit lets you mount the clothesline on grass or soil area.
If you wish to have it installed as a freestanding unit on a concrete surface, you can get what's called a plated ground mount kit. 
These have plates at the end of each leg to facilitate bolting onto a concrete slab using fasteners.
This can be a DIY project or you can simply add the installation service to your order and we can get it done for you.
Eco Clothesline's Colour Range
The colour options available with the Eco clotheslines are 6 standard Colorbond colours.
This range of colours pretty much covers some most popular colors that we see in clotheslines in Australia today.
If none of these colours suit your taste, please let us know since we do have access to more colours outside of these 6 standard ones we offer.
Thanks to the durable Colorbond finish, the galvanised steel frame of the Eco clotheslines further boost its rust resilience and can even withstand the harsh Aussie climate for decades to come!
Our recommendation for 100 centimetre wide clotheslines is the Eco clotheslines range. 
These clotheslines are handmade in Australia the old-fashioned way, so each Eco clothesline that comes out of the factory are made with utmost care and impeccable quality.
They boast full galvanised steel construction and are specifically designed for use within the Australian market.
Proudly engineered and manufactured in Australia, these clotheslines offer the best value and reliability to ensure the end user's satisfaction.
As we have mentioned earlier, when it comes to clothesline installation Lifestyle Clotheslines boasts a wide network of friendly and reliable clothesline installation partners nationwide
You can simply check the box on the clothesline product page to add the installation service to your order or you can give us a call and we can talk about the specifics with regard to your clothesline's installation.
All of the orders purchased from us here at Lifestyle Clotheslines come with a 100-day Happiness Guarantee.
This is a testament to our business model where customer satisfaction will always be our number one priority.
There is a good reason why we have thousands upon thousands of testimonials from our loyal customers, be a part of the Lifestyle Clotheslines family and see for yourself!
For more information on clotheslines that are over 100 centimetres wide, please feel free to call us at any time on 1300 798 779.
Visit us at LifestyleClotheslines.com.au for further information, detailed images, product videos, and detailed specifications of all the 100cm wide clotheslines we offer!