In this article, we are going to talk about 1.9m wide clotheslines and which option is going to fit this space of 1.9m.
We will go over the different products that are available, the colour options for those units that you can avail, mounting options, as well as installation services and the technicalities involved.
When it comes to Clotheslines that are 1.9m wide, the Eco 210 is one of the best ones we recommend. 
This unit is actually 2.1m wide but as 1.9m is not a standard size for any clothesline, we can make this unit down to 1.9m for you.
So for example, if you have a space of 1.9m and want your clothesline to fit that space exactly (perhaps 1.95m or 1.98m)we can modify the Eco 210 down to that specific length for you at no extra charge.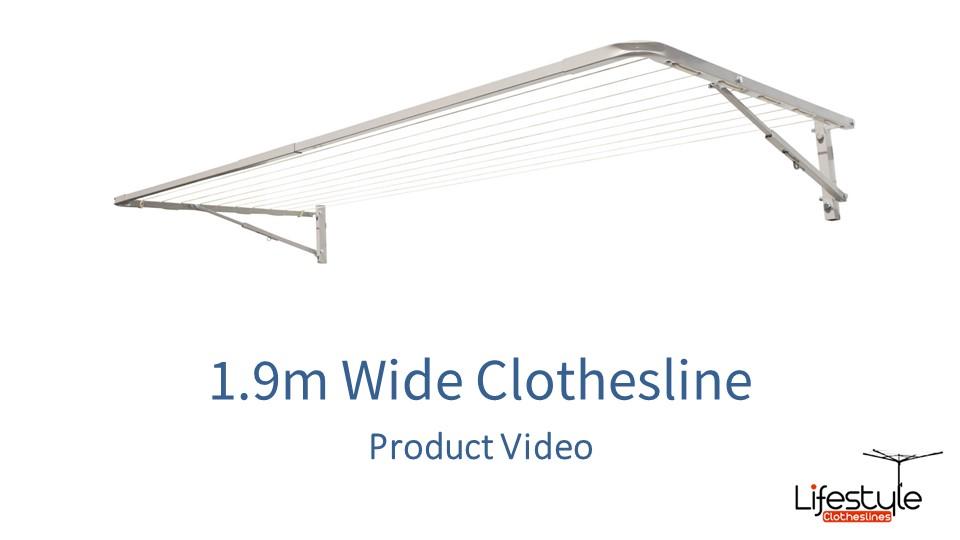 Topics Covered in This Article
In the images below, you will see the full steel construction, nice solid wall bracket bolted to the wall, the full steel frame too. 
You an also see the steel strut sections are visible too so you now have an idea with regards to the engineering involved in making this product.
The only plastic part is the drying line, everything is made in Australia with this unit. When you don't need it, you simply fold it flat to the wall—the best part of all.
Eco 210 Images:
With the Eco Clothesline range, you have five depth options, this is the distance out from the wall:
0.6m

0.75m

0.9m

1.2m

1.5m 
So depending on the area you've got to work with and the depth out from the wall, hopefully one of these space options will be the right fit for you. 
Obviously, the bigger you can go, the more lines you are going to get and the more usable line space resulting in much higher clothesline capacity.
Also with the Eco Clothesline range, you can get an optional Eco Lowline Attachment. This is a slightly lower frame that attaches at the back of the Clothesline. 
The Eco Lowline Attachment gives you three additional drying lines which is a really handy option if you're trying to maximise your line space in a very small area.
Per the images above, that is what it looks like when it is in the up position attached to the mainframe. 
If you lower the main frame, the lowline attachment one folds flat to the wall as well.
If you didn't want it on any given day, just simply unhook it from the mainframe and it folds flat to the wall, but it does give you an extra three lines.
Eco Clotheslines Colour Range
With the Eco Clotheslines, the colour range is quite vast, we have 6 standard colours available for you to go over on our website.
This is the biggest range of colour options from any clothesline manufacturer in Australia. There is a colour to cover any home exterior. 
If you want something outside of these 10 colours, we may be able to help. We do have access to other COLORBOND colours as well.
Our recommendation for 1.9 meters clotheslines is the Eco range. The Eco 210 is the one that we do recommend as we can modify it down to 1.9 meters for you. 
The Eco 210 is made in Australia the old-fashioned way so they are still built in Sydney. 
They boast strong, full steel construction using Australian galvanised steel. It is designed here and engineered to withstand the harsh Australian conditions and lasts a lifetime. 
Bear in mind that the customisation is free of charge so if you do need a specific size like the 1.9m, 1.95m or 1.98 meters, we can customise it in the factory—all set for installation when it arrives on your doorstep.
The normal standard installation method is via wall mount but if you don't have a standard brick wall or masonry to have it bolted on, you can get what's called a Ground Mount Kit. 
The Standard Ground Mount Kit allows your fold down clothesline to be installed onto surfaces like grass or soil with support courtesy of concrete footings.
If you are looking to have it installed on a flat concrete slab area you can purchase a Plated Ground Mount Kit. 
Instead of anchoring provisions for concrete, the plated ground mount kit has flat plates at the end of each leg which can accommodate bolts/fasteners.
If you do need help with clothesline installation, Lifestyle Clotheslines does have a full installer Network Australia-wide. 
You can add this to any of your products on the product pages or you can also call us on our phone and we can add that to your order. 
All of our products are also covered by a 100-day happiness guarantee to make sure you've got the right product for your home situation and space.
We always put our customers first since your satisfaction is what drives us, happy customers make for very happy businesses too--at least that is the way we see things.
For further information on clotheslines that are 1.9m wide, please feel free to call us at 1 300 798 779 and feel free to speak to one of our Clotheslines experts today.
You can also visit our website at lifestyleclotheslines.com.au for more information, videos, images, and more technical details on all of our clothesline models and accessories.