Today we are going to talk about 1.4m wide clothesline options and which brands or products are the best suited for this 1.4m wide spacing. 
In this video, we'll cover the different products that are available, colours for those models, some mounting options for the clotheslines, as well as installation.
We will brief you with the models we available in the 1.4m wide area and the colour options for those products.
Mounting methods will also be discussed so you can determine the right clothesline for your needs.
The first clothesline we wanna look at for the 1.4m wide units is the Eco 150.
This does have a standard size of 1.5 meters wide, but we can actually make it to whatever you specifically need in terms of 1.4m of space.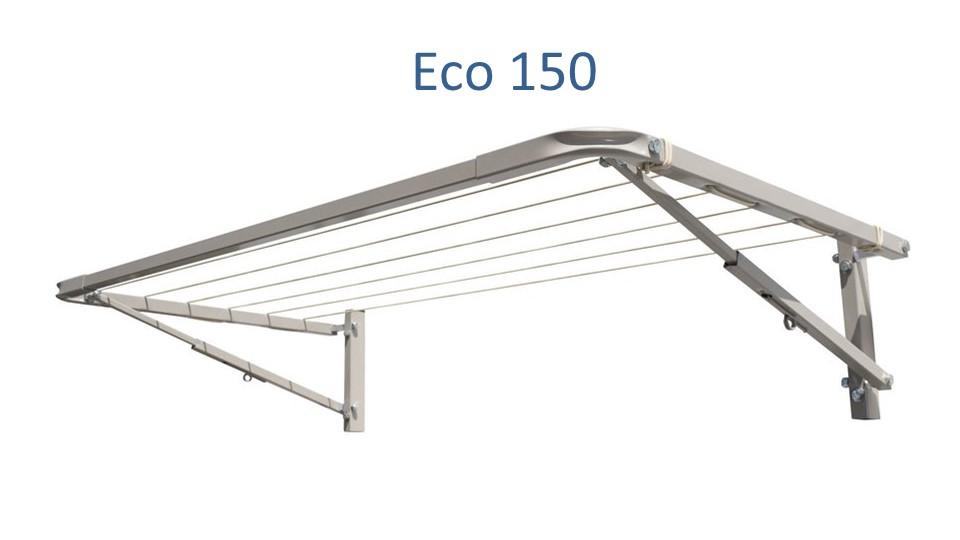 Topics Covered in This Article
So let's say you have a 1.4m or 1.45m wide spacing, we can actually make it to exactly what you need in the factory at no extra charge for you. 
Now, this is a very good Australian made product that's full-steel construction, and it's really built to last.
Below are multiple images of the Eco 150. The only plastic section on it is the cord itself. 
Everything else is full-steel construction, and much better than a lot of the things that are coming in from overseas that have a lot of plastic parts in them. 
The Eco 150:
Above on the right hand side is what it would look like when it's in the down position. So if you don't need it, you just fold it flat to the wall, or you just lift it up to lock it into place when you do need it.
The line spacing on this one does have five different depth options, so that's the distance out from the wall:
0.6m 

0.75m

0.9m 

1.2m

1.5m
So depending on what space you've got to work with, this is a pretty handy unit to have that can really be customised to fit to your exact specifications.
That's something to consider to really maximise your area you may have to work with there and the Eco 150 is certainly a good option to look at.
Eco Lowline Attachment
With this unit, you can get what's called an Optional Lowline Attachment, this is a section that's slightly lower than the primary frame of the clothesline. 
This gives you extra three lines of drying space with length similar to the main drying lines.
Clearly it is a pretty handy option to have to increase your line spacing in very tight areas. 
If you don't need it on any given day, it simply unhooks and folds flat to the wall.
So, again, that's a handy option to have if you are trying to maximise all the line spacing options in a very small area.
Eco Clotheslines Colour Range
When it comes to the Eco Clotheslines, they do come in 6 standard colours.
These are all Colorbond colours, so pretty much you can find something that's going to match into your home decor there. 
If you do need something specific, please let us know since we may be able to help as we do have access to other Colorbond colours.
These are the most popular colours that we do, but if you are looking for something outside of these colour ranges and in the Colorbond range, we can probably help you with that.
Another 1.4m Wide Clothesline to Consider
The Austral Unit Line 15 is another product we have compatible within the 1.4m spacing. 
This one is 1.4 by 0.935m and it has 12 lines total. 
This unit does come in three colours like the Classic Cream, Woodland Grey, and Surf Mist colours—all of which can easily blend in with the surroundings of your abode.
This is an Australian made unit and boasts a 20-year guarantee.
Our primary recommendation for this type of unit is the Eco Clotheslines range. 
They are handmade in Australia the old fashion way, so they're really built to last with full-steel construction. 
Designed in Australia. Made in Australia.  The Eco Clotheslines are engineered specifically for the conditions here.
Clothesline Ground Mount Kit
When it comes to the mounting of the clotheslines, the Eco and the Austral both can utilise a ground mount kit if you don't have a wall to mount it to.
Certainly wall mounting would be standard as an installation option but if you don't have a suitable vertical surface, you can get what's called a 'Ground Mount Kit'.
 The standard one above shows it punctured into grass/soil area which can also be anchored into concrete footings.
There is also the Plated Ground Mounted Kit for those who have flat concrete surface area.
The end of the legs have plates provisioned for bolting on concrete using fasteners.
Clothesline Installation Service
If you need help with the clothesline installation, we have a full installation team around the country that can help you with that. 
You can order that on any of the product pages, or simply call us up on our phone. 
Happiness Guarantee
All of our orders placed through Lifestyle Clotheslines and products come with a 100-day happiness guarantee to make sure that you got the right clothesline for your situation.
We always put our customers first since your satisfaction is what drives us, happy customers make for very happy businesses too--at least that is the way we see things.
If you need any help finding an ideal clothesline for your 1.4m wide spacing, please feel free to call today on 1300 798 779 and speak to one of our clothesline experts.
You can visit our website at lifestyleclotheslines.com.au, for in-depth information, specifications, videos, and more.