Today we will be talking about 1.3m wide clothesline options and the best products fit for that size of wall or area that you've got to work with that is just 1.3m wide. 
We're going to cover a number of different options and talk about a number of different things.
We are your go-to clothesline experts so let us get started on find you that perfect 1.3m clothesline so you can dry clothes silently in an eco-friendly manner as soon as possible!
We will lay out the products that we available in the 1.3m wide area and the colour options for those products.
Also, some mounting methods will be discussed as well as installation and brands that are available.
The first one on the list is the Eco 150 clothesline or Eco 150. 
This unit is 1.5m wide as standard but we can customise it down to 1.3m for you at no extra charge.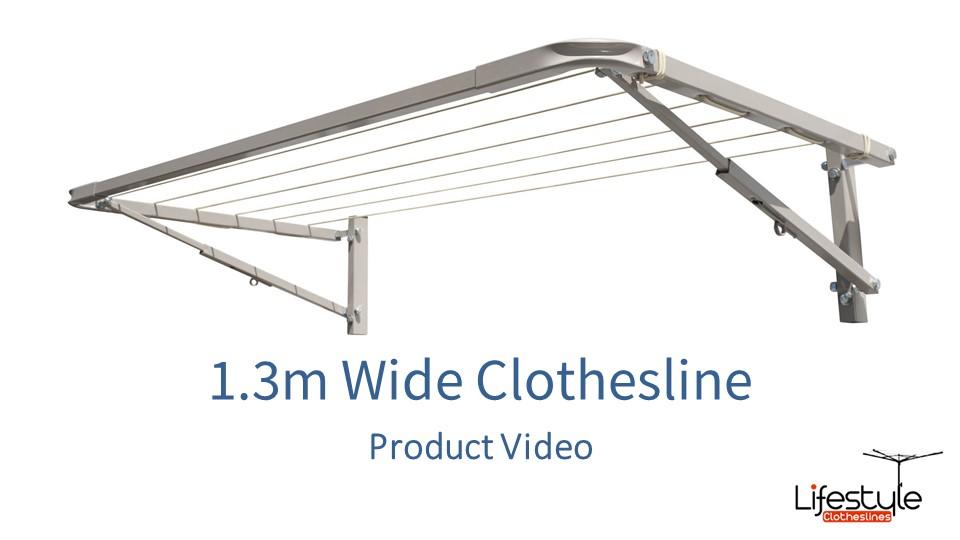 Topics Covered in This Article
So, if you have a space of 1.3m or 1.35m, or 1.38m for example, we can basically size it exactly per your requirements.
These units simply fold flat to the wall when you don't need them. These units are made in Australia and are full steel construction. 


Below, left, you will see the side view of the Eco 150, on the right is what it would look like in the down position.
The Eco 150:
These units simply fold flat to the wall when you don't need them. These units are made in Australia and are full steel construction. 
You see the solid wall brackets against the wall, the side arms, and struts situations here. All those things are all completely made out of steel. 
The only real plastic part is the cord itself. Everything else is solid steel construction.
With the Eco-150 range, it does come in five depth options, that's the distance out from the wall when the clothesline is up:
0.6m
0.75m
0.90m
1.2m
1.50m
For example, you can have a clothesline at 1.3m by 0.9m, that would give you 12 lines, so that is a really handy space for a very small area.
That's something to consider to really maximise your area you may have to work with there and the Eco 150 is certainly a good option to look at.
The Eco Lowline Attachment:
Also with the Eco Clotheslines range, you can get a second lower level which is an optional extra called the low line attachment. 
The image shows the Eco 150's main frame in the up position, where it has an extra three lines. 
So, if you're really trying to maximise your line space in a small area, adding a low line attachment to your clothesline is a really handy option. 
This does give you three extra lines—that is an additional 4m of drying line space without consuming extra space in or out of your home!
In the images above, we have shown what it would look like in the up position and if you didn't need the low line attachment on any given day, it just folds flat to the wall as well.
Eco Clothesline's Colour Range
With Eco clotheslines, the colour range of clotheslines is the biggest in Australia. We have 10 standard colour options. 
If you do have a colour scheme outside of these 10 colours, we may be able to help.
These are modern COLORBOND® colours. 
These are the 10 most popular colours that we do, but if you are looking for something outside of these colour ranges and in the COLORBOND® range, we can probably help you with that.
Two More 1.3m Wide Clotheslines 
Worth Considering:
Another option in this 1.3m wide clothesline space is the Austral Indoor/Outdoor clothesline. 
This slightly smaller than the 1.3m space, at 1.2m by 0.6m it comes in the white colour only and has seven lines.
Austral is an Australian made unit too. This is a pretty handy one for those smaller areas and below you will see how it would look like in the up position, ready for anything you throw at it.
Another one is the Hills Mini clotheslines. This is slightly smaller than the 1.2m by 0.67m specification. 
It just comes in the one colour like the Austral  of Pebble Beach, which is that sort of light beige colour you can see in the images. 
The Austral Indoor Outdoor has six lines, it simply folds flat to the wall as well when you don't need it. 
The Hills Mini is again another handy option for those that need 1.3m wide fold downs, made by a highly a reputable brand too.
Our recommendation though in terms of 1.3m wide clotheslines is the Eco range. These are hand made in Australia the old-fashioned way. 
They're built of full steel construction, are really designed and built to last. These are specifically engineered in Australia for Australian conditions. 
We find that things that are made in Australia are just made a lot better and stronger than products that come in from overseas now. 
So just to repeat, if you wanted a clothesline that is 1.3meters, 1.35, or 1.38m that can all be done for you free of charge.
It is simply the perfect clothesline for the space and area you've got to work with.
When it comes to the mounting of these clotheslines the standard mounting situation would be wall mounted, but if you don't have a wall or a suitable surface to mount it to, you can get ground mount kit for the Eco clotheslines. 
Austral and Hill don't do them for these smaller ones, but the Eco range you can get a ground mount kit for it. 
So, they can either be mounted into a grass/soil or if you have a flat concrete area you can get what's called a 'plated ground mount kit' which lets you bolt down your clothesline to the concrete slab. 
If you need help with clothesline installation, Lifestyle Clotheslines does have a full network of installers around the country, so we can help you with your installations needs.
You can pretty much add installation to your product on the product page for the products. Or if you want to order over the phone, we can also help you with that. 
All of our products come fully backed by our 100-Day Happiness Guarantee to make sure you're happy with the clothesline and the product that you've ordered and it's going to be the right situation for your needs.
We always put our customers first since your satisfaction is what drives us, happy customers make for very happy businesses too--at least that is the way we see things.
If you need further information, tips or advice on the perfect clothesline for your 1.3m wide space, please feel free to give us a call on 1300 798 779 to speak to one of our clothesline experts today.
You can also visit online at www.lifestyleclotheslines.com.au for further information, technical details, and specifications of all products mentioned here.