In this article for 1.2m wide clotheslines we will discuss the options we have available for you in a space that is as small as 1.2m and other recommendations that you might be interested in.
We will cover the different brands of 1.2m wide clotheslines, colour options, installation/mounting methods, as well as installation procedure for these products.
When it comes to 1.2m wide clothesline spaces in or out of your home, the options are very limited since it is not a particularly big space. 
The good thing is we have covered all of those in the video we have included below.
To get straight to the point, one of the clotheslines we recommend is the ECO Apartment Clothesline.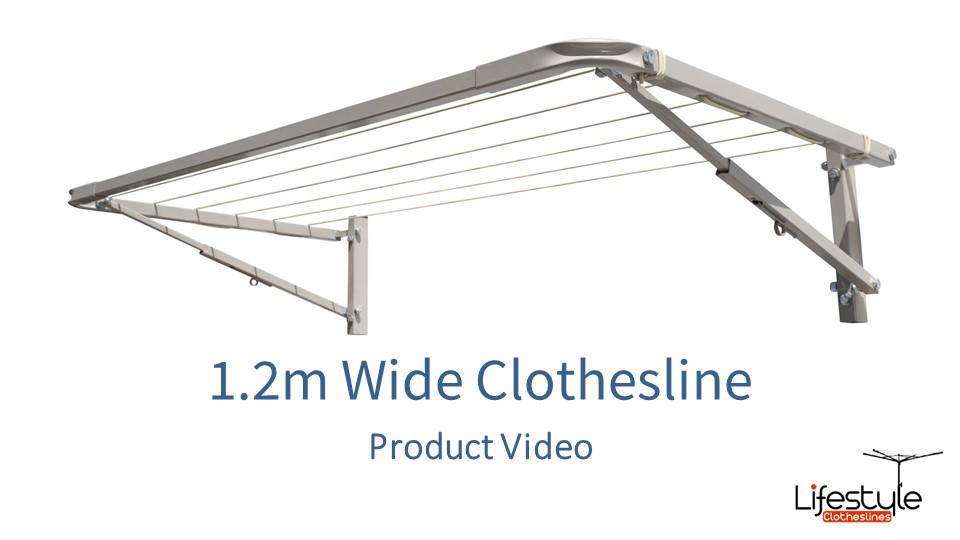 Topics Covered in This Article
Eco Apartment
This unit is 1m wide, so it's a little bit smaller than 1.2m but it comes out 1.5 from the walls, so it really gives you long runs of drying lines in such a narrow area.
The ECO Apartment is a really handy option to think about for those areas.
It does give you 12 lines as well so it provides a lot of hanging space for a very small area instead of running parallel to the wall as traditional clotheslines do. 
If you want to maximise your laundry drying space then this option is one that you might want to consider.
As you can see in the images above, that is what it would look like from the front as well coming out from the wall. 
The great thing is it just folds down flat if not in use—a brilliant way to save space and preserve the aesthetics of your home!
The next option would be the ECO 120 Clothesline. 
The model show here sits at 1.2m wide and it comes with a number of different configurations and sizes. 
This is an Australia made clothesline, all ECO clotheslines boast full steel construction, the frame, the bracket—all steel apart from the cord itself. 
The sizing of this unit is really handy as well as it does come in five sizes:
0.6m

0.75m

0.9m

1.2m

1.5m 
So you can decide on what depth option (the distance out from the wall that fits your space the best) and you can really maximise the line spacing that you've got to work within that compact space.
Eco Lowline Attachment
With the ECO clotheslines, you can add an extra row of drying lines underneath the main ones to further boost the capacity of your 1.2m clothesline.
The ECO Lowline Attachment provides three extra drying lines (3.6m total) without eating up extra space.
So, if you're really trying to maximise the line space you've got in a very small area, this is a handy accessory to have.
As you can on the images above, that is what it would look like if it was in an up position ready for use. 
But if you don't need it at any given day, it just folds-down or detaches from the main frame and you can hang it elsewhere—completely out of sight.
And just like the rest of the ECO clotheslines, the lowline attachment is available in 6 colours to match your main clothesline unit.
Eco Clothesline's Colour Range
These are modern COLORBOND® colours. So, the clotheslines are made of Australian GALVABOND® steel—the ultimate in clothesline frame durability.
It's galvanised steel which is the powder coated in the colour of your choosing which would best match your home decor or a certain colour scheme that you're trying to achieve. 
These are the 6 most popular colours that we do, but if you are looking for something outside of these colour ranges and in the COLORBOND®range, we can likely help you with that.
Other 1.2m Clothesline We Recommend
Austral Indoor Outdoor
Another option for this space of the 1.2m wide clotheslines is the Austral Indoor Outdoor. 
This is a 1.2m by 0.6m clothesline and has seven lines. It just comes in white colour but, again, this is a handy unit that is worth having in your home.
This model is made in Australia as well, hence the brand name 'Austral' so you know you are spending your hard-earned money on a high quality product.
They all boast full steel construction really built to last, no flimsy plastics here. 
They're also backed by a big range of colours that are available as we have mentioned earlier. 
Also if you do need customisation of the units to a certain width, that can be done free of charge to you. 
So, if you do need something like say, 1.25m, 1.28m, or 1.22m with the ECO range, we can make the clothesline per your preferred width at no cost whatsoever!
Clothesline Ground Mount Kit
In terms of mounting options for these clotheslines, the ECO clotheslines can be mounted using the Ground Mount Kit. 
The Hills and the Austral don't have mounting kits for these small clotheslines, but the ECO range does. 
If you want a location that does not have a wall or a suitable vertical surface to mount them on, you can mount them freestanding with these mounting kits. 
So they can be installed in a  grassy area or anywhere in your garden. There's also a Plated Ground Mount Kit which has a flat plate welded on the bottom for mounting onto flat concrete slabs.
Clothesline Installation Service
If you need help with the clothesline installation side of things, Lifestyle Clotheslines does have a full installing network Australia-wide. 
So you can pretty much add installation to your product on the product page for the products. Or if you want to order over the phone, we can also help you with that. 
Happiness Guarantee
All of our products are covered by a 100-day happiness guarantee to make sure we've got the best clothesline for you! 
Now, how is that for the ultimate customer service.
We always put our customers first since your satisfaction is what drives us, happy customers make for very happy businesses too--at least that is the way we see things.
If you need further information, tips, or advice on clotheslines that are 1.2m wide, you can call us at any time on 1300 798 779 to speak to one of our clothesline experts. 
You can find further information on our website at lifestyleclotheslines.com.au.