Now is the time to talk about 1.1m wide clothesline options and which units and sizes are going to be best for the space you've got.
1.1m is a very small space to attach a clothesline to so the space needs to be maximised as much as possible so we will help you find the clothesline that will perfectly fit your needs without consuming too much space!
We will cover the different products that are available, the specifications for those products.
The colours options will be discussed as well as some mounting options, and the installation of these units.
With the 1.1m wide clotheslines, there are only a number of models that have this sort of size.
Obviously, it is a very limited space on the wall so we have to get the most out of it with a properly designed clothesline.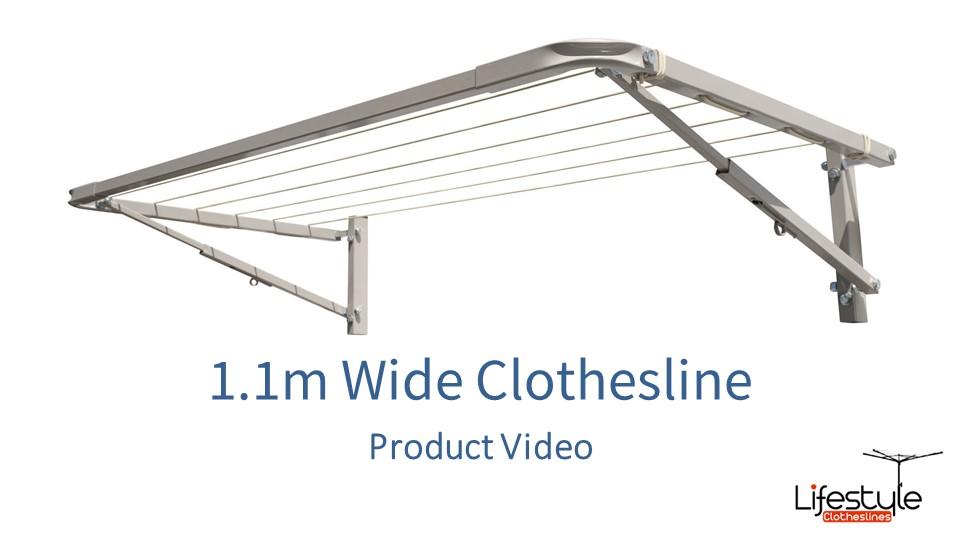 Topics Covered in This Article
The Eco 120 is Another Space-Saver to Try:
Another one is the Eco 120 clothesline. A standard width for this one is 1.2m, but we can modify this down for you to any width that you would like around that 1.1m of indoor/outdoor real estate.
The beauty with this one is it comes in a number of different depth options so once again that is the distance out from the wall. 
Here are some of the depth options we readily have for you:

0.6m
0.75m
0.9m
1.2m
1.5m
With the Eco range, you can add a separate attachment called the Eco Lowline attachment which gives you extra line space, this is the section at the back of the clothesline that is slightly lower than the main frame.
It's really handy for small-space areas if you're really trying to maximise line space as you can see below.
If you don't need it on any given day, you can easily fold it down flat!
Obviously, if it was modified down to the 1.1m, it would be slightly less on the line space but you can see the number of lines you would get.
So you could have something like a 1.1m by 1.2m which will provide you with 10 lines, which would be really handy for a small space.
With the Eco range each model can be purchased with a ground mounting kit as an option. So, if you don't have a wall to put it on, you can opt for a ground mount kit. 
The different options for ground mount kits are, on the left-hand side, you can see a post that is ideal for soil or grass area that can easily be concreted into the ground. 
The other option is what's called a plated ground mount kit for solid concrete slab flooring, those plated kits just get bolted down directly into the slab—both options offer limitless possibilities for installation!
Eco Clothesline's Colour Range
With the Eco clothesline range, there are 10 colour options. These colour options generally are the most popular that we see, really nice modern colours.
So, they're all COLORBOND colours. So, the clotheslines are made of GALVABOND steel, so Australian steel, and then they're powder-coated in the colour that you choose, if you do want to go that way.
If you are after something specific other than these colours, please let us know. We may be able to help as well.
When it comes to the 1.1m wide clothesline options, we do recommend the Eco clothesline range.
They are handmade clothesline units in Australia, the old-fashioned way. So, they're full-steel construction that's really built to last.
They are designed for Australian conditions and built that way to last many, many years.
Big range of colours, as well, is a real high selling point for these products, as people like to match it to their colour schemes at home. 
And if you do need that width customised, we can do that for you free of charge. So if you want 1.15m, or 1.18m, or 1.11m, we can certainly do all that at no extra charge.
If you need help on the installation side, Lifestyle Clotheslines does have a full installation team Australia-wide.
Feel free to give us a call or you can also add it to pretty much any clothesline product on the Product page.
And all of our products come fully backed by a 100-day happiness guarantee to ensure that you are satisfied with the product that you have purchased from Lifestyle Clotheslines.
If you need any further information on the 1.1m wide clotheslines or need to speak to a clothesline expert about your specific needs or situation.
You can call us at any time on 1300-798-779, or visit lifestyleclotheslines.com.au for further information and details on the products.