This time we will be discussing about 1m wide clothesline options and which one of these are gonna be the best products for you and your 1m wide spacing.
We will cover the different clothesline products that are available in the 1m wide spacing.
The colour options and installation of those products to ensure proper mounting and reliability of your investment are taken into account too.
The first clothesline we would like to talk about for the 1m wide spacing is the Eco Apartment clothesline. 
This clothesline is 1m wide, and it comes out from the wall 1.5m.
This is a really handy type of unit as you get to really maximise the line spacing and line length.
The lines run at 90 degrees out from the wall, which is traditionally not the way clotheslines normally run.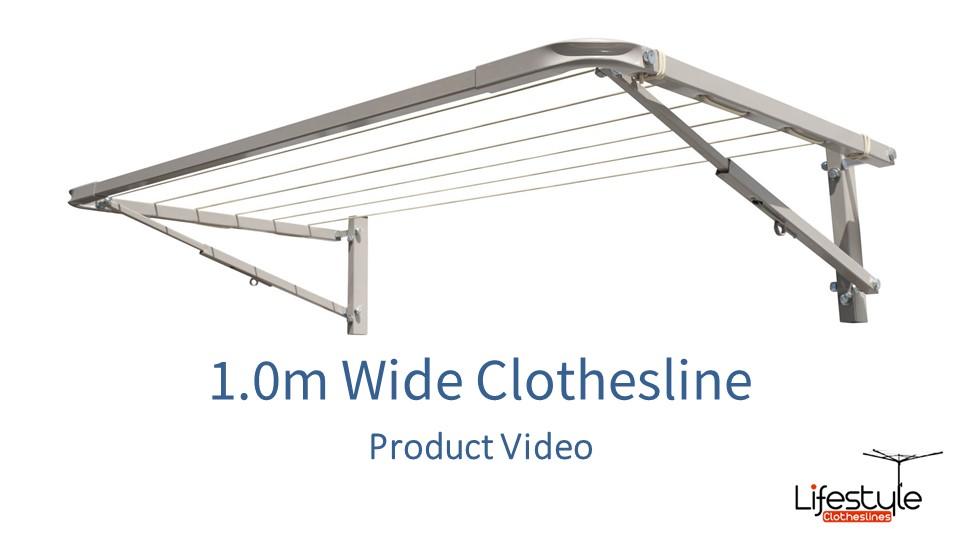 Topics Covered in This Article
Normally, they run parallel along the wall, the models we are discussing here have lines that extend out from the wall so instead of needing a wide wall space, you will just need a larger clearance at the front.

So that means you get a full 1.5m spacing in terms of the line length and with the Eco Apartment, you really get to maximise the space since you get 12 lines.
This is one of the top options that we do recommend for a wall spacing of 1m, as long as you got the area of 1.5m to come out from the wall for this one, you are good to go.
The images above show what the unit would look like from the front. And when it folds flat, you just push it up slightly til the locks release and it folds flat against the wall when you are not using it.

Another option is the Eco 120 clothesline. This generally, has a standard width of 1.2m but we can modify this down to 1 metre for you at no extra charge. 
This unit is really built tough since it boasts full steel construction. With this one, you do get a number of different options and the depth that we'll cover shortly. 
The Eco 120 is a Good Space-Saving Clothesline:
This is what it would look like from the side when the frame is deployed. You can see the quality of the full metal construction. 
The Eco 120 has no plastic parts other than the cord which is easily replaced, we are really proud of this one because this is a really high-quality Australian made product.
If you didn't want the clothesline up at any time, it just folds flat to the wall. This is what it would look like in the down position. 
With the Eco 120, you do get five pre-set depth options:
0.6m
0.75m
0.9m
1.2m
1.5m
So those are the distance out from the wall that are readily available. Obviously, the further you come out from the wall, the more lines you can have which gives you more line space.
Eco Unit Line: Compact and User-Friendly
Wth this one, if you require a more specific width like 1.05m or 1.08m or 1.02m, we can customise the clothesline to that specific width for you at no extra charge. 
With the Eco 120 clothesline, there's also the option to add a lowline attachment. This is a slightly lower section, as you can see in the images. This gives you three extra lines for even more items to dry.
This is a really handy option if you really want to maximise your space in a very small area. This can be used in the up position as shown as well. 
So, you can hang your smaller stuff towards the back of the clothesline. Or if you didn't wanna use it on any given day, it just folds flat to the wall if you have it wall-mounted.
When it comes to mounting of these clotheslines the standard option is wall-mounted but if you don't have a wall or if mounting on the wall is simply not an option you can get a ground mount kit. 
This further expands the possibility of choosing a location. On the image up there, you can see the standard ground mount kit used which makes it a breeze to mount the clothesline into the ground. 
That's pretty much the standard way. But we also offer a plated ground mount kit. 
This is for those of you who have a flat concrete slab area, we can also supply you with a wall mounting kit that has plates bolted on the bottom of the legs.
Eco Clothesline's Colour Range
In terms of the Eco colour range there are 10 standard COLORBOND colours which is quite a big variety of colours for you to choose. Pretty much these cover all of the modern clothesline colours that we see today.
If you are looking for something outside of these 10 that we have available on our site, we may be able to help. 
Please feel free to let us know so we can discuss other colour options available or colour that fits your preference.
Our recommendation for this 1m wide clothesline is the Eco clotheslines range.
They are handmade in Australia the old-fashioned way so that just means they're built to last a long time plus made of full steel construction. 
They don't have any plastic components in them at all other than the cord itself so this makes them much more durable than imported ones.
All of the modern clotheslines that come in from overseas today generally have a lot of plastic parts in them, including plastic corners, and plastic components within the clothesline.
So we really do recommend the Eco range as they are Australian made and undeniably built to last.
If you got a specific area that you want to set something up in, we can really help you maximise that line spacing by customising the clothesline to the exact width that you want. 
Once again, customisation of width is completely free of charge. 
If you need help with installation around Australia, we do have a network of installers that only do clothesline installation as well.
You can simply order that on the product page that you are on and the number is at the top of our website. 
And all of the clotheslines purchased through Lifestyle Clotheslines are covered by our 100-day happiness guarantee. 
So, if you're not happy with the clothesline, you can return it or swap it for something that may better suit your situation.
If you do need any further information on clotheslines that are 1m wide, you can call us anytime at 1300-798-779 and speak to one of our clothesline experts today. 
If you wanna take a closer look at specifics, please feel free to visit our website at lifestyleclotheslines.com.au!