Installing Clothesline Poles Into Various Surfaces
Most people don't mind shelling out a bit of hard-earned money just to have their clothesline poles installed at home but there are quite a few out there who aren't bothered with getting their hands dirty.
We are guessing that you belong to the latter group who are fond of DIY projects, if that's the case, you've come to the right place.
In this article, we will answer a few of the most popular questions when installing washing line poles and provide you with the necessary knowledge so you can get started quickly.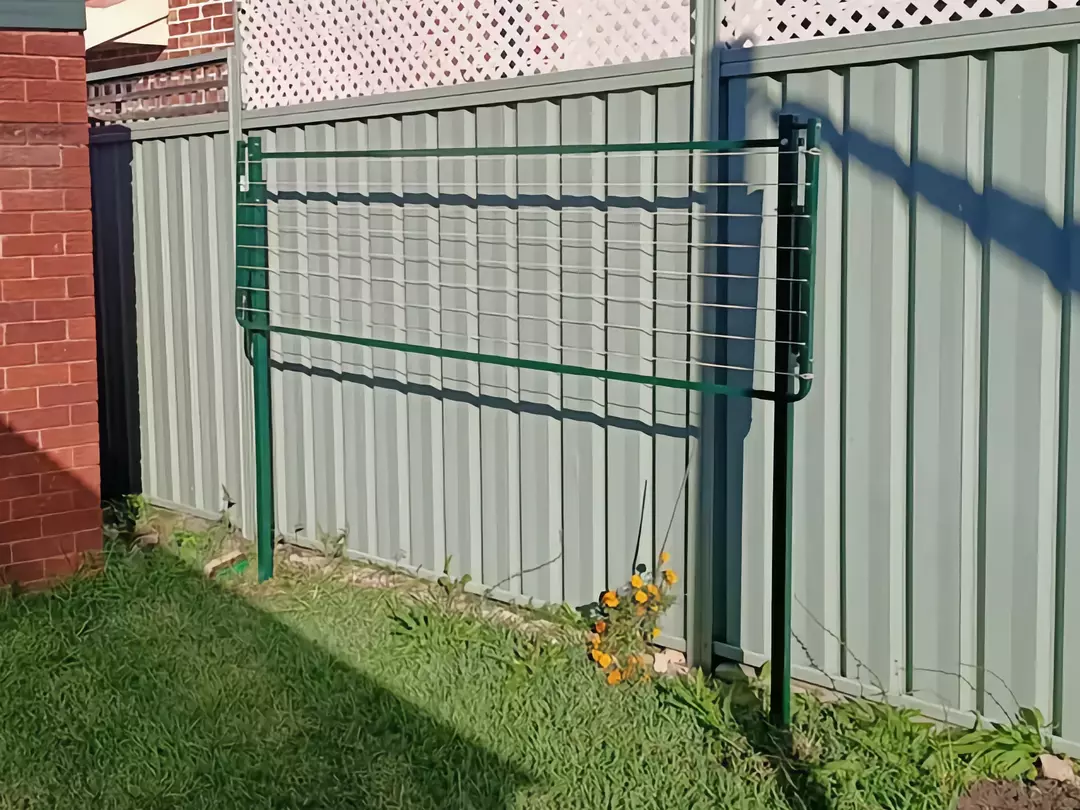 Short Summary
Find the perfect places to install a clothesline.

Matching the right type of poles or post specific to the surface you're working on.

Proper installation of the clothesline posts or poles to ensure solid anchoring of your clothesline.

Choosing the perfect clothesline for your needs
Where to Place Your Drying Line?
For starters, your washing line poles to be installed should be situated away from trees...
...your home or a neighbour's kitchen exhaust vent, and parts of your yard where ants or other creepy crawlies thrive (like shrubs/bushes).
You wouldn't want your newly-laundered clothes to smell like fried chicken and littered with ants.
That's the last thing you want to happen!
It is best to install clothesline pole kits where you can take advantage of the sun's heat throughout the day with as much breeze as possible.
Avoid places where sunlight can be blocked by a structure or tree to improve you clothesline's efficiency and drying times.
And just like the cons of parking your car under a tree, the same rule applies to your clothes.
You wouldn't want tree sap or resin to end up on your clothesline cords.
This can cause unwanted stains on the cords as well as your clothes that can be difficult to remove.
Fruit and nut-bearing trees are the favourite of birds too.
So if you don't want bird droppings on your favourite shirt, the solution to this is pretty easy to figure out.
Also, it is imperative that you determine the proper distance between posts.
If you're installing a retractable clothesline, take into account the model's maximum distance for extension.
This way, you'll be able to make full use of your retractable clothesline's capacity, and ultimately, get your money's worth.
Best Type of Clothesline Post Material to Use
There are a handful of materials you can choose for your clotheslines posts.
We highly recommend Cypress, Cedar or any pressure treated wood for their impeccable resistance to rotting.
These types of lumber are also hated by termites.
As a matter of fact, pressure treated wood can last anywhere between 30-40 years if properly sealed and maintained.
Teak is the ultimate choice for this type of application if you are the 'set it and forget it' kind of person.
It is renowned for its durability against the elements and natural resistance to rotting, not to mention termites.
The only downsides of Teak is it can be rather expensive and hard to find depending on where you live.
Steel or aluminium are great options too, most steel poles are galvanised nowadays and any concerns with rusting is no longer an issue.
Aluminium is just as good if not better due to the zero possibility of rust and it's cheaper, it is also suitable in salty environments.
As good as aluminium is, though, it has nothing against the sturdiness and cost-efficiency of good old steel.
We understand that aesthetics is a priority for most and there are ways to blend form or function into one package.
But as always, choose the durability above all else, it's cheaper to always get things done right the first time.
Trust us, it's worth saving yourself from the hassle of having to redo your clothesline poles allover again.
In-ground vs Bolted-on Clothesline Poles
For mounting the washing line poles, there are two common options for this: In-ground or bolting it to a concrete/tiled floor.
Digging cement base/footing for your posts is the best route to take despite being labour-intensive when compared to the other option.
It is a more robust way to secure your clothesline poles since there are no bolts or anchors that might loosen or rust in the future...
...or worse--cause cracks on your pavement. (if not done correctly)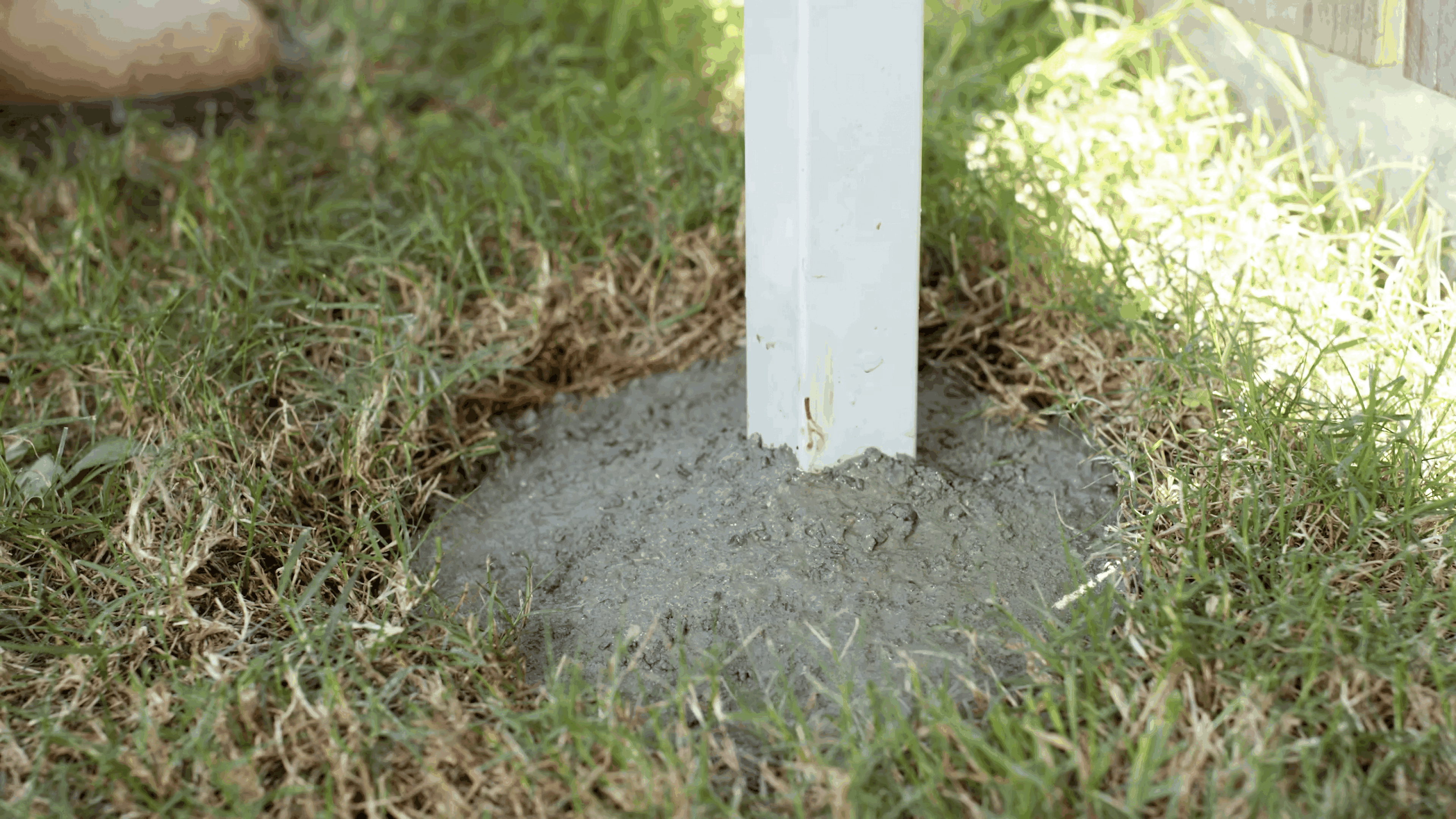 You will be able to save a bit more money too since there's no need to purchase mounting brackets, power tools (such as a drill), etc.
If clothesline poles are to be installed on a sloping terrain, a deeper hole might be needed to ensure solid anchoring and prevent tilting due to additional stress/tension if either poles are parallel to the slope.
If your yard's terrain is primarily sand instead of soil then we're sorry to say that ground mounting is not the solution for you, sand's instability will eventually cause displacement in the mounting of your clothesline poles.
You're better off with a portable clothes drying rack.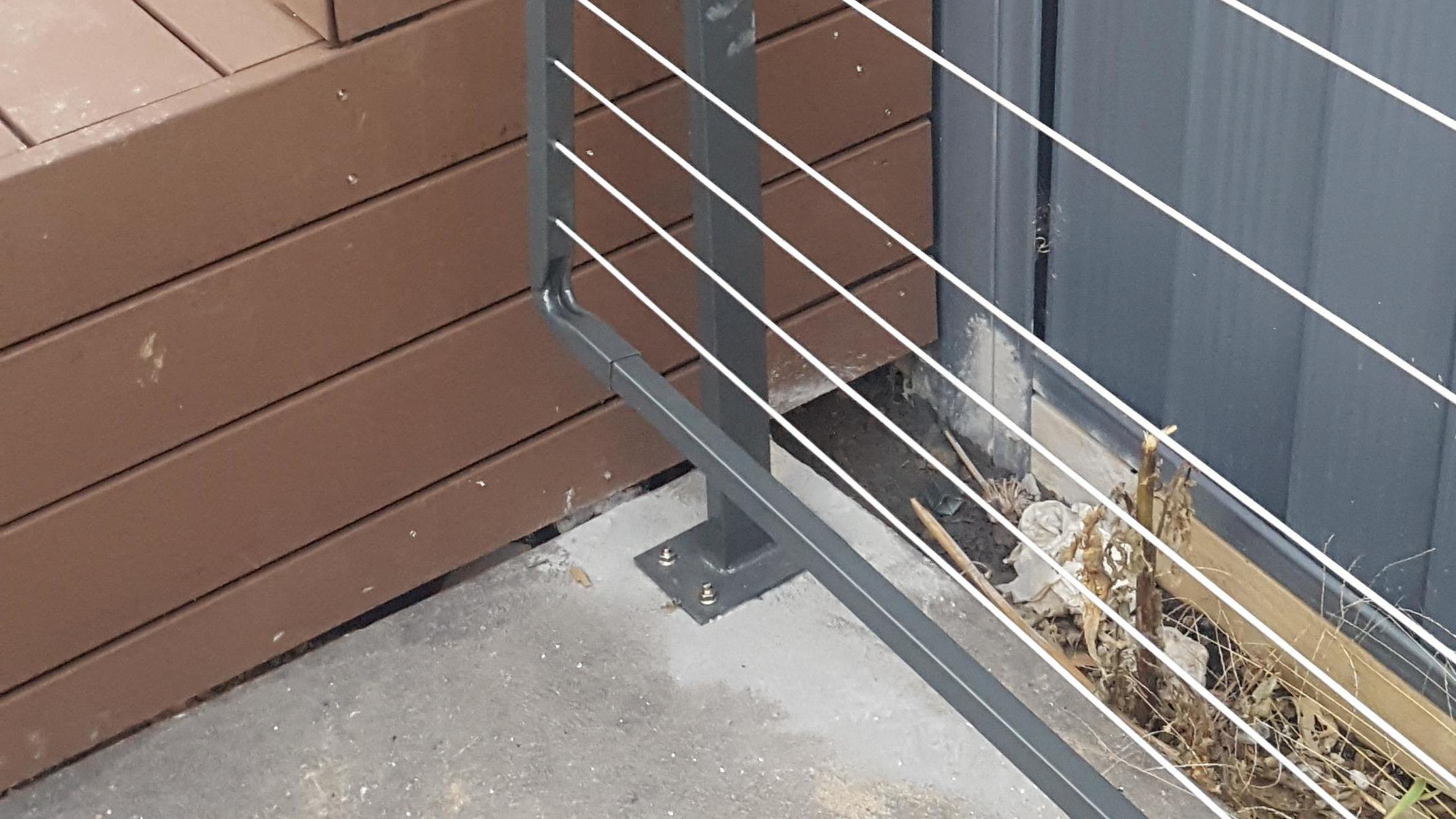 Bear in mind that there is a possibility that you might run into utility conduits like water, gas, or power.
Ensure that your posts are at least a meter away or keep a distance of half a meter in depth if the posts are to be installed over the conduits.
For obstructions such as tree roots, big rocks or concrete (this will  depend on the geography/location of your neighbourhood)...
...you might have to seek assistance from a demolition contractor.
If you would rather have the poles bolted onto concrete (like a deck or concrete slab), take a good look at your home's wiring plan and steer clear of any pipes or power lines underneath.
Once that's done, make sure that the area is rock solid and drilled into the surface at least 4 inches or 100mm thick to prevent the floor from cracking and for the torque to be distributed properly once the clotheslines are under load. 
Installing Your Clothesline Poles
Let's start with bolting-in a washing line pole kit or plated ground mount kit, below is a video on drilling as well as proper fastening of sleeves and screws into concrete/masonry.
This is a video for securing any type of structure onto a concrete slab and pretty much works the same way with a plated ground mount kit for clotheslines:
Below is a very helpful guide on how to install a Hills Fold Down clothesline using a folding frame post kit.
The process is pretty much the same with any other clothesline brand and model purchased with standard ground mount kit:
Quick Recap: Installing Clothesline Poles Onto Masonry/Concrete Slab
Drill into the concrete using a masonry bit and the impact drill using appropriate diameter and length of drill bit.
Use a depth stop to nail down the correct deepness of the drilled hole then use a can of compressed air to blow out any dust inside the hole.
Position the bracket so the holes line up, drop in a fastener for each hole (or a sleeve anchor) then tighten the nut and washer, being careful not to over-tighten, for a really solid anchoring, use wedge anchors.
Quick Recap: Installing Clothesline Poles Using Concrete Footings
Get rid of the mulch first then dig the hole using a post hole digger for convenience, you can get by with a shovel but the hole won't be as precise.
If you're premixing the concrete in a bucket, add in some gravel so you can position the post conveniently once the mix is poured in, use the carpenter's level flat on top of the pole and the sides to obtain proper alignment.
Make sure to saturate the hole with a bit of water so that the concrete does not dry out prematurely which keeps it from curing properly.
Let the concrete harden for a day before installing the actual clothesline assembly but it's best to leave curing for three days or so to guarantee that the concrete has hardened adequately.
Clothesline Recommendations
If you haven't figured out the kind of clothesline you need (although we're certain you already have one otherwise you won't be reading this article) we have a few suggestions that you might want to take a look at.
Note: Click on the product image to view more details about the clothesline.
Retractable Clothesline Recommendations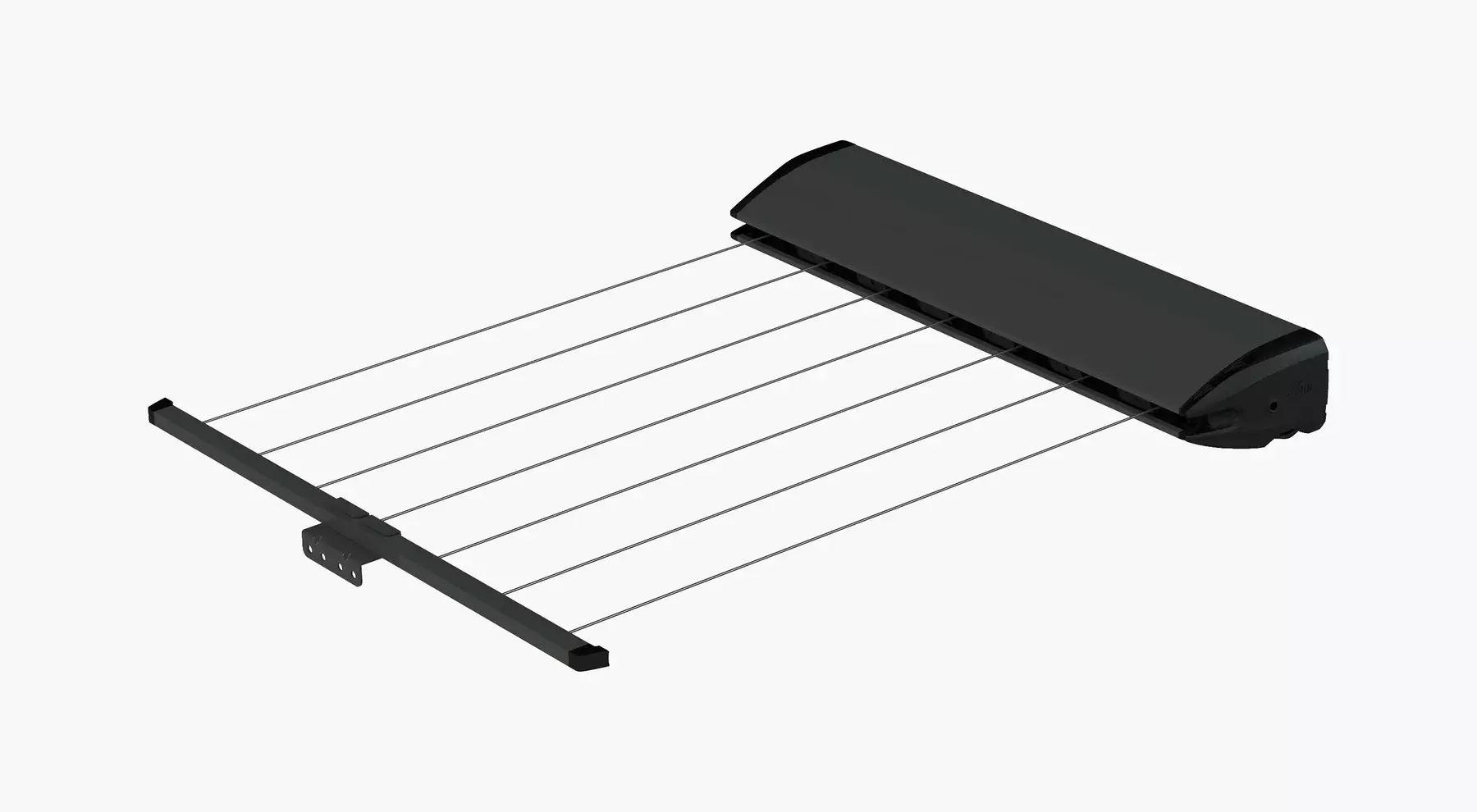 1. Hills 7 Line Retracting
The new series of Hills retracting clotheslines are great for drying wet laundry outdoors.
With 7 lines and a total line length of 47 metres, these heavy-duty yet stylish units boast galvanised steel cabinets and sunlight resistant plastic.  
The dual-level lock system keeps lines taut plus the upgraded spools are now equipped with stronger, thicker springs and a more robust assembly for long lifespan.  
The Hills 7 clothesline also averages 4.7 out of 5 stars online based on tons of reviews online plus Hills is known to create lasting products so you know you're getting your hard-earned money's worth with this one.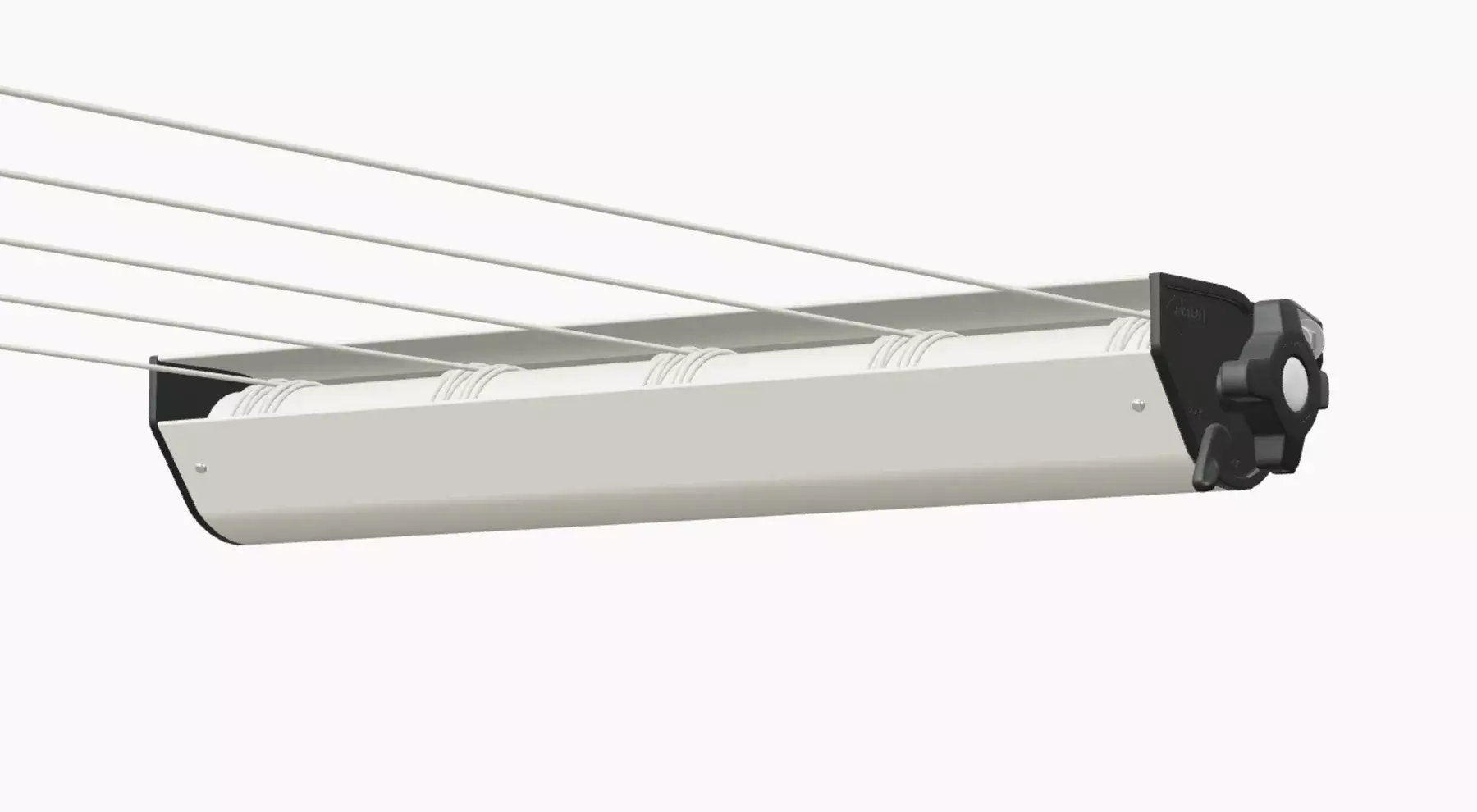 2. Austral Retractaway 50
With an average score of 4.9 out of 5 stars, one shouldn't wonder why the Retractaway 50 is one of the biggest players in this segment.
Designed and engineered for the extreme Aussie climate, it showcases Austral's laser focused approach towards reliability.
The moment you look at the Retractaway 50 you know that it means 'business' starting with the widely spaced lines which dries laundry, FAST.
The large easy to use knob, powder coated galvanised steel enclosure, a robust reeling mechanism plus 50 metres of UV resistant cords — this is the only retractable drying line unit that you will ever need.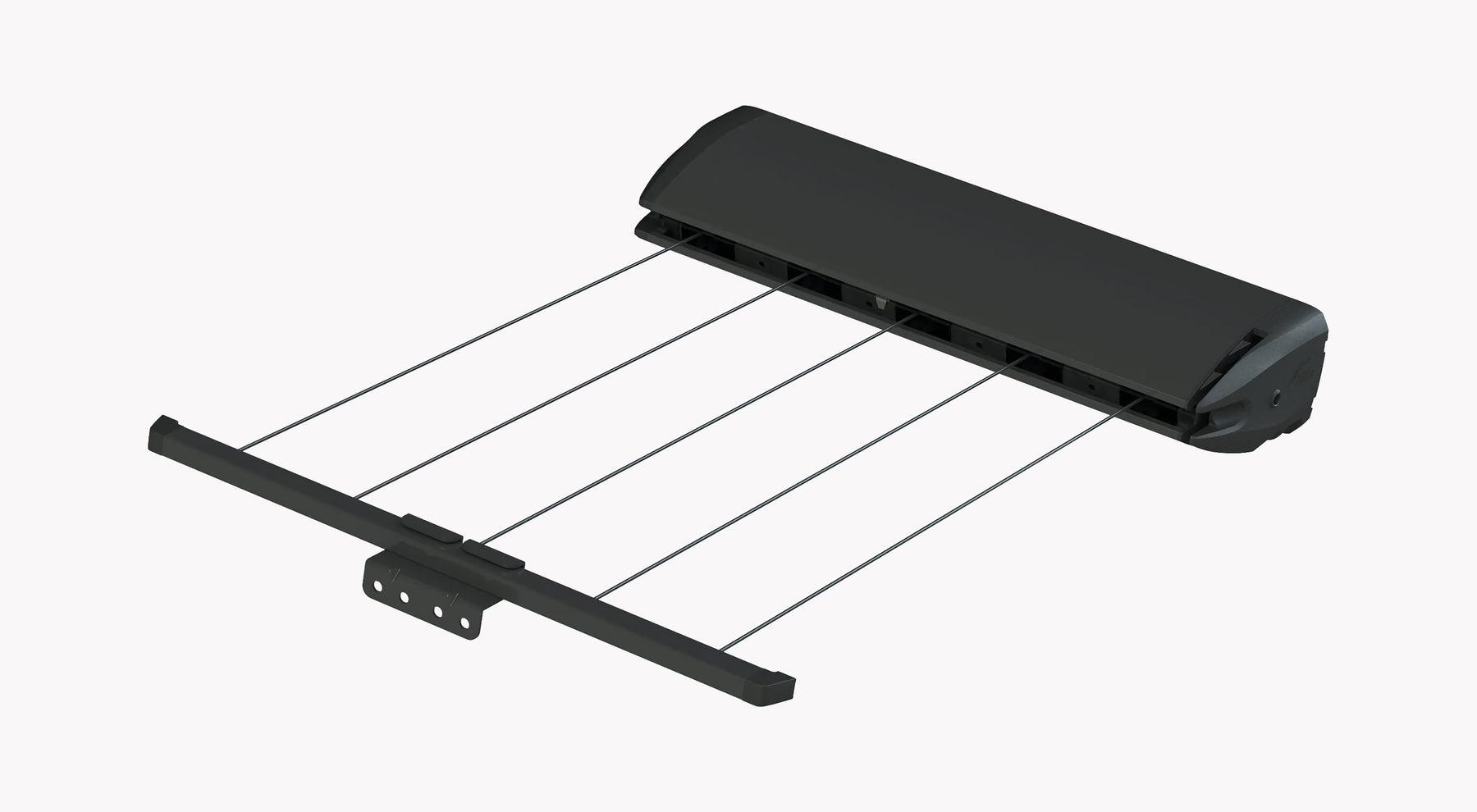 3. Hills 5 Line Retracting
The Hills 5 Line retracting is the smaller sibling of the aforementioned 7 Line retracting clothesline from the legendary brand.
It may have a more compact footprint but it's just as capacious, robust, and stylish but don't mistake its looks for a puny retractable--it's far from that!
Equipped with a durable independent reeling mechanism, it's easy to keep all five lines evenly taut at all times with little to no effort.
With a consistent rating of 4.8 out of 5 stars pretty much everywhere, you know that you're getting your hands on a high quality machine that's worth your while.
Fold Down Clothesline Recommendations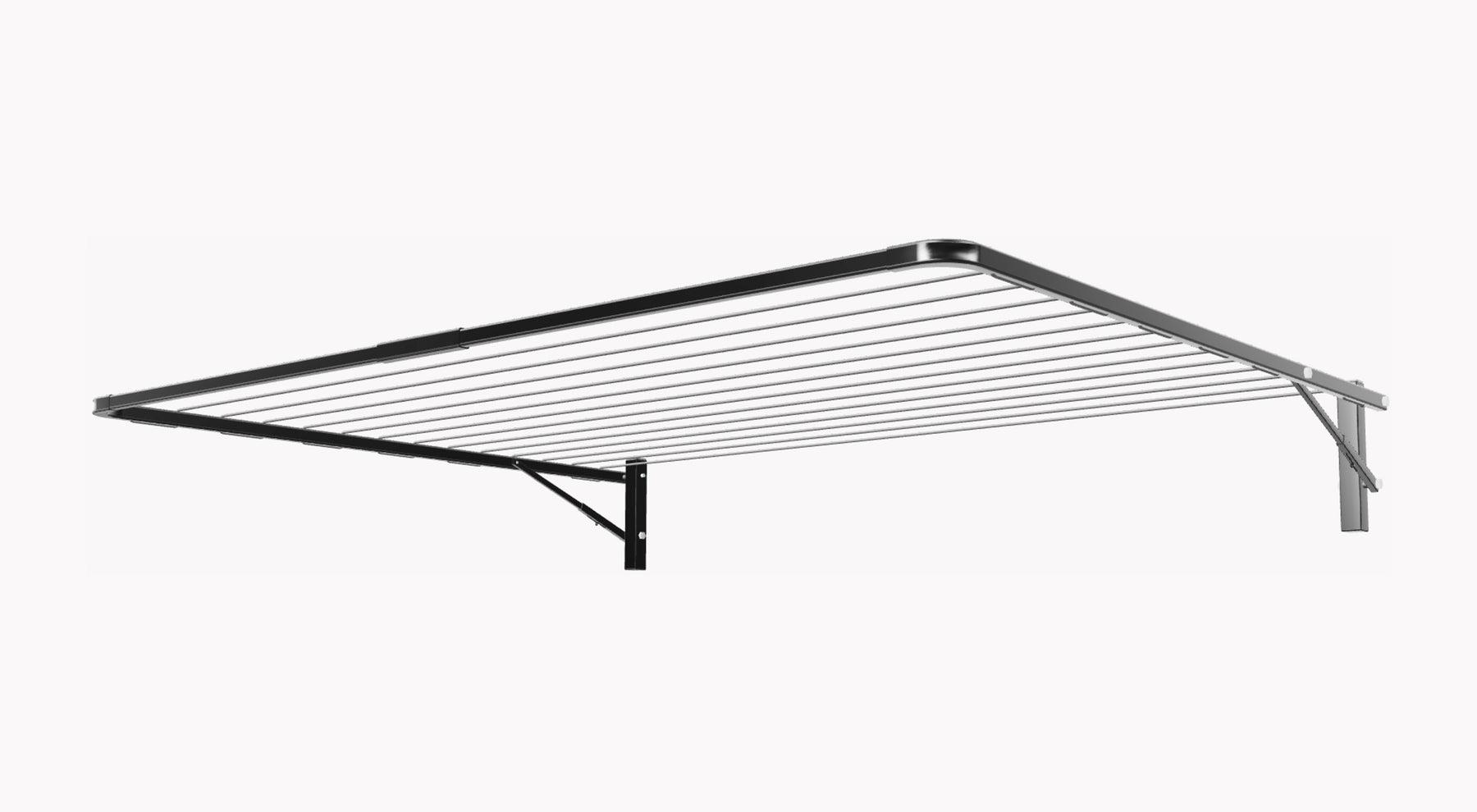 1. ECO 300
Undoubtably one of the most renowned fold downs on the market with a reputation for simplicity, quality, and reliability.
Boasting up to 30 meters of line space for multiple loads of washing, the Eco 300 provides ample hanging space for demanding households.
This clothesline is compatible with an optional Lowline Attachment, making it ideal for bigger families or those with heavier washing needs.
Crafted from galvanised steel and coated with a baked-on environmentally safe powder coat finish to prevent rust and corrosion.
The Eco 300 is perfect for those seeking a clothesline that is both practical and eco-friendly.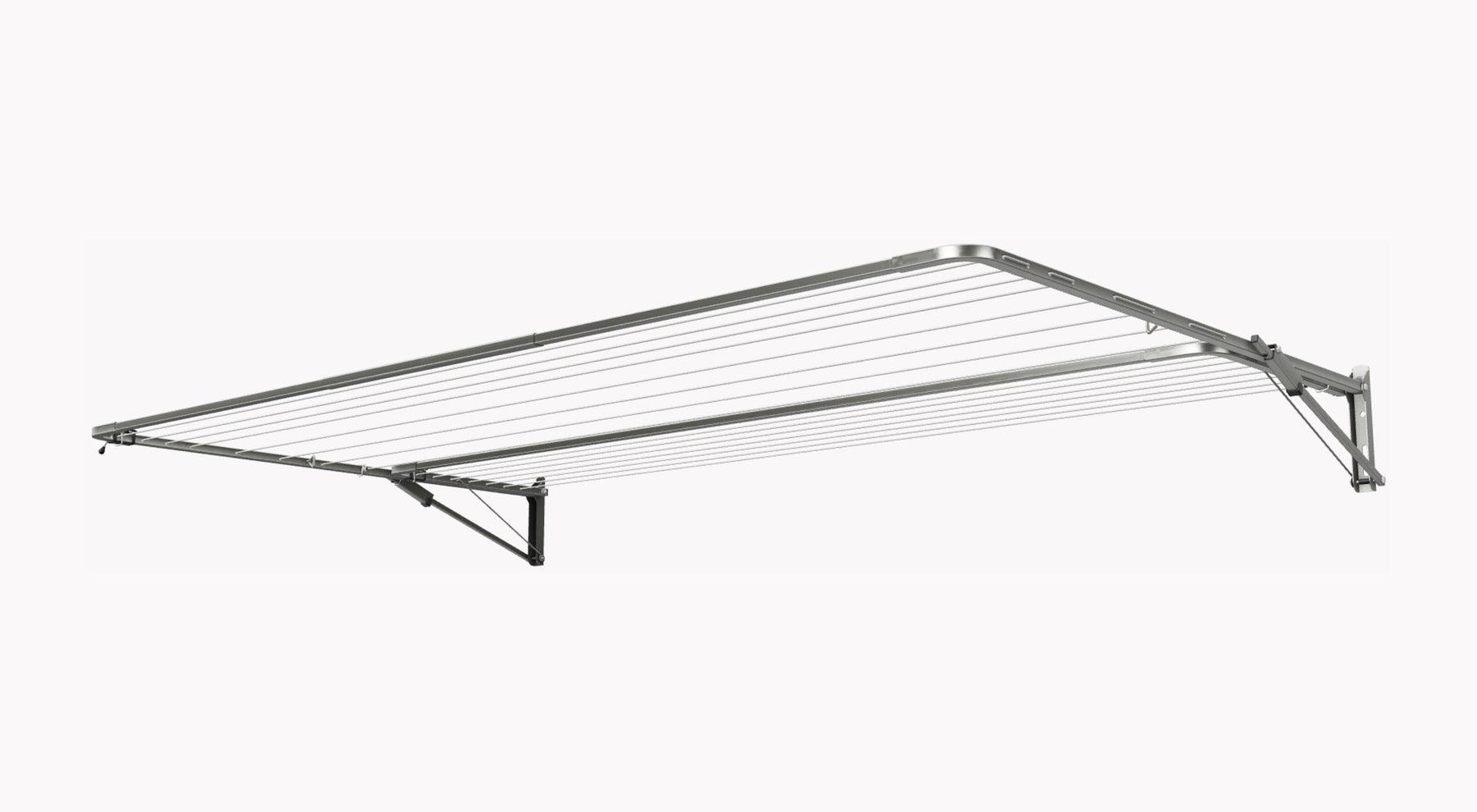 2. Austral Addaline 35
This model provides up to 35 meters of line space making it one of the biggest on the market that's suitable for large households.
Made from high-quality galvanised steel with tough powder coating for optimum corrosion resistance, it is also backed by a 10-year structural warranty.
This ensures that the clothesline will withstand the elements and provide reliable drying space for decades to come.
This can also be converted to a freestanding unit, wall-mounted or ground-mounted with the optional ground mount kit.
The dual frame design also provides greater flexibility in how you use the drying space -- out of the way when drying less clothes than usual or go all out with both frames if need be.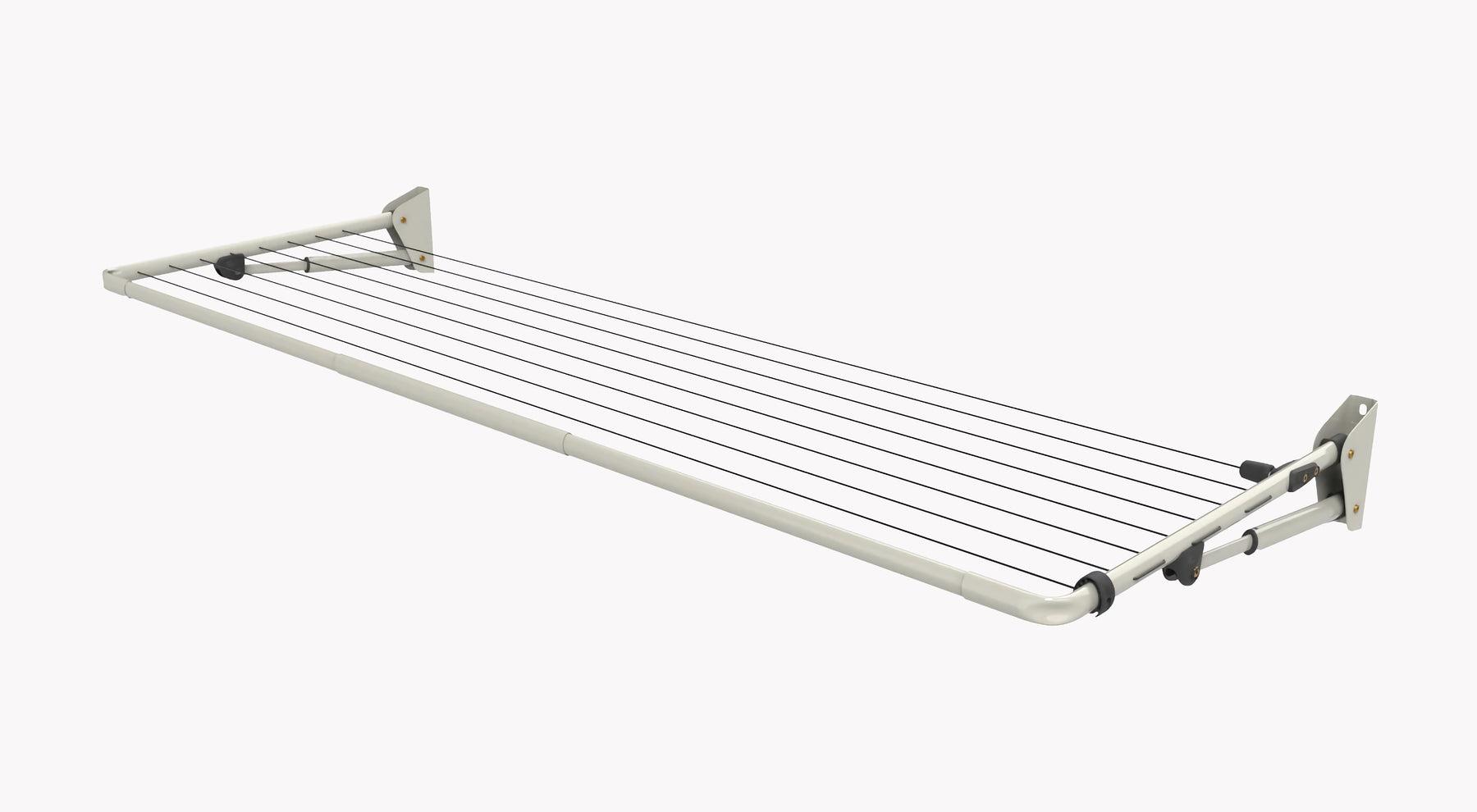 3. Hills Single
The recently redesigned Hills Single fold down clothesline is one of the most aesthetically-pleasing fold down clotheslines on the market right now.
Looks great and made more robust, the galvanised steel frame with powder coat protection makes sure that your investment for years and years to come.
Boasting 26 metres of total line space, it's a great fold down unit for a family of up to four.
Plus, since it's compatible with a ground mount kit, rest-assured you'll be hard pressed not to find the most suitable location for this looker!
Comes with a lifetime guarantee on the frame as well for utmost peace of mind.
Best Type of Clothesline Cord to Choose
Polyester/nylon is a good, cost-effective option for drying lines.
It is also the most common line material since it can be found in hardware stores anywhere so accessibility is a key factor here.
The problem with this type of cord is that it sags after a given period of time requiring readjustment.
Prolonged exposure to the sun and elements will also take its toll on the cord and cause it to fray and break, eventually needing replacement.
If you want something that will stand the test of time, go for galvanised steel cable.
The upfront cost may be a little more but considering that this cable is a no-nonsense affair in terms of durability, you get what you pay for.
For a quicker take on drying lines, you can go with retractable clothesline models from Austral or Hills.
All of these are compatible with post-to-post configurations or post kits and fasteners for easy attachment to existing wood or metal posts.
Disclaimer:
This article might contain affiliate links and we may earn a small commission from purchases made through them. Your support helps sustain our blog and allows us to consistently provide valuable content for you. Thank you for your understanding.