Contrary to what most people think, the best clothesline in Wollongong are the ones that perfectly matches the demands of the households they cater to, some factors like the climate and personal choices will still come into play but the basic formula for finding the tight airer remains the same.
Given that many homes in Wollongong are single detached dwellings, you are most likely looking at spacious clotheslines like rotary hoists, fold-downs, or retractables.
These are all great choices, they are roomy, dry clothes efficiently, and can be quite convenient to use.
Those of you who live in more compact homes like studios, apartments, or townhouses and are clueless as to what format of clothesline to get
There are portable airers (which we have reviewed here), ceiling mounted airers, and folding hoists for those who have cozy yards and want to take full advantage of it.
As you may now be able to tell, there is no shortage of clothesline designs for you to choose, it is all about determining your priorities in order to find the one that will keep your laundry days effortless without wreaking havoc on your home's aesthetics.
Speaking of aesthetics, retractables, folding, and portables are our go-tos if this is your main priority, all of these designs have one thing in common and that is discreetness.
Rotary hoists (unless you opt for a foldable one) and ceiling airers are more obvious and the former can prove to be more of an eyesore than the latter but rotary hoists are the undisputed kings when it comes to drying performance in a small area.
It Takes Two To Tango
Whenever we make recommendations we always start with the area's climate, then comes the user's preferences. With those two combined, we can help our customers make their buying decision and hopefully keep buyer's remorse at bay since we're basically able to nail down all the key considerations.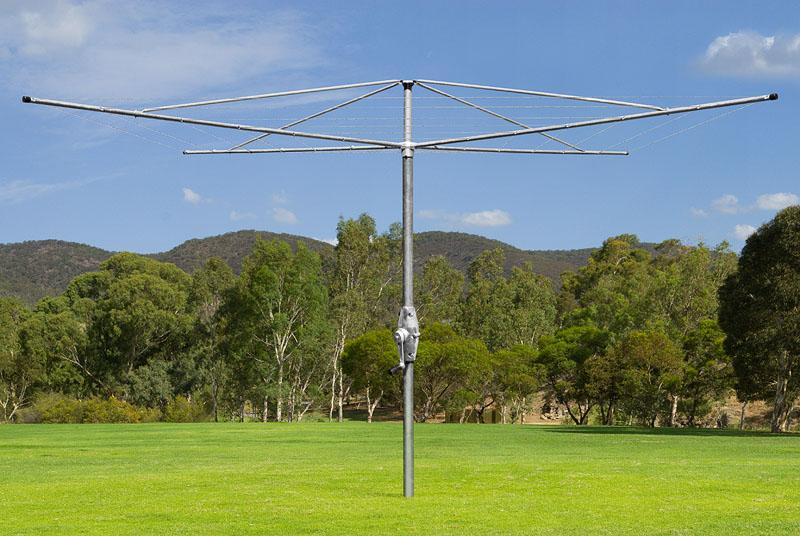 It's a good idea to find out just how much drying line space you need at first, we recommend 12-13 metres of drying line space per person in a given household.
11 metres might be sufficient but we always say that when it comes to clotheslines, you can never go wrong with a bit of an allowance.
You'll never know when the drying line space can come in handy, like if relatives come over for an extended stay or even when doing general cleaning at home and you happen to have tons of duvet covers and curtains that need to be dried off on one sitting.
Another thing to bear in mind is the space between drying lines, if the gap between cords is a bit wider than the width of your hand then it should be fine, more space is better of course.
This way the airflow is not obstructed even when hang-drying bulky objects and sunlight can still do its job when  the breeze isn't too strong.
Next up is the location, always make sure to place your airer in an open space where there is abundance in sunlight and airflow to keep you airer working efficiently, keep them away from fruit bearing trees, exhaust vents, and shaded areas for obvious reasons.
Last but not the least, do not skimp on the cost, more often than not, a more expensive airer like the Evolution 316 clothesline is built significantly better than standard clothesline options.
Clotheslines often last for decades which makes them a good investment so might as well make the most of it and get one that is well built, well rated, and is backed by a good brand/seller with great after-sales support for good measure.
Portable or Indoor Clothesline Recommendations Wollongong
Retractable Clothesline Recommendations Wollongong
Folding Rotary Clothesline Recommendations For Wollongong
Top Rotary Hoist Clothesline Recommendations For Wollongong
Fold Down Clothesline Recommendations For Wollongong
Ceiling Mounted Clothesline Recommendations for Wollongong
Service Coverage for Wollongong
Here are the areas we cover in Wollongong:
Albion Park
Albion Park Rail
Austinmer
Avon
Avondale
Balgownie
Barrack Heights
Bellambi
Berkeley
Blackbutt
Bombo
Broughton Village
Brownsville
Bulli
Calderwood
Cataract
Cleveland
Clifton
Coalcliff
Coledale
Coniston
Cordeaux
Cordeaux Heights
Corrimal
Cringil
Croom
Curramore
Daptop
Darkes Forest
Dombarton
Dunmore
East Corrimal
Fairy Meadow
Farmborough Heights
Fernhill

Figtree
Flinders
Foxground
Gerringong
Gerroa
Gwynneville
Haywards Bay
Helensburgh
Horsley
Huntley
Jamberoo
Jerrara
Kanahooka
Keiraville
Kembla Grange
Kembla Heights
Kiama
Kiama Downs
Kiama Heights
Koonawarra
Lake Lights
Lake Illawarra
Lilyvale
Macquarie Pass
Maddens Plains
Mangerton
Marshall Mount
Minnamurra
Mount Kembla
Mount Ousley
Mount Pleasant
Mount St. Thomas
Mount Warrigal

North Macquarie

Oak Flats
Otford
Penrose
Port Kembla
Primbee
Rose Valley
Russell Vale
Scarborough
Shell Cove
Shellharbour
Shellharbour City Centre
Spring Hill
Stanwell Park
Stanwell Tops
Tarrawanna
Thirroul
Tongarra
Toolijooa
Towradgi
Tullimbar
Unanderra
Upper Kangaroo Valley
Warilla
Warrawong
West Wollongong
Willow Vale
Windang
Wollongong
Wombarra
Wongawilli
Woonona
Yallah
We offer a full outdoor clothesline installation service to all the residents of Wollongong for all models of clotheslines and washing lines.
We also have a clothesline removal service available for those requiring the removal of an old clothesline in addition to their installation.
The clotheslines that we install include:
Foldown Clotheslines: both wall mounted and free standing

Rotary Clotheslines: both fixed head (traditional Hoist style) and folding head (removable)

Retractable Clotheslines
What Our Customers Are Saying
You should be fine to install your clothesline however you want but it is best to get in touch with the Wollongong City Council for any potential restrictions.