TOP THREE AUSTRALIAN INDOOR CLOTHESLINES
If you have been keeping tabs on our recent posts, you may not have noticed that we already reviewed some of our most popular rotary hoists, provided you with valuable information about retractables, and folding units which are the gold standards for outdoor clothes drying.
The thing is, some people do not want permanent contraptions hanging out in their yard or simply want the freedom to air out their clothes whenever and wherever they please.
So, we set out to test three of our most popular indoor clotheslines—the Hills 170, 120, and EcoDry Portable—in order for you guys to find out which comes out on top.
This way, you won't have to do a lot of digging through the internet just to find out the indoor washing line or portable unit to assist you with your laundry chores.
We tested all three of these units indoors with the central air conditioner set to maintain a healthy temperature of 24 degrees celsius and a humidity level of about 55% so the drying performance of these may not mirror your experience at home, just a little something to keep in mind.
This list does not follow a certain hierarchy and all of the drying racks we have included here are by Australian companies, these portable washing lines are very well made but only one of them is manufactured in South Australia.
If that is a big deal for you, you can keep reading to find out more so you can make up your mind as to which indoor washing line deserves to be in your home.
Hills 170 Portable Clothesline
The Hills 170 one of our best selling indoor clotheslines and that is not at all hard to figure out why considering Hills is probably the most popular brand of clothesline maker in the local market.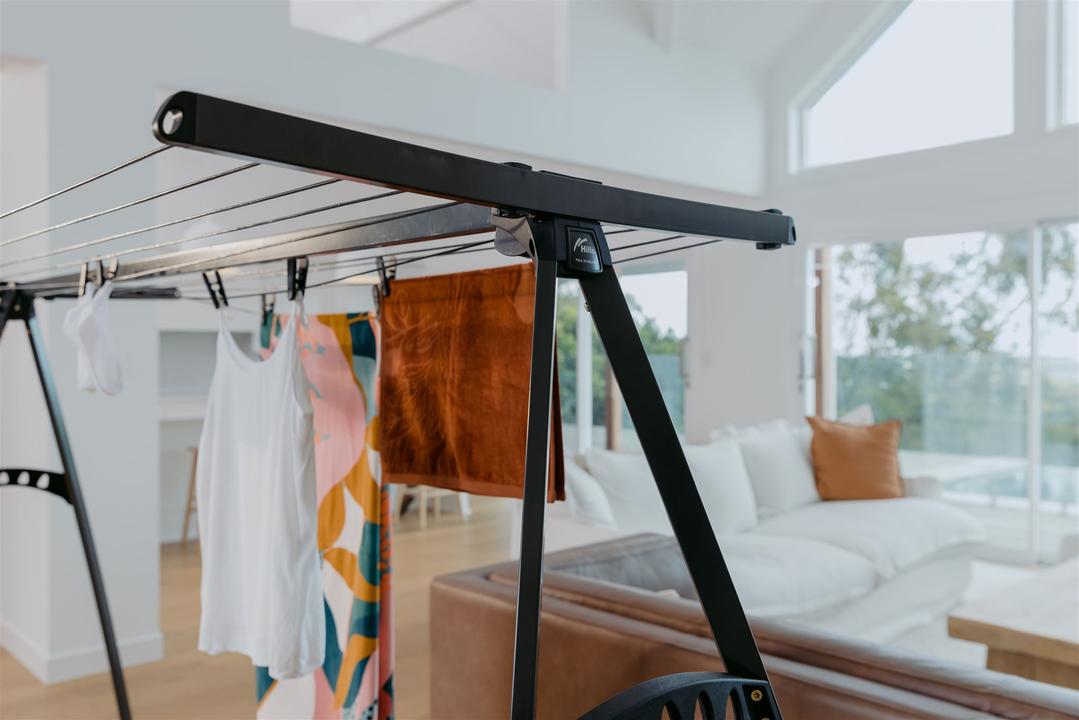 Upon unboxing the 170, we were not surprised to find out that it came in several pieces therefore assembly is required, some people who are not good with technical stuff like this one need not to worry.
There is an included hex key, bag of nuts an bolts as well as a detailed manual which has very clear and accurate graphics to make it easier for the user to follow the instructions.
We were able to set the whole thing up in about half an hour or so—probably less since we did not really track the period it took us to assemble the airer.
Spacious and incredibly compact, the Hills 170 is a perfect as a secondary airer or primary indoor airer for bachelors and couples.
It sports a simple latch mechanism when being unfolded, it is very light but the design is pretty solid overall. This indoor washing line is constructed from galvabond steel and heavy duty plastic so it should be able to take years of abuse.
We have to admit that we were a little disappointed since it is not equipped with wheels, we knew that it was a silly feature to ask of Hills considering that this model is very light but when the situation calls for repositioning of the clothesline while fully loaded, it was a rather awkward affair.
The 170 is sizeable for a portable unit, it has ten lines spanning 1.7 metres each so that gives us 17 metres of total dying lines so that should be adequate for two to three wash loads. We were really happy to find out that this indoor washing line easily took care of queen-sized sheets.
There are holes provisioned on either ends of both spreader arms as well as the brackets for the legs which we used to dry shirts and shorts using clothes hangers.
This increased its capacity further and we really liked the fact that Hills designed it in a way that did not really impact the aesthetics of the device and it is a clever way to take advantage of the supporting structure to make them more functional.
We would like to highlight that it has a built in line tensioning feature via a small twist knob that can be tightened using the included tensioning tool.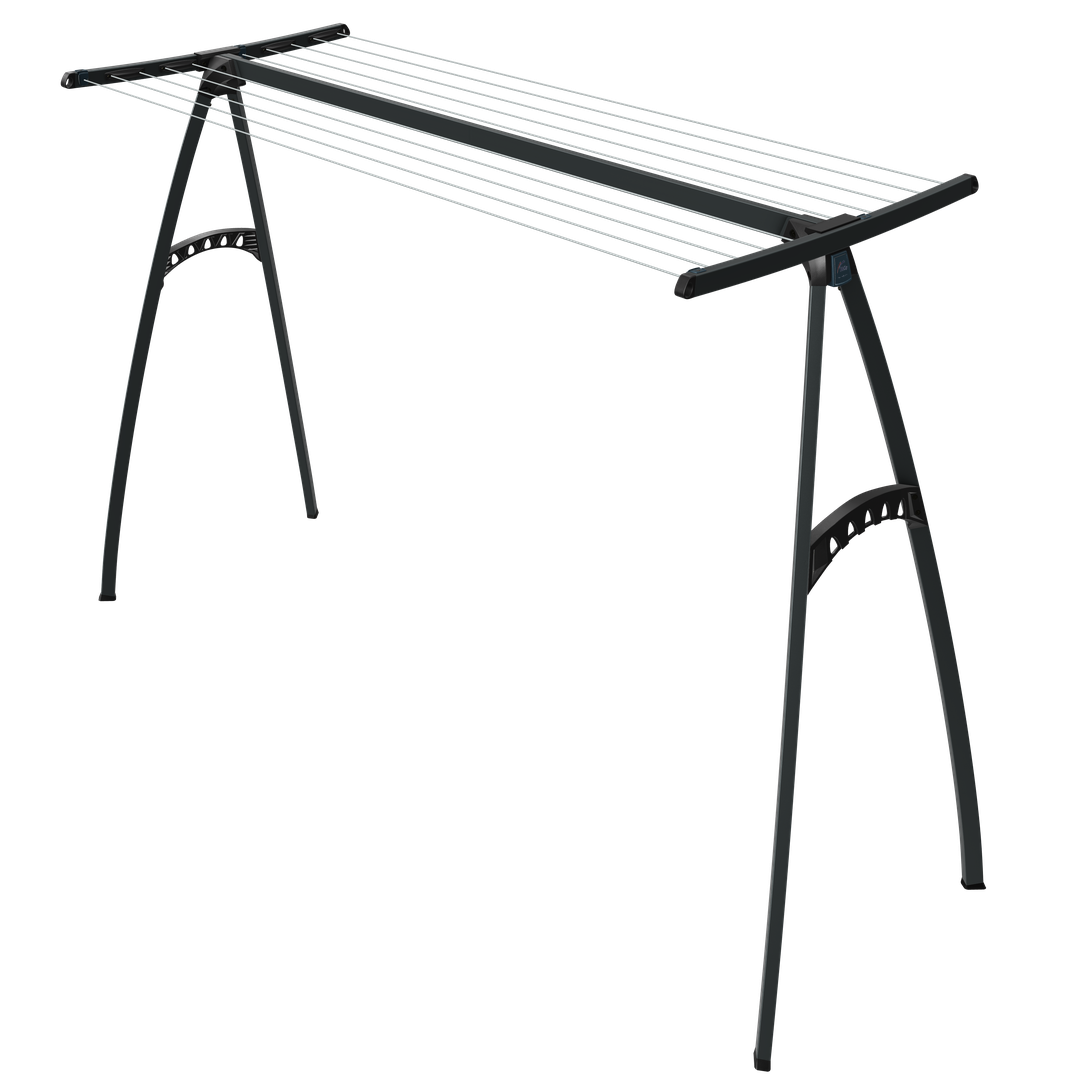 Two tensioners are built into the airer, one for the inner section and another for the outer to keep the tautness even.
Sporting dual tensioners, the Hills 170 keeps tension across the frame very even for a better laundry drying experience.
Keeping the lines tight was quite easy but we weren't a fan of the the fact that the cap needed a custom tool just to keep the line fastened.
Even though retightening of the line is not done on a frequent basis, we think it is best if Hills just designed the cap to allow use of typical wrenches.
The Hills 170 handled two big loads of a week's worth of laundry for two adults and one seven year old, we appreciate the convenient height when we were hanging the articles and it is high enough to accommodate long jeans and pajamas so we did not encounter any issues of our clothes touching the ground.
This indoor clothes line is very sturdy even when fully loaded, it is to be expected that a bit of wobble will be encountered due to the light materials and narrow footprint but we are glad to say that the Hills 170 was a complete trooper even when being abused.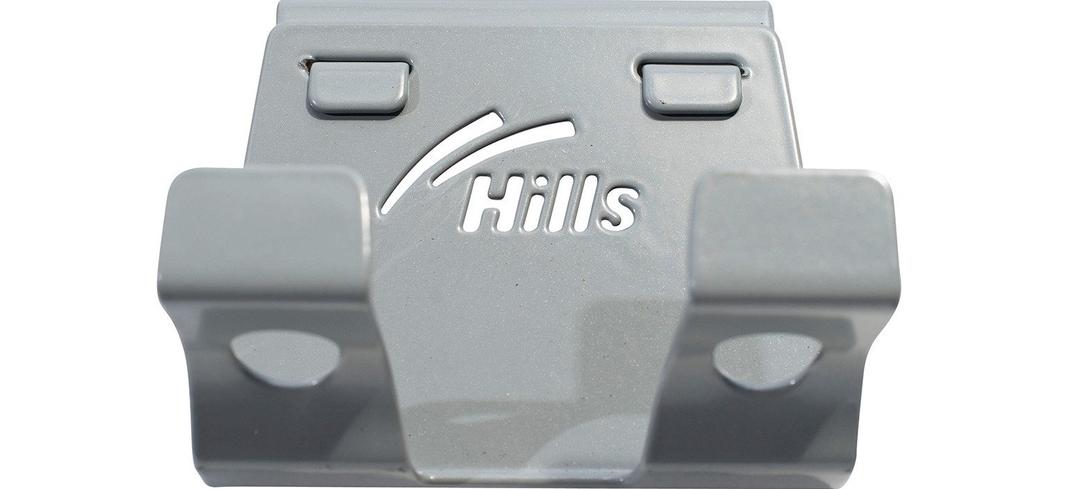 Drying performance was good overall but we suggest not using the dedicated places for clothes hangers in the lower tiers during excessively humid days.
If there is no steady airflow in your drying area it might pose an issue since the clothes are simply too close from each other to allow adequate drying in indoor situations.
The Hills 170 and 120 comes with a
convenient storage bracket for hanging behind doors.
None of our articles felt damp the next day nor did we encounter unpleasant smells, everything felt fresh and clean so we give this unit two thumbs up!
The best part about this indoor clothesline is it came with a hanging bracket that can be hung on any door so when we were done using it, we simply clicked down the levers on either ends of the airer and folded it flat just as you normally would with an ironing board.
It virtually takes up no space and we think that being able to hang it behind a door or on the wall is an absolute plus that many homeowners will appreciate.
PROS:
Good build quality

Easy to assemble

Foldable, can be hung behind a door

Multiple slots to hold items on clothes hangers

Handles queen sheets easily
CONS:
Doesn't have wheels

Awkward to move when fully loaded

Assembly required
EcoDry Portable Clothesline
The EcoDry Portable is frankly, one of the better looking portable clotheslines out there; that is not to say that Hills' offerings aren't handsome chaps themselves but there is something about the combination of orange, black, and the no-frills design of this unit that we really like.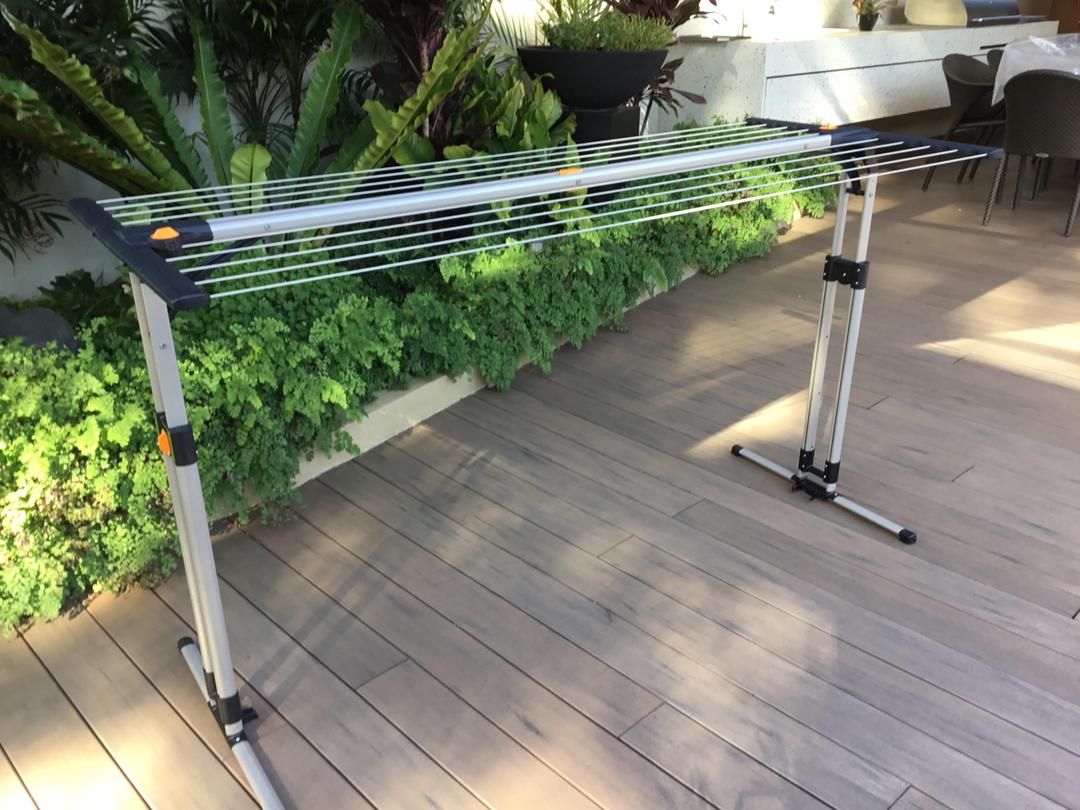 Right off the bat, the EcoDry is undeniably superior compared to the Hills units in terms of user-friendliness, this thing comes pre-assembled therefore no need to sweat for half an hour in order to use your indoor clothesline right away.
This is a very good thing because elderlies and people with mobility issues may want to opt for this model instead.
The first thing we noticed is that the colour coded design is not there for aesthetics alone.
A perfect marriage of ergonomics and
practicality, the EcoDry Portable is one of the very best indoor washing lines we've used.
The orange parts are the knobs/dials the user can interact with in order to make adjustments to the airer, it purposefully calls your attention to sort of remind you that they exist for a reason.
EcoDry has really thought about the ergonomics of this indoor clothesline, from the line tensioning dials to the height adjustment mechanism which is set by using the orange dial found on the telescopic legs of the unit.
The easy to grip dial mechanism for line tensioning proves to be more convenient than the other two in this review, the latter pair of airers from Hills may require the need for a proprietary tool to properly tighten the cords but with the EcoDry it is as simple as twisting a cooktop's knob, albeit, with a bit more force.
It is also a boon for people who are on the shorter end of the spectrum since they can set it at a height most comfortable to them and despite having some plastic parts, the overall construction looks classy and feels very well built, it is 100% designed and built in Australia after all so that is a big green check on our list.
This indoor washing line is made from highly corrosion resistant stainless steel and anodised aluminium unlike competing units which are fashioned from galvanised steel, it also sports caster-style wheels so it isn't difficult to find out why this indoor clothesline is starting gain even more popularity.
The EcoDry has 10 drying lines, each spanning around 1.6 metres so that totals to 16 metres of line space, we appreciate the fact that it is easy to move from one space to another even when fully loaded thanks to the built in wheels which was really helpful, we suddenly had to move it from the hallway to our office when relatives gave us a surprise visit.
As we have mentioned earlier, the height can be adjusted from a minimum of 0.95m to 1.42m max and anywhere in between so it was great for hanging articles of different lengths, mostly jeans and queen bed sheets.
Colour-coded adjustment knobs lets
you make minute adjustments to
the EcoDry easily.
Did we mention that this indoor washing line was able to make short work of almost two full wash loads?
It performed admirably thanks to the adequate gaps between each cord and the lines are kept wonderfully taut so our clothes were dry the morning after, we felt the impact of losing the dedicated clothes hanger loops/holes, however, those are found on the Hills units and we really liked that feature.
The EcoDry Portable does its job really well and the casters make it easy to move from one place to another.
To give you an idea, the Hills 170 and 120 can accommodate additional 14 clothes hangers on top of the primary drying lines, for drying racks of this size, every tiny bit of space counts so that is quite a punch that both Hills units were able to give the EcoDry.
We wish that EcoDry's next iteration of this indoor washing line will have similar features to finally perfect the formula.
Another checkmate for the Hills team is the included hanging bracket for storage, the EcoDry does not come with such an accessory so there's that.
PROS:
No assembly required

Great design and very high quality finish

Adjustable height

Easy to use adjustment dials

Rust proof construction
CONS:
Pricier than the Hills 170 for a bit less capacity

Caster wheels feel a little flimsy

Does not come with door/wall mount for better storage
Hills 120 Portable Clothesline
This indoor washing line is technically a smaller version of the 170 so it obviously has less capacity given the shorter and more narrow frame but everything from the curvature of the legs, holes provisioned for clothes hangers, and line tensioners are essentially the same.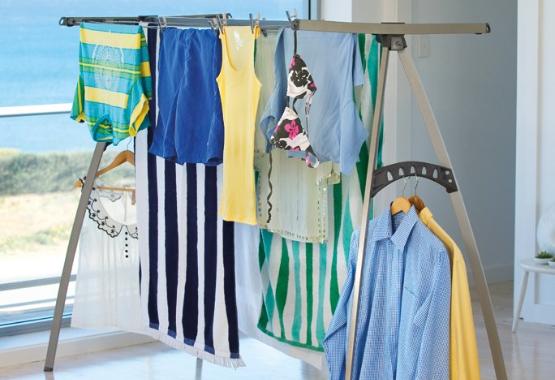 We will not focus much on the build quality and other aspects of this airer since it was pretty much an identical experience with the 170 but we just want to highlight that this thing does need assembly prior to use so it is not as convenient as the EcoDry despite the smaller size.
The Hills 120 has 8 lines which spans around 1.5 metres, 12 metres total. This thing holds around two loads of very heavy laundy and despite its minuscule stature it still tackled through queen sheets like a champ.
With 12 metres of total drying space, the Hills
120 is a compact yet spacious indoor clothes
drying solution.
¯¯¯¯¯¯¯¯¯¯¯¯¯¯¯¯¯¯¯¯¯¯¯¯¯¯¯¯¯¯¯¯¯¯¯¯¯¯¯¯¯¯¯¯¯¯¯¯¯¯¯¯¯¯¯¯¯¯¯¯
Unlike the EcoDry portable, we liked that the Hills 120 was able to accommodate almost as much laundry as its larger competitor even with shorter drying lines available thanks to the extra loops that we used to hang our shirt and boxers using clothes hangers.
An additional 14 articles is nothing to scoff at considering how small the 120 is and this unit is what we recommend if you have a very small home.
This indoor clothes line performed great just like its bigger brother but remember, don't overcrowd your airer if you don't want them to end up being smelly or take too long to dry.
As long as you hang your clothes with a reasonable amount of clearance in between it should work well, so performance-wise, it is still a good buy.
Despite being a little smaller and more wallet-friendly, Hills did not skimp out on the accessories, they were kind enough to include a hanging bracket that can be hung on the door,
All we had to do once we were done folding and ironing out our clothes was to simply press down the thumb levers to release the lock, fold the thing shut, and hang it at the back of our utility room door... out of sight and out of mind until the laundry day.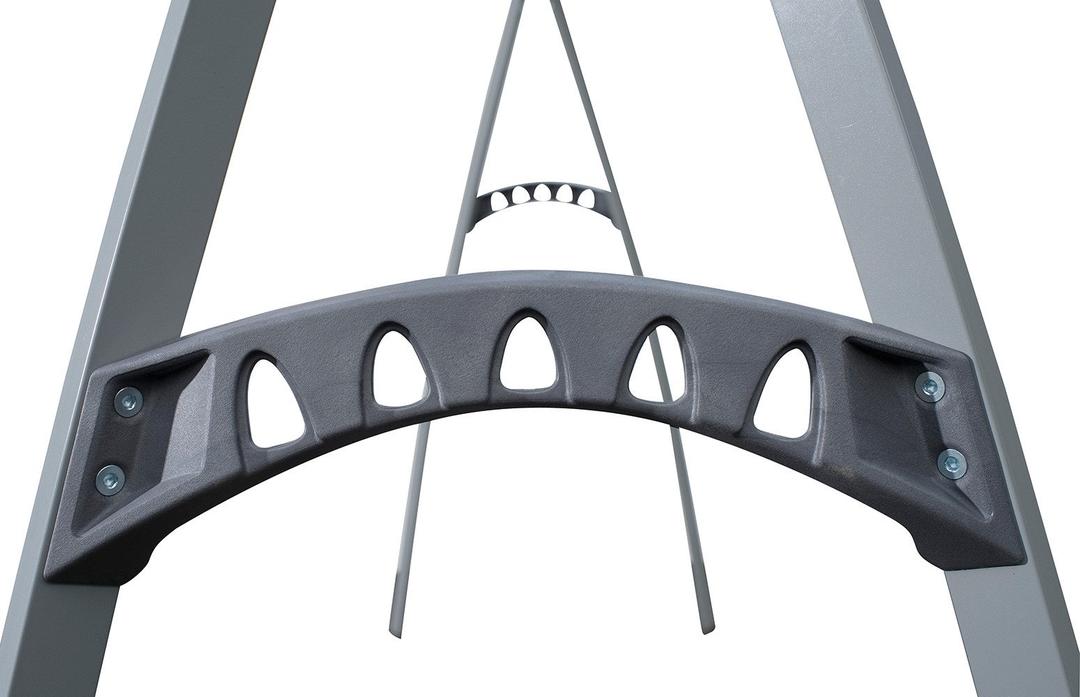 PROS:
Good build quality

Easy to assemble

Foldable, can be hung behind a door

Multiple slots to hold items on clothes hangers

Handles queen sheets easily

Smaller but capacity is still quite impressive
CONS:
Doesn't have wheels

Awkward to move when fully loaded

Assembly required 
The Hills 120 may be smaller but the
performance and feature set certainly aren't.
¯¯¯¯¯¯¯¯¯¯¯¯¯¯¯¯¯¯¯¯¯¯¯¯¯¯¯¯¯¯¯¯¯¯¯¯¯¯¯¯¯¯¯¯¯¯¯¯¯¯¯¯¯¯¯¯¯¯¯¯
Key Takeaways
All of these indoor clotheslines have their own sets of strengths and weaknesses but let us break it down to you for an easier take on things: The Hills clothesline units are not height adjustable but has better capacity, proven reliability track record and a straightforward design that plays it safe.
The EcoDry portable is a really good clothes airer and very ergonomically designed, it is apparent that the user has been the focal point of this company during the design phase so convenience is the priority here, the same cannot be said about the Hills units mostly when it comes to the line tensioning system and wheels.
Another concern to take into consideration is the price. The EcoDry is the the most expensive of the bunch with a price tag that sits at the higher end of the $279 range, it is also not as spacious as the two competitors but what it lacks in drying line space is balanced out by a significant leap in build quality and ergonomics.
If none of the EcoDry's convenience factors are attractive to you, you are better of with the Hills 120 or 170 with price tags at the higher $340 and mid $259 brackets (respectively), these indoor clotheslines offer really great value for the money in our opinion but we still think that the EcoDry is a more solid investment.