CLOTHESLINE LOWER NORTH SHORE SYDNEY
Searching for the best clothesline in Lower North Shore Sydney is much less daunting than most people think, the decision making process should not at all be that difficult since there are only a couple of things to keep in mind before pulling the trigger on your new airer.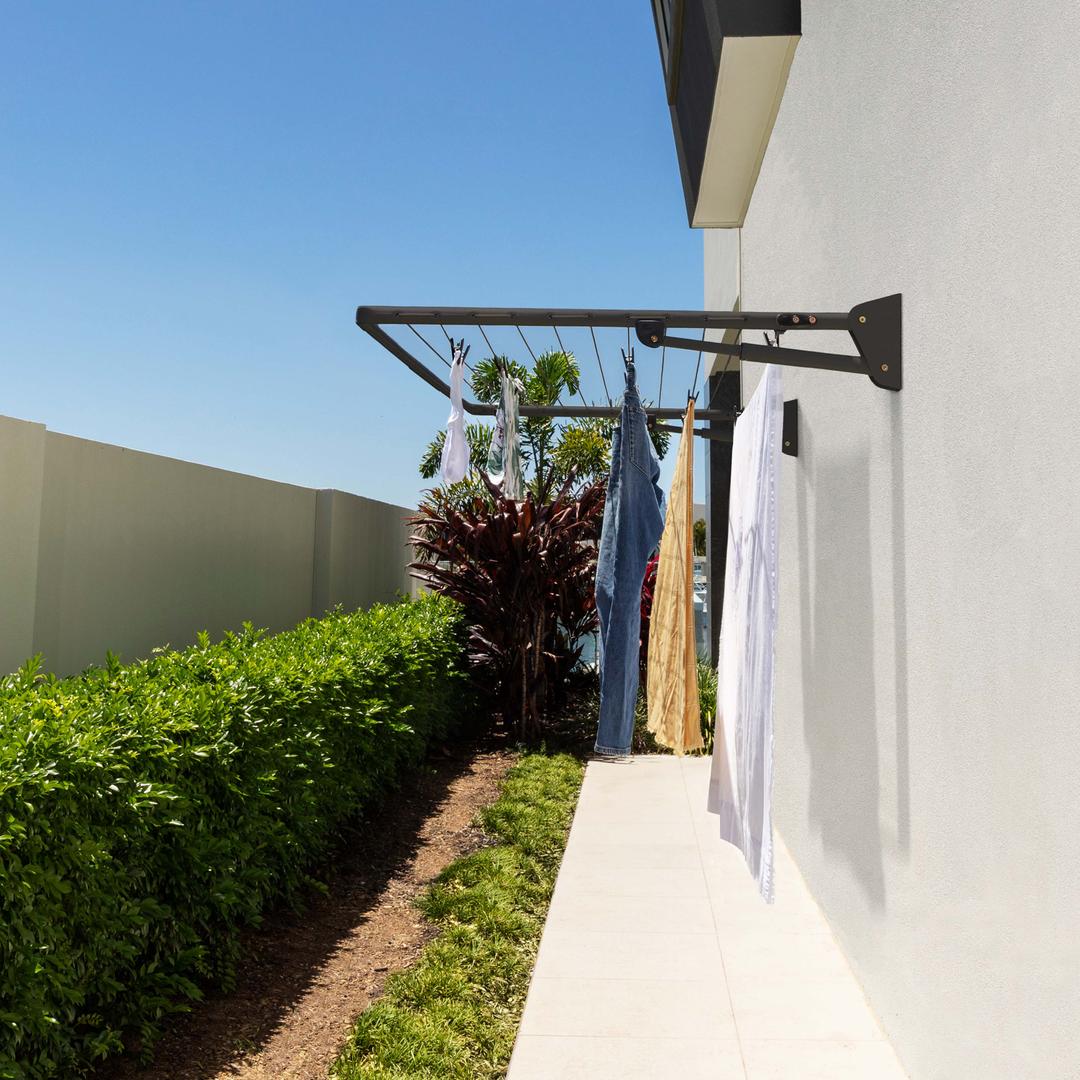 It really is just a matter of setting your priorities, would you rather choose a clothesline that is not very sleek looking and discreet for the sake of drying performance and capacity?
How about a full-fledged airer that can be tucked away out of sight but won't dry as fast or handle a ton of laundry in one sitting?
There are also airers that sit in between so you do not have to make compromises, we will help you choose the perfect airer for your Lower North Shore home as well as make a couple of recommendations for each category.
All brands are in stock including all Hills Hoist clothesline models available in Sydney.
The primary consideration is capacity, not everyone is certain as to how much drying line space he/she actually needs in any given household so we always recommend aiming for at least 11-12 metres or a bit more for every member of the household, regardless if it is a toddler or adult.
Overestimating the a drying line space a little can have its advantages, in the event that you have a friend or some relatives stay over for extended periods, you wouldn't have to put up with drying multiple batches.
Key Features to Consider
Since the North Shore is a temperate region with an oceanic climate, you should opt for a clothesline that is made entirely out of stainless steel or aluminium but galvanised steel is still a good alternative, not to mention, cheap.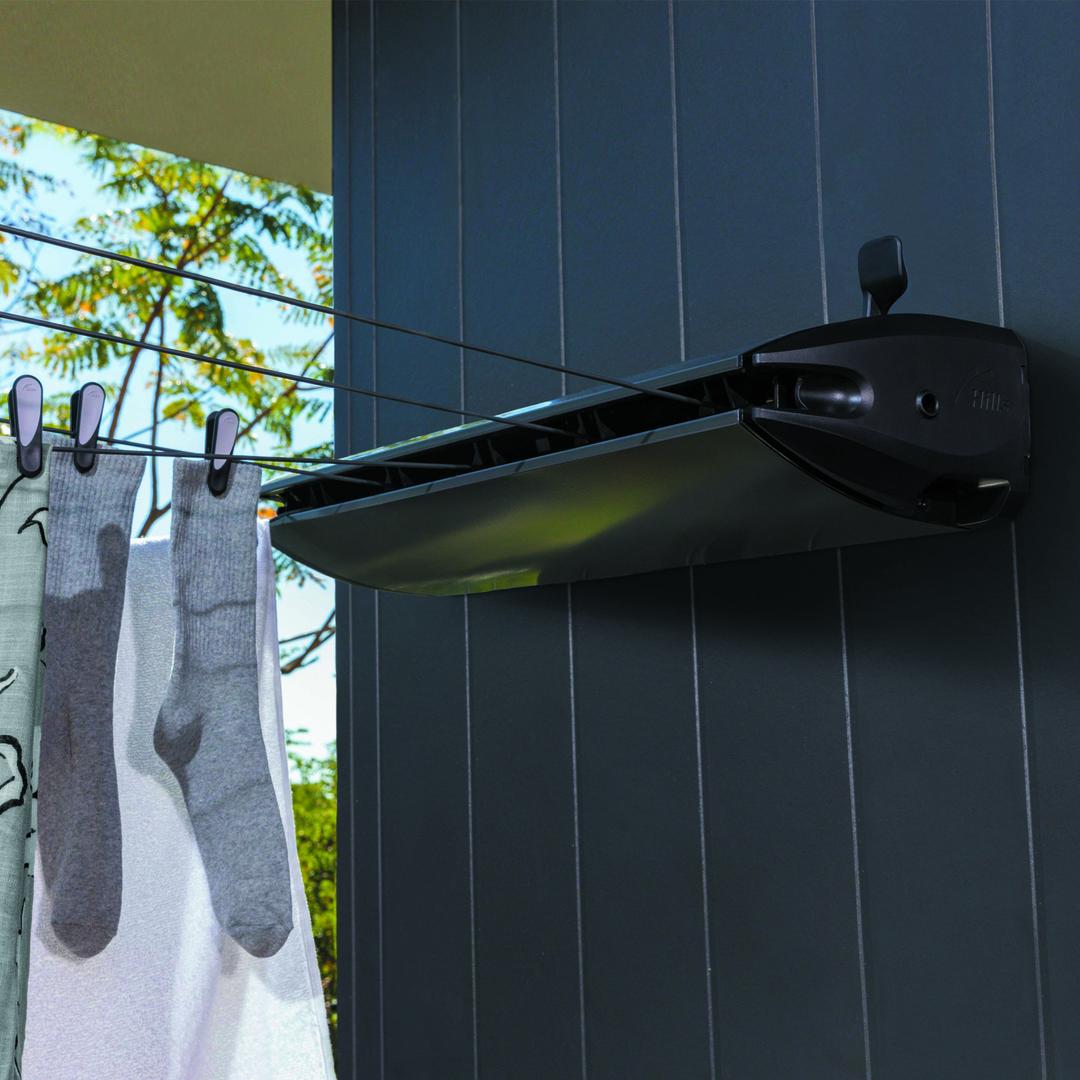 Living right next to a giant body of salty water has its caveats, typical clotheslines cannot last very long in such an environment due to premature rusting.
You have to factor in the strong winds and frequent rainfalls so opt for an airer that has a stiff frame made from stainless steel or galvanised steel.
The former is significantly more expensive than the latter however, unmistakable rigidity combined with the rust-resisting prowess of stainless steel (mostly if made out of the marine grade 316 variety), galvanised steel is simply no match against its seemingly immortal cousin.
Living in a coastal area has its advantages and disadvantages, it's windy and quite sunny so taking the eco-friendly approach of drying your clothes outdoors is a no-brainer, given that fact, you have to make sure that there is at least 100mm of clearance between drying lines to guarantee an efficient laundry drying experience.
This also keeps unwanted smells and moulds from developing since bacteria or mould spores simply don't have enough time to propagate.
Opting for a clothesline with built in line tensioning mechanism is a good way to keep your airer performing well because it keeps the lines from sagging--preventing the dreaded dropping and bunching of articles in the middle of a saggy drying line.
The last thing is, ease of use, a clothesline that requires too much effort to get it up and running is not worthy of anyone's time. Rotary hoists and fold-downs are the best in terms of reliability and convenience since you barely need to move just hang your clothes.
Portable, ceiling mounted, and retractable varieties are both space saving and can be quite discreet. These models are available in a wide range of capacities, colours, and are perfect for small homes like apartments, cottages, cabins, studios, and apartments.
Best Portable Clothesline Recommendations for Lower North Shore Sydney
Retractable Clothesline Recommendations for Lower North Shore Sydney
Rotary Clothesline Recommendations for Lower North Shore Sydney
Clothes Hoist Top Picks for Lower North Shore Sydney
Fold Down Clothesline Recommendations for Lower North Shore Sydney
Service Area for Lower North Shore Sydney
Here are the Lower North Shore Sydney
suburbs that we service:
Artarmon
Cammeray
Castle Cove
Castlecrag
Chatswood
Chatswood West
Cremorne
Cremorne Point
Crows Nest
East Willoughby
Greenwich
Hunters Hills
Kirribilli
Kurraba Point
Lane Cove
Lane Cove North
Lane Cove West
Lavender Bay
Linley Point
Longueville
MacMahons Point
Middle Cove
Milsons Point
Mosman
Naremburn
Neutral Bay
North Sydney
North Willoughby
Northbridge
Northwood
Riverview
St. Leonards
Waverton
Willoughby
Wollstonecraft
We offer a full outdoor clothesline installation service to all Lower North Shore Sydney residents for all models of clotheslines and washing lines.
We also have a clothesline removal service available for those requiring the removal of an old clothesline in addition to their installation.
The clotheslines that we install include:
Foldown Clotheslines: both wall mounted and free standing

Rotary Clotheslines: both fixed head (traditional Hoist style) and folding head (removable)

Retractable Clotheslines
What Our Customers Are Saying
You should be fine to install your clothesline however you want. Just be sure to check the North Sydney City Council website for any potential restrictions.