CLOTHESLINE
NORTHERN SUBURBS
MELBOURNE
Considering the plethora of clotheslines we offer, it is completely understandable the one might require a bit of assistance when it comes to the decision-making process, so, if you're here for the top clothesline recommendations for the Northern Suburbs, Melbourne you'll be glad that you have stumbled upon this short article.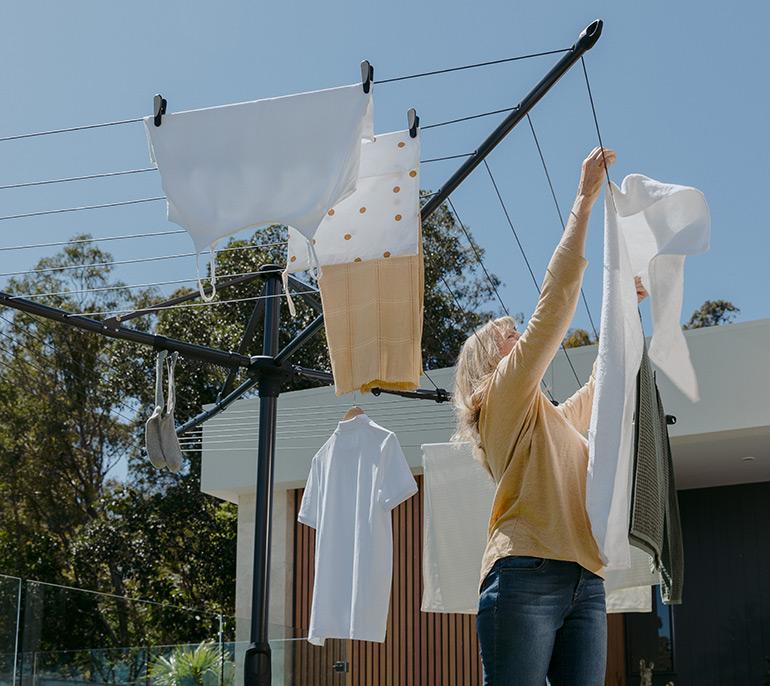 Searching for the right clotheslines in North Melbourne can be a very daunting task mostly if you have no idea where to start so that is what we are going to do, we will help you find what type of clothesline is best suited for the climate in the Northern Suburbs while taking into account your needs which definitely need to be met.
A really big factor to take into account is the location of your clothesline, the dimensions of the space is what will dictate the type of airers that may be suitable in your home, it does not matter if you live in a large detached residence or smaller ones like apartments and condominiums, space is the main element at play here.
If you are allocating a long and narrow space for drying your laundry like a balcony or walkway around the perimeter of your home, your best bet will be a retractable, folding, or ceiling mounted clothesline.
For those with spacious yards, retractables and folding clotheslines are good choices too but so are capacious portable airers and rotary hoists! These will undoubtably make short work of your family's week's worth of clothes letting you dry everything in just one sitting.
Capacities, Features, and Everything Else
Since we've already got the basics covered, let's "calculate" how much drying line space you actually need in order to narrow down the categories and easily pinpoint which is the perfect clothesline for your North Suburb home.
Many manufacturers and stores say that 10 metres of drying line space is enough for one person, we think that's a little too conservative because they might only be taking into account the clothes you're going to dry... what about the beddings, curtains, and such?
We think that 11 to 12 metres of line space per person in a household (doesn't matter what the age is) is the perfect amount, not to little not an overkill either. It is enough for those last minute laundry drying emergencies like when friends or relatives come over for an extended stay.
Next up is build quality, considering the extreme conditions/temperature fluctuations experienced in the Northern Suburbs, it is imperative that you focus your attention on highly reputable brands like Austral, Eco, Hills, and Evolution.
Why? First and foremost, these are Australian companies that know exactly how it is like to live in our country and since they have first-hand experience on the harshness of the climate, they are better able to create products that can withstand such challenging conditions.
It is also a good idea to get a clothesline with convenient features that will matter in the long run like built-in line tensioning systems, caster wheels for portables, or even a rotating top assembly to facilitate ease of hanging clothes and drying times.
Check for Clothesline Reviews in North Melbourne
The best tool to use when choosing a clothesline in North Melbourne are 100% real customer reviews and testimonials on both the product itself and the online store that carries it.
Nothing beats a Northern Brisbane clothesline store that can stand behind its products and ensure that the customers are fully satisfied with their clotheslines, after-sales support should also be considered since the majority of clothesline makers offer around a decade or more of warranty on their products.
Below is our list of product recommendations, we've chosen three models per category to make it easier for you to choose, you can also click on the thumbnails to view reviews as well as full specifications for each so good luck!
Top Portable Clothesline Picks
Top Retractable Clothesline Picks
Top Folding Rotary Clothesline Picks
Top Fixed Rotary Clothesline Picks
Top Fold Down Clothesline Picks
Top Ceiling Mounted Clothesline Picks
Clothesline Installation Service Coverage Area
For Northern Suburbs Melbourne
Here are the areas we cover
in Northern Suburbs Melbourne:
Aberfeldie
Airport West
Alphington
Ascot Vale
Attwood
Avondale Heights
Bellfield
Bend of Islands
Beveridge
Briar Hill
Broadmeadows
Brunswick
Brunswick East
Brunswick West
Bulla
Bundoora
Campbellfield
Christmas Hills
Clarkefield
Coburg
Coburg North
Coolaroo
Cottles Bridge
Craigieburn
Dallas
Diamond Creek
Donnybrook
Doreen
Eaglemont
Eden Park
Eltham
Eltham North
Epping
Essendon
Essendon Fields
Essendon North
Essendon West
Fairfield
Fawkner
Flemington
Gladstone Park
Glenroy
Gowanbrae
Greensborough
Greenvale
Hadfield
Heidelberg
Heidelberg Heights
Heidelberg West
Humevale
Hurstbridge
Ivanhoe
Ivanhoe East
Jacana
Kalkallo
Kangaroo Ground
Keilor
Kinglake
Kinglake West
Kingsbury
Lalor
Lower Plenty
Macleod
Meadow Heights
Mickleham
Mill Park
Montmorency
Moonee Ponds
niddrie
North Warrandyte
Northcote
Nutfield
Oak Park
Oaklands Junction
Panton Hill
Pascoe Vale
Pascoe Vale South
Plenty
Preston
Research
Reservoir
Rosanna
Roxburgh Park
Smiths Gully
Somerton
South Morang
St. Andrews
St. Helena
Strathewen
Strathmore
Sunbury
Thomastown
Thornbury
Travancore
Tullamarine
Viewbank
Watsonia
Watsonia North
Watsons Creek
Wattle Glen
Westmeadows
Whittlesea
Wildwood
Wollert
Woodstock
Yallambie
Yan Yean
Yarrambat
Yuroke
We offer a full outdoor clothesline installation service to all the residents of Northern Suburbs Melbourne for all models of clotheslines and washing lines.
We also have a clothesline removal service available for those requiring the removal of an old clothesline in addition to their installation.
The clotheslines that we install include:
Foldown Clotheslines: both wall mounted and free standing

Rotary Clotheslines: both fixed head (traditional Hoist style) and folding head (removable)

Retractable Clotheslines
What our customers are saying
You should be fine to install your clothesline however you want but it is best to get in touch with the City Council of Melbourne for any potential restrictions.