Our Favourite 80cm Wide Clotheslines
In this article for 80cm wide clothesline options we will show you which units are best suited for an 80cm wide area inside our outside of your home. 
We will cover the different products that are available, the colour options for those units that we are about to show you, installation options, and many other vital information so you can get the most out of your clothesline.
The Eco Apartment is just one of the models that we recommend for an 80cm wide area. 
This unit has a width of 75cm and the drying lines span 150cm when fully deployed. 
What that means is you get a ton of drying line space without the need for very wide wall space to mount it on—saving you valuable space with minimal fuss!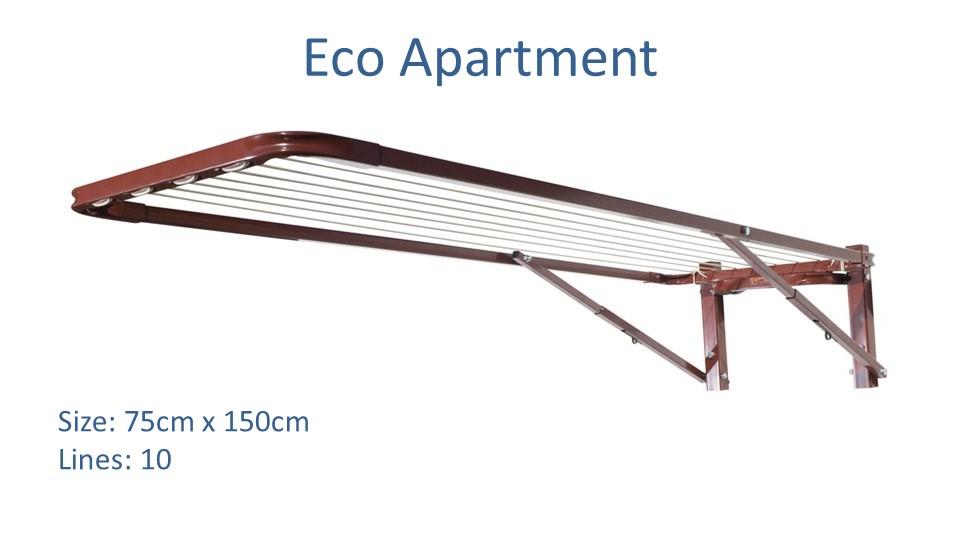 So as long as you've got the distance out from the wall to install this type of clothesline this is one of the best that we do recommend for very small areas as it does provide the most line space of any clothesline in this category.
This is what the clothesline would look like from the front of the unit and it simply folds flat to the wall out of the way as well when you don't need it.
You just push it up slightly in the middle and it folds flat to the wall.
The Eco 120 clothesline is another option for this 80cm wide area. This unit is 120cm wide but we can customise it down to exactly 80cm for you at no extra charge.
If you have a spacing of 85cm or 88cm, we can customise it for you in the factory so when it arrives at your doorstep it will be the perfect size for your wall area. 
The Eco 120 boasts full steel construction, they use Australian steel in the manufacturing process and it is quite easy to tell that this mighty little work horse is built to last.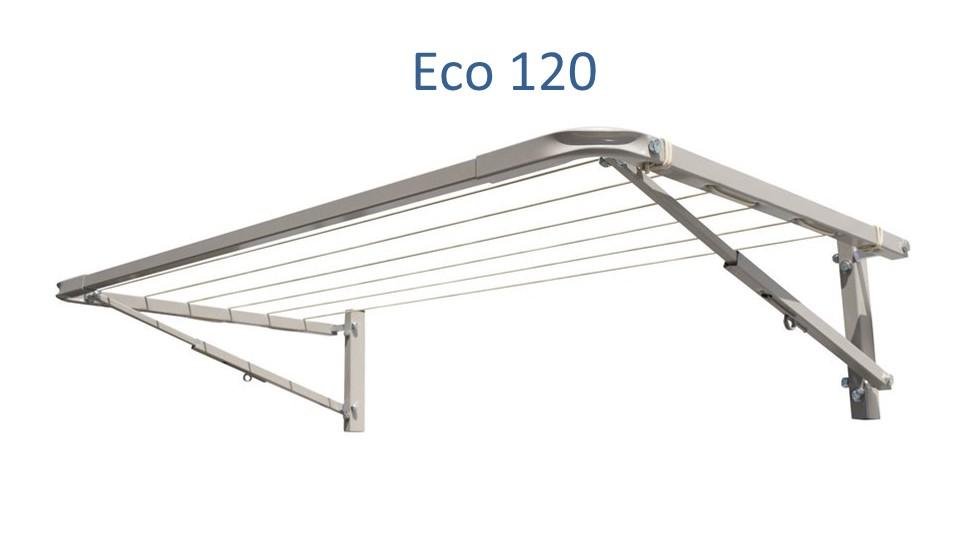 With the Eco 120 range, you can get five different depth sizes—that's the distance out from the wall. 
50cm
60cm
75cm
90cm
120cm
So you can have your 80cm wide clothesline and then choose one of the five aforementioned depth options to maximise the utilisation of your laundry drying area.
Obviously, the further out from the wall they come the more lines you're going to get and the more drying space you'll have.
The Eco Unit Line is another model that has a width of 80cm.
This one is 80cm by 75cm and sports a total of eight drying lines. 
This one does have a different strut mechanism to the Eco 120.
But again, it's a very popular style of clothesline with eight really useful lines in that 80cm wide spacing.
The best part about this clothesline is you can simply fold it flat to the wall when you don't need it—out of the way and minimises clutter!
Eco Clothesline Colour Range Advantage
The eco colour range is 6 standard colour bond colours.
These pretty much cover the spectrum of modern clothesline colours that we see or the most popular ones anyway. 
But if you do have requirements outside of these 6 colours, please feel free to let us know as we do have access to other colour bond colours and may be able to help you.
Our Most Recommended Brand
Our recommendation for 80cm wide clotheslines is the Eco Clotheslines range, they are handmade in Australia the old-fashioned way so they're not a mass-produced clothesline—quality is not sacrificed over quantity.
Galvabond steel used to make Eco clotheslines is aptly named since it starts with galvanised steel (for rust resistance) then they cover it with durable plastic paint that has enamel-like properties which is then baked-on for further increase in rust resistance and scratches.
The big range of colours is also a very good selling point due to the fact that you can pretty much find the colour that's going to match your home's interior/exterior perfectly or any aesthetic that you're trying to achieve. 
Did we mention that customisation is free of charge? So, if you want a clothesline that is 82cm, 85cm, or even 88cm, then let us know so we can make a clothesline that will perfectly fit your preferences!
Clothesline Installation Services
If you need help with clothesline installation, Lifestyle Clotheslines does have a full clothesline installer network available around Australia. 
So please feel free to talk to us about that by calling us on the phone or you can also check the box on any of the product pages to add that to your order. 
You get in touch with us and our friendly clothesline experts that will gladly assist you by simply calling 1300 798 779.
Customer Happiness Guaranteed
All of the orders made through Lifestyle Clotheslines come with a 100 Day Happiness Guarantee to make sure you've got the right clothesline for your space or living area.
We do whatever it takes to ensure that our customers are happy with their purchase, should you encounter any issue with your future investment, don't hesitate to let us know!
For more information on clotheslines that are 80cm wide, please feel free to call on 1300 798 779 at any time to speak to one of our clothesline representatives. 
Or you can also visit our website at LifestyleClotheslines.com.au for more information, images, videos, and detailed specifications on clotheslines that are 80cm wide.