Best Pull Out Clothes Line to Maximise Outdoor Space
Are you tired of wrestling with bulky drying racks or struggling to find space for your laundry?
Look no further!
Find the best pull out clothes line is the perfect solution for maximising your outdoor space and making laundry day a breeze.
In this comprehensive guide, we'll explore the ins and outs of choosing, installing, and customising the perfect pull out clothes line for your home.
Short Summary
Choose the right pull out clothesline for your home based on features, line length and capacity, installation options, and other considerations.

Enjoy space-saving design with quick & light laundry loads while being environmentally friendly with a pull out clothesline.

Shop online to compare prices or DIY install by following manufacturer's instructions for proper height/tension adjustment & accessories selection to customise your outdoor space.
Choosing the Right Pull Out Clothesline for Your Home
Picking an appropriate pull out clothesline for your home is key in maximising your investment.
Features to consider include:
Corrosion resistance

A long-life powder-coated steel cabinet

Individually spring tensioned lines

Independent spooling
Taking these factors into account will help you choose the best pull out clothesline for your needs.
Luckily, Australia offers a diverse range of pull out clotheslines to cater to all your needs.
Assessing Your Space
Allocate some time to evaluate your outdoor space before buying a pull out clothesline.
The optimal location for your clothesline should be shielded from wind and rain and close to a power source.
Also consider the size of the clothesline required for your family's laundry needs...
...and the available space near a door or wall for installation.
Don't forget to check the weight capacity of the clothesline and ensure it can handle your laundry load.
This is suitable for king-size sheets. To determine the optimal line length, consider the size of your laundry items and the available space for installation.
The Benefits of Pull Out Clotheslines
Here are some reasons why pull out clotheslines are a great choice:
Flexible installation: Pull out clotheslines can be installed indoors or outdoors.

Space-saving design: When not in use, the clothesline can be easily retracted

Quick and light laundry loads: Small pull out clotheslines are perfect for drying small loads of laundry quickly.

Long-lasting and durable: These clotheslines are built to last, ensuring that you get the most out of your money.
Not only are pull out clotheslines practical and efficient, but they also provide an environmentally friendly alternative to energy-consuming dryers.
By choosing a retractable clothesline, you can reduce your carbon footprint and enjoy the fresh, crisp feel of line-dried laundry.
Modern homes will find pull out clotheslines perfect due to their space-saving design.
This allows wall mounting and easy retraction when not in use.
This makes them an ideal choice for small homes, apartments, and tiny houses where space is at a premium.
By opting for a pull out clothesline, you can efficiently utilise your outdoor space without sacrificing functionality.
Pull out clotheslines stand out for their simplicity in both usage and maintenance.
The automatic pull-out system and smooth action make it simple to set up and take down your laundry.
To ensure optimal performance, routinely inspect the tension of the line.
Also adjust accordingly, and check the wall mounts or hooks for signs of wear and tear, replacing them if necessary.
Environmentally Friendly Option
Opting for a pull out clothesline offers not just a practical laundry drying solution, but also an eco-friendly one.
By opting for a pull out clothesline, you can significantly reduce your energy consumption.
You can also minimise your carbon footprint, as they require no electricity or dryer sheets.
Plus, line drying your clothes can greatly benefit your health in a lot of ways...
...by minimising exposure to allergens, reducing skin irritation, and even lessening the likelihood of respiratory illnesses.
DIY Installation Guide for Pull Out Clothesline
First, you'll need to decide where to install your clothesline then consider these factors:
Tools and Materials You Will Need
Ensure you follow the manufacturer's instructions to guarantee correct and safe installation of the product.
Determining the Proper Height
Determining the correct height for your  pull out clothesline is vital to ensuring its optimal functionality.
A general recommendation is to set the clothesline at a height of 1.8 meters or 6 feet above the ground level.
However, it's essential to consider the height of the people who will be using the clothesline.
Also consider the height of surrounding walls and other objects, to guarantee easy access and use.
When installing your pull out clothesline, safety should always be your first priority.
Follow the manufacturer's instructions, ensure the mounting surface is secure and reliable, and familiarise yourself with the proper installation process.
Allow for the minimum required space for practical use and utilise the recommended fixing pack for your specific wall structure.
By taking these precautions, you can ensure a safe and successful installation.
Customising Your Pull Out Clothesline
After installing your pull out clothesline, you might wish to tailor it to complement your outdoor space and personal taste.
In this section, we'll explore various colour options, accessories, and adjustments for line tension.
This can help you tailor your retractable clothesline to your needs.
So, let's get started!
Useful accessories and add-ons for your pull out clothesline include:
These additions can improve the longevity and ease of use of your pull out clothesline.
Adjusting the line tension on your pull out clothesline is necessary for its optimal performance.
To do so, place the locking lever in its second position, pull the bar out to its maximum length.
Also use tensioners to stretch out the drying line.
Adjust the tension wheel or knob by rotating it clockwise to increase tension or counterclockwise to decrease tension.
Following these steps will ensure even tension adjustment across all lines...
...keeping unwanted line sags at bay and guaranteeing that your laundry will stay where you want them, off the ground.
Top Pull Out Clothesline on the Market
Given the array of choices, pinpointing the ideal pull out clothesline for your home might seem overwhelming.
To help you make an informed decision, we've rounded up some of the top-rated pull out clotheslines.
Examples such as the Hills Retracting Series of clotheslines, Austral Retractaway, just to name a few.
Each of these clotheslines offers a unique set of features and benefits.
Worried about a tight budget? No need!
There are plenty of affordable  pull out clotheslines that offer great value without sacrificing quality.
Some popular budget-friendly options include:
These cost-effective choices provide sleek and attractive designs, making them perfect for any outdoor space.
Hills Cordomatic
Tiny but mighty and wallet-friendly,
great for single dwellers and couples.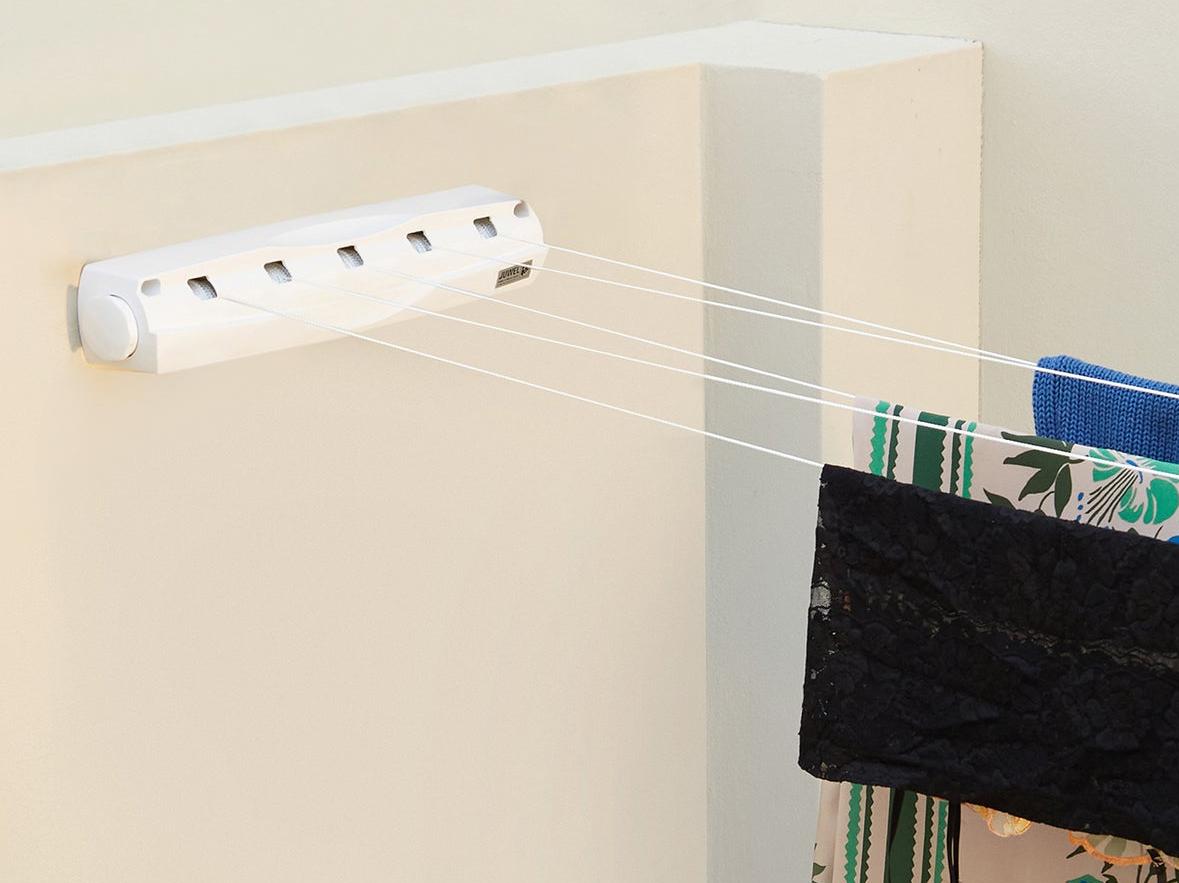 Artweger Rolldry
Simple yet stylish with heaps of capacity,
a perfect addition to your laundry room.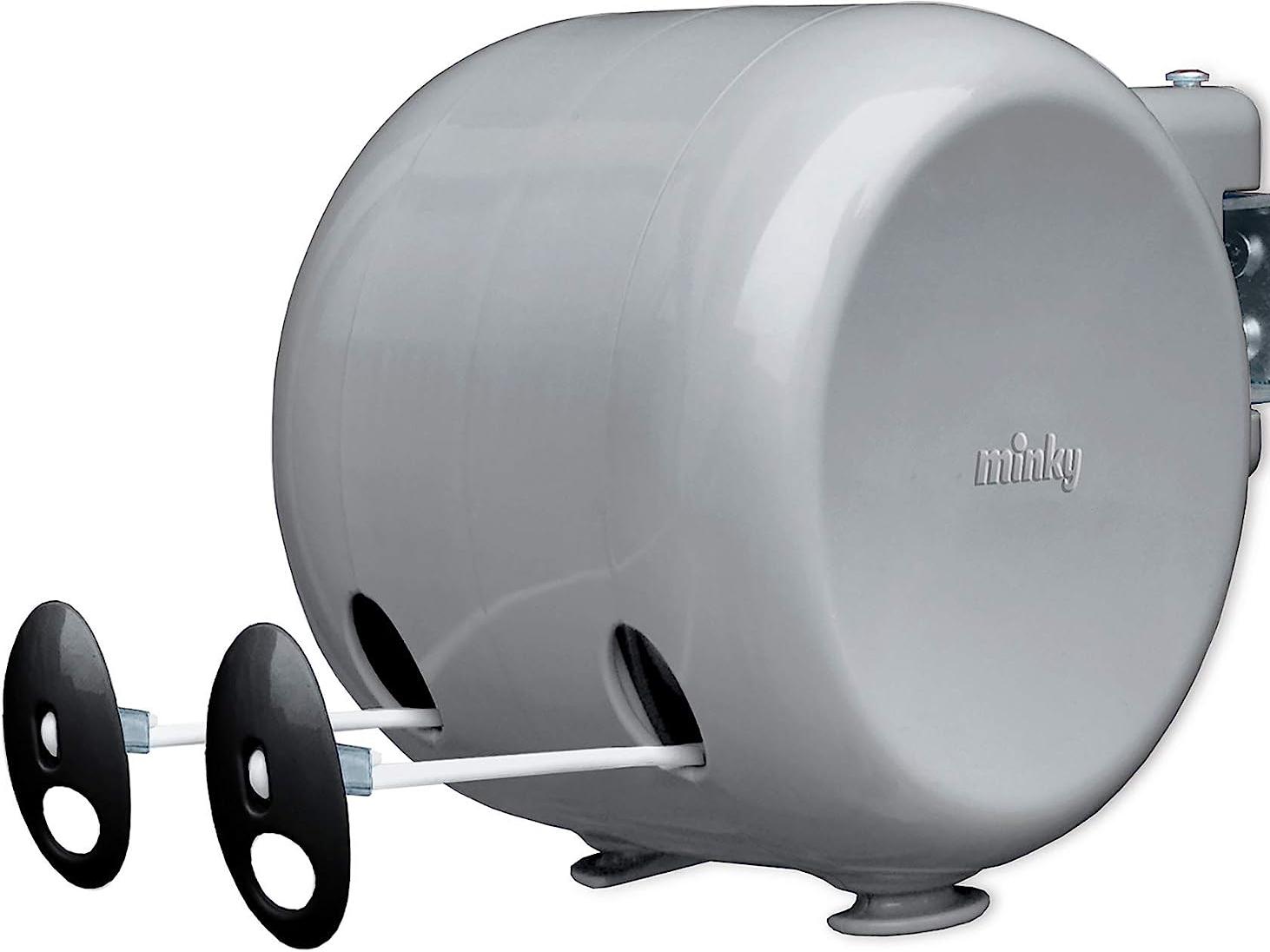 Minky Clothesline
Compact, durable pull out clothesline,
easiest way to add more drying space.
Mid to Premium Range Options
For those looking for a pull out clotheslines with great value, advanced features, and reliability, we suggest these models:
These options provide adjustable line tension, robust construction, and a compact design that's perfect for modern homes with big requirements.
Check out the links below to find out more about these awesome pull out clotheslines.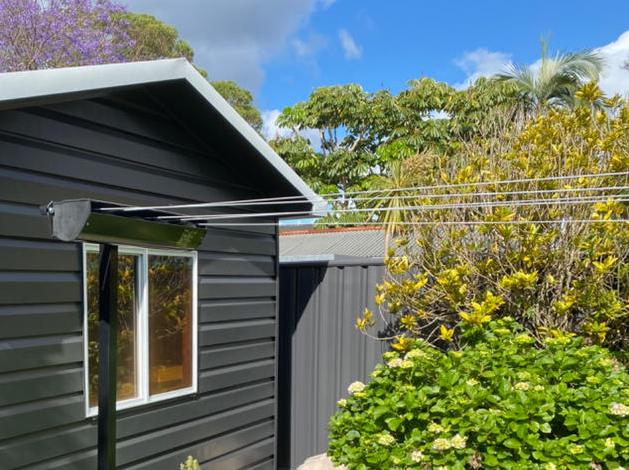 Austral Retractaway 40
Reliable laundry companion for everyone,
works great for families of 4.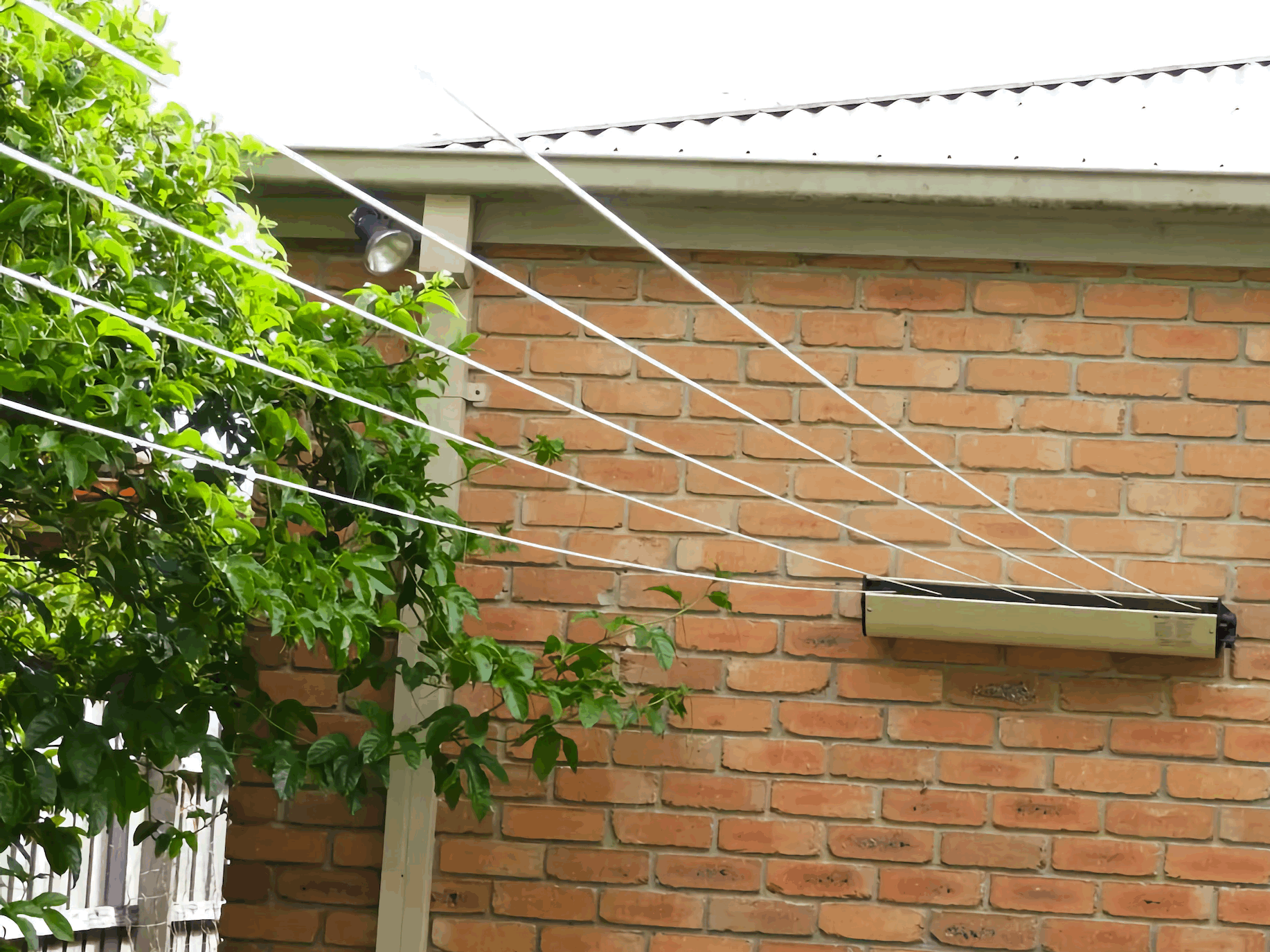 Austral Retractaway 50
Insanely durable and spacious for big families,
handles multiple washes at once.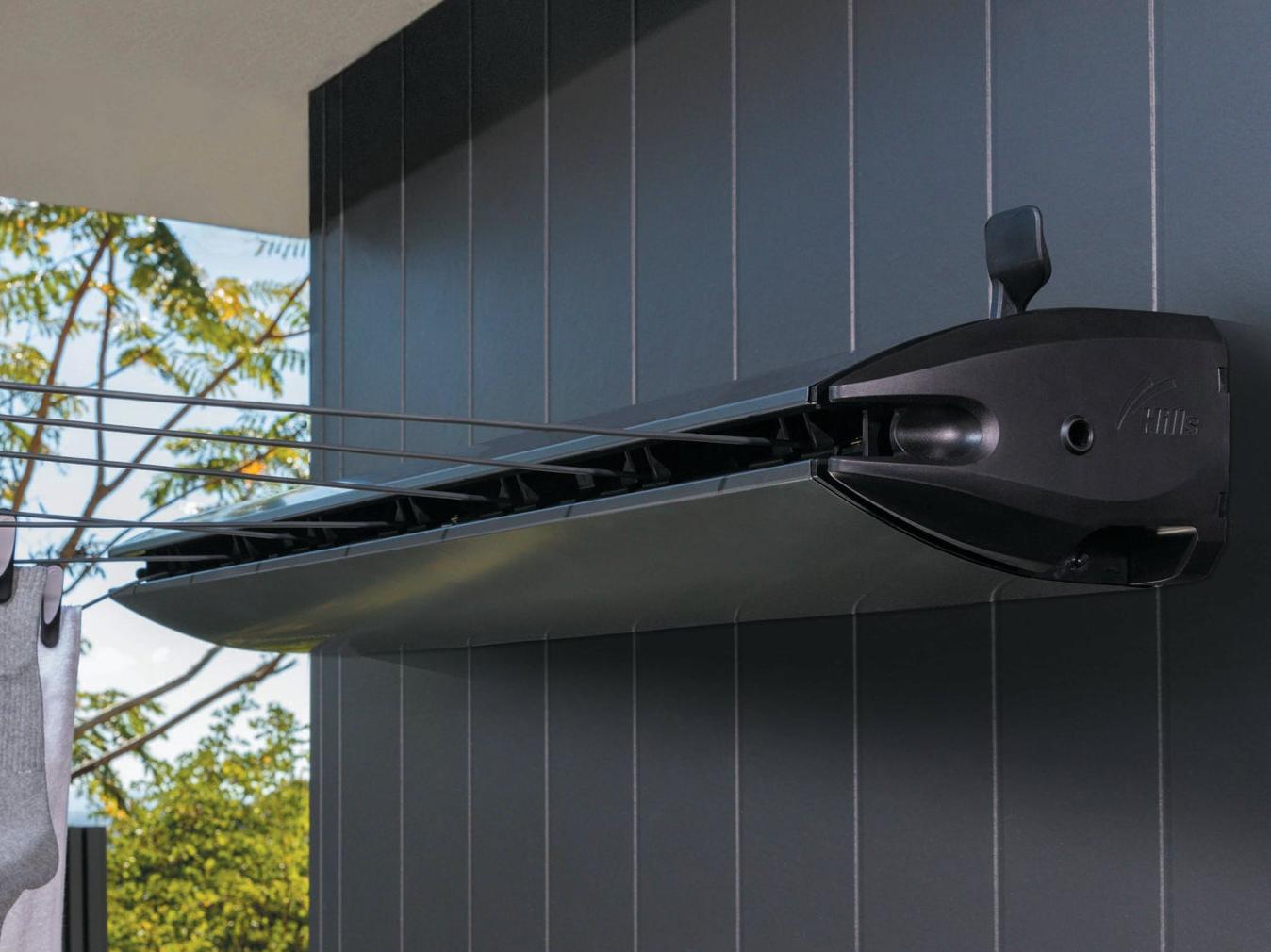 Hills 7 Line Retracting
A smarter, more stylish take on pull outs,
works great, looks great, dries plenty.
Frequently Asked Questions
In conclusion, a pull out clothesline is a versatile and space-saving solution for drying laundry.
This offers numerous benefits such as ease of use, eco-friendliness, and customisable features.
With a wide range of options available on the market, you can find the perfect pull out clothesline to suit your budget, style, and needs.
By following our comprehensive guide on choosing, installing, and customising your pull out clothesline, you'll soon enjoy the fresh, crisp feel of line-dried laundry.
Plus, you can also maximise your outdoor space because you don't have to give it up for weekend barbies and family gatherings!