Clotheslines Western Suburbs Brisbane
We always receive emails from people looking for helpful tips about buying a new airer for their new home or to simply replace an old one for a more modern version.
We figured we should come up with a list of top clothesline recommendations for Western Suburbs Brisbane to make the search easier for you.
Clotheslines in All Shapes and Sizes
There are tons of clothesline and washing line designs available out on the market right now.
Understandably you can get quite confused or overwhelmed so we will focus on just a handful of form-factors that are most popular.
Here at Lifestyle Clotheslines we only offer fold-downs, retractables, standard rotary hoist, folding rotary hoist, indoor/portables, and ceiling mounted clotheslines.
It helps not to throw too much choices at the customer since it will be easier to narrow-down the choices.
Each type of clothesline is designed to allow installation or maximum compatibility within a specific location or usage scenario.
A portable can be used in compact spaces or where a homeowner simply cannot have a permanently fixed clothesline at home due to restrictions.
Boast very compact/discreet exteriors and can offer generous air drying space when the lines are deployed.
The former can be customised to your desired dimensions and colours while the latter has variable capacity since retractables can be locked at any length so these are pretty flexible and can suit small or large homes.
offer the highest capacity within a given amount of space and these are also known for boasting the best performance of the bunch due to the nature of how they are designed, the top assembly rotates and can be raised to catch some breeze but due to this design they need quite a bit of room all around in order to spin freely.
best used as accessory airers in case your main one is not available for use, portables can be stowed away when not in use and most can be folded flat while ceiling airers take advantage of often unused overhead space inside or outside your home so these space-saving clothes drying solutions can pretty much work in any type of home.
Size it Right
Since you now know the difference between each clothesline category, now's the right time to give you an idea as to how much drying line space you and your family might require.
Proper sizing of a clothesline is important since an airer that is too small will make it a hassle to do big loads of laundry at once, too big and you might end up with a humongous eyesore in your backyard and let's not forget the unnecessary expense.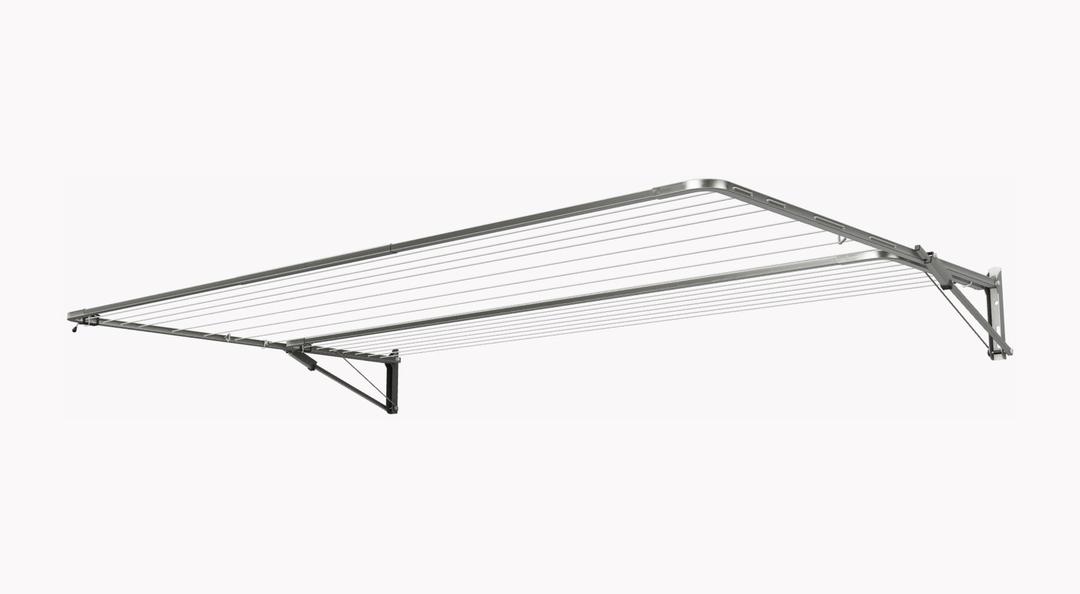 If you live alone get at least 12 or 13 metres of drying line space and if you're getting an airer for a family of three or more...
...your best bet is shelling out to acquire 11 to 12 metres of space per person in your household.
That may seem excessive at first but it is a good thing to have a bit of headroom for big items like curtains and beddings.
You will also appreciate the extra cost for a reasonably larger airer when families and friends come over.
Since there is extra room to dry their clothes, it won't wreak havoc on your typical laundry washing day--makes for less stressful weekend doesn't it?
Right after the short jump is our list of recommendations, we took time to choose three great airers for each category to ensure that all you have to do is to pick one without much fuss.
Always remember to take into account all of the key points to consider we have stated above to ensure that you end up with an investment that will make your laundry washing days more pleasurable.
When you are done breezing through our list, you might want to read this too :
Australia's Best and Worst Extendable Clotheslines Reviewed
Top Portable or Indoor/Outdoor Clothesline Recommendations For
Western Suburbs Brisbane
Top Retractable Clotheslines
Top Folding Rotary Clotheslines
Top Rotary Hoist Clothesline
T
op Fold Down Clothesline 
Recommendations
For Western Suburbs Brisbane
Ceiling Mounted Clotheslines
Clothesline Installation Area
for Western Suburbs Brisbane
Here are the areas we cover in Western Suburbs Brisbane:
Anstead
Ashgrove
Auchenflower
Bardon
Bellbowrie
Brookfield
Chapel Hill
Chelmer
Chuwar
Corinda
Enoggera
Enoggera Reservoir
Ferny Grove
Fig Tree Pocket
Graceville
Indooroopilly
Jamboree Heights
Jindalee
Karana Downs
Kenmore
Kenmore Hills
Kholo
Middle Park
Milton
Moggill
Mount Crosby
Mount Ommaney
Oxley
Pinjarra Hills
Pullenvale
Riverhills
Sherwood
Sinnamon Park
St. Lucia
Taringa
The Gap
Toowong
Upper Kedron
Westlake
What Our Customers Are Saying
You should be fine to install your clothesline however you want but it is best to get in touch with the City Council of Brisbane for any potential restrictions.