CLOTHESLINES
MORETON BAY QLD
Right now, the clothesline market is saturated with tons of models in multiple designs, some with a ton of features while others only feature the bare minimum, it can be a pain to determine which to get; it is not at all that hard to understand that it might be overwhelming for many of us who are in dire need of one so that is why we came up with a helpful and practical list of the
top clothesline recommendations for Moreton Bay QLD.
But before all that, we have to talk about choosing the right form factor of clotheslines in your Moreton Bay home, determine proper sizing, and find out the features that you might want to consider.
There are plenty of clothesline styles to choose from and each design is specifically engineered to perfectly fit into certain installation and usage scenarios.
Proper sizing plays a significant role in your clothesline buying process so we will discuss both first right after the short jump!
Clothesline Types
Here at Lifestyle Clotheslines, we only carry a few clothesline types that we think covers pretty much the majority of clothesline buyers' needs in Moreton Bay. There's fold-down, retractable, folding rotary hoist, standard rotary hoist, ceiling airer, and portable.
Fold-downs and Retractables - We like to think that these two are the "Miss Congenialities" of the airer world because both come in a variety of capacities and dimensions to match just about any home size and demands, both designs can also be installed on walls or easily converted to freestanding units by using ground mount kits; fold-downs are great for tight spaces while retractables excel in discreetness.

Standard and Folding Rotary Hoists - The undisputed kings of clotheslines, standard and folding rotary hoists boast some of the highest capacities to handle any job that you can throw at them, the top assemblies rotate and can be lifted to catch some breeze for very fast drying times. The rotating frame also makes it easy to hang clothes so you don't have to walk from one end of the line to the other, the foldable version can be taken off the ground socket and stowed away--perfect for those who have small yards because these things consume a ton of space!

Ceiling and Portable airers - The perfect space-saving clotheslines for cozy homes like studios, apartments, townhouses and even condominiums, ceiling mounted clotheslines utilise unused overhead space indoors or outdoors while portable airers allow you to dry clothes anywhere you wish--perfect if it's rainy outside, allows you to dry clothes in the garage or a hallway without much fuss.
Proper Sizing Clotheslines in Moreton Bay
Since Moreton Bay QLD is situated right by the Pacific (not to mention, littered with lakes allover) humidity levels can be on the higher end of the scale but thanks to the temperate oceanic climate, the warmth lasts for most of the year so properly sizing your clothesline is a must to ensure that you get consistent results all the time without sacrificing capacity.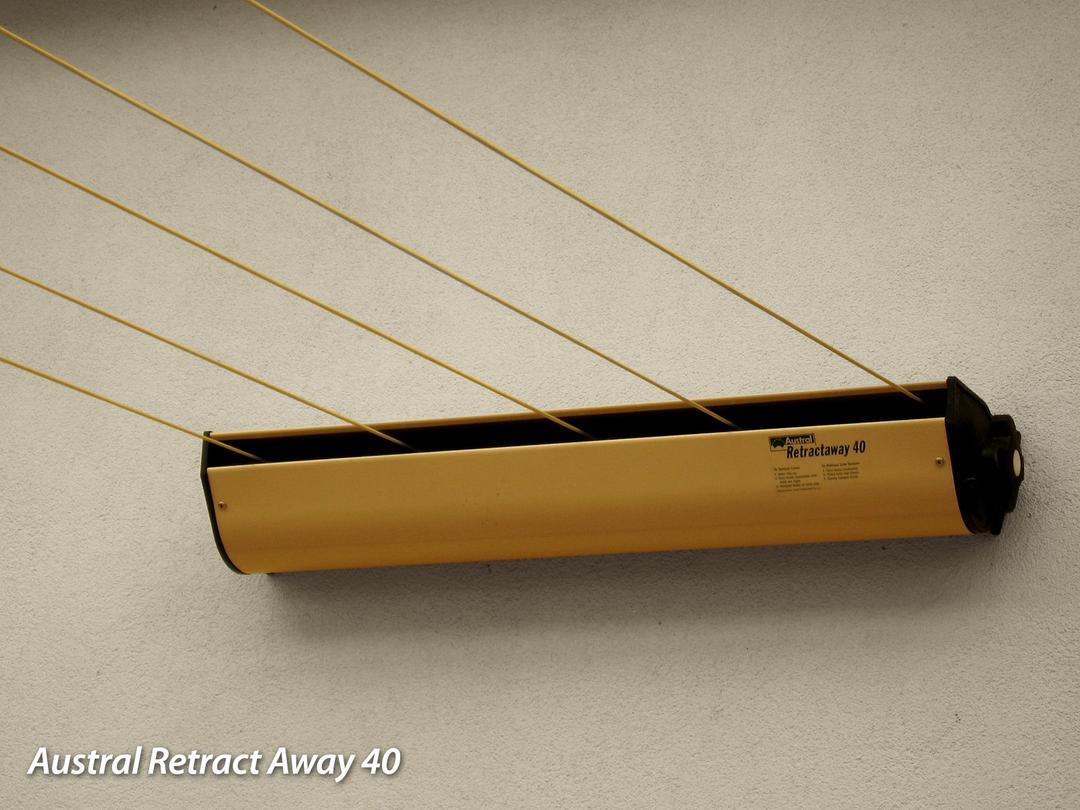 We normally recommend allocating at least 11 to 13 metres of drying line space per person in a given household, multiply that by the number of users in your home (regardless if adult or children) and you have a rough estimate of the line space you will need in a clothesline.
If you live alone, it is best to choose a clothesline that has 13 metres of total cord length at the minimum because you need to take into account your beddings, curtains or rugs that need cleaning every now and then.
That may come as a surprise to you but those with families often opt for clotheslines that have 30+ metres of line space on average and a small airer simply does not have enough real estate to dry such large items.
Clothesline Features and Accessories
There are a few features and accessories to consider Bay QLD and we have listed them below for you along with short descriptions as to why you would want them:
Built in line tensioning system

to keep lines taught and keep your airer performing at its best.

Choose levers over knobs

if you have problems with hand dexterity/mobility issues.

Full stainless steel/aluminium construction

if you live by the sea, keeps corrosion at bay and lasts for a very long time.

Galvanised steel lines

 proven to survive the test of time, rarely needs retightening and sags less than typical polycords that come with most clotheslines

Clothesline covers

 to protect your clothes from dust, rain, and other elements without you having to keep an eye on them all the time.
When you are done breezing through our list, you might want to read this too:
Top Portable or Indoor/Outdoor Clothesline
Recommendations For Moreton Bay QLD
Top Retractable Clothesline Recommendations 
For Moreton Bay QLD
Top Folding Rotary Clothesline Recommendations
For Moreton Bay QLD
Top Rotary Hoist Clothesline Recommendations 
For Moreton Bay QLD
Top Fold Down Clothesline 
Recommendations
For Moreton Bay QLD
Top Ceiling Mounted Clothesline Recommendations
For Moreton Bay
 QLD
Clothesline Installation Service Coverage Area
For Moreton Bay QLD
Here are the areas we cover in Moreton Bay QLD:
Albany Creek
Arana Hills
Armstrong Creek
Banksia Beach
Bechmere
Bellara
Bellmere
Bellthorpe
Bongaree
Booroobin
Bracalba
Bray Park
Brendale
Bunya
Burpengary
Caboolture
Caboolture South
Camp Mountain
Campbells Pocket
Cashmere
Cedar Creek
Cedarton
Clear Mountain
Clontarf
Closeburn
Commisioners Flat
D'Aguilar
Dakabin
Dayboro
Deception Bay
Delaneys Creek
Donnybrook
Draper
Eatons Hill
Elimbah
Everton Hills
Ferny Hills
Godwin Beach
Griffin
Highvale
Jollys Lookout
Joyner
Kallangur
King Scrub
Kippa Ring
Kobble Creek
Kurwongbah
Lawnton
Mango Hill
Margate
Meldale
Moodlu
Moorina
Morayfield
Mount Delaney
Mount Glorious
Mount Mee
Mount Nebo
Mount Pleasant
Mount Samson
Murrumba Downs
Narangba
Neurum
Newport
Ningi
North Lakes
Ocean View
Petrie
Redcliffe
Rocksberg
Rothwell
Rush Creek
Samford Valley
Samford Village
Samsonvale
Sandstone Point
Scarborough
Stanmore
Stony Creek
Strathpine
Toorbul
Upper Caboolture
Wamuran
Wamuran Basin
Warner
White Patch
Whiteside
Wights Mountain
Woodford
Woody Point
Yugar
We offer a full outdoor clothesline installation service to all the residents of Moreton Bay QLD for all models of clotheslines and washing lines.
We also have a clothesline removal service available for those requiring the removal of an old clothesline in addition to their installation.
The clotheslines that we install include:
Foldown Clotheslines:

both wall mounted and free standing

Rotary Clotheslines:

both fixed head (traditional Hoist style) and folding head (removable)
Retractable Clotheslines
What Our Customers Are Saying
You should be fine to install your clothesline however you want but it is best to get in touch with the City Council of Moreton Bay for any potential restrictions.