CLOTHESLINES
LOGAN CITY QLD


Ready to pull the trigger on a new clothesline? You might want to read this short topic first and also take a quick look at our top clothesline recommendations for Logan City QLD, we made sure to select only the best among the rest so we think it is a good idea to hold out on that purchase for a wee bit longer.
Truth be told, purchasing a clothesline is not a frequent affair considering how simple and reliable these things are so you might want to ask yourself this: are you getting a new airer just to get by or you want one that will be able to handle your needs in the future?
With that being said, clotheslines last a very long time therefore it is best to think on the longterm aspect of things, it would be a waste to get rid of a good airer for a bigger one.
You also get to save more money in the long run, apart from not having to buy a second clothesline, you no longer have to pay for removal/installation.
Choosing the Right Type
There are six categories for clotheslines, mainly the fold-down, retractable, folding rotary hoist, standard rotary hoist, ceiling airer, and portable; the last two categories are pretty self-explanatory, nevertheless let us delve deeper into the difference between each.
Fold-downs and Retractables - Great for any home size and number of users, both can be bolted to the wall or set up as freestanding units,  some fold-downs can be built-to order and retractables can be locked at any length hence the variable capacity.




Standard and Folding Rotary Hoists - High capacity airers that are the best in ergonomics, top assembly can be lowered/lifted and turns to catch breeze and evenly dry articles, consumes quite a bit of space so standard units bode better in large yards, folding models work great in compact outdoor spaces.




Ceiling and Portable airers - These are best airers for small homes like studios, condominiums, townhouses, or even apartments since ceiling airers allows you to utilise unused overhead space in or around your home while portable units are easily stowed away when not in use, not as impressive in terms of capacity compared to other form factors.
You should now have a clear idea as to how each form factor will work in your Logan City QLD home, always opt for a design that will fit your needs best and visualise the amount of laundry drying space you will require before selecting a certain design, a good ballpark figure is at least 11 to 12 metres of drying line space allocated per person in a given household.
Sunlight and Airflow
These are two of the most important elements when it comes to line drying clothes outdoors, the sun's heat and sterilising prowess and dry cool breeze to carry the humidity away from your garments. You should maximise the potential of your airer by ensuring that it situated in a place where it will be exposed to both elements at the most constant level possible.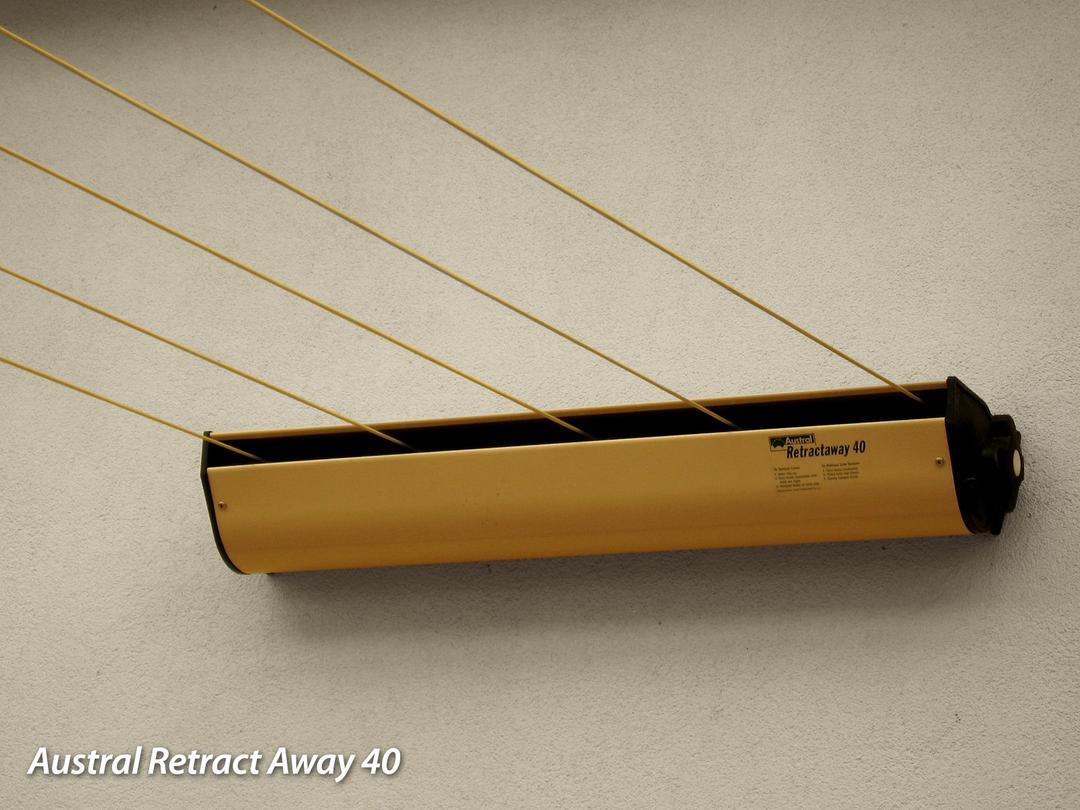 Avoid installing clotheslines close to trees and tall bushes for obvious reasons, you might also want to avoid installing ceiling airers underneath soffits or eave vents to keep unwanted particles away from your clothes.
Even with just the slightest pressure difference around the house, those things will litter your clothes with moulds or insects that thrive in the crawlspaces and you would not want that to happen.
Same goes for wall mounted units like retractables and fold-downs, avoid exhaust pipes of any sort if you don't want to smell like fried chicken in one of your dinner parties.
The last thing to remember is to do some digging online and research further about the airer you are interested in, more often than not you will encounter verified reviews of the product and nothing beats real testimonials on a product submitted by people who have experienced using it.
When you are done breezing through our list, you might want to read this too:
Top Portable or Indoor/Outdoor Clothesline
Recommendations For Logan City QLD
Top Retractable Clothesline Recommendations 
For Logan City QLD
Top Folding Rotary Clothesline Recommendations
For Logan City QLD
Top Rotary Hoist Clothesline Recommendations 
For Logan City QLD
Top Fold Down Clothesline 
Recommendations
For Logan City QLD
Top Ceiling Mounted Clothesline Recommendations
For Logan City
 QLD
Clothesline Installation Service Coverage Area
For Logan City QLD
Here are the areas we cover in Logan City QLD:
Bahrs Scrub
Bannockburn
Beenleigh
Belivah
Berrinba
Bethania
Baronia Heights
Browns Plains
Buccan
Carbrook
Cedar Grove
Cedar Vale
Chambers Flat
Cornubia
Crestmead
Daisy Hill
Eagleby
Edens Landing
Forestdale
Greenbank
Heritage Park
Hillcrest
Holmview
Jimboomba
Kingston
Logan Central
Logan Reserve
Logan Village
Loganholm
Loganlea
Lyons
Marsden
Meadowbrook
Mount Warren Park
Mundoolun
Munruben
New Beth
North Maclean
Park Ridge
Park Ridge South
Regents Park
Rochendale South
Shailer Park
Slacks Creek
South Maclean
Springwood
Stockleigh
Tamborine
Tanah Merah
Underwood
Veresdale
Veresdale Scrub
Waterford
Waterford West
Windaroo
Wolffdene
Woodhill
Woodridge
Yarrabilba
We offer a full outdoor clothesline installation service to all the residents of Logan City QLD for all models of clotheslines and washing lines.
We also have a clothesline removal service available for those requiring the removal of an old clothesline in addition to their installation.
The clotheslines that we install include:
Foldown Clotheslines: both wall mounted and free standing

Rotary Clotheslines: both fixed head (traditional Hoist style) and folding head (removable)

Retractable Clotheslines
What Our Customers Are Saying
You should be fine to install your clothesline however you want but it is best to get in touch with the City Council of Logan for any potential restrictions.