CLOTHESLINES
CANBERRA ACT
There is a big chance that you have been searching allover the internet for the best clothesline options in Canberra, ACT because you ended up here, we are very glad that you did! Let us assist you with determining the perfect clotheslines for your home, find out if our clothesline installation services cover your area and teach you how to get the best out of your soon-to-be investment with the use of clever clothesline accessories.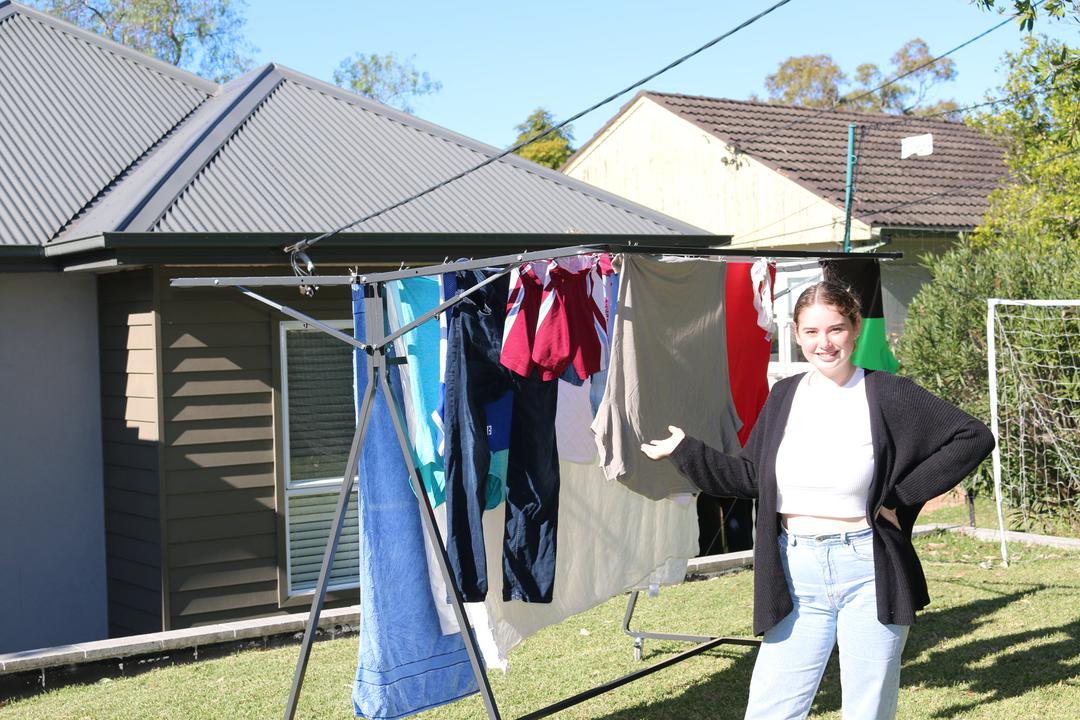 For starters, the first step in determining the clothesline to get in Canberra is making sure that you have a good idea as to how much drying line space you will need.
The best ballpark figure is around 11 to 13 metres of drying line space per person in a given household, if you are a bachelor living in your own studio, condominium, or apartment then it is a good idea to take it a step further by opting for at least 13 metres or more.
Oversizing your clothesline is a good idea because you have to take into consideration large items like bedlinen, curtains, and rags that need cleaning every now and then.
Best Airer Type in Canberra Suburbs ACT
Now that you have a rough idea with regard to the amount of drying line space you will require, it's time to choose what type of airer to purchase. There are six major categories for clotheslines, we have listed them below and included the highlights of each:
Fold-downs

- Some manufacturers offer be built-to-order options, highly customisable, works well in any type of home (indoor or outdoor placement), simple and reliable folding design with very few moving parts, flexible installation options (wall mounted or in-ground).

Retractables

- The most discreet airer, lines are reeled back into the cabinet when not in use so it doesn't turn into an eyesore when not in use, variable capacity so it is works great in small to large homes, flexible installation options (wall mounted or in-ground), 

Standard Rotary Hoists

 - One of the most reliable clothesline form factors, most come with heavy duty galvanised steel frame, galvanised steel cables/drying lines, rotating and height adjustable top assembly facilitates ease of use, very high capacity, suitable for big homes, yards and families with very demanding laundry drying requirements.

Folding Rotary Hoists

- Pretty much the same affair with standard hoists but these fold like an umbrella to save space when not in use, perfect for homes that need a capacious airer but with limited outdoor living space.

Portable

 - A great clothes drying solution if you live in a home with limited indoor/outdoor space since these can be deployed just about anywhere, some models come with or without caster wheels, also a good bet if you're running out of space on your main clothesline.

Ceiling Mounted

 - Works indoors or outdoors, space-saving design since these take advantage of the often unused overhead space so it works great regardless if you have a small home, lots of designs to choose from and the convenient pulley system makes it a breeze to hang and remove clothes.
Best Clothesline Accessories to Consider
Clothesline accessories are the best way to take full advantage of your clothes line in the Canberra Suburbs, thanks to its relatively cool climate, this region gives most residents a chance to turn something like an ordinary rotary hoist into a canopy by installing a
clothesline cover
and a round table underneath--perfect for morning tea or weekend barbecues with friends and family!
You can make your laundry errands a lot more convenient by purchasing a
laundry trolley
 which makes it a cinch to bring heavy and wet articles from the washer to your clothesline.
We've noticed that this is something most people take for granted and you'll realise that a laundry trolley is a good investment mostly if the user is an elderly or a person with mobility issues.
There are many other clothesline accessories that will make your laundry drying day a much smoother affair, you can check them all out
here
.
When you are done breezing through our list, you might want to read this too:
Top Portable or Indoor/Outdoor Clothesline Recommendations For Canberra Suburbs ACT
Top Retractable Clothesline Recommendations 
For Canberra Suburbs ACT
Top Folding Rotary Clothesline Recommendations For Canberra Suburbs ACT
Top Rotary Hoist Clothesline Recommendations 
For 
Canberra Suburbs ACT
Top Fold Down Clothesline 
Recommendations
For Canberra Suburbs ACT
Top Ceiling Mounted Clothesline Recommendations For Canberra Suburbs ACT
Clothesline Installation Service Coverage Area
For Canberra Suburbs ACT
Here are the areas we cover in Canberra Suburbs ACT:
Acton
Ainslie
Amaroo
Aranda
Banks
Barton
Beard
Belconnen
Bonner
Bonython
Braddon
Bruce
Calwell
Campbell
Casey
Chapman
Charnwood
Chifley
Chisholm
City
Conder
Cook
Coombs
Crace
Curtin
Deakin
Denman Prospect
Dickson
Downer
Duffy
Dunlop
Evatt
Fadden
Farrer
Fisher
Florey
Flynn
Forde
Forrest
Franklin
Fraser
Fyshwick
Garran
Gilmore
Giralang
Gordon
Gowrie
Greenway
Griffith
Gungahlin
Hacket
Harrison
Hawker
Higgins
Holder
Holt
Hughes
Hume
Isaacs
Isabella Plains
Jacka
Kaleen
Kambah
Kingston
Latham
Lawson
Lyneham
Lyons
Macarthur
Macgregor
Macquarie
Mawson
McKellar
Melba
Mitchell
Monash
Moncireff
Narrabundah
Ngunnawal
Nicholls
O'Connor
O'Malley
Oaks Estate
Oxley
Page
Palmerston
Parkes
Pearce
Phillip
Red Hill
Reid
Richardson
Rivett
Russell
Scullin
Spence
Stirling
Symonston
Theodore
Throsby
Torrens
Turner
Wanniassa
Waramanga
Watson
Weetangera
Weston
Wright
Yarralumla
We offer a full outdoor clothesline installation service to all the residents of Canberra Suburbs ACT for all models of clotheslines and washing lines.
We also have a clothesline removal service available for those requiring the removal of an old clothesline in addition to their installation.
The clotheslines that we install include:
Foldown Clotheslines:

both wall mounted and free standing

Rotary Clotheslines:

both fixed head (traditional Hoist style) and folding head (removable)
Retractable Clotheslines
What Our Customers Are Saying
You should be fine to install your clothesline however you want but it is best to get in touch with the City Council of Canberra for any potential restrictions.