Our Top 90cm Wide Clotheslines
Let's discuss about 90cm wide clothesline options and which clothesline products will perfectly fit a space of just 90 centimetres wide, we know you are on the hunt for your next investment so you definitely came to the right place!
This is important nowadays, space is at a premium mostly when living in an urban setting so it is not at all an exaggeration when we say that every centimetre counts.
We have a few recommendations of clothesline products that are just 90cm wide.
We will talk about the colour options that we have available for these models as well as the installation of those products.
Let us provide you with all the information you need to in order to make the most out of your investment, so let's get started!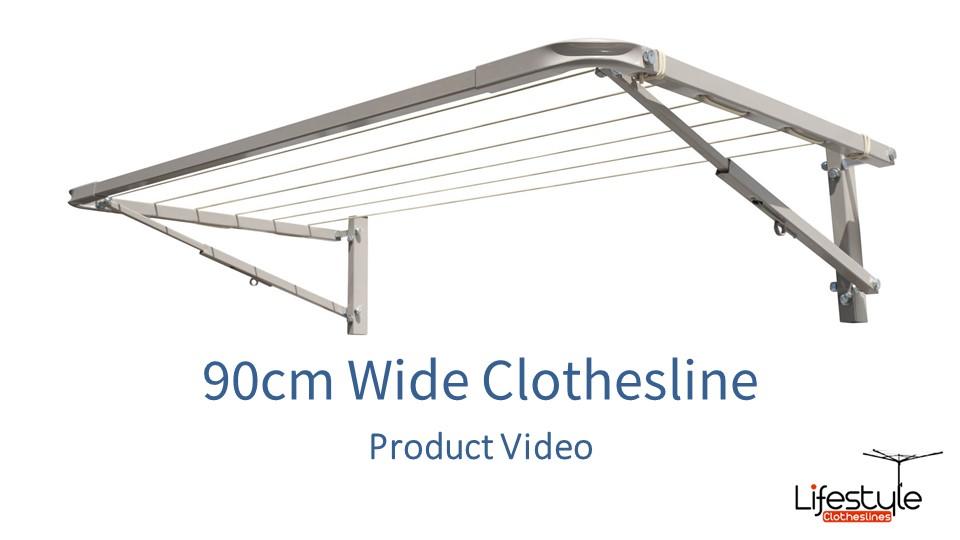 Topics Covered in This Article
Eco Apartment
The first one on our list is the Eco Apartment clothesline, it is one of the best 90cm wide clothesline models that we recommend thanks to its unique design and outstanding reliability track record.
The Eco Aparment is 75cm wide which makes it a tiny bit narrower than 90cm but the frame does come out 150 centimetres from the wall.
You can see above how it would look like when it is mounted onto the wall, the unusually long overhang of the frame, as well as its overall fit and finish.
What this means is despite its rather narrow profile, the very long overhang of the main frame provides you with long drying lines which is perfect when drying large items.
Another Eco model worth looking into is the Eco Unit Line.
It boasts the same renowned Eco quality found in the Apartment model—albeit, with a different format.
With the Eco Unit Line, you get 15 metres of total line spacing which would be the most line space you can get from any clothesline that is 90cm wide.
When you don't want to use the Eco Unit Line, you just lift it up and it automatically locks into place. 
The Eco 120 clothesline does have a standard width of 120cm but as with all of the Eco clotheslines, we can basically make them to the exact size that you need. 
So we can modify this one down to 90 centimetres for you at no additional charge. 
The really good thing is if you have a space like 95cm or 98cm wide, we can tailor fit the width to perfectly match your requirements which results in the ultimate space-efficiency! 
All of the Eco clotheslines are proudly made in Australia, no plastic load-bearing parts here that can cause reliability problems—the only plastic component is the drying line which you can replace with a wire should you prefer.
And with the Eco 120 range, you can get five different depth sizes; what this means is you get to choose a version to further maximise the use of space in your laundry drying area:
60cm

75cm 

90cm

120cm 

150cm
So the further the depth of your clothesline, the more drying line length you gain which is a must if you need a clothesline that can handle all of your needs.
Eco Unit Line: Compact and User-Friendly
The Eco Unit Line is another one that's just under the 90cm wide, this model is 80cm by 75cm and sports eight total drying lines. 
This is also a very good primary clothesline or as an accessory to your existing one that has a larger capacity.
And again, eight lines is pretty handy in a smaller area mostly when space is a premium in a small home like condominiums, apartments, and townhouses.
Eco Clothesline's Colour Range
For those of you who are very keen when it comes to aesthetics, no need to fret! The Eco clotheslines are available in 10 different colours.
These colours are the most popular ones chosen by our loyal customers, should you wish to choose one that aren't shown above, you can easily get in touch with us so we can sort this out—we've got access to many other colours to perfectly suit your home.
And since Eco clotheslines are have baked-on paint called Colourbond, you can have a peace of mind knowing that your investment is protected from years of rust or minor scratches—peeling is a rare occurrence too, unlike ordinary paint!
Our ultimate recommendation when it comes to clothesline brands is Eco Clotheslines, these are made in Australia, fashioned from galvanised steel that's covered with powder paint—the ultimate in value and reliability!
These mighty work horses are built for the conditions that we see here which are often harsh throughout the year. 
Frankly, we find that things that made in Australia are just made so much better than things that come in from overseas. 
Lifestyle Clotheslines does have a full installer network available Australia-wide should you require assistance from one of our clothesline installation experts.
You can simply check the box on the product page to add installation to your order or you can give us a call at any time and we can help you over the phone with the clothesline installation. 
All of the products ordered through Lifestyle Clotheslines come with your 100-day happiness guarantee to make sure you've got the right clothesline for your space or living requirements. 
If you need any further information on clotheslines that are 90cm wide, please feel free to call at any time on 1300 798 779 to speak to one of our clothesline experts today.
You can also visit our website at LifestyleClotheslines.com.au for further information, images, videos and detailed specifications on clotheslines that are 90cm wide.