Best 70cm Clotheslines To Get
Today we are going to talk about 70cm wide clotheslines and help you find which ones will help you fit your requirements.
As usual, we will cover the different products that you can go over and think are best for you, the colour options to match your home's aesthetics, and of course, provide you with answers regarding installation.
Our clothesline experts and mostly, customer feedback were taken into consideration when we made this list so let's get started!
Our Favorite Clotheslines for 70cm Areas
The Eco Apartment clothesline is one of the models that is ideally suited for 60cm wide spacing. 
This unit is 52cm wide by 150cm deep, so it's a very unique style of clothesline as the lines run 90 degrees forward—handy when you need a spacious clothesline but have limited space.
This allows you to have very long line length in such a narrow wall spacing which works great for large articles like bedlinen and towels.
First off, the Eco Apartment clothesline is one of the most popular models we have and it is what we recommend the most. 
This unit is 75cm wide (width across the wall) and is 150cm long (depth from the wall).
It is a compact unit that will come in handy for those that need tons of space in a small area.
The lack of width makes up for the frame's depth which lets it accommodate wide articles without issues.
The Eco 120 clothesline is aptly named since it does have a standard width of 120cm but we can shrink that down to 70cm or probably even 75cm or 78cm for example.

The real great thing about this unit (any Eco clothesline model for that matter) is the full galvanised steel construction.
No vital load-bearing parts are fashioned from plastic—except the drying lines.
This ensures that you get the most out of your investment since it will surely last a lifetime with very little care required on your part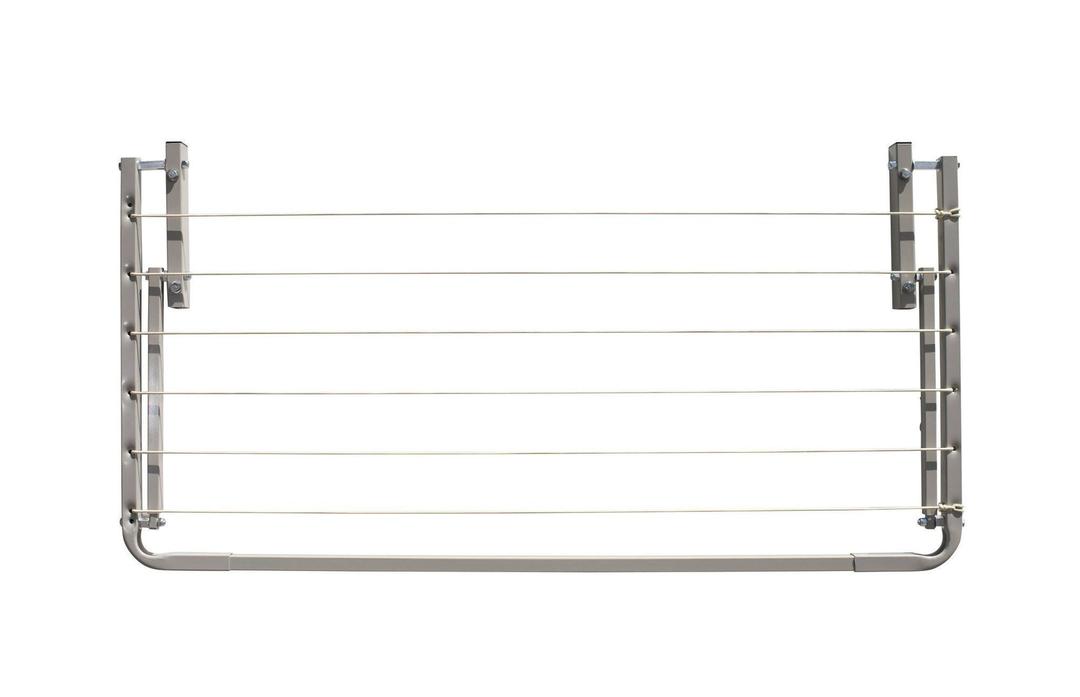 You can opt for steel wires in the future since the drying lines are replaceable but it is an after-market accessory that is not included in the standard package we offer.
The Eco 120 fold down clothesline does come in five different depth options (the distance out from the wall):
60cm

75cm

90cm

120cm 

150cm 
Given the multiple depth options, you will be able to maximise your laundry drying area since we think that the more options our customers have, the better their experience will be!
The Eco Unit Clothesline is another model that is worthy of your attention.
It has a standard width of 80cm but as we have mentioned, we can customise the width down to 70cm for you so that installation won't be an issue.
It has a standard fixed depth of 75cm and has 8 drying lines so the amount of space between articles is pretty good resulting to fast drying time!
Since this is a fold down, when you don't want to use the clothesline, you can simply fold it down flat against the wall.
Eco Clothesline Colour Range Advantage
With the Eco clotheslines colour range, Lifestyle Clotheslines offers 6 standard colours at no additional charge.
Feel free to choose the colour that suits your taste without worrying about additional costs whatsoever!
This colour range covers the most popular clothesline colours that are preferred by the majority of Australians.
If you do require a shade outside of these 6, feel free to let us know as we do have access to other COLORBOND® colours.
Our Most Recommended Brand
Our recommendation for 70cm wide clotheslines is the Eco clotheslines range. 
These units are handmade in Australia the old-fashioned way, so they are not a mass-produced unit.
They are engineered to withstand the terrible Australian climate, carry heavy articles, and are simply meant to last a very, very long time.
So if you want to take advantage of a specific space that is around 70 centimetres, 75 centimetres, 78 centimetres or whatever the width/dimensions are, we can make it exactly to that size for you.
Clothesline Installation Services
We have a broad network if talented clothesline installation partners that will handle the unboxing, assembly, and mounting of your new clothesline.
To avail of our clothesline installation service, you can simply check the box on the order page of your preferred clothesline model.
For special or specific requests and queries, please do not hesitate to get in touch with is and our friendly clothesline experts will gladly assist you via 1300 798 779.
Customer Happiness, Guaranteed!
Don't forget that all of the products available through Lifestyle Clotheslines come with a 100-day happiness guarantee to make sure you've got the right clothesline for your home situation.
We do not take customer satisfaction for granted, there is a reason why our reviews database are filled with positive reviews from our loyal and deeply valued customers.
Be a part of the growing Lifestyle Clothesline family so you will find out what makes us better than everyone else!
For more information on 70cm wide clotheslines and the other recommendations for this space, you can call us on 1300 798 779 at any time to speak to one of our clothesline experts.
You can also visit our website at LifestyleClotheslines.com.au for further information, images, videos, and more detailed specifications about the latest and greatest 70cm wide clotheslines we offer!