This time, we will be talking about the 0.7m wide clothesline products that you might be interested in.
The models we are going to discuss will be the greatest options for you if you only have a 0.7m wide wall that can accommodate a clothesline.
In this article we will cover the different product options that are available, some colour options as well as installation of these clotheslines for you. 
First off, the Eco Apartment. The Eco Apartment is one that we do recommend for these very narrow areas.
You do get the most line space for this type of space as these units are 0.75m wide, and come out from the wall by about 1.5 meters. 
So clearly, these are the best use of your limited wall space, as long as you've got 1.5 meters to come out from the wall.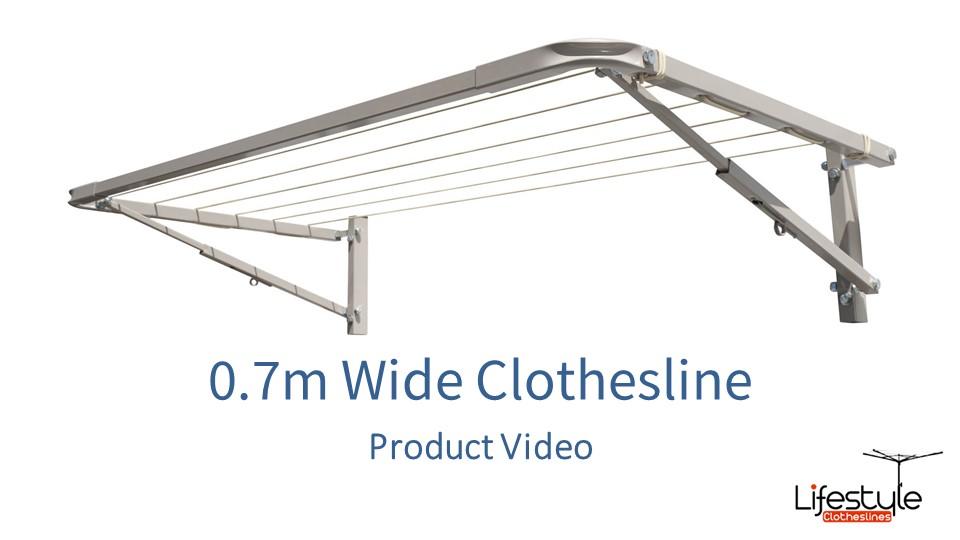 Topics Covered in This Article
This clothesline does have lines that run directly out from the wall so you get to take advantage of a very small area with such a roomy amount of line space.
With the 0.75m size Eco Apartment, the long length of the 10 individual lines is a great thing to have in such a very small width of clothesline. 
This is the front view of how that would look:
The Eco Apartment comes directly out from the wall and then folds flat when you don't need it—as if it did not exist, letting you use the space for other tasks.
It is pretty obvious that the Eco Apartment is a very handy clothesline to have as long as you got that 1.5m out from the wall for a smart take on space utilisation, it can even be extended to 1.7m should you request for it.
The Eco 120 is Another Unit Worthy of Your Attention:
This one has a standard width of 1.2m but we can customise the width down to 0.7 for you at no extra charge.
This clothesline is more your standard traditional clothesline fold down unit that folds flat to the wall.
With Eco 120, you do get a number of depth options that come out from the wall. 
Here are the five different depth options we have for the Eco 120:
600mm
750mm
900mm
1,200mm
1,500mm

Do bear in mind that when it comes the depth, the further you go out from the wall, the more line space you are going to get. This is a crucial aspect of narrow clotheslines.

For the overall dimensions of the clothesline model, it all depends on how much of space you have got to work with and what sort of area it will be inside or outside of your home.

The really good thing about the Eco 120 is we can make it 0.7m wide, or anything that you want, anything that will suit your needs best.
So it does not matter if you want 0.75m or 0.78m of width, we can customise it for you at no extra charge!

Eco Unit Line: Compact and User-Friendly
The Eco Unit Line is one other one that has a very small size.
This model has a dimension of at 0.8m by 0.75m and just like the rest of the clotheslines we have mentioned here, this one can be modified down to 0.7 or anything in that range for you at no extra charge. 
And again, this one has eight lines that come out from the wall and folds flat to the wall. 
In the image above, that is what it would look like when it is in the down position and the other photo was with it up, ready for use whenever you please and saves a ton of space when not needed.
Eco Clotheslines Colour Range
The best part about owning Eco Clotheslines? Well, the colour choices! We do have a big colour range of 6 standard COLORBOND© coats. 
Pretty much any of these colours cover all of the modern Clotheslines that we see today being made, from the frame to the wall mounting for the best aesthetics. 
We have the traditional classic cream and paperback to darker ones like Iron Stone and Heritage for that striking look!
If you prefer a certain colour that is somehow not found in the 6 we offer above, we may be able to help.
You can call us to have a chat about your colour needs as we do have access to a range of other COLORBOND colours—customisation at its finest indeed!
When it comes to our clotheslines that are 0.7m wide, our recommendation is the Eco Clotheslines range. It offers the best bang for the buck.
Eco Clotheslines are handmade in Australia the old-fashioned way, so they are full steel construction so the whole structure is just sturdy GALVABOND© steel through and through for the ultimate reliability.
What this means is the Eco Clothesline range sport galvanised steel, it is then powder-coated in the colour that you choose. 
Scratch and chip resistant paint, corrosion resistant frame—a combination that's certainly built to last, and lastly, the big colour range we offer.
You can choose any colour for your clothesline and we will get it done for you free of charge. 
You don't have to pay for extra fees or charges and when the clothesline arrives, it will be in the colour and sport the dimensions you specifically asked for.
On the installation side of things, if you do need help with installing your clothesline, Lifestyle Clotheslines does have a full installation service Australia-wide.
You can order our products pretty much on any of the product pages that you are on at any time or you can also call us and we can help you over the phone with getting you the perfect clothesline. 

All of the clotheslines we offer come with our 100-day happiness guarantee that's supports all our products to make sure you get the right one for your home!

If you need any further information, tips, or advice on finding the ideal clothesline in that 0.7 meter wide spacing, please feel free to call on 1300 798 779.
Please visit online at lifestyleclotheslines.com.au where comprehensive information and the product specifications are available for you!