Discover the best 0.5m Wide Clothesline products, and which one is going to be the best for your situation and 0.5m size wall or available area.
In this article, we're going to talk about 0.5m Wide Clothesline products, and which one's gonna be the best for your situation and area you've got there.
So what we will cover is the product options there are at the 0.5 meter wide, some colour options, installation options, and as well as our recommendations for this type of sized product.
With the 0.5 metre product, it is not a standard size from all of the big companies who make clotheslines like Hills.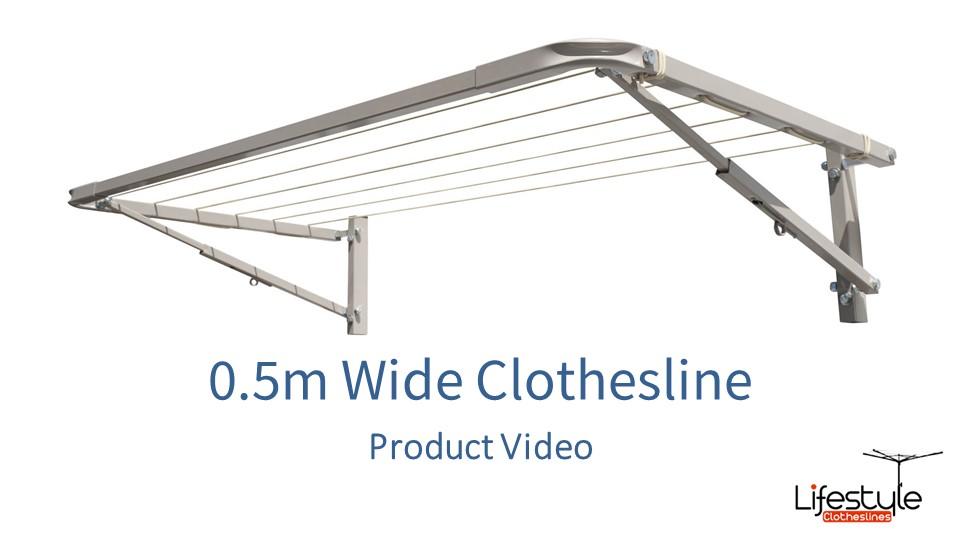 Topics Covered in This Article
When it comes to this size, it is a very narrow space. So this is assuming you've got a very small, narrow wall area that is only 0.5 meter wide. So when it comes to that, there is a few clothesline products really that only fit into that category.
The Eco Apartment Clothesline is one of those that are 0.52 of a metre wide.
This clothesline does come at 1.5 metres out from the wall, so it is actually the very best one for utilising your wall space that you've got, as you do get your big runs of line with this particular clothesline.
Normally all of the other clotheslines, the wires run the other way, which are parallel to the wall. This one, the wires actually come at right angles out from the wall, so you get those big runs of clothesline line to use.


 0.52 metre wide
1.5m out from the wall
8 lines
Handy amount of line space to have in such a small area.
Folds down flat to the wall when you don't need it.

Another unit that comes in that 0.5m is the Eco 120 clothesline.
A standard size for this is 1.2 meters wide, but with the Eco range, we can actually make them to order for you to the exact size you need.
So if you had a space of 0.5 metres wide or 0.55m or something like that, that you wanted to use for this type of clothesline, we can certainly make it to any size for you there. It's not a problem. This is what it would look like from the side of the clothesline.


Again, this is one that's wall mounted, and would just fold flat to the wall when you don't need it. If you are going with this unit, this is the standard size at 1.2 metres. But we can modify the width right down to 0.5m for you.
5 depth options (distance out from the wall).
0.6m is the smallest
0.75m
0.9m
1.2m
1.5m is the biggest depth
But, obviously, the lines would be very small, short runs. So that's another option for you for the 0.5 meters.
Eco Unit Line clothesline
The Eco Unit Line is slightly bigger at 0.8 of a metre, but we can also custom make this for you at 0.5m
This one doesn't have the struts on it like the other clothesline does, the Eco 120. But, again, it's a simple one that you just unclip the middle braces on the side, and it just falls flat to the wall.


8 lines
0.75m depth out from the wall
Many colours options
Stores away nicely against the wall when you don't need it. 

Eco Clothesline's Colour Range
With the Eco Color range, they do have 10 standard Colorbond colour's, and these are the most common colours that we see for clotheslines in the 0.5m range. These are all colorbond colors.
So, basically, any of the clotheslines that have been shown before, from the Eco range, can be coloured at any of these colours for you. And if you do want something outside of this range, it may be possible. So you can just give us a call and discuss your exact needs or colour options that you're looking for. We can probably help you out there.

When it comes to the 0.5m wide clothesline options, we do recommend the Eco Clotheslines.
They are handmade in Australia the old fashion way. So they're full steel construction. All the steel tubing, everything is Australian steel, which is GALVABOND® steel.
It is powder coated in the colour that you choose from the colour range list and any of those, with the customisations that you may need, are all free of charge. There's no fees to charge for those. That's all just included in the price.

If you do need help with installation, Lifestyle Clotheslines does offer a clothesline installation service Australia wide. Just let us know on that if you do need that, or you can also order it on any of the clothesline product pages.

For more information, or if you need to speak to anyone about your specific needs or situation when it comes to clotheslines that are 0.5 metres wide, please feel free to call on 1300 798 779, or you can visit our website as well at any time at www.lifestyleclotheslines.com.au.