Ultimate Camping Clothesline Australia
A good camping clothesline is a small luxury that most people tend to overlook.
Most don't realise that it can make a huge difference when going out for a little excursion, that's why in this article, we'll be discussing the best camping clotheslines on the market.
We'll be looking at a range of options, from lightweight and compact models for backpackers to heavy-duty and durable lines for car campers.
Let's get started on finding the perfect clothesline for your next camping trip!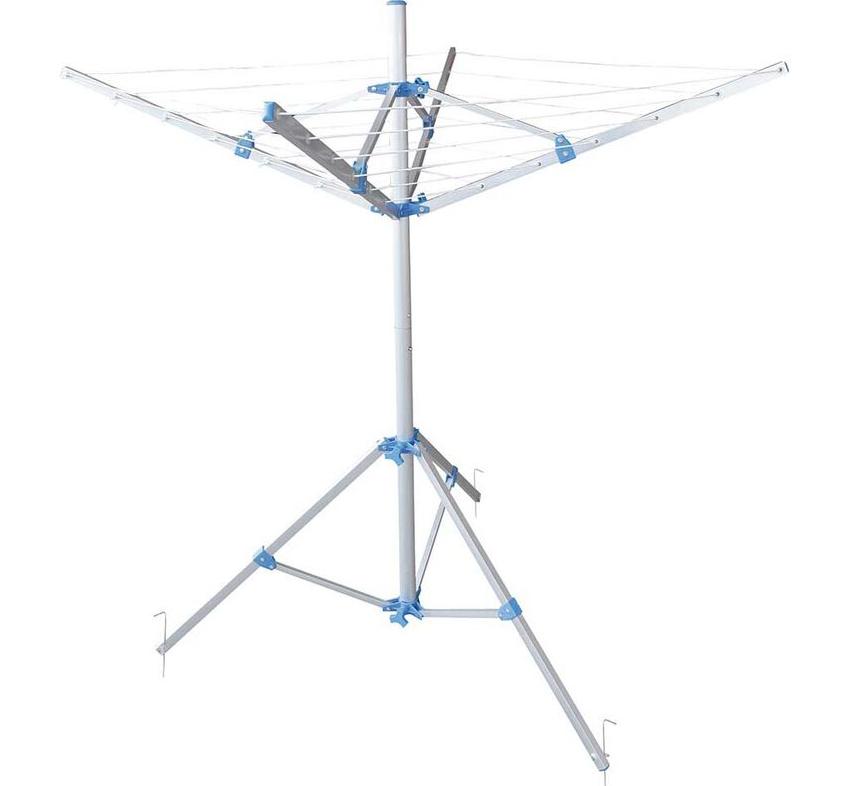 Importance of Clothesline While Camping
There are multiple ways a camping clothes line can make your trip better -- you no longer have to deal with two bungee cords for drying clothes.
When you're out camping, it's important to have the right gear to make your trip enjoyable and comfortable.
Of the best ways to ensure such an outcome is to bring a camping clothesline.
Whether you're a seasoned camper or a beginner, finding the right clothesline can make all the difference in your camping experience.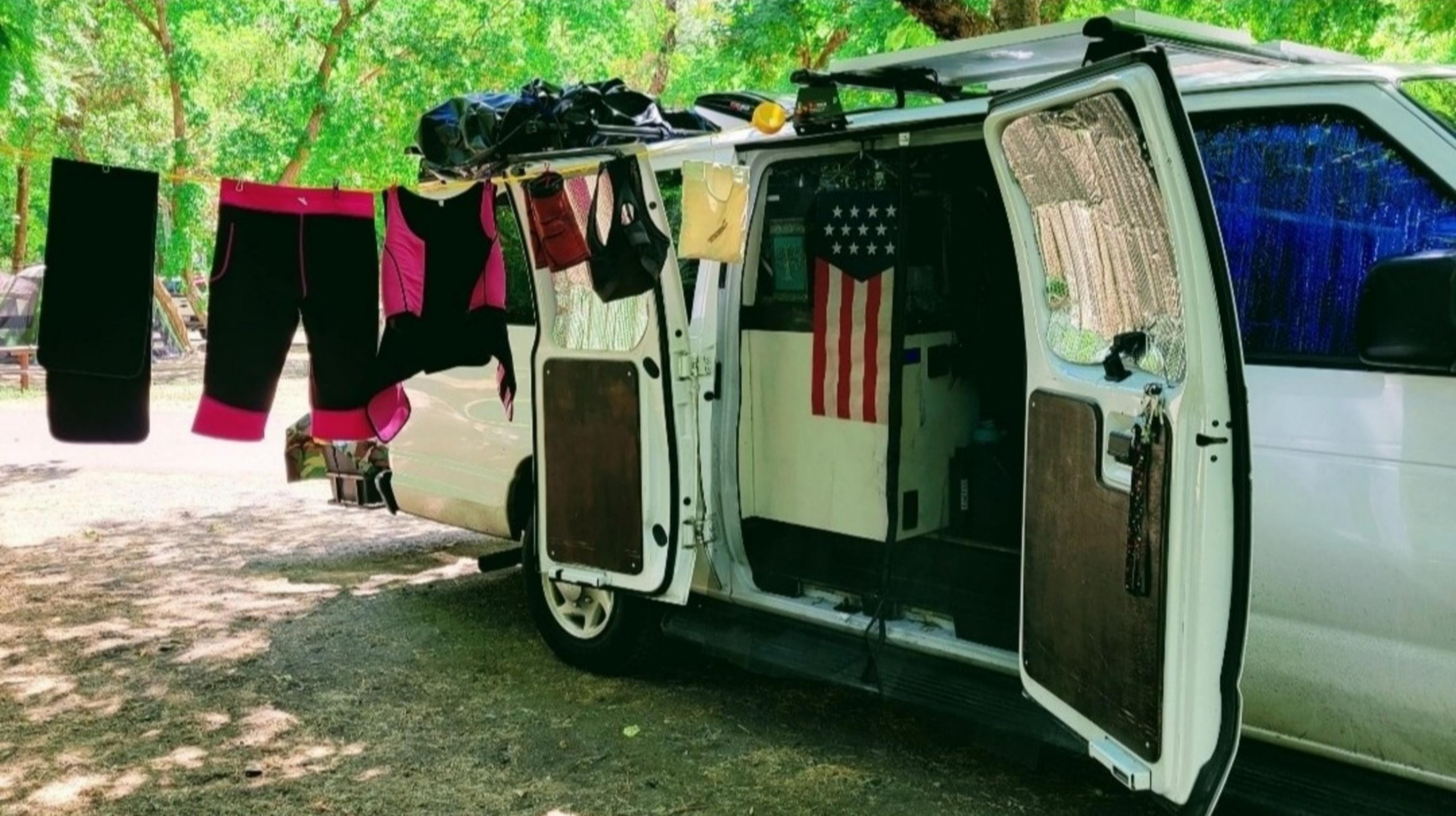 Benefits of Using a Good Camping Clothesline
A good camping clothesline allows you to dry your wet clothes, towels, and other gear, which is important if you're camping in a humid or wet environment.
This helps prevent odours and mildew from developing, keeping clothes smelling fresh and hygienic.
The purpose of a camping clothesline isn't limited to just drying wet/damp laundry, it's also great for hanging up lanterns, cooking utensils, and other camping essentials to keep them organised and away from wild animals.
This helps to keep your campsite organized and clutter-free, making it easier to navigate and enjoy.
Additionally, it saves space in your camping area by keeping your gear off the ground and out of the way.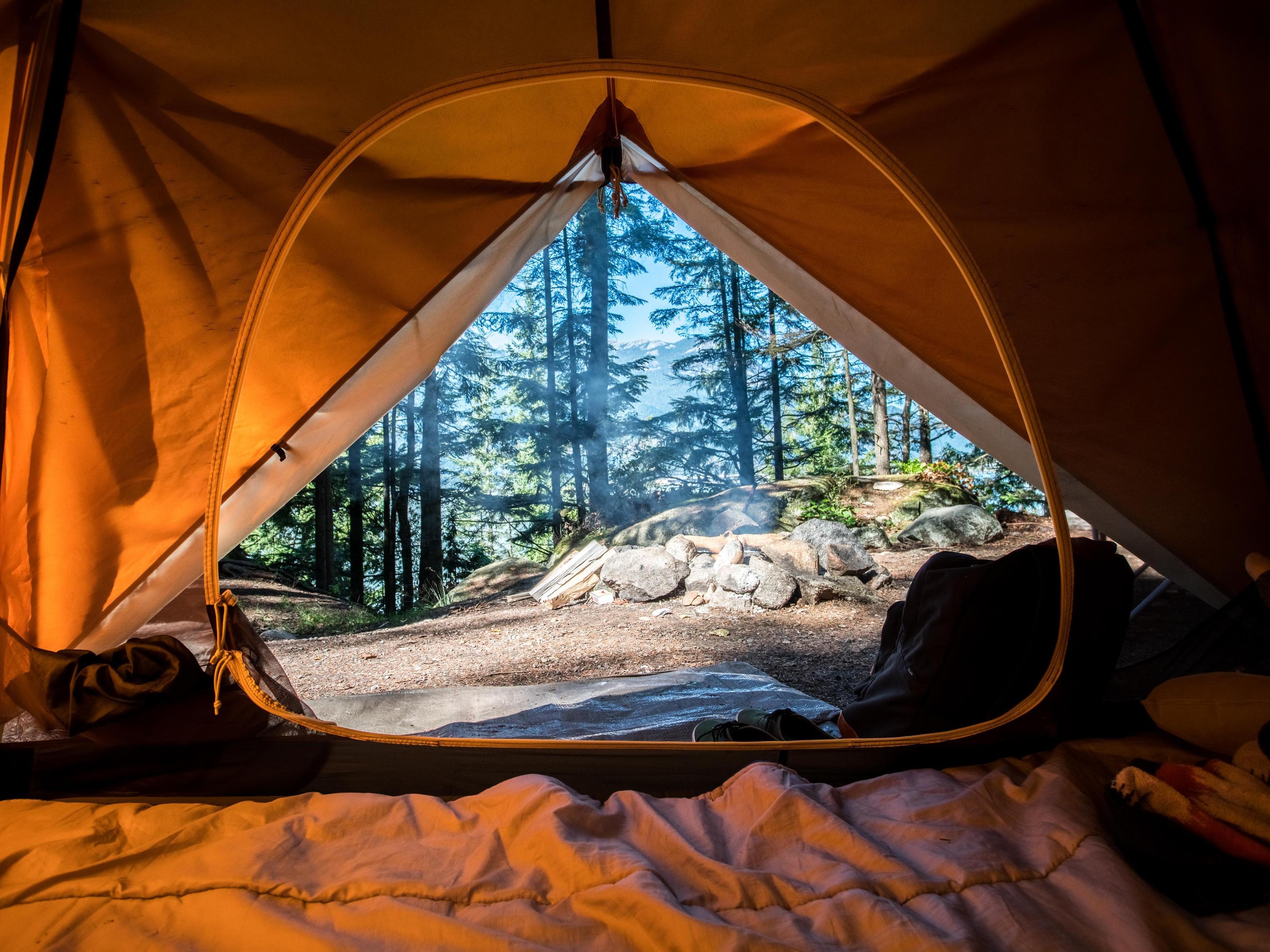 Features to Consider When Buying a Camping Clothesline
Not all camping clotheslines are created equal. When choosing a camping clothesline, there are several features to consider such as the size, weight, material, etc.
When you take these factors into account, you will be able to find a clothesline that can meet your needs ensuring that clothes dry quickly and efficiently as you bask in the great outdoors.
Size and Capacity - When looking for a camping clothesline, determine how many clothes you think will require hanging so it's important to take note of the size and capacity.




It is best to choose a camping clothes line that is long enough to accommodate your wet clothes and wet towels -- preferably one that has enough clips or hooks to hold items securely even in strong winds.




Take into account the space available in your camping area so you can get one that only requires a reasonable amount of area, a compact clothesline with adequate hanging space is best.




Also, choose a clothesline that's lightweight and isn't bulky so you won't feel like leaving it at home all the time.




Material and Durability - When looking for a camping clothesline to hang clothes, pay attention to the materials used as well as its durability. It helps to find one that's highly rated by actual users online.




Choose a clothesline made of sturdy materials that's specifically built for extreme weather conditions such as strong winds, rain, and intense sunlight.




A simple clothes airer with aluminium and UV protected recycled plastic components is a good start since it uses light materials suitable for backpacking.




Most compact clothesline models are designed for easy storage and set up, some even boast specific rope type that are made of durable materials.




Investing in a durable clothesline with compact size ensures it will last for multiple camping trips and won't let you down when you need it the most.




Portability and Ease of Use - The portability and ease of use of a camping washing line is crucial so you'd feel compelled to bring it with you, opt for one that is lightweight, compact, and geared for easy assembling.




Something with a simple design, such as a retractable clothesline can make it easier to use and pack away, these often come with the most length




Look for a model that can be hung from various camping structures, such as trees or poles, and has multiple configuration options.




Foldable ones that don't require tethering to two trees like the Wanderer Folding Campsite Clothesline come with a carry bag for easy transportation.




A foldable clothes horse or rotary style washing line are designed more towards camper van use, you wouldn't want to carry a bulky clothesline separately just for camping.




A portable clothesline specifically designed for camping ensures that you have a convenient way to hang your clothes while enjoying the outdoors.




Weather Resistance - When choosing a clothesline to be a part of your camping gear, consider its material, attachment points, and wind resistance for utmost peace of mind.




The best clotheslines for camping are made of durable, lightweight, weather-resistant materials like nylon or polyester, it should also come with thick cords to handle heavy loads.




Ensure it is long enough for your needs for extra hanging space but the box includes sturdy attachment points like metal hooks or carabiners that won't rust or corrode in wet weather.




Also, consider built-in tensioning mechanisms or clips to secure clothes in windy conditions so you don't wake up with your clothes scattered everywhere.
Top Camping Clotheslines in Australia
Our experts have concluded that the Wanderer Folding Campsite Clothesline, OZtrail Deluxe Clothesline, Artweger Twist 140 Portable, Elemental Pegless Clothesline, and Sea to Summit Clothesline are the best camping clotheslines in Australia.
The models we chose were curated based on their popularity, verified reviews, portability, durability, and overall value for money. Keep reading to find out more about these awesome clotheslines:
This model is one of the most popular campsite washing line on the market thanks to its ingenious design that's catered towards the needs of campers.
It is equipped with four arms, has built in provisions for anchoring the ground stand for stability and boasts 15 metres of line space which is impressive for such a small clothes line.
This clothes line folds into a small package which perfectly fits the included carry bag for easy storage, made of aluminium and sturdy plastic too for optimum reliability.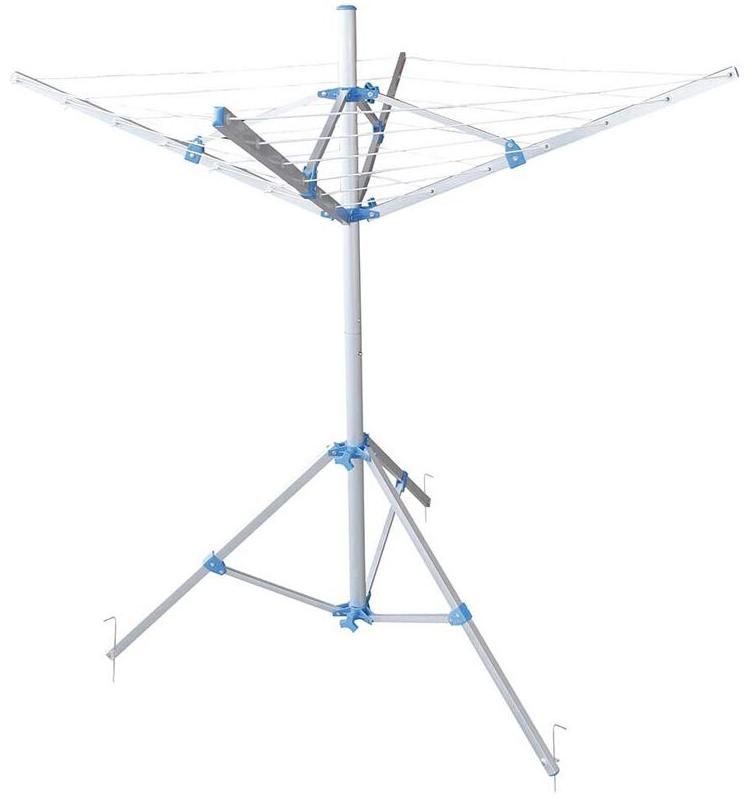 This clothes line has a similar form factor to the Wanderer, boasts easy setup and folds into a compact size which makes it a perfect addition to your camping gear.
It's so simple to use, simply slide the top and bottom brackets to unfold the legs and top frame, lock them into place then hang wet clothes, handles more weight too, up to 25 kg!
Compact and built to last thanks to sturdy steel components, this camping clothes airer is a great companion that won't let you down.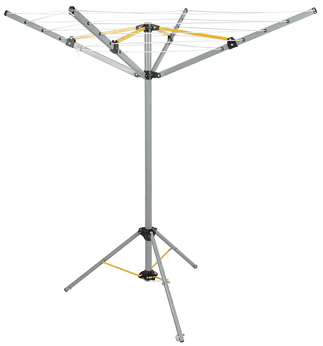 Unlike other portables that fold into a flat shape which isn't suitable for RVs and caravans due to the lack of storage space, the Twist 140 turns into a package no bigger than an umbrella.
This drying rack is the best way to hang clothes dry if you need a unit with more hanging space without compromises thanks to the 13.7 metres of line space.
Light, easy to set up, looks great and dries tons, the Twist 140 is undoubtably one of the best clothesline in its class.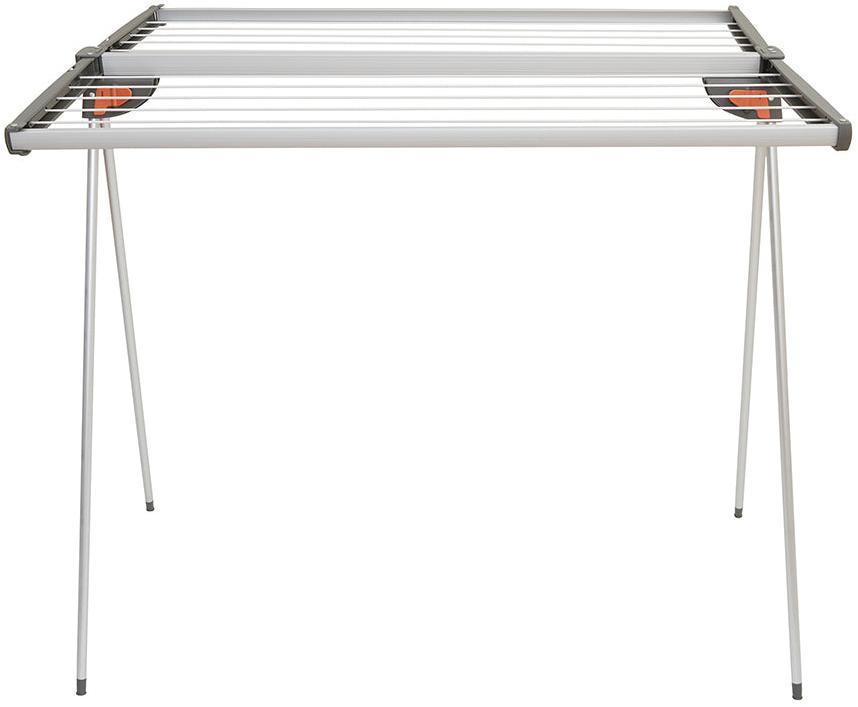 If you're the type of camper that wants to hang your clothes without the need for bulky clotheslines, the Elemental Pegless Clothesline is the right choice for you.
One of the better pegless clotheslines on the market specifically designed for camping, windy days need not be a concern since all you need to do is tuck your clothes into the elastic cord.
East to set up and provides 2 metres of line space, this clothesline can fit in a small round container not much bigger than those used for earphones so packing it is easy as can be!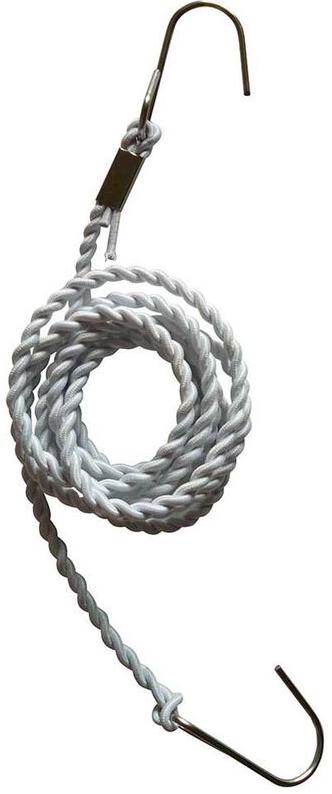 The Sea to Summit is an affordable camping clothesline that doesn't use much space in your bag yet offers the level of convenience that retractable clotheslines at home don't even have.
No need for hanging hooks to dry clothes, beads hold clothes easily so you don't even need clothes pegs to properly hang your clothes since it's an ingenious pegless clothesline.
It's quite affordable too, no wonder this one has tons of 5 star ratings online -- after all, you don't need much bells and whistles to get the job done.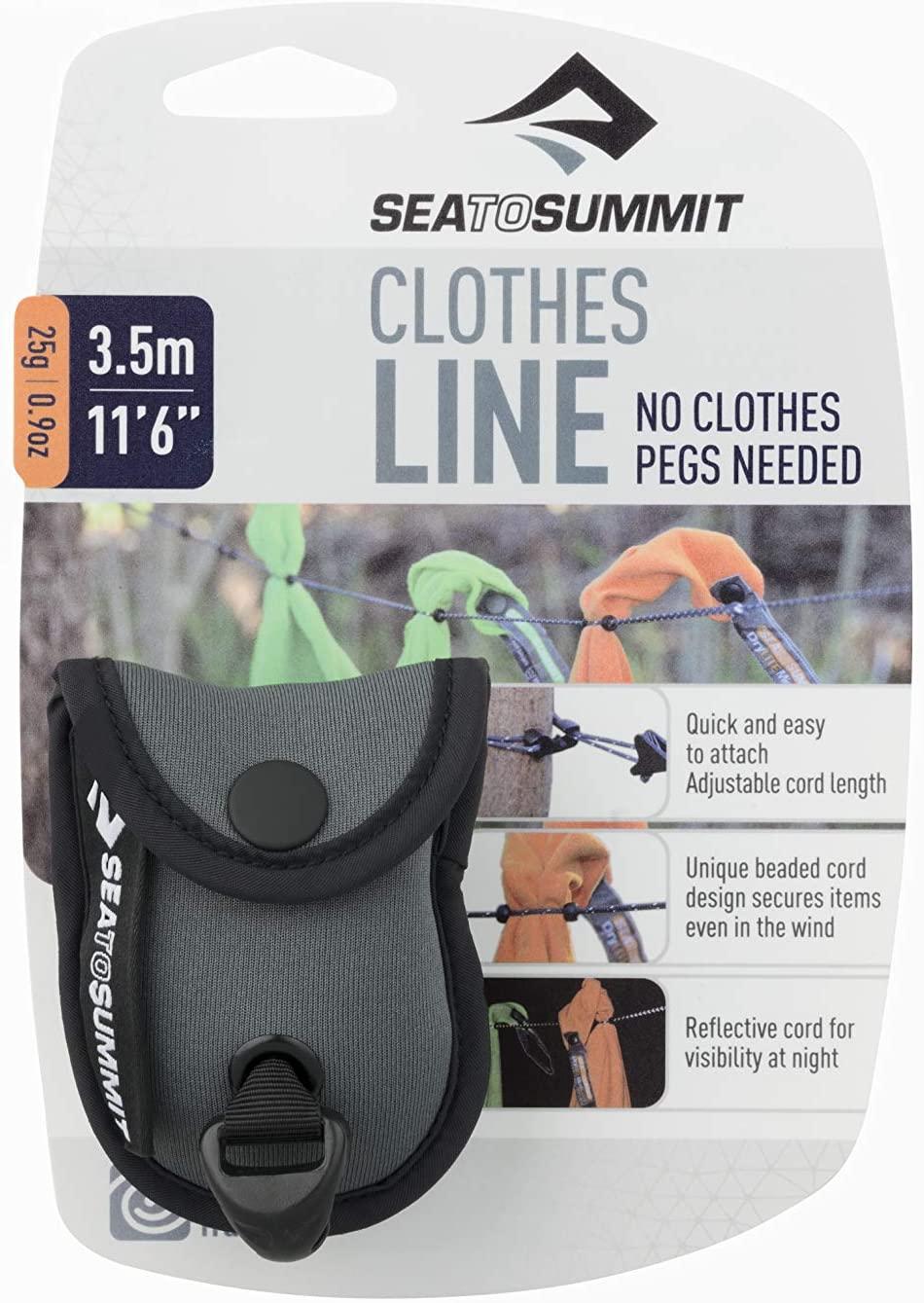 How to Use and Maintain Your Camping Clothesline
To guarantee years of reliable use out of your camping clothesline, you need to take care of it too.
Take note that most clotheslines designed for camping are often made of UV resistant plastics and aluminium for utmost portability handling so a bit of care when using can go a long way.
On that note, very little upkeep is required given that these airers barely have any moving parts due to their simple and lightweight design.
Usage and Maintenance Tips for Camping Clothesline:
Choose a suitable location, a large clearing with suitable distance between trees for rope style clotheslines is most recommended.




For portable, freestanding camping clotheslines, make sure to choose a solid surface for proper anchoring of the legs while keeping in mind where the sun shines to faster drying and keep odours from developing.




Hang your clothes then take them down before leaving, we suggest bringing a pack of desiccants to place in a waterproof laundry bag to prevent foul odours if clothes are still damp.




After each use, clean and dry the line and inspect it for any damage or wear and tear then store it properly -- away from direct sunlight and heat to preserve the elasticity of the lines and integrity of plastic components.




Regular maintenance will ensure that your clothesline lasts longer and remains safe to use for many years to come.
Which Camping Clothesline is Best for You?
Best Camping Clothesline for RV and Caravan Users:
Mostly due to its relatively small footprint, lightweight construction, high quality and generous line space.
The Twist 140 has rust-resistant construction and probably the only portable on the market with this unique engineering that lets you fit it in tight spaces when you're always on-the-go.
It boasts European aesthetics too which makes for a clothesline that looks pleasing to the eyes instead of distracting while it dries clothes out in the wild, trust us, it's quite the looker.

Best Camping Clothesline for Backpackers:
Sea to Summit Clothesline
It is cost effective, compact, has tons of verified ratings from real users, plus its overall simplicity.
With integrated beads for securing clothes no matter how windy it may be.
Sometimes taking the simple route is the best way just to get the job done with minimal cons which is exactly what this clothesline was built for.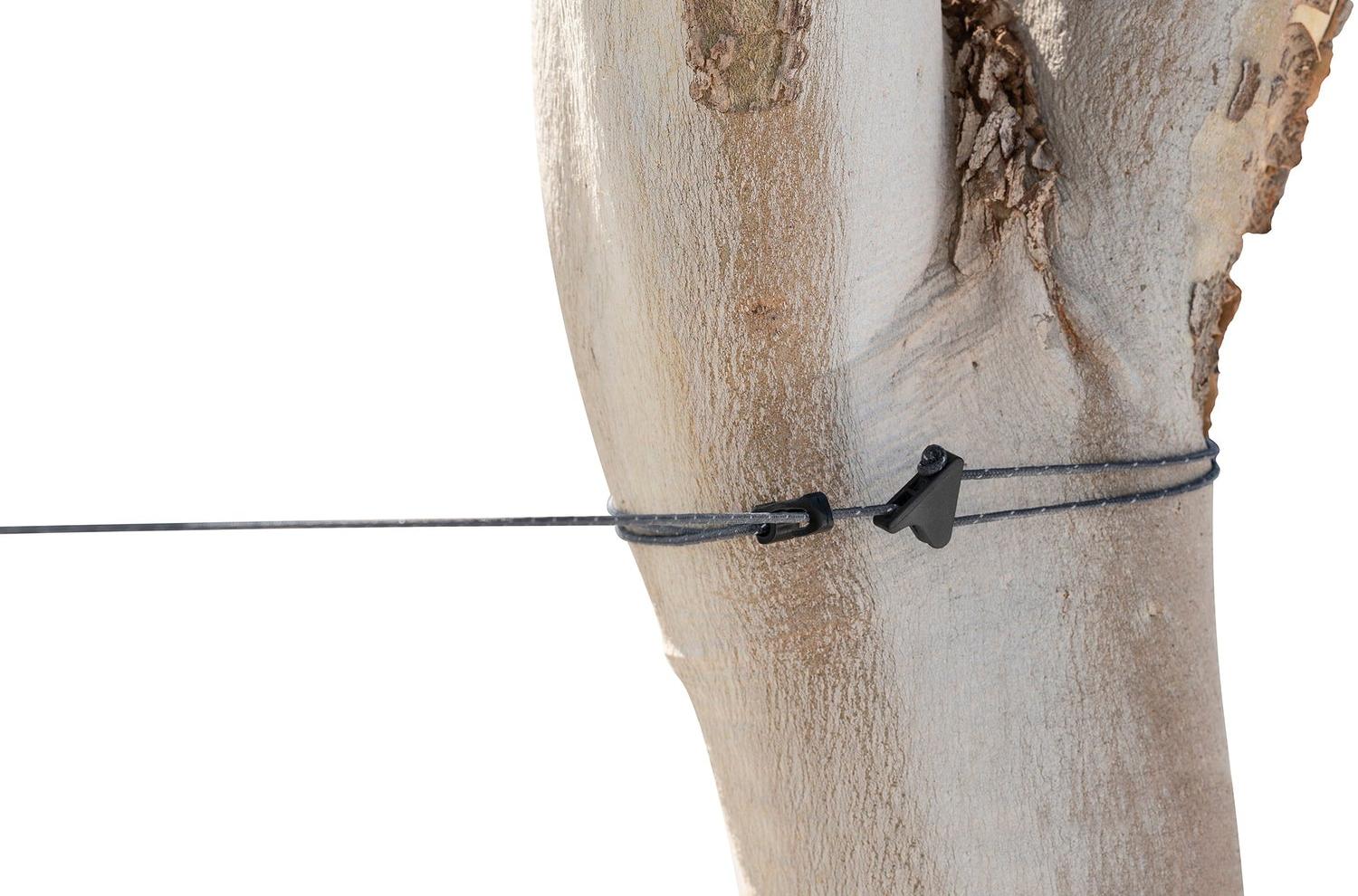 Using a camping clothesline has many benefits that can make your outdoor adventures more enjoyable and sustainable.
Firstly, it can help you save money on unnecessary expenses since you don't need to use disposable items like paper towels or napkins.
By using a clothesline, you can reduce your environmental impact not by avoiding single-use items that contribute to landfill waste.
A clothesline keeps your camping area clean and organised, plus, drying clothes in a designated spot prevents cluttering up your tent which does wonders on comfort and hygiene.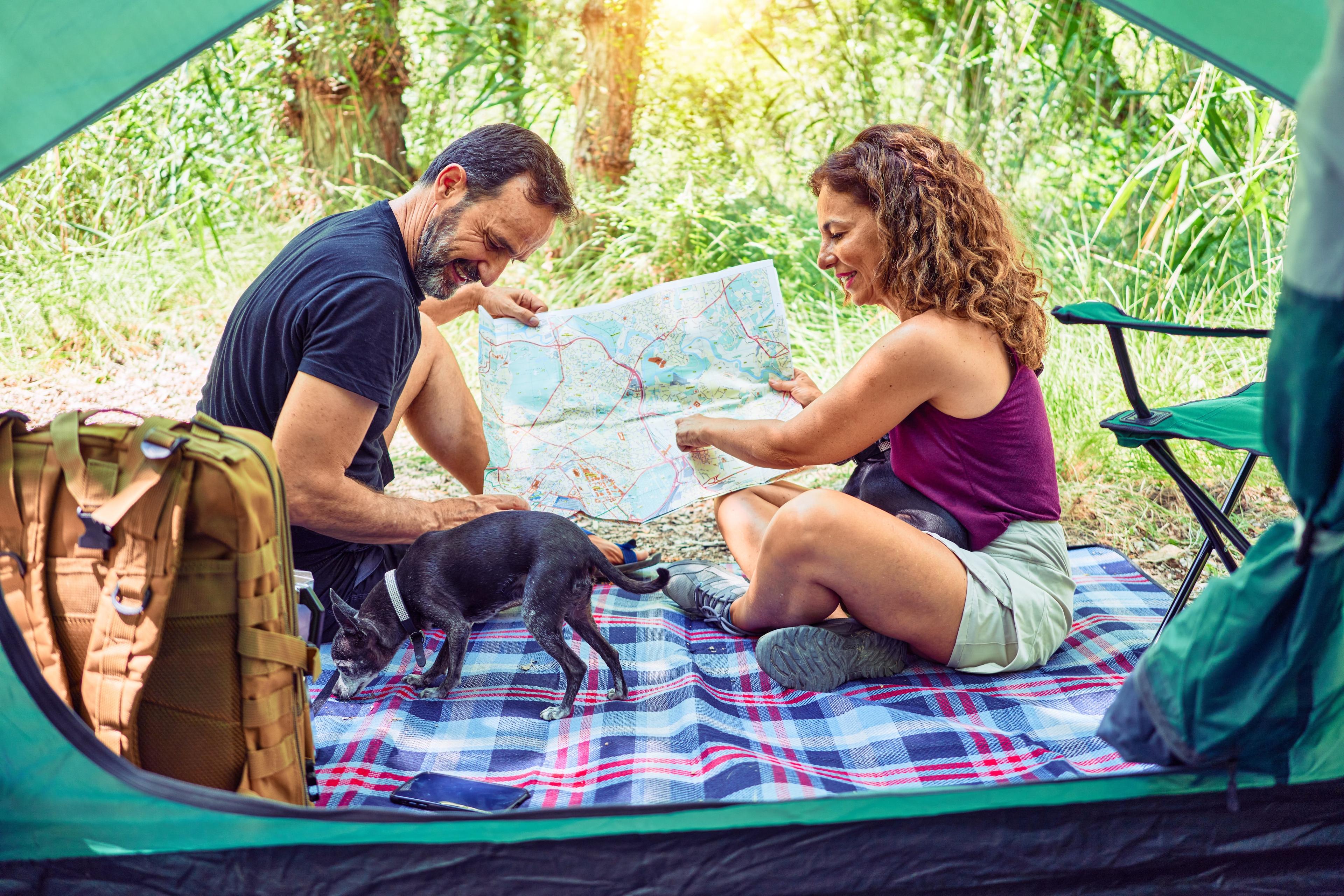 Lastly, not only does it provide a natural way to sanitise your clothes via wind and sunshine, it can also help reduce wrinkles, soften fabrics, and even boost your mood by giving you a sense of connection with nature.
If you're on the lookout for a great clothesline at home, you can check out Best Clothesline in Australia for our top choices of Retractable clothesline, Rotary Hoists, Portable Clotheslines, Ceiling Airers, and Fold downs!