CLOTHESLINES WATTLE GROVE

SYDNEY, NSW 2173
What can your home in Wattle Grove 2173 South Western Sydney NSW benefit from the Hills Portable 120 Clothesline?
The Hills Portable 120 Clothesline has 12 metres of total line space – surprisingly good news, considering it is a portable and compact drying unit. Each of its 8 tough and sturdy lines has a length of 1.5 metres each. 
The Hills Portable 120 Clothesline is ideally suited for line drying any single and double sized sheets or linens without scrunching. 
Get it now from Lifestyle Clotheslines, your most reputable washing line and laundry line retailer and installer in Wattle Grove 2173 South Western Sydney NSW. Our authorized professional installers can also remove any old clothesline units before assembly and installation of your newly bought unit. 

Clotheslines For Your Wattle Grove Home
Hills Portable 170 Clothesline Video Review
Versaline Slimline Clothesline Video Review
5 Lath Pulley Clothes Airer
Versaline Hook & Away Clothesline
Eco Apartment Clothesline
PROTECT YOUR CLOTHES THIS YEAR!
The
Rotary Clothesline Cover

 is the ultimate way to ensure your clothes stay completely clean and new all year round, with protection from bird droppings, rain and the sun's harsh UV rays.
Featured Clotheslines For Wattle Grove
Eco 300 Clothesline
Hills Hoist 8 Line Clothesline
Sunbreeze Retractable 6 Clothesline
How To Install An Austral Retractaway 40 Clothesline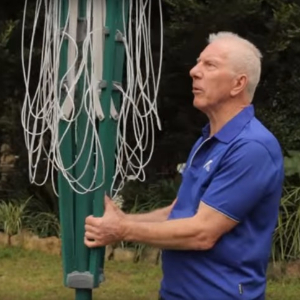 Lifestyle Clotheslines is a well-known and highly regarded Australian company, renowned for professional and high quality installation, removal and rewire services. Our clothesline installers service all of Sydney, including the South Western of Sydney, with an extensive knowledge and highly professional approach to clothesline installation.
We offer a Clothesline Installation and Removal Service to facilitate the removal and disposal of your existing clothesline, followed by the complete installation of your new rotary, folding frame or retracting style clothesline within your yard, garage or carport. We can also provide a Core Hole Drilling service if required, which allows for installation through concrete ground surfaces. Feel free to contact us to organise this.
If your existing clothesline is still quite functionable, yet the lines themselves have seen better days, we can offer a Clothesline Rewire Service to restring the PVC cord or galvanised wire. This will restore your clothesline to just about its full potential.
Each of these installation, removal and rewire services are available for folding frame, rotary and retractable style clotheslines.
Top Austral Clothesline Recommendations
Daytek M32 Rotary Clothesline
Austral Addaline 35 Clothesline
Daytek M42 Rotary Clothesline
Austral Retractaway 50 Clothesline
Austral Standard 28 Clothesline
Austral Retractaway 40 Clothesline
Potential restrictions for the installation of your clothesline may exist within your local council area. Be sure to check up on these at the Sydney Councils to ensure you are all good to go ahead with the installation of your clothesline.
If you are still unsure about our clothesline installation and removal services, you can find more information at our Clothesline Installation and Removal product page.
To determine the best clothesline for you and your individual requirements, try out our Clothesline Product Selection Wizard to select the right clothesline based on questions provided by our clothesline experts.
Reviews From Our Happy Customers
Just What We Needed
Easy to order, accurate description of product on the website, surprisingly quick delivery, product matches pictures and description of what was viewed online. Very happy with our purchase.
Excellent Product
So easy to order on line. The product came within the week and is excellent quality. Exactly what I wanted for my yard. Love it.
Great Product and Excellent Customer Service

Really good quality product, easy to navigate on website and choose items and options. Delivery Was quick and good correspondence and communication.
Great Service and Good Product
Overall had a positive experience with this Aussie company. Quick service to correct incorrect cloths line size which was replaced with correct one prior to original installation date. Installers friendly and cleaned up after job.