CLOTHESLINE
SOUTHERN SUBURBS BRISBANE
Looking to replace an old airer or need a new one for a fresh new home? Given the plethora of clotheslines available on the market at the moment we know that it can get quite confusing to the average consumer so we made a list of our top clothesline recommendations for Southern Suburbs Brisbane to make the process easier for you!
Clothesline Form Factors
To start it all off, there are six main categories for clothes lines, fold-downs, retractables, standard rotary hoist, folding rotary hoist, indoor/portables, and ceiling mounted clotheslines.
Each style is designed to work in different installation scenarios, some are best suited for spacious yards while others can be tucked neatly in a corner or narrow walkway.
Fold-downs and Retractables don't have to be installed on wall alone too, they can be mounted to the ground with ground mount kits that are sold separately.
Truth be told, each style has its own set of strengths and weaknesses and it is up to find out which one will suit your preferences or the exterior of your home, just bear in mind that clotheslines will work best if situated in an area inside or outside your home that has adequate airflow (for outdoor installs in Southern Brisbane, maximum exposure to sunlight is a must).
Proper Sizing
An oversized airer in South Brisbane has significant advantages of one that is just "adequately" sized, why?
Well, laundry drying needs do not remain constant all the time, there are days where you have to dry just clothes and small towels while there are times wherein you simply need a big space to dry curtains, bedlinen, or even rugs.
It is pretty obvious why adding a bit of headroom in your airer is a good choice, this eliminates the need for extra expenses incurred by purchasing an extra clothesline just to accommodate the shortcomings of the first one.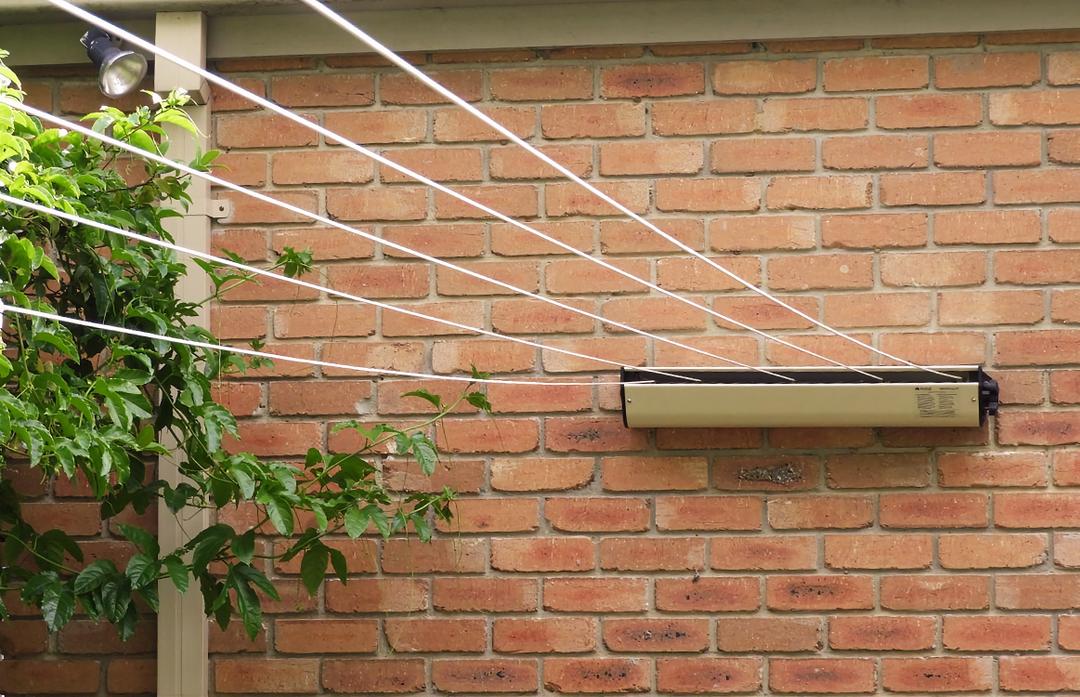 Single dwellers should definitely go for a fold-down or portable model that has at least 12 or so metres of drying line space, those who live with family of three or more can safely opt for 11 metres per head in a given household.
Another good thing about a large airer is the fact that you can confidently load your washed to the brim and you get to save a ton of money on water, detergent, and fabric conditioner.
This is because you can take full advantage of one complete cycle without having to worry about adequate drying line space.
Dig for Reviews
Make sure to read reviews and testimonials about the store and clothesline that you are eyeing on in South Brisbane, not only will this save you a lot of time by not having to visit one seller to another but these will allow you to take a closer look at how others' experience has been affected by the clothesline you wish to own.
When you are done breezing through our list of clotheslines in South Brisbane, you might want to read this too : Australia's Best and Worst Extendable Clotheslines Reviewed
Top Ceiling Mounted Picks
Southern Suburbs of Brisbane 
Clothesline Installation Service Area
Here are the areas we cover in Southern Suburbs Brisbane:
Acacia Ridge
Algester
Annerley
Archerfield
Burbank
Calamvale
Coopers Plains
Darra
Doolandella
Drewvale
Durack
Dutton Park
Eight Mile Plains
Ellen Grove
Fairfield
Forest Lake
Greenslopes
Heathwood
Holland Park
Holland Park West
Inala
Kuraby
Larapinta
MacGregor
MacKenzie
Mansfield
Moorooka
Mount Gravatt
Mount Gravatt East
Nathan
Pallara
Parkinson
Richlands
Robertson
Rochedale
Rocklea
Runcorn
Salisbury
Seventeen Mile Rocks
Sinnamon Park
Stretton
Summer
Sunnybank
Sunnybank Hills
Tarragindi
Tennyson
Upper Mount Gravatt
Wacol
Willawong
Wishart
Yeerongpilly
Yeronga
We offer a full outdoor clothesline installation service to all the residents of Southern Suburbs Brisbane for all models of clotheslines and washing lines.
We also have a clothesline removal service available for those requiring the removal of an old clothesline in addition to their installation.
The clotheslines that we install include:
Foldown Clotheslines:

both wall mounted and free standing

Rotary Clotheslines:

both fixed head (traditional Hoist style) and folding head (removable)
Retractable Clotheslines
What our customers are saying
You should be fine to install your clothesline however you want but it is best to get in touch with the City Council of Brisbane for any potential restrictions.