Now is the right time to talk about 150cm wide clothesline products mostly if you are in desperate need of proper clothes drying space, we will talk about which brands — most specifically, which models are best suited for this 150 centimetre wall spacing.
In this article, we will also go in-depth on the different products that are available via our online portal, the colour options, mounting kits (freestanding conversion, specifically) and the installation service of the clothesline units
The Eco 150 is one of the clotheslines that we recommend that will perfectly fit a150cm wide spacing. 
This clothesline is (as the name hints) 150cm wide but is available in a number of different depth options, this being the distance out from the wall. 
Employing a solid mounting bracket design and full galvanised steel construction, the Eco 150 is one of the most sturdy and durable clothesline models we offer.
The only plastic component in this clothesline is virtually the cord itself.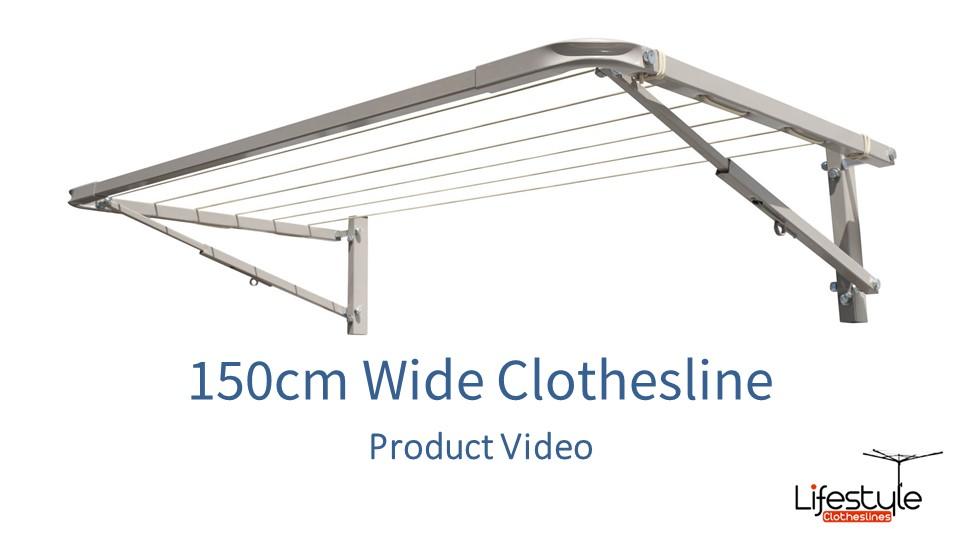 Topics Covered in This Article
When you don't need the clothesline, you can simply fold it down flat against the wall.
And when you want to use it again, you simply lift the main frame and the arms automatically lock into position, ready for use! 
With this clothesline, the spacing is 150 centimetres wide along the wall but there are five different depth options for you to choose.
Here are the five depth options offered for the Eco 150 via our online portal:
60cm

75cm

90cm

120cm

150cm
At the end of the day, it is a give that you most likely have a 150cm wide wall area but the clearance at the front of will be the decision-making factor when choosing the depth of your Eco 150.
You can generally find one of these five different depth options will allow you to have the most line spacing and the most usable line space in that area. 
The Eco Lowline Attachment
If you're looking to add the most line space you can get, you can actually opt for an optional Eco Lowline attachment. 
This is another section that attaches to the back of the clothesline, this allows you to get three extra lines which is handy if you're really looking to maximise your line spacing in a small area of 150 centimetres. 
With those extra three lines, it does give you an extra four and half metres of usable line spacing. That's a pretty handy option to have. 
It attaches to the main frame and goes up and down when the main frame goes up and down itself. 
But if you do not need to use it on any given day, it simply unhooks from the mainframe and folds flat to the wall so it can be out of the way when hanging long articles on the drying lines.
So it is a really handy option to consider if you're looking to maximise your line space within that 150 centimetre wide area. 
Eco Clotheslines Colour Range
With the Eco range of clothesline, you get to choose over 6 standard COLORBOND® finishes that can easily blend in with the aesthetics of your home.
These are generally the most popular colours we see in clotheslines today.
If you do have colour requirements outside of these 6 colours, please let us know as we do have access to other COLORBOND® finishes.
Eco clotheslines are handmade in Australia the old-fashioned way and with a full steel construction and COLORBOND® powder coat finishes , they are really built to last a very long time. 
They are designed in Australia, made in Australia, and are specifically engineered to survive the harsh climate that we experience year-round.
With a big range of modern colours and the customisation which can be done free of charge, it is easy to see why we recommend it the most and why our loyal customers prefer it over other brands.
As for the customisation we have mentioned earlier, if your require minor modifications to the width of your clothesline to (for example) fit a spacing of 152 centimetres or 158 centimetres, we can get that done at the factory at no extra charge whatsoever.
When it comes to the mounting of these products, the standard mounting route is usually a wall installation.
As long as our installation team has evaluated that the surface is fit to support a clothesline (regardless if it's masonry, concrete, or plastered), you are pretty much good to go.
But if you don't have a suitable wall surface, you can opt for a ground mount kit which can conveniently convert them into freestanding units.
There are two options when it comes to our optional ground mount kits:
Standard ground mount kit

Plated ground mount kit
The standard version allows you to position the clothesline on a soil/grass kind of area wherein concrete footings are put in place to ensure proper anchoring of your clothesline.
The plated ground mount kit has plates at the end of each leg to facilitate bolting onto a flat concrete surface.
For help with clothesline installation, Lifestyle Clotheslines boasts a network of clothesline installation professionals available Australia-wide.
These are well-trained experts in installation of clotheslines to ensure years of worry-free clothes drying experience!
You can simply check the box on any of the product pages to add the installation service to your order or you can give us a call and we can help you seamlessly over the phone. 
Of course of all of our products are fully backed by our 100-day happiness guarantee to make sure you've got the right clothesline for your home or situation. 
We will do whatever it takes for you to get the most out of your hard-earned money, here at Lifestyle Clotheslines, we take customer satisfaction seriously.
If you need further help with any of our products in the 150cm wide category, please feel free to call us today at any time via 1300 798 779.
Please visit us online at LifestyleClotheslines.com.au for the most up-to-date information, videos, images, detailed specifications and reviews on clotheslines that are 150cm wide.