Hunting down the perfect clothesline is no mean feat, 1400mm clothesline options are available here at Lifestyle Clotheslines.
We will help you determine which products are best suited for this 1400mm wide area.
This time around, we will cover a plethora of topics concerning 1400mm wide clotheslines.
This includes the brands and models available in that size, the colour options, some mounting options, installation service, and accessories that we recommend.
Clotheslines that have a width of 1400mm is not a standard size offered by many manufacturers.
Now that space is at a premium, it is a must to squeeze out every inch of usable space in a laundry area mostly in apartments, condominiums, small cottages and such.
Another practical use for 1400mm wide clotheslines is the fact that they can be used as a back up airer for your main one should the need arise!
With all that in mind, let's head over to our first recommendation!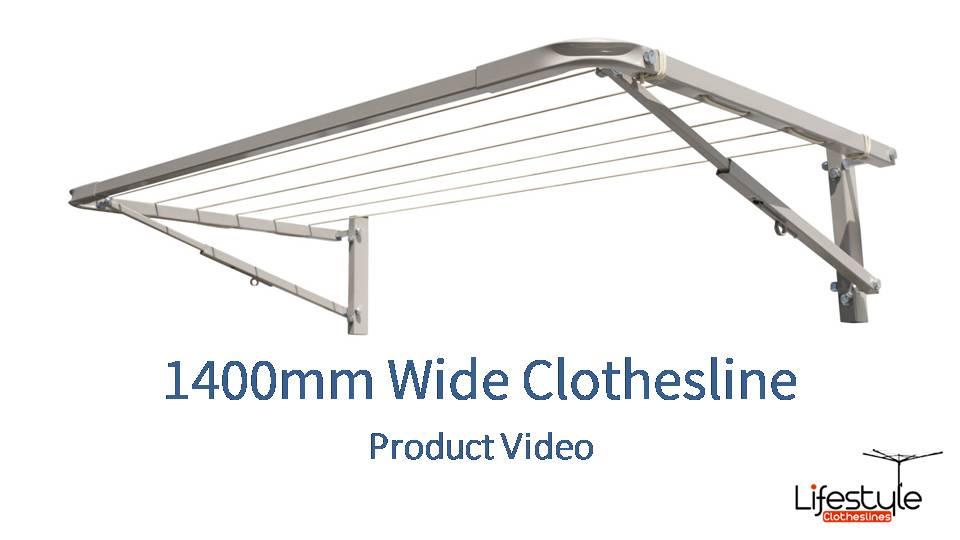 Topics Covered in This Article
Say hello to the Eco 150 clothesline, this model has a standard width of 1500mm, but we can actually modify it down to 1400mm wide for you.
And saying that, we can also make it to basically exactly the size you need, so if you need a clothesline that will precisely fit a 1450mm space or 1380mm for example -- we can do just that! Without additional cost whatsoever.
The line spacing on this one does have five different depth options, so that's the distance out from the wall:
600mm 

750mm

900mm 

1200mm

1500mm
The Eco 150 boasts an all-steel construction, completely made in Australia and built for Australian living conditions.
The frame can be deployed with a simply lift and when you don't need the clothesline, it simply folds down flat against the wall.
The Eco Lowline Attachment
To further increase the capacity of your Eco 150, you can opt for the optional 'Lowline Attachment', this is a section that's slightly lower than the main frame of the clothesline. 
This gives you extra three lines of drying space with length similar to the main drying lines.
Clearly it is a pretty handy option to have to increase your line spacing in very tight areas. 
If you don't need it on any given day, it simply unhooks and folds flat to the wall.
So, again, that's a handy option to have if you are trying to maximise all the line spacing options in a very small area.
Eco Clotheslines Colour Range
When it comes to the Eco Clotheslines, they do come in 6 standard colours.
These are all Colorbond colours, so pretty much you can find something that's going to match into your home decor there. 
If you do need something specific, please let us know since we may be able to help as we do have access to other Colorbond colours.
These are the most popular colours that we do, but if you are looking for something outside of these colour ranges and in the Colorbond range, we can probably help you with that.
Another 1400mm Wide Clothesline Worth a Look
Another option when it comes to 1400mm clotheslines is the Austral Unit Line 15, this clothesline is 1400 millimeters wide by 935 deep, and comes with 12 lines.
This model is also available in a range of about five colours. And boasts excellent quality expected of Austral products, it's all Australian made and comes with a 20-year guarantee.
Our primary recommendation for this type of unit is the Eco Clotheslines range. 
They are made in Australia the old fashion way, so they're really built to last with full-steel construction. 
Designed in Australia. Made in Australia.  The Eco Clotheslines are engineered specifically for the conditions here.
They're just a much better product than most of the clotheslines we see coming in from overseas. Plus the big range of modern colours is a real asset, too.
It has the biggest range of colours of any clotheslines in Australia and you can pretty much find the colour that will suit your tastes.
When it comes to the mounting of the clotheslines, the standard mounting procedure is bolting the clothesline on a wall, brick surface, concrete, or masonry surface.
But if you don't have a suitable wall surface to mount the clothesline on, the unit can be converted to a freestanding one.
Standard Ground Mount Kit - Suitable for a grass and soil area with the aid of concrete footings, this is where where you would have to dig a hole and concrete the leg in.
Plated Ground Mount Kit - If you have a flat concrete surface, the plated ground mount kit has provisions for Dynabolts in order to facilitate anchoring the clothesline onto a solid surface like concrete slabs.
If you do need help with clothesline installation, Lifestyle Clotheslines does have a full network of professional clothesline installation experts available Australia-wide.
You can call us to discuss your options here or you can just check the box on any product page to add installation service to your order.
Customer Service
All of our orders placed through Lifestyle Clotheslines and products come with a 100-day happiness guarantee to make sure that you got the right clothesline for your situation.
We always put our customers first since your satisfaction is what drives us, happy customers make for very happy businesses too--at least that is the way we see things.
If you need any help finding an ideal clothesline for your 1400mm wide spacing, please feel free to call today on 1300 798 779 and speak to one of our clothesline experts.
You can visit our website at lifestyleclotheslines.com.au, for in-depth information, specifications, videos, and more.