In this article, we will be discussing your options on 0.9m wide clotheslines and which options as well as styles are available for this very small wall space.
We will provide you with all the details necessary in order for you to maximise that small area and to get the most out of any clothesline you will be getting.
We will also cover the different products that are available for 0.9m wide spacing, also the colour options, and the installation information of these products.
You will also have a general idea as to what your requirements will be when it comes to choosing the right washing line for your home.
The best part is, you will find out exactly why Australian clotheslines are just so much better and worth every penny!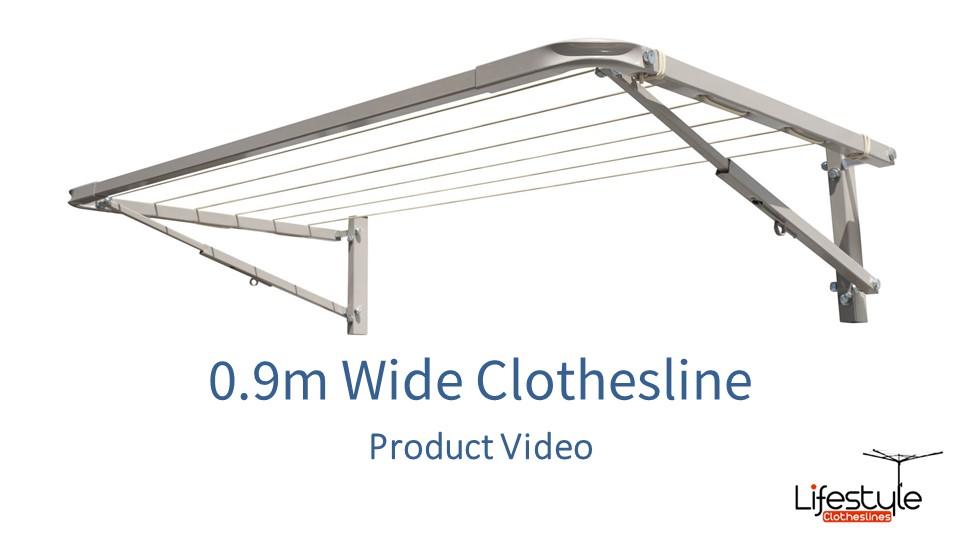 Topics Covered in This Article
The Eco 120 is Another Good Space-Saving Clothesline:
One other option would be the Eco 120 clothesline. 
The image below shows the side view of the unit, obviously, this is one of the smaller sizes, and as they get bigger, you get more line spacing allowing for more room when drying laundry.
You can see the full-steel construction, the solid brackets against the wall, the whole frame assembly, everything is durable galvanised steel. 
There is no plastic components in these clotheslines other than the cord itself and all of the components are made in Australia.
This has a standard width of 1.2m, but we can customise this down to the 0.9 for you at no extra charge.

If you wanted something with a width of 0.95m or 0.98m, all those types of customisations are available on us at no extra charge. 
The Eco 120 also comes in a different style of depth options. There are five preset depth options which is the distance of the frame from the wall which dictates the number of lines you can get. 
You can have an Eco 120 clothesline at these preset depths:
0.6m
0.75m
0.9m
1.2m
1.5m
For example, you could have a 0.9m wide along the wall and it could come out 1.2m, as an example, and you'd get a number of lines.
Obviously, the bigger out from the wall you can go, the more line space you're going to get.
Eco Unit Line: Compact and User-Friendly
The Eco Unit Line is another option at 0.8m wide by 0.75m. This one has eight lines, so again, it's a handy unit for you.
With the bracket styling against the wall, it does allow you to mount it slightly differently to the other style of the Eco 120. And again, this is a handy unit, as well, for those smaller areas.
The picture above shows what it would look like when it's folded flat against the wall.
And again, eight lines is pretty handy in a smaller area mostly when space is a premium in a small home like condominiums, apartments, and townhouses.
For the 0.9m clotheslines, the Eco range colour chart is 10 standard colours.
Eco Clothesline's Colour Range
As you can see above, these are pretty much all of the COLORBOND colours and the most popular ones that we have. If you need something outside of these 10 colors, please let us know. 
We may be able to help as there are some other options for certain colour choices, but we generally find that these 10 are the most sought after by customers.
When it comes to the 0.9-meter wide clothesline, our recommendation is the Eco Clotheslines range. 
They are handmade in Australia the old-fashioned way, so these are not run-off-the-mill clotheslines, each one is carefully crafted per your requirements. 
Like we have mentioned earlier, they are all full-steel construction built to last a long time. 
Quite frankly, we think that clotheslines made in Australia are just built so much better than those that come in from overseas. 
Unlike like the locally made models we carry, so we do recommend the Eco range, thanks to the full-steel construction and engineering designed to last a long time.
If you do need any sort of customisations in the width of the clothesline as well as colours, those can all be done free of charge.
The unit will arrive at your doorstep without any further modification required.
If you do need help with installation Lifestyle Clotheslines does have a full network of installers Australia-wide. You can order that on any of the Product pages as well, or over phone on our website.
If you need anything further or you want to speak to a clothesline expert about your specific needs or situation, you can call at any time on 1300-798-779.
You can also visit our website at lifestyleclotheslines.com.au for further information, in-depth specifications, and other details on the products we carry.